This year I've been hooked on Young Adult books. Particularly of the dystopian novels variety. Blame it on The Hunger Games. After devouring the trilogy in less than a week, and far too many very late nights I had one thing on my mind: Where can I get more? I want more books like The Hunger Games!

I scoured Goodreads for related titles so I could find a few new dystopian novels to get my hands on. I found a few (summarized below) that sounded promising and checked them out from the library. Here are some of my picks for fans of The Hunger Games. I read a few others, but these were my favorite recommendations of what I've read so far.
Luckily, all of these books are the first in a new series with multiple books queued up for publication in the next year or two, so you'll have plenty to read. I have the sequel to Matched on hold at the library since it just came out this month. Can't wait till it's my turn!
If You Liked The Hunger Games: 5 Other Dystopian Novels to Try
Published 2011 by Lauren Oliver
Find Delirium on Amazon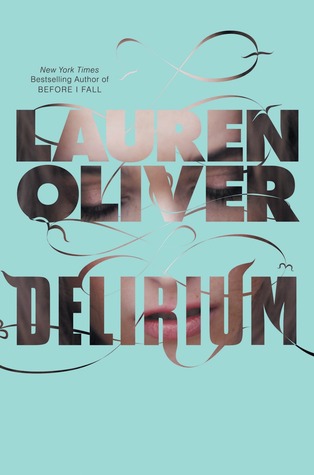 In Lena's world love is a disease. There was a time, before the cure, that people thought love was a good thing. Now they know that a life without love is a life without pain. It is safe, predictably, and happy.
Now that scientists have eradicated love, Lena's government requires all citizens to receive the cure to deliria before turning eighteen. Lena tries not to think about her mother's last words to her (the forbidden "I love you") or the rumors of a community of uncured "invalids" beyond her Portland, Maine, border.
What's the point? She believes that the government knows what's best. That is until ninety-five days before receiving the cure, Lena does the unthinkable: She falls in love. Look for part two, entitled Pandemonium, early spring 2012.
Published 2011 by Veronica Roth
Find Divergent on Amazon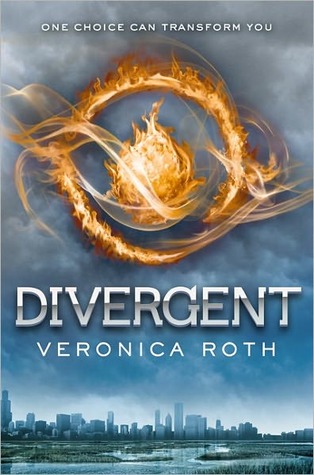 Society is split into five factions — Abnegation (the selfless), Candor (the honest), Dauntless (the brave), Amity (the peaceful), and Erudite (the intelligent) — each dedicated to the cultivation of a particular virtue, in the attempt to form a "perfect society."
Upon turning sixteen, individuals must choose the faction which they will devote their lives. Beatrice "Tris" Prior makes the difficult choice to leave her family's group and pursue another faction, a choice that surprises even herself.
After surviving the brutal initiation of the Dauntless faction, Tris discovers the brewing unrest and conflict beneath what should be the "perfect society."
Tris bands together with others in the Dauntless faction. Their mission: to uncover the truths about their identities, their families, and the order of their society itself. Look for part two, entitled Insurgent, late spring 2012.
published 2011 by Ann Aguirre
Find Enclave on Amazon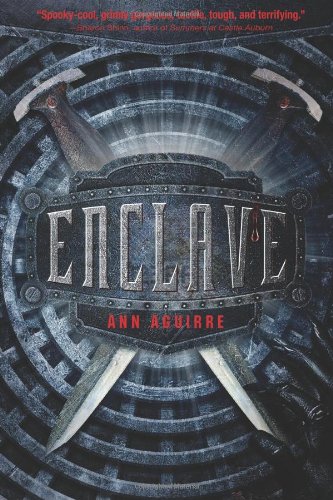 Deuce lives in an apocalyptic world where people earn the right to bear a name only if they've survived the first fifteen years. By that point, each unnamed 'brat' has trained into one of three groups-Breeders, Builders, or Hunters.
The purpose of a huntress is clear–to brave the dangerous tunnels outside the enclave and bring back meat to feed the group while evading ferocious monsters known as Freaks.
Finally becoming a huntress as she's dreamed of her whole life, Deuce is caught off guard by a beautiful, brooding Hunter named Fade. Deuce's troubles are just beginning when the mysterious Fade is assigned as her hunting partner.
Deuce quickly learns that Fade doesn't like following orders and deviation from the society's world results in harsh punishment. At first she thinks he's crazy, but as death stalks their home, and it becomes clear the elders don't always know best, Deuce wonders if Fade might be telling the truth.
Book two, entitled Outpost, will release fall 2012.
published 2010 by Ally Condie
Find Matched on Amazon.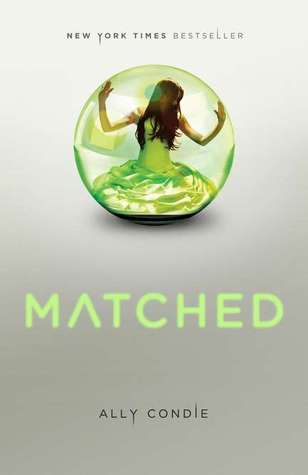 Cassia grows up in a world where nothing is left to chance. The Society calculates each choice for her – what she will eat, her future job, and her husband – thus removing "user error" from the equation.
Every choice is optimized for the best possible results and no one questions this method, until there's a mistake in Cassia's Match for husband. When she plugs in her microchip two faces are revealed rather than one: her lifelong best friend and another boy.
Does she follow The Society's plan for her or rebel against their predetermined life to seek her own path? Book two, entitled Crossed, was released November 2, 2011.
published 2011 by Lauren DeStefano
Find Wither on Amazon.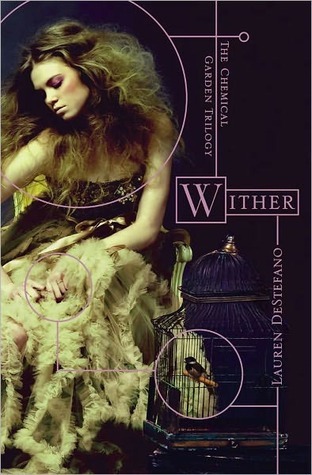 Rhine Ellery lives in a world destroyed by genetic engineering. After scientists attempt at perfecting humanity by ridding the world of disease, cancer, and illness is proved a failure, the lives of future generations have literally becoming a ticking time bomb.
Men live to age 25 and women only to 20. In order to preserve the human population in their poverty-stricken world, girls are shipped off as young as 13 to marry and have children with eager husbands – some so eager they go to the extreme of kidnapping their future brides.
For Rhine life means being thrust into a posh life with Linden Ashby against her will. Though she lives in a gorgeous Florida mansion with her two sister wives and is treated like royalty, she longs to escape back to reality with her twin brother. Look for book two, entitled Fever, in February 2012.
What Young Adult Dystopian novels have you enjoyed?
Get More Recipes via Email
Did you love this recipe? Sign up to receive Good Life Eats email updates and never miss another recipe!