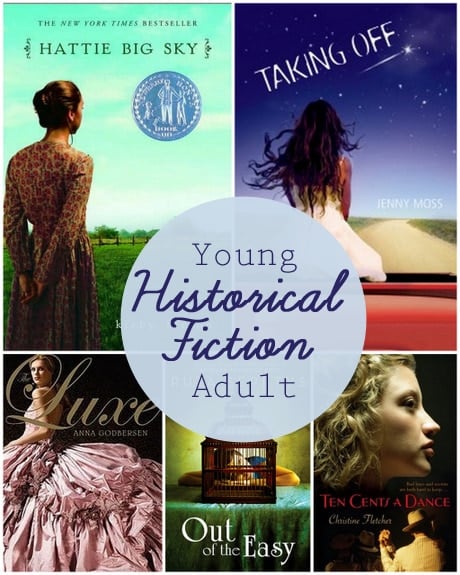 Written by: JANSSEN BRADSHAW of Everyday Reading
I've always been a fan of historical fiction – I plowed through most of the Dear America series when I was a child and went on to study history as an undergraduate. Now, I find that I absolutely love young adult historical fiction. I love the combination of coming-of-age stories and fascinating periods of history around the world (although, I generally enjoy historical fiction set in the US the most).
These five titles are ones that completely sucked me in, and when I closed the last page, I wanted to know more about the time period, the real people from the era, and anything else there was to know.
Hattie Big Sky by Kirby Larson – This is the young adult version of Caddie Woodlawn or Little House on the Prairie. Hattie, an orphan who has spent her life being shuffled among unwilling relatives, discovers she's been left a homestead by a distant uncle. Determined to make it on her own, she head to Montana and spends a year working herself to the bone trying to meet the requirements and keep the land for herself. I loved every minute of this story (and I really loved Hattie).
Taking Off by Jenny Moss – I haven't seen many other historical fiction books about the Challenger, but this one was a home-run for me. Annie is just about to graduate from high school, and is feeling torn about what to do with her life. Everyone has opinions, which makes it hard for her to search out what her own dreams really are. She meets and is instantly fascinated and inspired by Christa McAullife, the first teacher to go into space. But when the Challenger explodes, Annie has to reconsider if the risks inherent in chasing your dreams are really worth it.
The Luxe by Anna Godbersen – This is a complete soap opera, and I mean that in the best possible way. Set at the turn of the 20th century, it begins with a funeral, then rewinds a few weeks to play out everything that led up to the death of one of the most eligible high society girls in New York City. It's told from five different points of view, which might sound like a bit much, but actually works like a charm. Just a fun summer read.
Out of the Easy by Ruta Sepetys – This is another uncommon setting for historical fiction. In New Orleans, in 1950, the city is getting back to regular life with the war over. But for Josie Moraine, there's no such thing as a normal life. Her mother is a brothel prostitute and Josie only wants to get out of New Orleans and attend college where she can make a life for herself without her mother's reputation always tainting her attempts to make something of herself. But then someone dies in a pretty suspect way and Josie's involvement in the investigation might keep her from ever being able to escape the Big Easy.
Ten Cents a Dance by Christine Fletcher – This book, on the other hand, is set during one of the most (possibly the most) written about period of American History as far as historical fiction goes. But this one focuses on a part of WWII I'd never heard of – taxi dancers. These girls dance with soldiers at a dance hall for, you guessed it, ten cents a dance. Ruby secretly takes a job there because the pay is so much better and the work so much more pleasant than her previous job in a packing house, but as she gets more involved in this new world, she has to tell more and more lies to keep it secret from her mother who would be scandalized to hear how her daughter is bringing home the bacon. I especially love that it's based on a true story – the author discovered that her aunt had been a taxi dancer and got mixed up with Chicago mobsters, and this book was born.
Any historical fiction novels you'd recommend? I love ones for all ages!