Written by Jennifer Petro-Roy
I was a late-comer to the beauty of audiobooks, but a few years ago, I absolutely fell in love with them. Another way to read books while simultaneously making my commute less hideous? Sign me up!
But ever since I left my job a little over a year ago to stay home with my daughter, I've been struggling to fit them into my life, especially since I feel guilty putting audiobooks on in the car when I could be playing music or talking with my daughter.
When Janssen posted about ways to maximize your audiobook time, I've found a few extra minutes here and there. Which means I have a few wonderful recommendations of my favorite recent listens, one adult, one middle-grade, and one young adult!
Stories I Only Tell My Friends by Rob Lowe

"Seriously? Another cheesy celebrity memoir?", you may be asking. But trust me on this one. Rob Lowe's memoir about his career in Hollywood is an absolutely fascinating read.
Narrated by the author himself, it details behind-the-scenes scoop on his road to fame, his breakthrough in The Outsiders movie, his tumultuous time on The West Wing and more. I love hearing Lowe name drop celebrities that he knew and interacted with, and his voice is fresh, honest, and humorous.
I've already had two friends read this and love it on my recommendation. I was thrilled to hear that he's working on a sequel.
Eight Keys by Suzanne LaFleur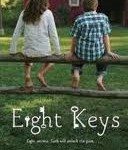 I absolutely loved LaFleur's debut middle-grade novel, Love, Aubrey, so I picked this one up to accompany me on a drive to Cape Cod. Oh, my, was I glad I did.
What a charming coming-of-age story about Elise, who, on her 12th birthday, receives a key that was left to her by her deceased father. Each successive key that she finds leads to a different locked door in her aunt and uncle's barn–and teaches her about both her family and herself.
I adored this book so much that I picked it up in print to finish it.
Scarlet by Marissa Meyer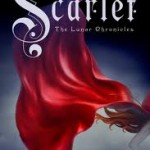 I actually liked this sequel better than Cinder, the first book in Meyer's Lunar Chronicles series, which reimagines the story of Cinderella as if Cinder had been a cyborg with a mysterious past.
Scarlet intermingles Cinder's continuing story with that of Scarlet Benoir. On the surface, it is a retelling of Little Red Riding Hood, but it's a very loose retelling, where Scarlet's grandmother disappears and she must team up with Wolf, an enigmatic street fighter with secrets of his own. Of course, Scarlet and Cinder's pasts are connected, and both are key to the battle to overcome the Lunar Queen.
A quite compelling audio.
Did you love this post?
Sign up for Good Life Eats email updates and never miss another update!