My kids are both in school all day now. Since I don't have to worry about feeding anyone else expect myself between the hours of 9 and 3:30 it can be pretty easy to forget to take snack breaks when I'm working or after exercising.
There is always something that needs to be done and it messes with my workflow to be interrupted sometimes. This isn't a good thing at all because I know that I should be eating healthy snacks throughout the day in between my meals.
Even when I have to stop what I'm doing to eat a snack, I end up being more productive while tackling my to-do list. I decided to put together a list for myself of healthy snacks that take around 5 minutes or less for me to prepare.
I thought I'd share those with you because I'm sure there are other moms out there that feel this way too. When your focus is caring for another person most of the day it is pretty easy to neglect yourself once in a while.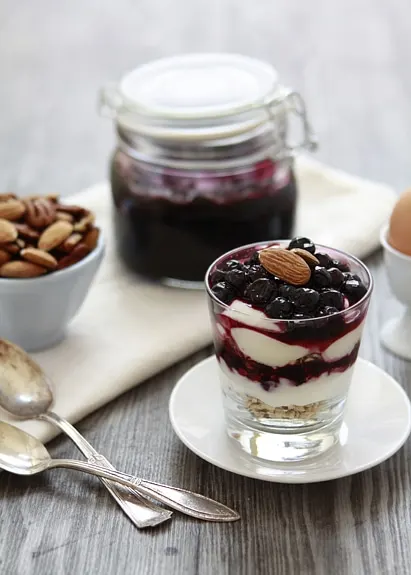 Most of these items I have in the house on any normal day, but making a list helps me avoid the "there is nothing good in this house to eat" feeling. I like to keep a few items that do not need to be refrigerated, like nuts or dried fruit, in one of my desk drawers in my office so I don't always have to get up to eat something if I am super busy.
10 Snacks that take Five Minutes or LESS
Handful of nuts (I love Blue Diamond Toasted Coconut Almonds or plain unsalted almonds) and a piece of seasonal fruit or a few dark chocolate chips
Hummus (make it in advance and keep it in the fridge for use during the week) with Pita Chips
Seasonal Fruit and a Mini Babybel®
Greek Yogurt with fresh fruit, dried fruit, granola, or chopped nuts
Apples and Nut Butter
Protein Shake or Fruit Smoothie with protein (sometimes I like to add a little coconut oil for healthy fat)
Thin lunch meat or leftover grilled chicken rolled in a small whole grain tortilla with The Laughing Cow® Wedges
Scrambled Egg with Salsa and Avocado
Salsa with Whole Grain Tortilla Chips
What are your favorite quick snacks?
I am an official brand advocate for Bel Brands in 2013. While I receive compensation for participation as a brand advocate, opinions are my own.