Back to School Snacks: Easy Recipes for Homemade Snacks
It's back to school time and that means lots of preparation for us moms. I already shared some tips for easy back to school breakfast ideas, but since this month's Eat Well, Spend Less theme is back to school I thought I'd share some quick and easy recipes for homemade back to school snacks.
I remember as a child, the first thing out of my mouth upon arriving home from school was usually "I'm hungry!" And it's no surprise that I'm hearing my own children say the exact same thing.

I try my best to make sure they eat a decent breakfast before school and I always pack them a balanced lunch, but a day at school is full of hard work: mentally in the classroom and physically on the playground.
It's important to have the house stocked with the ingredients you'll need for homemade back to school snacks. Snacks will give kids the energy they need to complete homework and other after school tasks (plus a full tummy in our house always seems to lead to a more positive attitude!).
TIPS FOR AFTER SCHOOL SNACKS
I like to focus on fruits and vegetables for after school snacks. It gives my kids a little something to sustain them until dinner, but not enough to fill them up and spoil their appetites.
Check out these ideas for getting your kids to enjoy some yummy fruit and vegetable snacks after school:
Smoothies for Snacks
I love how Shaina makes freezer smoothies for her kids and stores them in these Ball Plastic 8-Ounce Freezer Jars. I purchased some of these freezer-friendly plastic jars a few months back. One of my back to school goals is to get the freezer cleaned out so I can stock it with a variety of freezer smoothies.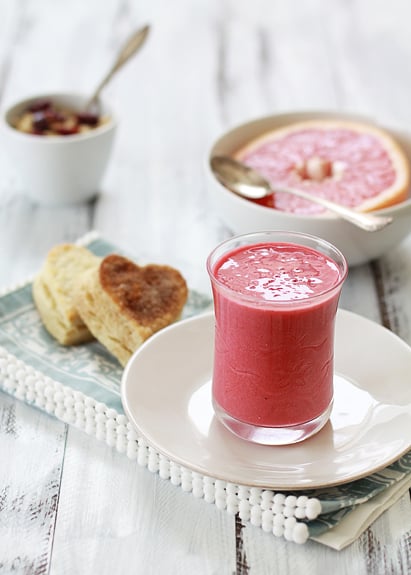 Smoothies are great back to school snacks because you can easily vary the ingredients based upon what you have on hand and what's in season. They're super quick to whip up, but even more so when you take advantage of this make ahead option.
BONUS: These freezer smoothies are also great out-of-the-box lunchbox additions. They serve as a great fruit source and help keep the rest of the lunch box items cold. Serve with a spoon.
Yummy Smoothie Recipes
Fresh Fruit for Snacks
Fresh fruits are an easy after school snack because it requires very little preparation. I like to keep a variety of in-season fruit choices on hand. My kids also enjoy dried fruits, 100% real fruit store bought or homemade fruit leathers, and freeze dried fruits.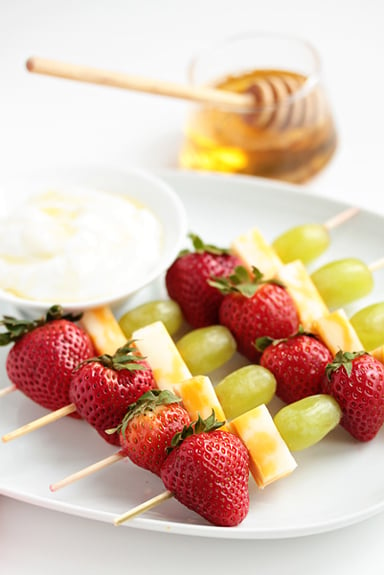 photo via My Baking Addiction
Fresh fruits on a stick make after school snacks super fun. These ideas are simple enough for kids to help out with and can easily be made ahead and stored in the refrigerator (or freezer for the frozen grapes).
Fun Fruit on a Stick Snacks
Fresh Vegetables for Snacks
I like to prepare cut vegetables in advance on less busy days and store them in a ziploc bag or resealable container in the refrigerator. When you're ready for a snack the vegetables are already prepared and easy to pull out of the refrigerator and set out on the kitchen table.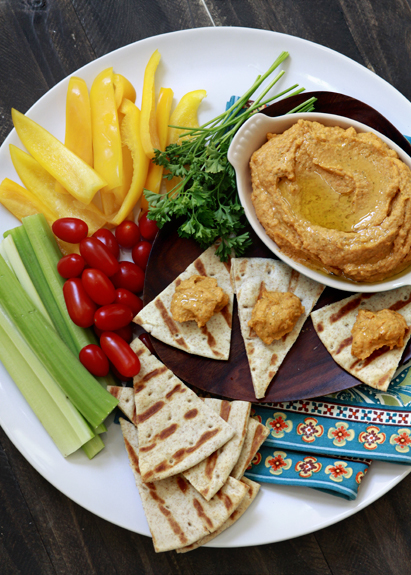 Most kids love to dip. Dips are a great opportunity to get more fruits and/or vegetables into your kids. Set out a plate of cut, fresh vegetables after school along with a bowl of dip. Kids can snack while mom cooks dinner. Additionally, you can offer whole grain pita chips to scoop these dips.
To make your own whole grain pita chips cut the pita bread into wedges and toast on a cookie sheet in the oven or grill in a panini press.
Nutrient Rich Dips to Offer with Vegetables
Healthier Treats
Some afternoons just call for a little something sweet to eat. In my opinion, it's okay to offer treats for an after school snack once in a while as long as it doesn't become an expectation to have special snacks every day.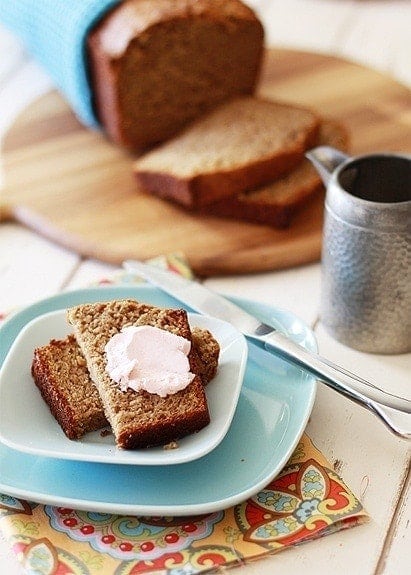 I don't think there's anything that can really replace the traditional after school milk and cookie memories of my childhood, but we tend to eat dinner on the earlier side since the kids are still going to bed early so I don't like to offer something that will put a huge damper on the dinner appetite.
TIP: Make muffins and quick breads ahead of time. They can be easily frozen and used as needed. Just thaw or reheat what you plan to use that day.
These are some of our favorite healthier treats:
What is your Back to School Snack strategy this year? Do your kids have a favorite after school snack?