Kick after school hunger to the curb with these ideas for homemade snacks! From smoothies, to homemade baked treats, healthier dips, popsicles, and more there are tons of after school snack ideas and easy snack recipes to serve.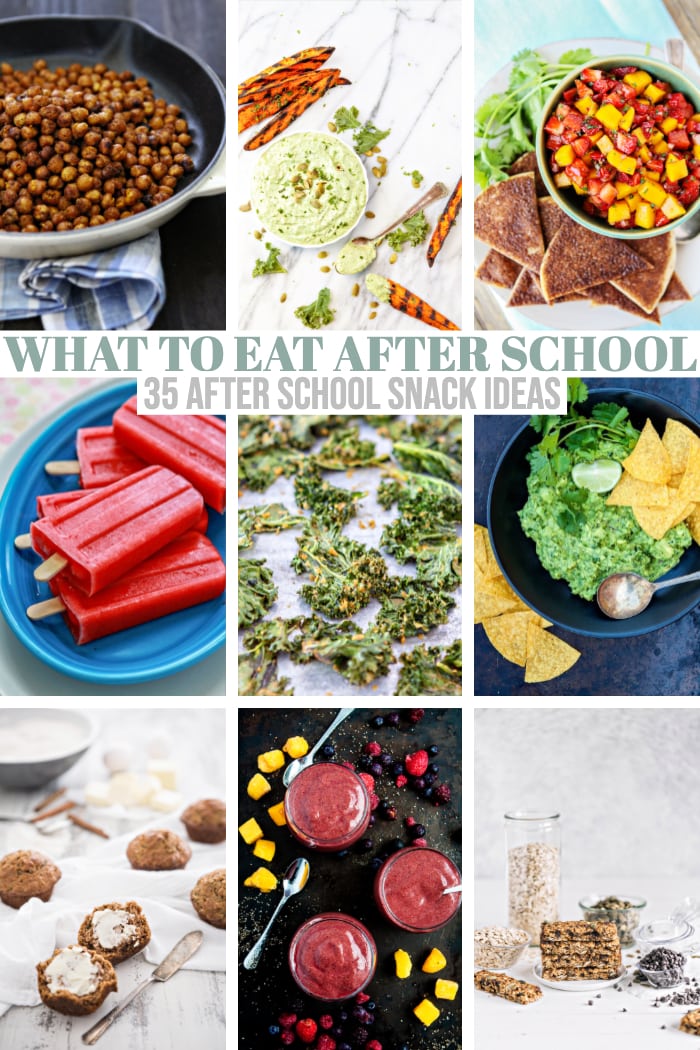 It's back to school time and that means lots of preparation for us moms. I already shared some tips for easy back to school breakfast ideas, but I thought I'd share some quick and easy recipes for homemade back to school snacks.
I remember as a child, the first thing out of my mouth upon arriving home from school was usually "I'm hungry!" And it's no surprise that I'm hearing our kids say the exact same thing.
I try my best to make sure they eat a decent breakfast before school and I always provide food so they can pack a balanced lunch, but a day at school is full of hard work: mentally in the classroom and physically during their after school sports practices.
TIPS FOR AFTER SCHOOL SNACKS
I like to focus on fruits and vegetables for after school snacks. It gives my kids a little something to sustain them until dinner, but not enough to fill them up and spoil their appetites.
The key is finding a healthy after school snack that won't spoil dinner (try to stay away from prepackaged items or anything with a lot of sugar) and teaching kids about portion control.
An after school snack doesn't need to be a meal, just a little something to tide one over until dinner.
don't eat too close to dinner!
alternate snacks that feel more like treats (muffins) with fruits fruits, vegetables, or nuts to create balance.
don't allow an open pantry policy – it usually goes better if we have a plan for what snacks are rather than endless grazing.
Check out these ideas for getting your kids to enjoy some yummy fruit and vegetable snacks after school without spoiling their dinner:
After School Snack Ideas
It's important to have the house stocked with the ingredients you'll need for homemade back to school snacks. Snacks will give kids the energy they need to complete homework and other after school tasks (plus nourished bodies always seems to lead to a more positive attitude in our house!).
What is your Back to School Snack strategy this year? Do your kids have a favorite after school snack?
Get More Recipes via Email
Did you love this recipe? Sign up to receive Good Life Eats Email Updates and never miss another recipe!