Back to School Breakfast Ideas
Lazy mornings of pancakes and waffles cooked up whenever the kids fancy are just about gone. In just about 2 weeks Logan and Madeline will be heading back to school. Is summer seriously over already?
Now that school is almost in session again, I'm feeling a little bit panicky that we didn't do as many things this summer as I would have liked. We've spent far less time than at the pool last year and didn't go on as many field trips discovering Colorado.
Instead we spent 10 days visiting family. And we had out of town guests visiting on 3 separate occasions. Pool plans were foiled more than once by afternoon showers, but we've made the best of it and had a blast anyway. It was especially great spending time with one of our oldest friends and a lot of family.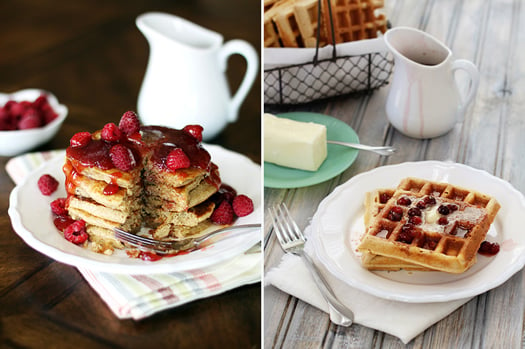 Summer is always a nice break from the daily grind. I don't normally take on as much blogging during the summer months because the kids are home and I like to focus on them. As much as I love spending time with Logan and Madeline, I'm looking forward to being able to spend quality time with them when they're home, working when they're not, and being better able to separate work and family time.
I will miss the lazy mornings that allow us to make big breakfasts even on a weekday and take our time doing so. Around this time of year I always get the itch to stock up the freezer with as many breakfast goodies as I can to keep us going through the school week.
It's important to me to know what and where the food my kids are eating came from and that we all get the best start to our day. The best way I know to keep track of that is to add homemade packaged food convenience to the food I make anyway. By freezing homemade pancakes and waffles ahead of time, I'm ensuring that we all have a healthy start to our day.
What's your best back to school tip for easing the transition?
More Back to School Posts
Print This

How to Freeze and Reheat Pancakes and Waffles

Cook pancakes or waffles according to recipe directions. Allow the pancakes or waffles to cool completely.
Line a baking sheet with a sheet of parchment paper.
Place the cooled pancakes or waffles on the baking sheet making sure that they do not touch each other.
If you are freezing more that one layer of pancakes or waffles, you can simply use another sheet of parchment to separate the layers.
Place the baking sheet into the freezer. Allow the pancakes or waffles to freeze for at least 6 hours.
Once the pancakes or waffles are completely frozen, stack them in a zip top freezer bag or freezer-safe container.
Use a marker or tape label to add the date to your storage container.

How to Reheat the Pancakes

Option 1 for Reheating Pancakes:
Preheat oven or toaster oven to 350 degrees. Line a baking sheet with parchment paper. Line the desired number of pancakes on the baking sheet and cover with foil. Bake for 10-15 minutes or until they are heated through.

Option 2 for Reheating Pancakes:
Stack pancakes on a microwave safe plate and heat on high for 1 ½ – 2 minutes or until the pancakes are heated through.

How to Reheat Waffles

Option 1 for Reheating Waffles:
Place frozen waffles into toaster and toast as you would a piece of toast. This may take more than one cycle depending on your settings.

Option 2 for Reheating Waffles:
Preheat oven or toaster oven to 350 degrees. Line a baking sheet with parchment paper. Line the desired number of waffles on the baking sheet. Bake for 10-15 minutes or until they are heated through.
More Tasty Breakfast Ideas
If you need something super quick these German Pancake Muffins are the way to go. The prep takes 2 minutes at the most and you'll only get the blender and a muffin tin dirty making them. Substitute whole wheat flour for added nutrition.
This recipe for Multi-Grain Banana Bread is a healthier take on banana bread, though just as delicious – if not more. Take it from me, a banana hater, this recipe is good! Try spreading Laughing Cow Smooth Sensations Strawberries & Cream 1/3 Less Fat or Cinnamon Cream 1/3 Less Fat on top.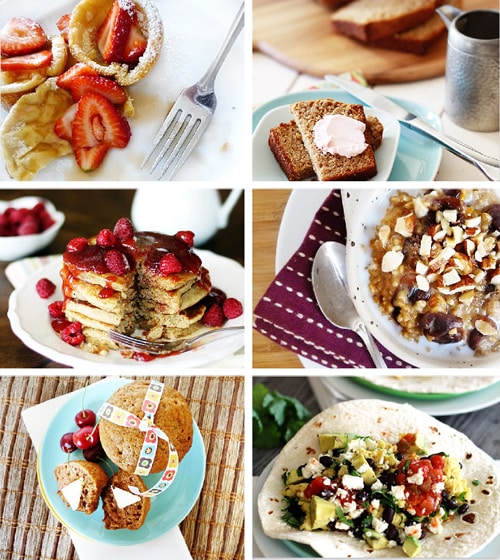 Plan ahead and put together a batch of this 5 Grain Pancakes with Flax pancake mix. With your own homemade mix on hand you'll be able to whip up pancakes in no time.
Steel cut oats are a breeze to prepare when you mix up the recipe for these Cherry and Tangerine Steel Cut Oats the night before and allow the oats to soak. Substitute dried cranberries and orange zest for cherries and tangerine.
Zucchini Apple Spice Muffins are a great way to use up excess garden zucchini. Even my pickiest eater loves them. Feel free to substitute whole wheat flour for all-purpose or use a combination of the two.
If you prefer a savory breakfast, try these Black Bean Breakfast Burritos. This recipe is sure to give you the energy you need thanks to all the protein and fiber.
I am an official brand advocate for Bel Brands in 2013. While I receive compensation for participation as a brand advocate, opinions are my own.