Breakfast Burrito Quesadillas
Yesterday was my birthday. I received lots of sweet messages on Facebook and Twitter, many of them conveying something like: "I hope someone else is doing the cooking for a change!" "Hope you're eating something yummy tonight!" "Have a delicious day!"
In truth it was a very nice day. I still did the cooking for dinner (these Breakfast Burrito Quesadillas and a fruit salad), and most of the clean up, but it was yummy and I did have a delicious day. The only thing missing was the cake. I never bake my own birthday cake.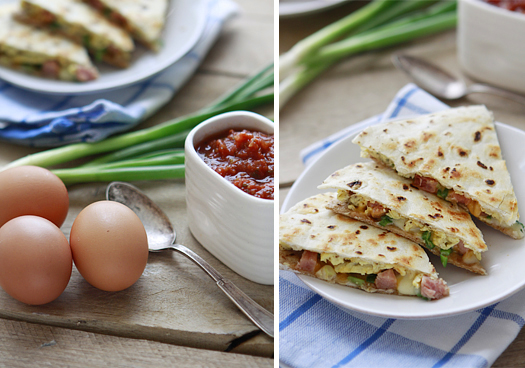 Eric was amazing and took the kids to school and picked them up, which on a normal day would have been nice but was incredibly generous seeing as he didn't get home from his work trip until 3 am that morning. That gave me an extra 1 1/2 hours of kid-free time – a real treat after being on my own for a few days.
A friend took me out for breakfast and then I did a little shopping. I had a gift certificate to The Body Shop to redeem so I treated myself to some fun, new things. I also got a new purse for spring/summer.
Nothing fancy, but a nice relaxing day spent with people special to me.
I first made this recipe for Breakfast Burrito Quesadilla when Eric was out of town recently. I had originally set out to make a scrambled egg breakfast burrito but somewhere along the way I decided that wasn't really what I wanted. The flavors, the ingredients – yes. But not the end result.
Burrito just didn't sound right. But a Quesadilla with lots of melty cheese and all the burrito filling inside. YUM. That was what I wanted.
I almost always have eggs in the house. Scrambled eggs are a quick base for lots of simple, yet still satisfying meals. It is so much harder to cook dinner when I'm the only parent in the house. So I do a lot of easy things, like quesadillas or breakfast for dinner.
This Egg and Ham Quesadilla is perfect for days like that, or times when you just want something easy that still tastes great. Also pretty convenient when you have Easter Ham in the freezer that needs using up!
p.s. Don't forget to enter the $50 Kroger Grocery Giftcard Giveaway!
Breakfast Burrito Quesadilla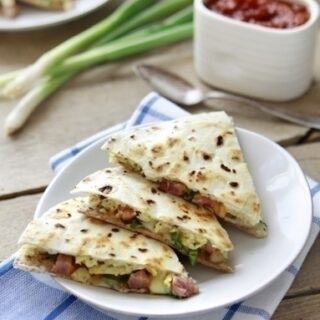 Ingredients:
Directions:
For the scrambled eggs:
In a medium bowl, combine the eggs, salt, pepper and milk. Using a whisk, whip the eggs by hand until they are combined.
Add half of the butter to a medium saute pan and melt over medium heat. Add the egg mixture and the bell pepper. Using a wooden spoon or heat safe spatula, push the eggs from one side of the pan to the other until they are cooked, about 2 minutes.
For the quesadilla:
Divide egg mixture between two tortillas, layering the egg mixture on top, followed by half of the cheese, green onion, and ham. Top each tortilla with one of the remaining tortillas.
In a skillet, melt the remaining butter over medium heat. Add one quesadilla at a time to the pan, cooking until golden and brown (about 3-4 minutes per side), then flip and cook on the other side. Repeat with remaining quesadilla.
Cut cooked quesadillas into 6 wedges and serve immediately with salsa for dipping (if desired).