I gave you a little teaser of this recipe for restaurant style salsa last week on my Week in Review post.
Ready for me to share the recipe?
You'll never believe how easy it is to make this restaurant style salsa.
First, can I just tell you how addicting this recipe is?
So addicting that I, completely by myself (except the 5 of so chips Madeline ate) polished off an entire bag of tortilla chips in a mere 4 days.
True, it was not the extra large or even large sized bag of chips, but still.
Entire bag.
By my self.
Do you know how many calories/fat/sodium…unhealthy stuff is in that?
But I'll just pretend that it doesn't really matter.
I'll keep telling myself that it's okay because the salsa was full of tomatoes (vegetable!).
And I know that I don't do this sort of thing every week.
And maybe next time I'll make homemade tortilla chips to go with the salsa so it'll be just that much "healthier."
I am so impressed with how much this tastes like fresh salsa.
If someone made the recipe for me, I never would have guessed that the secrets to the recipe are canned whole tomatoes and Rotel.
The recipe makes a lot and I was almost tempted to half it, but you know what?
I'm so glad I didn't because it's already gone and I just made it a week ago.
And I'm definitely going to make it again.
The Cuisinart Elite 12 Cup Food Processor worked great for this salsa recipe – definitely enough room for the whole recipe and it couldn't have been easier – there was no chopping, slicing, or dicing involved.
I just tossed everything in and pulsed.
Next time you have a hankering for easy restaurant style salsa, give this recipe a try!
Do you have a favorite recipe for making salsa from scratch?
More Delicious Salsa Recipes:
Did you love this post?
Sign up for Good Life Eats email updates and never miss another update!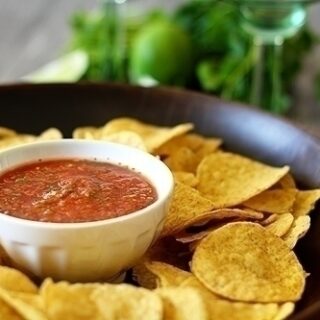 Restaurant Style Salsa
Total Time:
1 hour
5 minutes
This Easy Restaurant Style Salsa is so good and so easy to make! It is perfect for Taco Tuesdays or as a Super Bowl Appetizer served with Nachos or Tortilla Chips.
Ingredients
28 ounce can Whole Tomatoes With Juice
10 ounce can Rotel Original (diced Tomatoes And Green Chilies)
10 ounce cans Rotel Mexican (diced Tomatoes with Lime and Cilantro)
1/2 of a Yellow Onion
1 clove Garlic
1 whole Jalapeno, halved (seeds removed for milder salsa)
1/4 teaspoon Sugar
1/2 teaspoon Salt
1/2 teaspoons Ground Cumin
1/2 cup Cilantro
1/2 lime, juiced
Instructions
Combine whole tomatoes, Rotel, onion, jalapeno, garlic, sugar, salt, cumin, lime juice, and cilantro in a blender or food processor.
Pulse until you get the salsa to the consistency you'd like—about 10 to 15 pulses.
Test seasonings with a tortilla chip and adjust as needed.
Refrigerate salsa for at least an hour.
Recommended Products
As an Amazon Associate and member of other affiliate programs, I earn from qualifying purchases.
Nutrition Information
Yield

12
Serving Size

1
Amount Per Serving
Calories

39
Total Fat

0g
Saturated Fat

0g
Trans Fat

0g
Unsaturated Fat

0g
Cholesterol

0mg
Carbohydrates

9g
Fiber

1g
Sugar

5g
Protein

1g