Kitchen Tip: How to Roast Peppers
Roasted peppers can add so much flavor to a variety of dishes: salsa, soups and stews, pastas, and sandwiches, just to name a few. To roast a pepper, you will want to cook it over very high heat until the skin begins to blister and eventually becomes completely blackened on the outside.
There are several methods that can be used to roast peppers, but I have a new favorite to add to that list. And it is so easy. As long as you have a gas stove, there are no special tools required, or incredible hot ovens.
That picture says it all, but just in case you need some more details on this method for roasting peppers, I'll spill the details. I learned this trick last fall in Napa from chef Jeffrey Saad and he reminded me again a few weeks ago at Evo Conference in the Bush's Beans Food Workshop.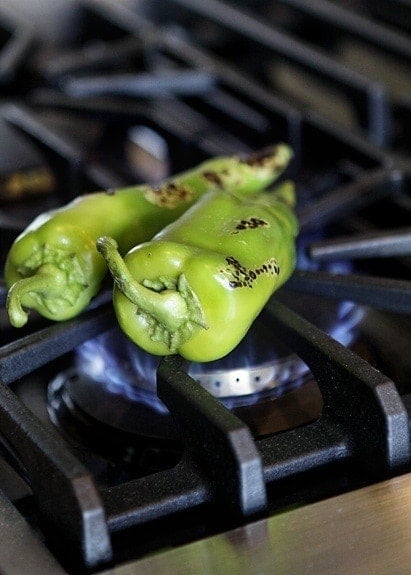 How to Roast Peppers
1. Wash and dry the outside of the pepper. You can roast any pepper, poblano, red bell pepper, Hatch green Chiles and more.
2. Place the pepper on top of the grates on your gas stove. Turn the stove's flame to medium-high.
3. Cook the pepper until it begins to blister and blacken. Every few minutes, give it a turn so that you can continue roasting on another side.
4. When the whole pepper is completely black, place the roasted pepper in a bowl and cover it with a plate or plastic wrap.
5. Let sit for about 5 – 10 minutes; you'll want to wait until it's cool enough to handle.
6. After the pepper has cooled enough to touch, use your fingers to rub off the blackened skin. Discard the skin. The tender flesh below will have a nice smoky flavor to it.
That's it! Just make sure you wash your hands well afterward to avoid accidental touches to your eyes. If you are roasting many peppers, especially of the hotter variety it is wise to wear rubber gloves while removing the skin.
Delicious Roasted Pepper Recipes
What is your favorite way to roast peppers?