I don't actually document my errands. But this was a particularly "fun" and "interesting" experience that I thought warranted sharing. Because way back when I did a site survey and lots of you wanted a "peak into my life as a mom."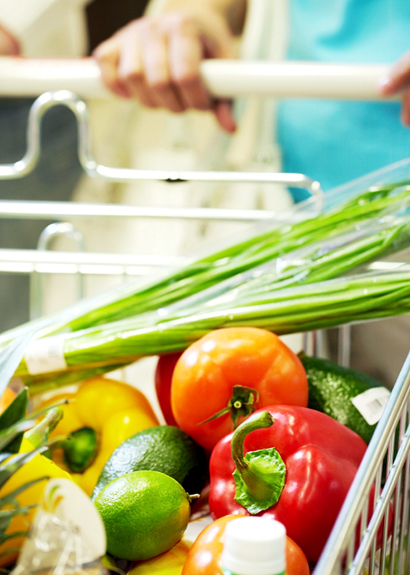 My Grocery Store Confessional
The grocery store trip that was doomed from the beginning. Times are estimates.
Monday, July 25, 2011
4:30 pm > Enter grocery store. With both kids. SIGH audibly.
I do it despite my knowledge that it's the worst possible time to go grocery shopping.
Wander aimlessly.
4:45 pm > Realize I don't have my list. Decide to attempt the trip anyway.
Proceed to put produce in basket. Get dirty looks from people because I have my kids with me.
He towards dairy section.
Witness Logan pushing the basket around in circles in the middle of the aisle as I grab the milk.
Make the mistake of walking past the ice cream.
Go back to the produce because I forgot half of what I needed.
4:55 pm > Go down random, unnecessary aisles to avoid the masses.
5:00 pm > Remember I have an iphone and that I can look up a couple of recipes for ingredients.
Attempt to park the kids out of the way so I can double check what I need.
Double back for kalamata olives so I can make Mediterranean Pasta, or something like it, for dinner.
Realize I'm out of parmesan and have forgotten it the last 4 times I've been shopping.
5:03 > Get more dirty looks because I'm saying "no" to all the kids requests and most likely am wearing my favorite expression – the "perma-scowl."
5:05 pm > Remember that I'm out of sour cream. Head back to dairy.
Give in to Madeline's requests for popcorn.
Declare that we're DONE and no one better complain, nag, whine, or hit…otherwise it's a TIMEOUT when we get home.
5:08 pm > Make a bee-line for the shortest check out line. Actually pick up my pace so I can get there before another person eye-balling the short line.
Get another dirty look.
Tell Logan to stop touching the magazines and that we're NOT getting any candy.
Decide that I want a Skor bar. Hide it under the food so the kids don't see.
Get ready to pay and then realize I DON'T HAVE MY WALLET.
5:10 > Vent on Twitter. Go home. Get Wallet. Do.Not.Pass.Go.Ever.

5:20 > Get back in line. Thank the nice person who didn't put the food away. Pay.
Answer phone. It's Jamie. Tell her what happened. She laughs.
Mentally stick my tongue out at her. Decide that's not very mature.
I agree that I might laugh too…in a few days.
5:25 > Load Car. Leave Store.
Get honked at.
Miss my turn.
Take a detour.
5:35 > Make it home just before Eric. Decide it's leftover night.
Eat leftover soup even though it's nearly 100 degrees out.
I'm sure we've all been there and I realize that probably 98% of the population despises grocery shopping just as much as I do. So, give me your worst. Leave me your grocery shopping confessional. Dish out the dirt.