This post is sponsored by Hidden Valley Ranch, all content and opinions are my own.
Oh the dreaded vegetable battle. It is one almost every mom (unless you're Super Woman) faces with their children. We may be able to get them to eat the vegetables. But how do we get our children to LIKE the vegetables?
It has been a learning process here in our home, but I thought today that I would share with you a few tips and tricks that I've learned along the way to help nurture Logan and Madeline's enjoyment of vegetables. I hope you'll share your tips, too!
5 Tips to Get Kids to Enjoy Fresh Vegetables
1. Offer Fresh Vegetables as Snacks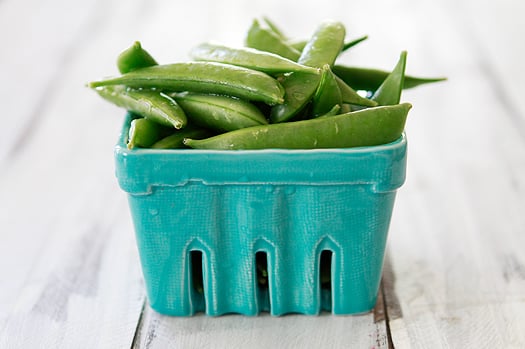 Kids get hungry and often when they're hungry they're more willing to eat…PERIOD. We try to limit snacking between meals because I have found that my kids eat better at lunch and dinner when they haven't snacked all the hours between their previous meal and the next.
However, if they ask for something to eat and they say they're hungry before it is time for the next meal I will offer a choice of fresh vegetables they can choose from as a snack.
Vegetables that Make Fast, Easy Snacks:
Baby Carrots
Mini Bell Peppers
Sugar Snap Peas
Celery Sticks
Broccoli Florets
2. Offer a choice
This was one of those "duh" moments for me as a mom. Don't ask: "Logan, would you like some carrots?" Instead ask: "Logan would you like carrots, peppers, or celery with your lunch?"
Rather than giving my kids the option to say "no," I choose a few acceptable to me options and allow them to pick which choice they'd prefer. My kids have a much more positive attitude towards what they're eating when food is presented to them as a choice.
3. Grow a Garden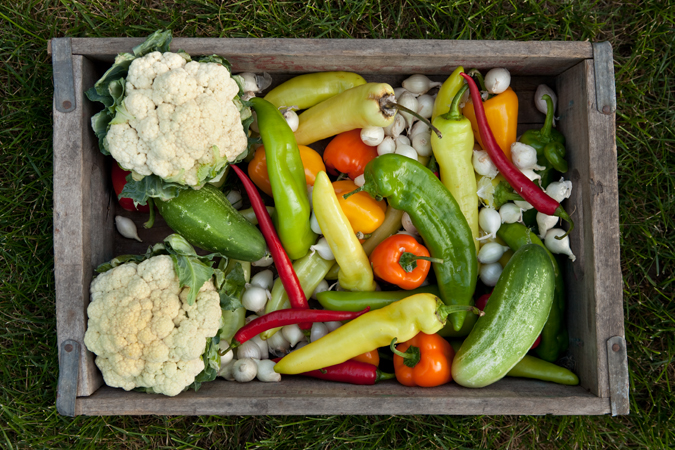 photo via Shaina
Kids enjoy seeing the process of food growing. Get them involved by taking them to the nursery and allowing them to choose a vegetable or two that they would like to grow and nurture.
They will love this responsibility and for some reason kids are much more likely to want to eat something that they've grown. After such a fun, positive experience in the garden they'll have good feelings towards the vegetables their plant has grown.
My kids have always enjoyed the summers we planted a garden. Unfortunately this year due to our move, we will not be able to plant as intensively as other years.
Right now we have a small herb garden in a pot, and our nectarine tree and grape vines have little tiny fruits producing (which we won't get to see develop this year). I'm hoping we'll at least get to plant something in a pot on the deck in our new backyard.
4. Present Vegetables Regularly
Don't ever give up. I know that it is so hard to get certain kids to enjoy their vegetables, but consistency will pay off.
It took us almost a whole school year of putting carrots in Logan's lunch every day before he would start eating them at lunch time. Though this is an extreme case and most kids won't be this difficult, our persistence paid off!
5. Serve it Differently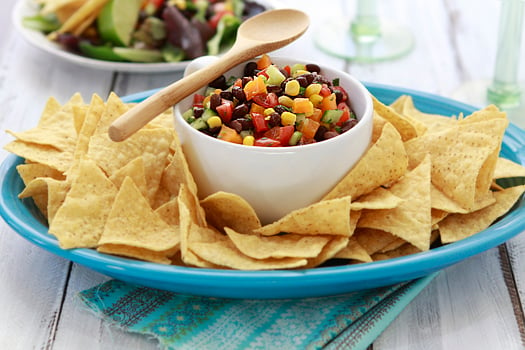 This Black Bean Salad Salsa is full of fresh vegetables: Tomatoes, Cucumber, Bell Peppers, Cucumbers, and more.
Even after we've presented vegetables regularly we have found that there truly are some that Madeline and Logan don't like (yet). And that is ok! We all have different tastes. The key is finding how our children like their vegetables prepared or served.
While Madeline doesn't like roasted broccoli with balsamic vinegar, but she gives raw broccoli with a dip, such as Hummus, two thumbs up. Or maybe a fresh salsa of vegetables, such as Black Bean Salad Salsa, or Guacamole, served with pita or tortilla chips will get your kids to enjoy vegetables.
There are almost unlimited possibilities when it comes to serving vegetables.
How do you nurture you child's enjoyment of vegetables?