Capri Sun Sport is a fun, new flavored water beverage created by Capri Sun specifically for kids. This post was created in partnership with Capri Sun.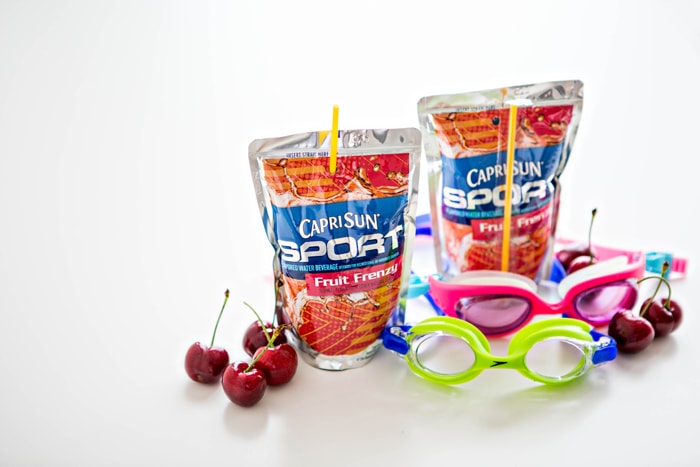 When Capri Sun contacted me a few months ago to ask if I was interested in being part of their Sun Squad, I was thrilled!
We buy Capri Sun drinks every.single.week.
Reality: Out of the 4 kids, 2 of the kids are at a school that doesn't have a cafeteria, one of the kids has a food allergy so he prefers to bring lunch from home to be on the safe side. We pack lunches nightly during the school year. Actually, I should say that the kids pack lunches nightly.
Capri Sun is a staple in our house. When I told the kids that I'd be working with Capri Sun, they about lost their minds with excitement.
Then, Capri Sun told me that they have a new product that would be coming out called Capri Sun Sport. Kendall and Logan participate in a variety of sports pretty much year round, and Kayden and Madeline are pretty active in their own way.
Capri Sun Sport, with a blend of electrolytes and water, will help keep these active kids hydrated as they are participating in all sorts of recreational activities , especially as we go into the summer months of sports camps. June is just packed for us with a variety of summer activities for the kids. And any week now our new neighborhood pool that is literally just up the street (walking distance) will be opening. I'm sure the kids will be doing lots and lots of swimming this summer.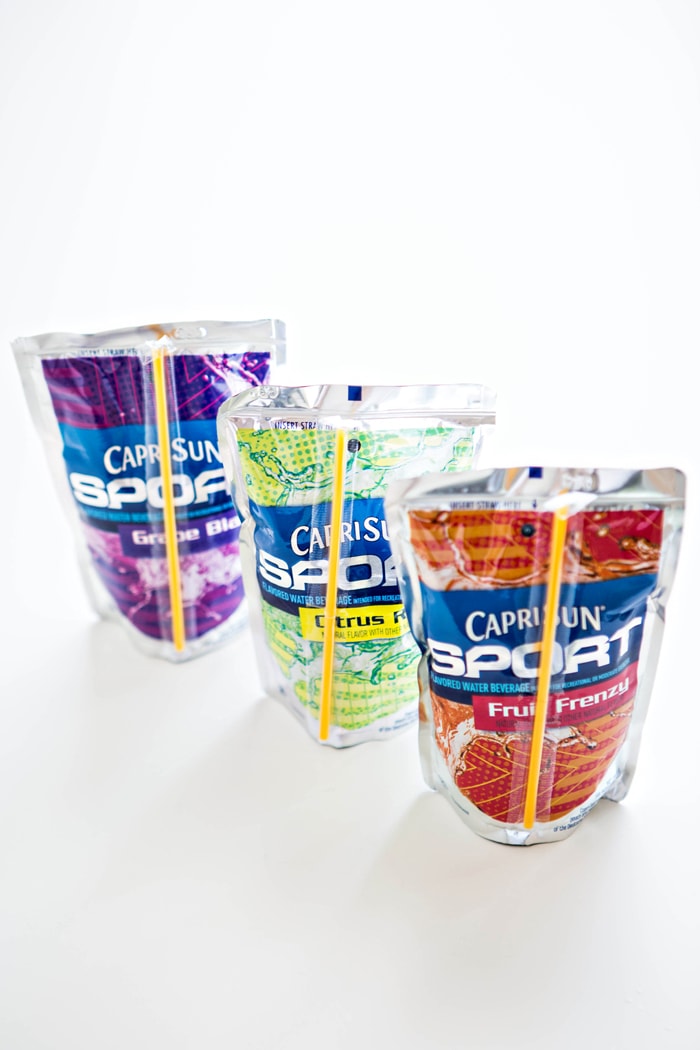 5 Tips for Keeping Kids Hydrated
Kids are so active, and often they forget about their hydration needs. Wondering how to keep kids hydrated? Here are a few easy tips!
1. Role Model: I think the #1 tip to help encourage kids to stay hydrated is to be a role model. Show your kids that you're drinking plenty of fluids and making good choices when doing so. Make sure they see you keeping yourself hydrated and talk openly about hydration.
2. Start Your Day with Fluids: We always serve fluids right away with breakfast in the morning. Recently, Madeline asked me "why do I have to have a drink with breakfast?" I responded that their bodies really need fluids in the morning because they just slept for 8 (or more!) hours without having a drink of anything. Even if they don't feel thirsty yet, they should be hydrating right away in the morning.
3. Offer Plenty of Choices: My kids get bored of only drinking water, but I don't want them to fill up on empty calories and excessive amounts of sugar.
When we want something different from water, or other drinks, I love Capri Sun Sport.
It has 20% less sugar* and 25% fewer calories** per 6 ounces than regular leading sports drinks. There is absolutely no high-fructose corn syrup and there are no artificial colors, flavors, or preservatives. It is sweetened with a combination of sugar and stevia rather than artificial sweeteners and there are only 30 calories and 8g of sugar per serving (versus 40 calories and 10.5 grams per 6 oz in average leading sports drinks).
Plus, Capri Sun Sport comes in three flavors: Citrus Rush, Fruit Frenzy, and Grape Blast.
4. Carry It With You: Whenever we are going to be away from the house, especially if we plan to be outdoors or are playing sports, I tell everyone to grab something to drink. That way kids aren't deprived of hydration for hours when we're away from home.
Also? I think it helps keep them in a better mood when they are hydrating throughout the day during whatever plans we have.
5. Hydrate Before, During, and After Playing Sports:
The other day Kayden had a headache at bedtime. I asked him why he thought that happened and he said, "I know it is because I've been playing hard outside at the park and I wasn't drinking water." So smart! In my experience, trying to hydrate after the fact, when you realize you haven't been drinking water and already have a headache doesn't work so well. Hydration before, during, and after physical activity keeps the kids (and adults!) feeling their best.
With all of the great activities and sports ahead – seriously, I love that our kids are so active – the kids will need to stay hydrated, especially once the summer heat hits.
I completely appreciate that Capri Sun has created a flavored water beverage with a blend of electrolytes and water that is specifically formulated just for kids, and they've put careful consideration into the nutritional aspect of that beverage
Capri Sun sent us all 3 flavors to try and the kids have been sampling them in their lunch boxes. They've been a hit with everyone. Logan has enjoyed stashing them in his bag to take with him to sports practice or as a drink option during games.
Stay tuned because in the coming months I'll be sharing some fun ideas using Capri Sun products that you'll definitely want to check out.
Thank you for supporting the brands that sponsor Good Life Eats. This is a sponsored conversation written in partnership with Capri Sun. The opinions and text are all mine.
* Per 6 oz., this product 8 grams of sugar, sports drinks 10.5 grams of sugar.
**Per 6 oz., this product 30 calories, sports drinks 40 calories.