We have been really lucky the past couple of weeks to have some gorgeous, almost spring-like weather here in Colorado. For those of you who aren't so lucky, here are three great books to keep kids entertained when it is too cold to play outside. Check out this great book list, updated from the archives…
Christmas is over and a lot of the USA is being slammed with bad weather. With several months of winter to go, the prospect of keeping kids entertained inside can be daunting.
These three books are some of my favorites for helping pass the time on a cold winter afternoon indoors (or save these for those long summer months ahead!).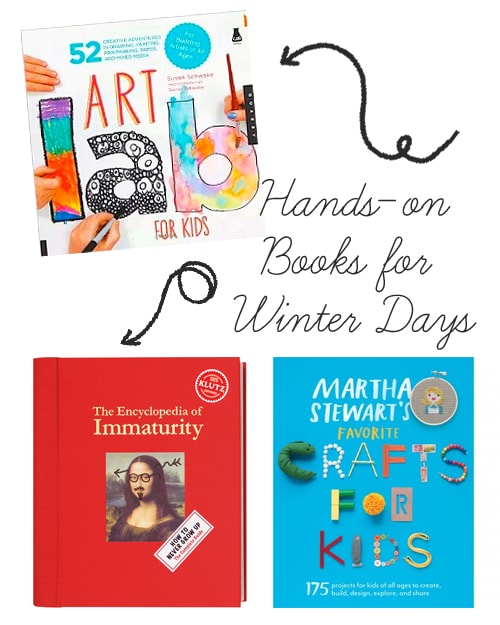 Written by: Janssen Bradshaw of Everyday Reading
Art Lab for Kids by Susan Schwake. I love this book because it's not just typical art projects. Instead, it has great lessons for learning all sorts of different art forms, from drawing to printmaking to mixed media. Each lesson (or "lab") has detailed step-by-step photos and instructions on how to do your own project using that technique, plus a little info about some famous artist who uses that technique, along with one of their pieces of art. It's a really fun book whether your child is a budding artist or already accomplished.
The Encyclopedia of Immaturity. I like basically every book Klutz puts out, but this is one of my favorites, filled with jokes, pranks, cool tricks to learn (like juggling or magic tricks). Perfect for passing long periods of time for anyone ages 6 and up.
Martha Stewart's Favorite Crafts for Kids. I checked this out from the library and gave my daughter twenty slips of paper to mark the projects she wanted to do. By the time we got to the 21st project, she was out of slips. Every craft in here is delightful and fun.
What are your favorite activity books for kids?