I've got you all set with pumpkin recipes – check out the Easy Pumpkin Spice Chai Latte and the Pumpkin Chocolate Chip Cookie S'mores – but now you might be looking for something spooky to read as Halloween approaches. Check out these three spooky reads for grow-ups and you'll find something to fit the bill. Recommendations courtesy of Everyday Reading.
The Internet is full of suggestions for Halloween books for little ones (and for good reason. There are so many fantastic books for that age!).
But what about adults? Shouldn't we get a few books to read during the month of October that make chills run down our spines?
Here are three of my favorite spooky, but not TOO scary (I am a wimp!), books for the season.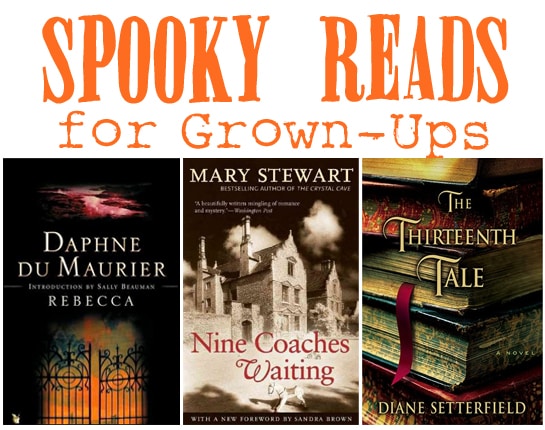 Written by: JANSSEN BRADSHAW of Everyday Reading
Rebecca by Daphne du Maurier. This is one of my all-time favorite books, about a young woman who marries a rich widow, but can't seem to shake the shadow of his first wife that hangs over the house. The first chapter is a bit slow, but after that you'll be sucked in.
Nine Coaches Waiting by Mary Stewart. When Linda takes a job in France as a governess for a little orphaned boy being cared for by his aunt and uncle, she doesn't quite realize what she's getting herself into. Between protecting the little boy from attempts on his life and falling in love with her employer's son, Linda is soon in deeper than she expected.
The Thirteen Tale by Diane Setterfield. A famous author, nearing the end of her life, invites a young writer to come write her biography, finally sharing her secret and tragic past. This was among the first books I read after college (when I no longer had to read assigned textbooks), and I just loved being able to read something so FUN again.
What are your favorite books to read in October?