Halloween is just days away now. You've probably got your costumes and candy squared away already, but there are still a lot of ways to make the holiday memorable and fun for the whole family.
I've gathered some of my favorite Halloween Crafts, Recipes, and Snacks to inspire you as you plan your Hallow's Eve festivities this week.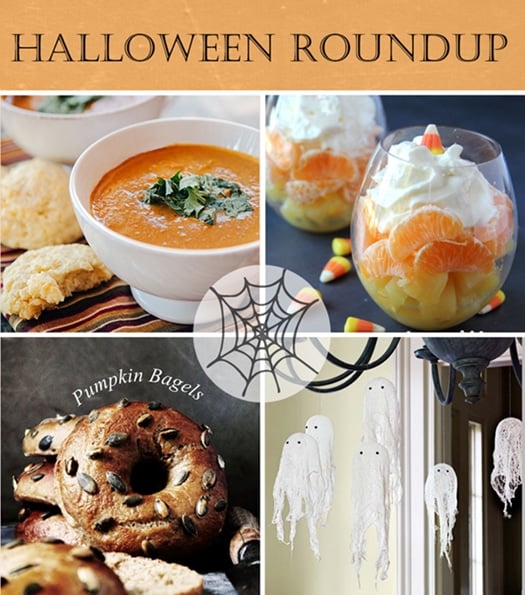 Halloween Breakfast Ideas:
Most of these breakfast ideas are simple enough to pull together on a weekday morning and start the holiday off with a little something special. The Pumpkin Bagels are probably best made ahead, but they are worth the extra planning!
Pumpkin Bagels with Pumpkin Seeds | Twigg Studios
Pumpkin Pie Oatmeal | Good Life Eats
Bacon and Eggs Skull and Crossbones | Vincent Abry
Honeydew Fruit Bats | Shaken Together
Halloween Snack Ideas:
Kids and adults will enjoy the whimsy of these healthy, spooky snacks. These would be a perfect lunchbox surprise too!
Mini Baybel Eyeballs | Cute Food For Kids
Banana Ghosts and Clementine Pumpkins | Creamty
Veggie Skeleton | Feeding Frenzy
Candy Corn Fruit Cocktails | Family Fresh Meals
Halloween Dinner Ideas:
Halloween Dinner needs to be warm and filling after a chilly evening out trick-or-treating. Whether you come home to a spooky dinner, like Cauldron Curry, or a big pot of hot Chili, these delicious recipes are going to warm you right up.Braised Short Rib and Bacon Chili | Good Life Eats
Sweet Spiced Pumpkin Soup | Some the Wiser
Cauldron Curry | Martha Stewart
Candy Corn Quesadillas | Julie's Eats and Treats
Crock Pot Picadillo Stuffed Peppers | Skinny Taste
Halloween Craft Ideas:
These fun crafts not only give you something fun to do with the kids for the holiday, they also provide some spooky Halloween décor for the house.
Q-Tip Calacas | Artolazzi
Cheese Cloth Ghosts | Country Living
Paper Pumpkins | Scottsdale Moms Blog
Halloweggs | Little Food Junction
What plans do you have for Halloween this year?
I am an official brand advocate for Bel Brands in 2013. While I receive compensation for participation as a brand advocate, opinions are my own.