Pumpkin Creme Caramel
It's that time of year…time for all things pumpkin. I always look forward to fall and the smells of cinnamon and pumpkin baking in the oven. Breakfast this time of year is most definitely one of my favorites because of all the delicious fall goodies to bake…and eat.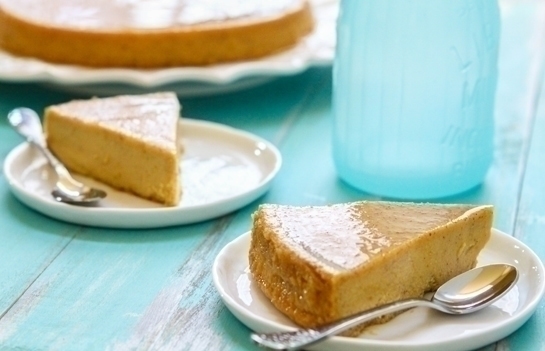 I tested this recipe for Pumpkin Creme Caramel a few months ago and it got me very excited. It is super simple. Your blender, and possibly your kids, will do most of the work for you. Aside from making the caramel sugar and putting the final recipe together before baking it, this recipe is simple enough that Logan and Madeline could do the preparation themselves.
As much as I liked this recipe, I liked it even more because it was something all of us could agree was yummy. Sometimes it is difficult to find more out of the ordinary desserts that we all like.
Logan doesn't like anything with large pieces of fruit, I don't really like baking layer cakes because I think they're too much work, and anything with too much texture (think rice pudding) is usually off the table for the kids as well.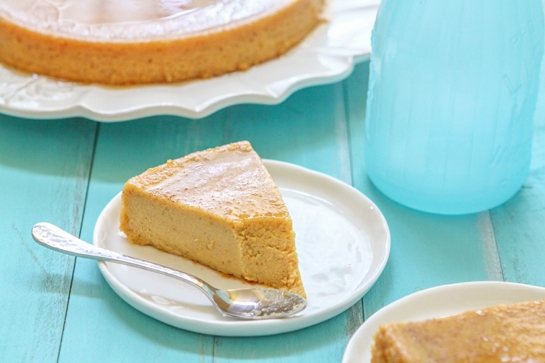 The combination of fall spices, sweet, creamy pumpkin, and a carmel-y topping in this recipe for Pumpkin Creme Caramel received a unanimous "yes" in our book. This recipe will definitely be gracing our table again this fall – especially because it is so simple to prepare.
More GoodLife Eats Pumpkin Recipes
If those aren't enough, check out my Pumpkin Recipe Board on Pinterest for more ideas to try this fall. Hope you find something you like. You can follow GoodLife Eats on Pinterest here. Personally, I'm looking forward to baking a batch of Pumpkin Bread and eating it slathered in Laughing Cow's Smooth Sensations Cinnamon Cream.
What is your favorite recipe to make with pumpkin? Do you prefer sweet or savory?
Pumpkin Creme Caramel
Yield: serves 8
Prep Time:15 minutes
Cook Time:55 minutes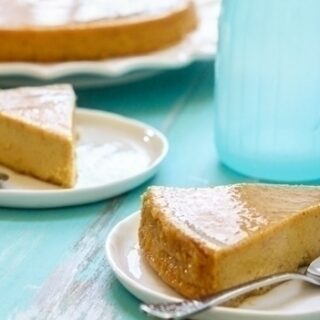 Ingredients:
1 cup sugar
1/4 cup water
1 can (14 oz) sweetened condensed milk
1 can (12 ounces) evaporated milk
1 cup pumpkin puree
4 ounces cream cheese, softened
5 eggs
1 teaspoon pumpkin pie spice
1 teaspoon pure vanilla extract
Directions:
Preheat oven to 350°F.
Stir sugar and water in heavy medium saucepan until slightly dissolved. Without stirring, cook on medium heat 8 to 10 minutes or until sugar turns golden brown. Immediately pour into 9-inch round cake pan. Wearing oven mitts, quickly swirl and tilt pan to coat bottom and sides of pan with caramelized sugar. Place pan in large shallow baking pan. Let caramelized sugar stand at room temperature to cool and harden slightly.
Place milks, pumpkin, cream cheese, eggs, pumpkin pie spice and vanilla in blender container; cover. Blend on medium speed until smooth. Pour over caramelized sugar in pan. Pour enough hot water into baking pan to come halfway up side of cake pan.
Bake 40 to 45 minutes or until knife inserted in center of flan come out clean. Cool slightly. Carefully remove pan from water. Cool completely on wire rack.
Refrigerate 3 hours or overnight. Carefully run knife around flan to loosen from pan. Invert onto serving plate. Gently remove cake pan.
I am an official brand advocate for Bel Brands in 2013. While I receive compensation for participation as a brand advocate, opinions are my own.