This Pumpkin Spice White Hot Chocolate is infused with real pumpkin puree and plenty of pumpkin spice for a delectable fall drink! It's a fun twist on classic recipes for traditional hot chocolate and perfect for snow days!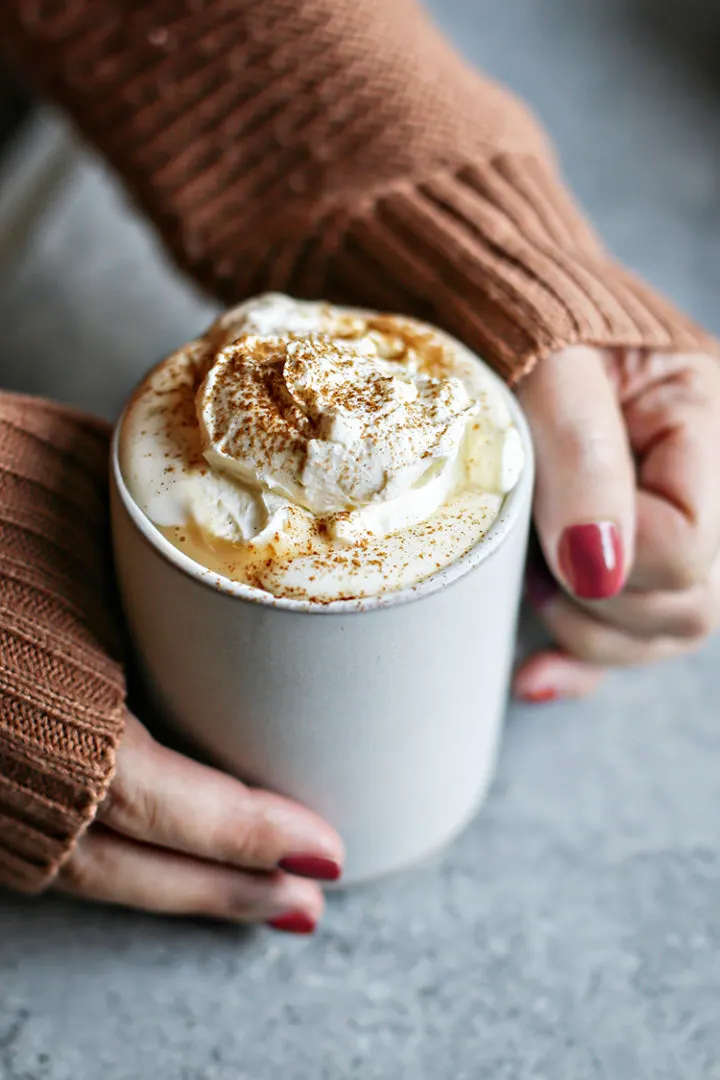 Save this recipe for Pumpkin Spice White Hot Chocolate to Pinterest!
Homemade White Hot Chocolate
This idea for a Pumpkin Spice White Hot Chocolate has been brewing in my head for a while – like a white hot chocolate but with the flavors of pumpkin spice!
I don't drink coffee, so I'm a little jealous when I see people talking about pumpkin spice lattes and such from Starbucks. Where's the love for the non-coffee drinkers?? This pumpkin white hot chocolate recipe is my solution.
Doesn't that look good? Madeline and I cooked up this recipe last Saturday morning while my husband and Logan were off together. It was the perfect Saturday morning treat.
We just made enough for two mugs and shared them after I snapped a few pictures (and cleaned up some spills). She was in heaven!
I'm not sure why I decided on white chocolate. I do like chocolate and pumpkin together (like in this Chocolate Pumpkin Cupcake Recipe), but white chocolate just sounded right for some reason. I wanted the pumpkin to be center stage in this recipe.
I didn't add any sugar because the white chocolate already added enough sweetness for me.
Enjoying this Recipe for White Hot Chocolate
Check out these pictures! I decided that the hot chocolate mugs weren't photogenic enough on their own so I decided to add some whipped cream.
After filling the glasses a little too high beforehand and then adding the whipped cream — OOPS. But I actually really like how the picture turned out. After a while it just continued to over flow like lava.
I didn't have any towels because I was photographing in our formal living room, so I had to lick the sides of the mugs before this homemade hot chocolate was all over the tablecloth and everything.
You're probably laughing at the ridiculousness of that! And here you probably thought I was just trying to be artistic.
This pumpkin spice hot chocolate would be a fun treat after a night out trick-or-treating if you're not already on a sugar high. Or maybe something to drink by the fire on a cold winter night while snuggled up with a blanket and a great book. That sounds really relaxing!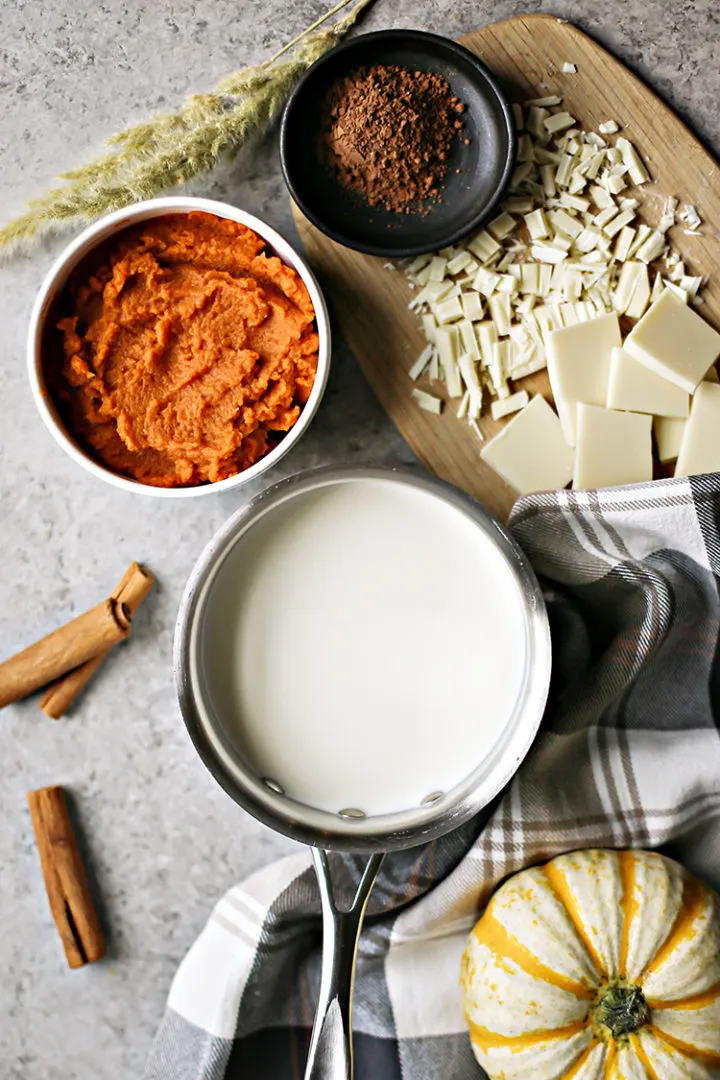 This post may include affiliate links. As an Amazon Associate and member of other affiliate programs, I earn a small commission from qualifying purchases.
Save this recipe for Pumpkin Spice White Hot Chocolate to Pinterest!
Pumpkin White Hot Chocolate Ingredients
For this white hot chocolate recipe, I used a blend of spices rather than pre-made pumpkin pie spice. This way, you can make it even if you don't have pumpkin pie spice where you live!
Here's what you'll need to make this pumpkin spice hot chocolate:
Whole Milk
White Chocolate
Cocoa Powder
Vanilla Extract
Spices (cinnamon, nutmeg, etc.)
Heavy Whipping Cream
For the complete ingredient list and detailed instructions, scroll to the bottom of this post for the FREE printable recipe card.
Good Quality White Chocolate
Using a high-quality white chocolate is super important for a creamy white hot chocolate. Here are some suggested real white chocolate options to consider when making this pumpkin spice hot chocolate:
I do not recommend using white chocolate chips found in grocery stores as they aren't very good quality and won't give as nice of flavor.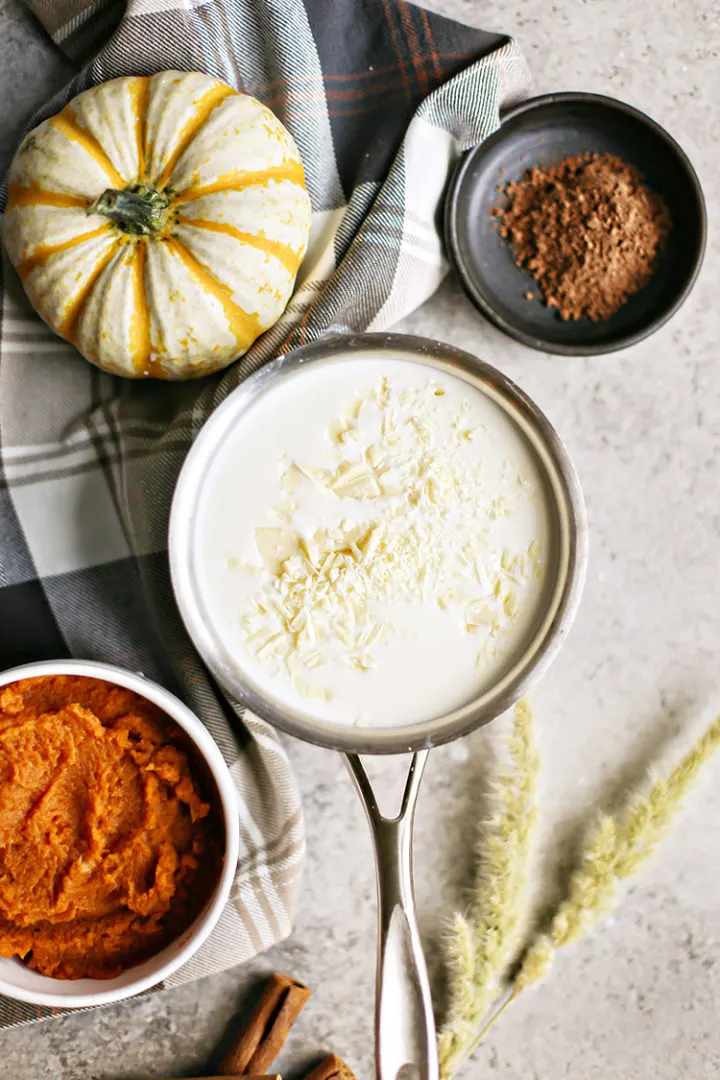 How to Make Pumpkin White Hot Chocolate
Here's a quick overview of the instructions to make this easy white hot chocolate recipe:
Place a medium saucepan on your stove top. Add most of the milk, the white chocolate chocolate, and cocoa powder to the heavy saucepan. Combine until mixed. Heat milk mixture over medium heat until the chocolate is fully melted. Stir periodically.
Whisk in the pumpkin puree, spices, and the rest of the milk.
Meanwhile, prepare the whipped cream using the heavy cream, sugar, and vanilla. Set aside. Once the homemade hot chocolate is warmed through, pour into glasses and top with whipped cream and nutmeg.
The above is simply a quick summary of this recipe. Check out the full recipe in the free printable recipe card at the bottom of this post for all the detailed instructions.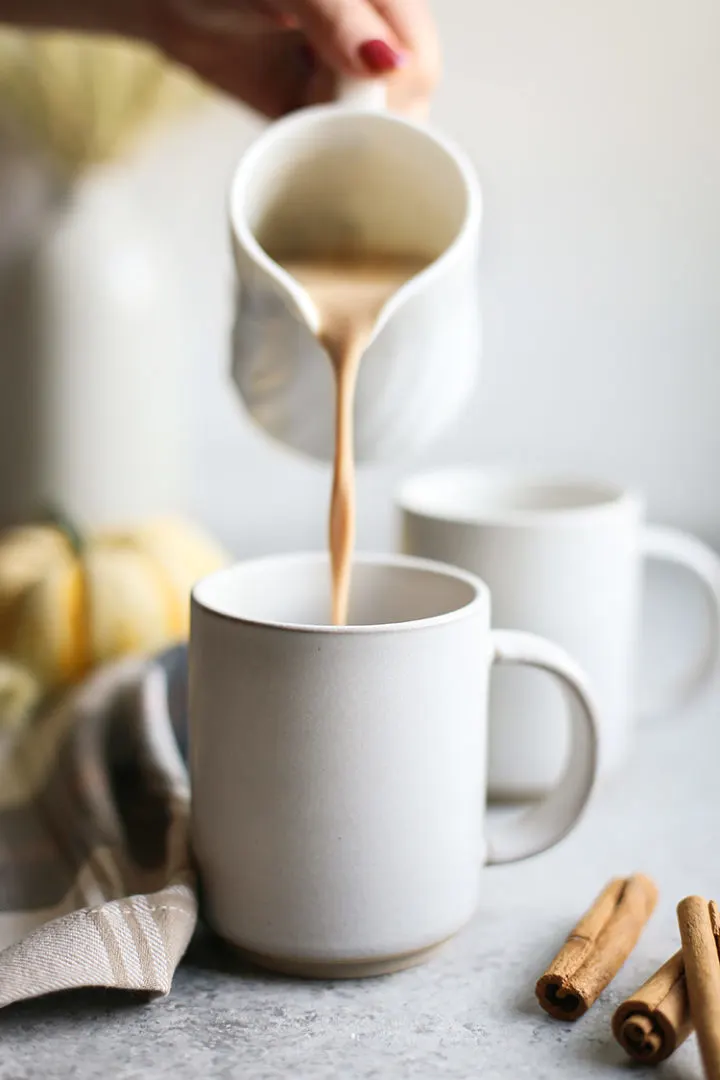 Save this recipe for Pumpkin Spice White Hot Chocolate to Pinterest!
Can I Prep Pumpkin Spice Hot Chocolate in Advance?
This pumpkin spice white hot chocolate is best enjoyed immediately. However, I bet you could let it cool to room temperature and then store it in the fridge for later. Reheat the white hot chocolate on the stove, not in the microwave.
Substituting Non-Dairy Milk in this Recipe
I've only made this recipe using whole milk, but I'm sure you can use an unsweetened non-dairy milk. Oat Milk is probably be the substitute for dairy milk in this pumpkin spice hot chocolate due to its neutral flavor.
Almond milk would be ok as long as it is unflavored and unsweetened, but you'll likely have some of that almond flavor come through in your mug of white hot chocolate.
However, it is important to note that white chocolate does contain dairy, so substituting the kind of milk you use in this homemade hot chocolate recipe will not remove all dairy.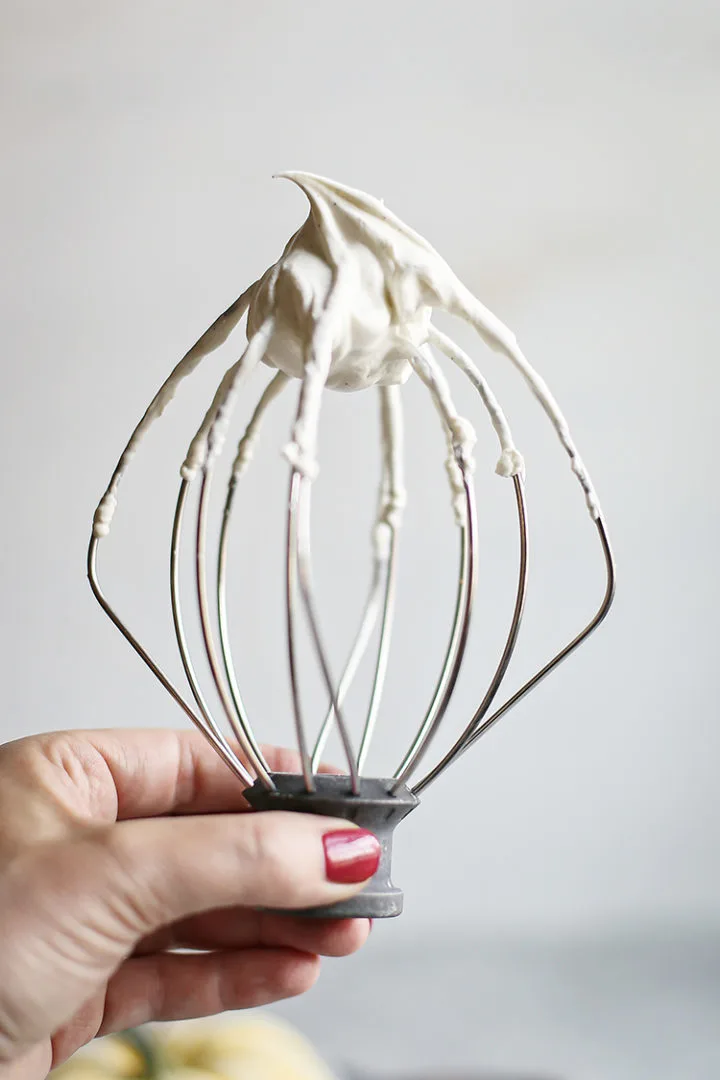 Tips for Making Pumpkin White Hot Chocolate
For the richest homemade hot chocolate, whole milk is a must. Don't use fat-free milk in this recipe, as that will make your white hot chocolate taste watered down.
If you have pre-made pumpkin pie spice on hand, I'm sure you could use that in place of the individual spices I've listed. Start with a teaspoon of it, and slowly add more until your homemade hot chocolate is the right flavor.
Also, you want to use unsweetened cocoa powder in this pumpkin spice hot chocolate and not actual hot chocolate mix. I've gotten a few questions about that, so I wanted to clarify!
Ideas for a Hot Chocolate Bar
If you want to make a large batch of this pumpkin spice hot chocolate to serve for a social function, a hot chocolate bar is a fun idea for guests to customize their drinks. Here are some suggestions to include:
Whipped Cream – I like to make homemade whipped cream and put it in a piping bag with a pretty piping tip to make nice designs.
White Chocolate Shavings – for those who want to sprinkle extra white chocolate on top.
Pumpkin Spice Seasoning – perfect for dusting on top of the homemade hot chocolate.
Cinnamon Sticks – cinnamon sticks make great garnishes and stirring sticks!
Mini Marshmallows – marshmallows and homemade hot chocolate are classic together!
For a hot cocoa bar, I would recommend adding the pumpkin spice hot chocolate to a slow cooker or crock pot with the warm setting to keep this decadent treat warm for your guests.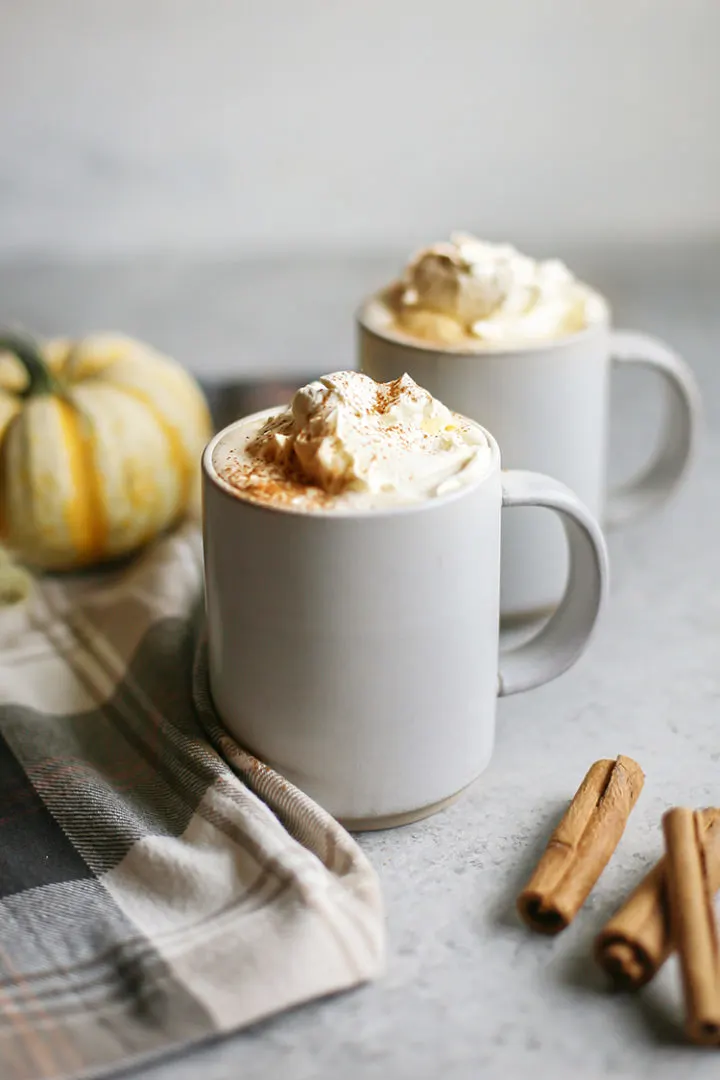 Try this Homemade White Hot Chocolate Recipe!
Next time you're looking for hot drinks to try on a cold day, give this Pumpkin Spice Hot Chocolate a try! Did you think it was the perfect cup of hot chocolate? Leave a comment below and give it a review for others to see what you thought of this easy recipe.
On Instagram? Share your photo and tag me with @goodlifeeats and #goodlifeeatsrecipes. I'd love to see your photo of this Pumpkin Spice Hot Chocolate!
More Cozy Winter Drink Recipes:
Looking for some more cozy winter drink recipes to stay warm with this winter? Check out some of these favorite winter drink recipes, or browse the recipe index archives for even more great recipe ideas:
Need a Christmas or Thanksgiving cocktail recipe? Try this Cranberry Rosemary Shrub Cocktail. It's an easy bourbon cocktail that has hints of black pepper, cinnamon, and rosemary.
Homemade Hot Chocolate Recipes
Spiked Peppermint Mocha Hot Chocolate is a tasty twist on regular hot chocolate thanks to the addition of the flavors of mocha, peppermint, and some optional Irish cream. Top it all off with Peppermint Mocha Whipped Cream and Marshmallows for an unbelievable sweet treat.
Salted caramel and chocolate pair so well together, so why not put them together and enjoy a mug of this Salted Caramel Hot Chocolate.
Peppermint Hot Cocoa is made with a blend of chocolate, cocoa powder, peppermint tea, and crushed candy canes. This would make a wonderful Christmas hot cocoa!
Apple Cider Warm Drinks for Holiday Season
Fresh pressed apple cider, tart pomegranate juice, and Tempranillo wine pair with mulling spices and fresh fruit to create Spiced Pomegranate Apple Cider Mulled Wine, the perfect warm cocktail for sipping during this autumn and winter season.
Christmas Wassail is a classic this time of year. Apple cider, orange juice, and cranberry juice are spiced with plenty of cinnamon and cloves for a holiday treat.
Spiced Pomegranate Apple Cider is a twist on the classic mulled apple cider with the addition of fresh pomegranate juice.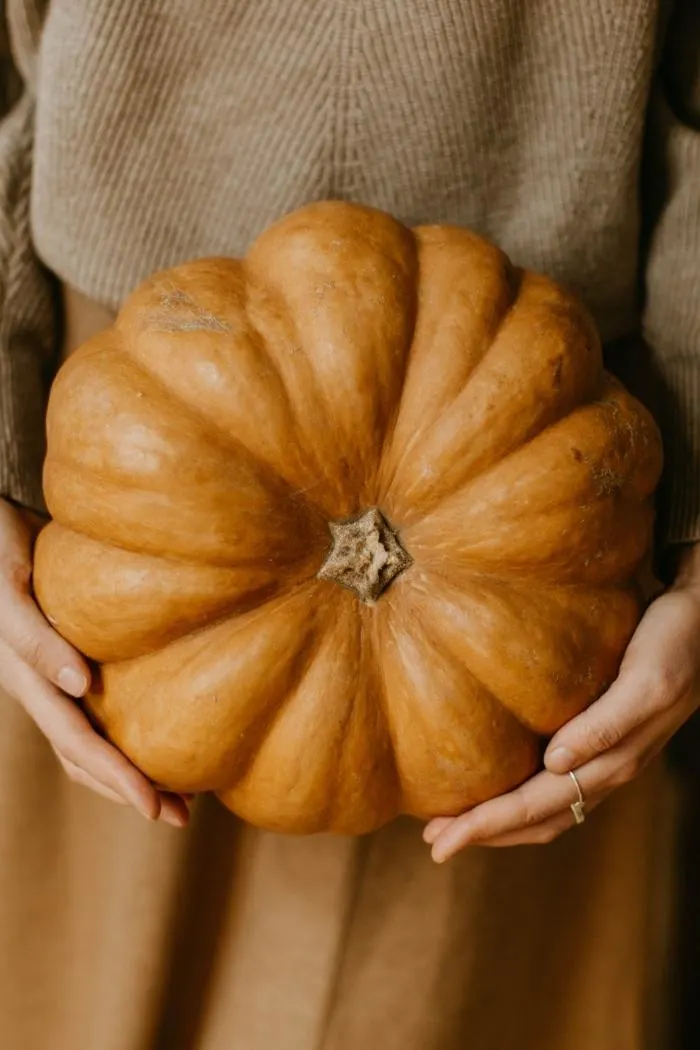 More Pumpkin Recipes
Easy Pumpkin Spice Chai Latte, featuring real pumpkin, can be whipped up in just a few minutes for you to enjoy and warm up with this fall.
Be sure to check out these 25 Pumpkin Recipes to Try this Fall – So, if like me, you have a pumpkin hoarding problem you now have a very good excuse. I've just shared my favorite Pumpkin Recipes for you to try this fall.
Have you ever made a pumpkin hot chocolate recipe before?
Get More Recipes via Email
Did you love this recipe? Sign up to receive Good Life Eats Email Updates and never miss another recipe!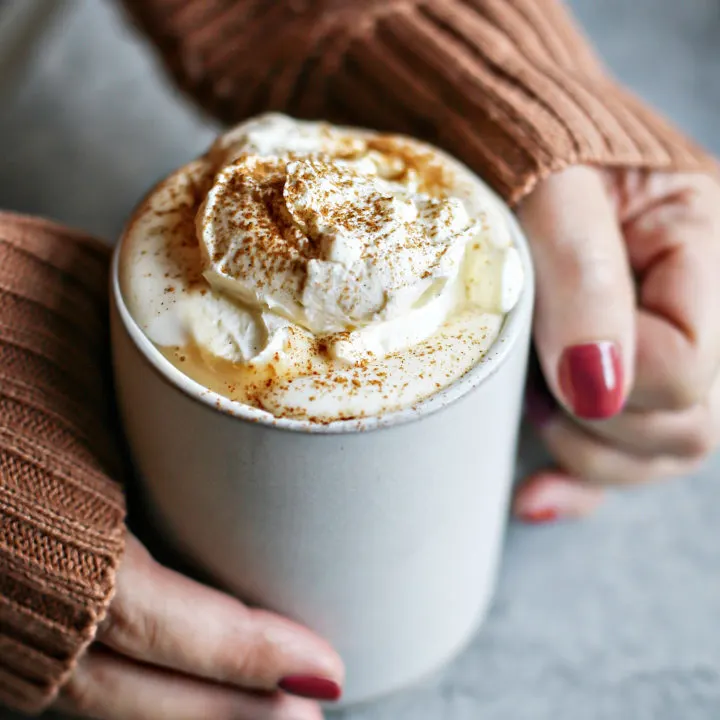 Pumpkin Spice White Hot Chocolate
This Pumpkin Spice White Hot Chocolate is infused with real pumpkin puree and plenty of pumpkin spice for a delectable fall drink!
Ingredients
For the Pumpkin Spice Hot Chocolate
5 cups whole milk
12 ounces white chocolate, chopped
4 teaspoons unsweetened cocoa powder
3/4 teaspoon vanilla extract
1 cup pure pumpkin puree
1 teaspoon cinnamon
1/2 teaspoon nutmeg
1/4 teaspoon cardamom
1/8 teaspoon allspice
1/8 teaspoon ground ginger
For the Whipped Cream
1 cup Heavy Cream
1 teaspoon Vanilla Bean Paste or Pure Vanilla Extract
1 teaspoon Powdered Sugar
Instructions
Preparing the Hot Chocolate
In a heavy saucepan, combine 2 cups of milk, white chocolate, and cocoa powder.
Cook over medium heat, whisking periodically, until the chocolate is melted and the mixture is well combined.
Whisk in the pumpkin puree, cinnamon, nutmeg, cardamom, allspice, and ginger.
Add the remaining milk, 1 cup at a time, until the desired consistency is reached.
If desired, serve topped with whipped cream and a sprinkling of nutmeg or pumpkin spice. Just be sure not to fill the mugs too full before adding the whipped cream, or you might have some overflow.
Preparing the Whipped Cream
Combine the cold heavy cream and vanilla or vanilla paste in a chilled non-reactive bowl.
Whisk by hand or using an electric mixture until the cream holds a loose peak.
A soft peak will hold a lazy curve when the beater or whisk is held upside down.
Then, sprinkle the sugar on top of the whipped cream and continue beating until soft peaks are formed.
Notes
This recipe is best served immediately.
Recommended Products
As an Amazon Associate and member of other affiliate programs, I earn from qualifying purchases.
Nutrition Information
Yield

6
Serving Size

1
Amount Per Serving
Calories

452
Total Fat

25g
Saturated Fat

15g
Trans Fat

0g
Unsaturated Fat

8g
Cholesterol

32mg
Sodium

141mg
Carbohydrates

48g
Fiber

2g
Sugar

45g
Protein

10g
GoodLifeEats.com offers recipe nutritional information as a courtesy and is an estimate only. This information comes from online calculators. Although GoodLifeEats.com makes every effort to provide accurate information, these figures are only estimates.
For the step-by-step version of this recipe, check out the How to Make Homemade Pumpkin Spice White Hot Chocolate Story.