Overnight Oatmeal Breakfast: Apple Pie Steel Cut Oats Recipe
I love overnight steel cut oats. Soaking the steel cut oats overnight makes them cook up especially fast in the morning. And who doesn't want to eat something that tastes like Apple Pie for breakfast?
If you find yourself rushed to get in a good breakfast in the morning before work or dropping kids off at school, you need to give this recipe for Overnight Apple Pie Steel Cut Oats a try!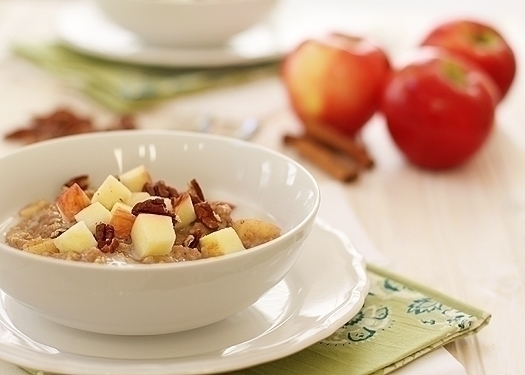 I've had this recipe idea for Apple Pie Steel Cut Oats in my head for months but it's only just recently been cool enough for me to want a bowl of hot cereal for breakfast. For the base recipe I used Cherry and Tangerine Oatmeal, another recipe that we love.
I definitely prefer steel cut oats to regular oatmeal, with the exception of my Pumpkin Pie Oatmeal.
I like texture in my oatmeal, something that I can chew. Steel cut oats provide that crunch. As far as nutrition benefits, from what I can see the steel cut oats have more fiber and they take longer to digest so you stay feeling full longer.
What's so great about this base is that it's an overnight recipe, so the oats hardly take any time in the morning to cook. I used Honeycrisp apples for this because they are my favorite, but Pink Lady, or Granny Smith would also work well.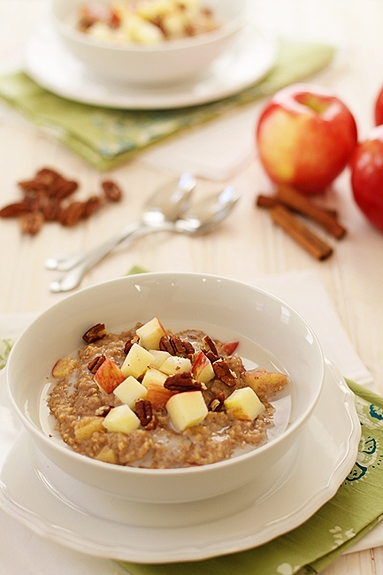 This is the perfect no-effort breakfast for me. I like to eat a healthy and delicious breakfast, but that doesn't mean I always do it.
We're usually rushing to get out the door in time for school and if I haven't eaten before the kids get up I'll grab a string cheese and a granola bar to tie me over until I get home. I like that this is easy to put together the night before and only takes a few minutes to cook in the morning.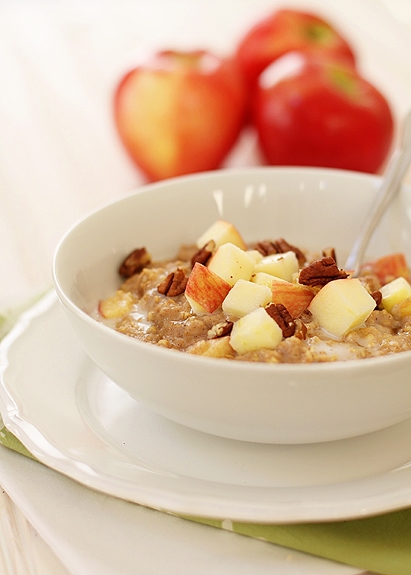 You can easily substitute other spices and fruit using the same proportions featured in this recipe for different flavors of overnight steel cut oats.
Try pureed pears or homemade pearsauce instead of applesauce for another fall breakfast idea. If you have a craving for oatmeal in the summer, try subtituting pureed peaches or apricots for the applesauce.
Overnight Apple Pie Steel Cut Oats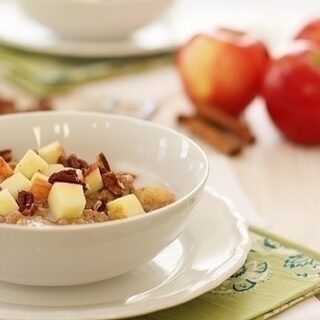 Ingredients:
1 cup steel cut oats
1 3/4 cups milk
1-2 tablespoons brown sugar
6 ounces all-natural applesauce
3/4 - 1 teaspoon cinnamon
1/4 teaspoon nutmeg
1/8 teaspoon cardamom, if desired
1/8 teaspoon salt
1 large apple, chopped (about 1 1/2 cups)
1/3 cup pecans, chopped
Directions:
In a nonmetal bowl combine oats, brown sugar, applesauce, cinnamon, nutmeg, cardamom, and salt. Stir in milk; cover and chill for 8 to 24 hours.
To serve, transfer oatmeal mixture to a medium saucepan. Stir in 1 cup of apples, reserving the remaining 1/2 cup for garnish. Heat just to boiling; reduce heat. Simmer, uncovered, for 5 minutes or until oatmeal is done, adding additional milk if desired and stirring occasionally. Remove from heat. Spoon into 4 bowls; sprinkle with apples and pecans. Serve with additional milk, if desired.