Easy Homemade Pearsauce or Applesauce
You should definitely try making this Easy Homemade Pearsauce or Applesauce this fall. It is so tasty!
As far as I can remember, I've never really been a big fan of applesauce – unless it was homemade, and even then I'm not likely to sit down to a bowl full for a snack.
Madeline, on the other hand, absolutely loves her applesauce.
Store bought or homemade she doesn't care.
Either way is good to her.
But Pearsauce….mmmmm Pearsauce!
Now that's something that we both can agree on.
Click and save this recipe for Homemade Pearsauce to Pinterest!
I don't know why but this recipe for Homemade Pearsauce just seems so much more sophisticated than applesauce to me.
The flavor and texture are more to my liking.
Even the name sounds fancier than applesauce.
When pears were on mega sale here a few weeks ago I was able to can a half a dozen jars of Vanilla Spiced Pear Butter.
I also made some Pearsauce for us, though I didn't can it.
I only made enough for us to enjoy for a couple of days.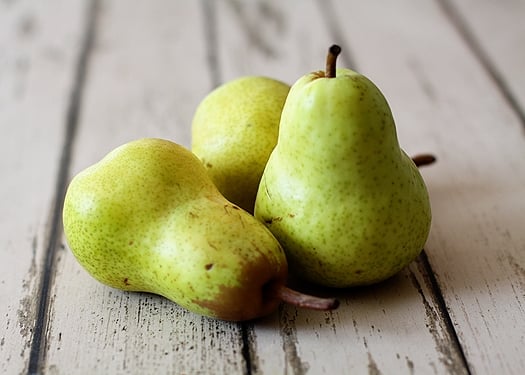 Click and save this recipe for Homemade Pearsauce to Pinterest!
Next time pears are so cheap they're practically free, I think I'm going to venture into canning some of this Homemade Pearsauce so we can have it on hand year round.
It's that good!
Have you ever canned homemade pear sauce before?
Fun Ways to enjoy homemade pearsauce
One of the best parts of making homemade pearsauce is all the different things that you can do with it besides just eating a bowl of it by itself.
This recipe for pearsauce is pretty darn good on its own, but here are a few fun serving suggestions:
Make these cute Bite Sized Cranberry Walnut Tarts, but substitute the easy homemade pearsauce for the cranberry sauce.
Stir some of this pearsauce into Maple Syrup to make pear flavored maple syrup. It will be so good poured over pancakes and waffles for a post-Thanksgiving brunch.
Top a bowl of Overnight Apple Steel Cut Oats with a dollop or two.
Pearsauce is nice for snacking on alone, but is makes a great addition to plain yogurt for some extra flavor. Stir it into plain yogurt for a tangy, sweet flavor. Then, sprinkle granola and dried cranberries or fresh chopped pears on top.
Next time you're craving a bowl of oatmeal for breakfast try stirring in a few spoonfuls of this delicious Pearsauce.
Try substituting pearsauce for applesauce in baking recipes for a slightly different flavor, or use it as an oil substitute in baking.
Add it to Leftover Turkey Sandwiches after Thanksgiving for a little sweet and savory combo. Leftover turkey sandwiches are one of my favorites!
Spread it on a piece of toast or a toasted English Muffin with plenty of butter.
Use Pearsauce to make this Vanilla Spiced Pear Butter (pearsauce is the first step in that recipe – make an extra big batch and get both recipes out of it!).
Do you like pearsauce?
Love this recipe for Homemade Pearsauce?
Sign up for Good Life Eats email updates and never miss another recipe!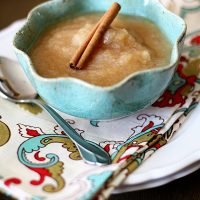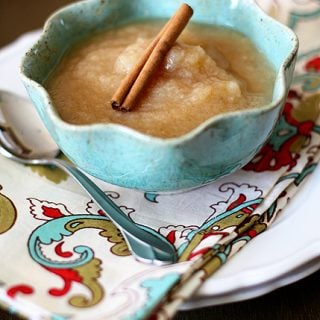 Homemade Pearsauce
Yield: 3 pounds

Prep Time: 10 minutes

Cook Time: 20 minutes

Total Time: 30 minutes

You should definitely try making this Easy Homemade Pearsauce or Applesauce this fall. It is so tasty!
Ingredients
3 1/2 lbs. pears, peeled, cored, and coarsely chopped
1/4 cup water
juice of 1/2 lemon
1/2 - 1 teaspoon cinnamon
1/4 - 1/2 teaspoon cardamom
1/8 teaspoon nutmeg
Instructions
In a large saucepan, combine the pears, water, lemon juice, cinnamon, cardamom, and nutmeg.
Bring to a boil over medium-high heat.
Reduce heat and boil gently, occasionally stirring, for 20 minutes.
Transfer mixture to a food processor, working in batches if necessary, fitted with a metal blade and puree just until a uniform texture is achieved.
Do not liquefy.
Transfer to an airtight container and store in the refrigerator for up to 4 days.
Alternatively, freeze in one cup quantities in the freezer and store for several months.
Recommended Products
As an Amazon Associate and member of other affiliate programs, I earn from qualifying purchases.

Be sure to follow Good Life Eats on Instagram. Tag @goodlifeeats and include the hashtag #goodlifeeatsrecipes so I can see what you're cooking up in YOUR kitchen!
Click and save this recipe for Homemade Pearsauce to Pinterest!
Let me know if you try this recipe and what you think of it by leaving a comment below.