This recipe for Maple and Cardamom Spiced Pear Compote is great with ice cream, yogurt, and granola. Such a quick and easy pear dessert recipe that I love making in the fall!
Click HERE to save this recipe for Maple and Cardamom Spiced Pear Compote with Pecans to Pinterest!
Creating This Pear Dessert Recipe
It's obvious that I'm obsessing with pumpkin recipes this fall. The other things I'm obsessing over? Cardamom and pears. Sweet juicy pears. And guess what? Logan is eating the pears too!
That might not seem like an accomplishment to most of you, but he's extremely picky. Any new food we can get him to try – and like – is worth celebrating in our house. And not just picky, but also extremely cautious. Just getting him to try a bite of something is an emotional ordeal. It was weeks before he'd willingly eat a pear with no complaints.
And now, given the choice, he'll actually ask for one. At this rate, he's going to be 100 before he eats as wide of a variety of foods as I do. But like all moms, I'm trying to focus on the baby steps he makes along the way. This picky eating thing has certainly been a journey for us.
These Maple and Cardamom Spiced Pear Compote with Pecans are an amazing snack. I love the caramelized pears with the fall spices and the sweetness of real maple syrup – don't skimp there!
The pecans go perfect, too. I'm getting hungry just writing about it! Logan doesn't appreciate the intricacies of flavors such as these, but I'm glad he's now able to enjoy a juicy pear sliced into wedges.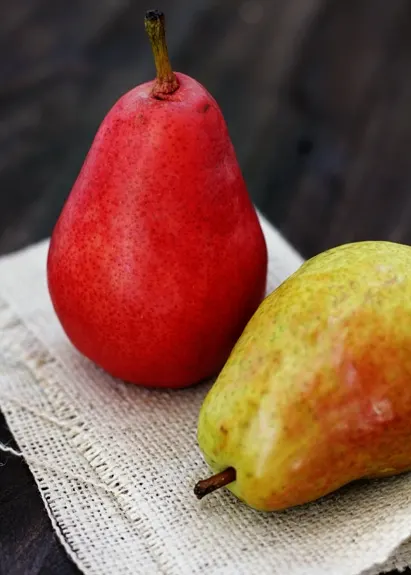 Ingredients for Spiced Pear Compote
This quick pear dessert is made with a handful of basic ingredients. Here's what you'll need to make these spiced pears:
Fresh Pears
Unsalted Butter
Ground Cinnamon
Ground cardamom
Pure Maple Syrup
Pecan Halves
Greek Yogurt or Ice Cream, for serving (optional)
What are the Best Pears for this Recipe?
The only variety of pears I don't recommend using when making these pears with spiced syrup are Asian Pears. Other than that, usually any pear that you find in your grocery store will work. The following varieties would all work fine as long as they're ripe, but firm pears:
Anjou Pears – Green or Red
Bartlett Pears – Green or Red
Bosc Pears
For more info about fall fresh fruits, check out my fall produce guide.
For the complete ingredient list and detailed instructions, scroll to the bottom of this post for the FREE printable recipe card.
How to Make Spiced Pear Compote
The best thing is that this fruit compote recipe is that it is super fast. And look how pretty it is! Impressive recipe, delicious taste, no time…sounds like a winner to me! Here's a quick overview of how the spiced pears are made:
Melt the butter in a pan over medium-high heat.
Add the pears, spices, and syrup. Sauté until fragrant and warm.
Stir in pecans.
Serve warm over yogurt or on top of vanilla ice cream.
The above is simply a quick summary of this recipe. Check out the full recipe in the free printable recipe card at the bottom of this post for all the detailed instructions.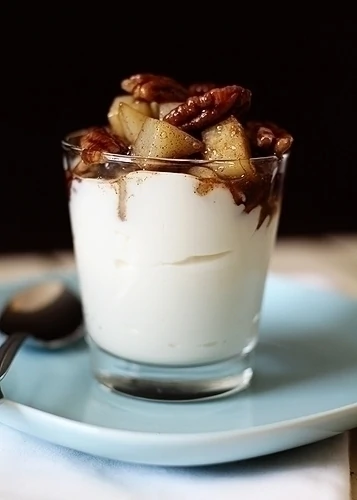 Recipe Substitutions to Try
Use a different sweetener: If you don't have pure maple syrup on hand, brown sugar, honey or agave may also be substituted. Just note the flavor will be slightly different.
Try a different fruit: A few readers have asked if they can make spiced apples using this recipe. You likely can, but you might need to cook them slightly longer until you get to your desired tenderness since apples will be harder than pears.
Add different spices: I love the cinnamon and cardamom in this recipe, but you're welcome to play around with the spices and experiment with your favorites. Chai spice blend would taste great in this delicious pear compote, too!
Typically I don't recommend making a bunch of substitutions when preparing a new recipe. When making substitutes, you won't know if you don't like the recipe or if the recipe didn't turn out due to a preparation mistake, an ill effect from the substitute, or something else.
However, if you do choose to make substitutions in a recipe, I recommend only making one substitute at a time so you don't have a building effect of multiple poor substitutions.
Can I Make This Recipe Vegan?
Yes, you can substitute the butter with a vegan butter spread or you can use coconut oil when making this easy recipe.
Is Spiced Pear Compote Healthy?
I'm a big believer that healthy eating is all about moderation. Sure, these spiced pears served over greek yogurt or even vanilla ice cream are a healthy dessert when compared to a slice of pumpkin cheesecake, but I probably wouldn't eat them every single day.
You can find the nutritional information is included in the recipe card at the bottom of this post.
Tips for Making This Quick Pear Dessert
You'll want to use ripe pears that are still firm to make this recipe. If the pears are too soft, they'll fall apart as they're being sautéed.
Use a vegetable peeler to remove the pear skins before cutting pears into cubes.
A melon baller works great to remove the core from the pears.
If you prefer a smoother compote, you can puree the stewed pears using an immersion blender and use chopped pecans instead of pecan halves.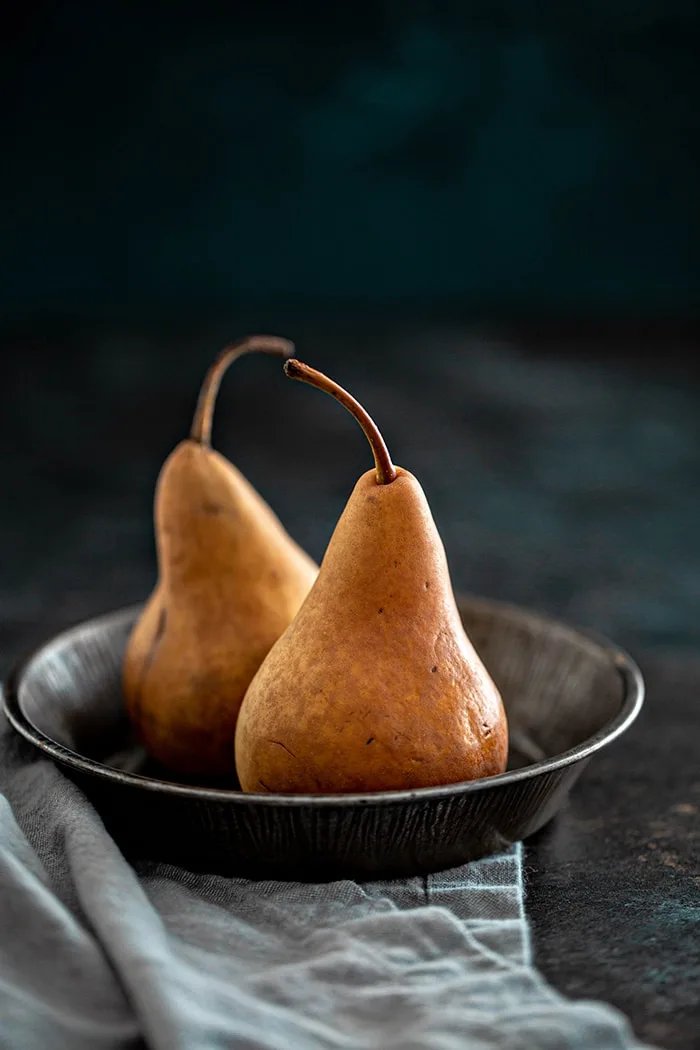 Ways to Use this Spiced Pear Compote Recipe
Here are a few ways you might like to use this recipe for spiced pears:
For an elegant dessert, try serving these spiced pears over vanilla panna cotta.
Add a scoop of spiced pears over greek yogurt with granola.
Serve these spiced pears on top of plain oatmeal.
Enjoy them with a scoop of vanilla ice cream.
Make a pear fool (a fall version of this strawberries and cream recipe) by layering the spied pears with whipped cream in a parfait dish.
How to Store Leftover Spiced Pear Compote
This recipe for spiced pears is best enjoyed immediately, but you can save the leftovers for later. Here's how:
Leftovers should be stored in the refrigerator in an airtight container and used within about 3-5 days. Make sure you transfer any leftover syrup with the spiced pears. Reheat leftovers gently in a saucepan or in the microwave.
I haven't tested freezing this pear recipe, so I can't speak to the success of that. Let me know if you decide to give it a try.
Try this Delicious Spiced Pear Compote Recipe!
Next time you're looking for new recipe ideas to make with pears, give these spiced pears a try! Did you think it was the perfect way to enjoy sweet pears? Leave a comment below and give it a review for others to see what you thought of this fall pear recipe.
On Instagram? Share your photo and tag me with @goodlifeeats and #goodlifeeatsrecipes. I'd love to see your photo of this recipe for Maple and Cardamom Spiced Pear Compote with Pecans!
More Easy Pear Dessert Recipes:
This Vanilla Spiced Pear Butter makes an excellent homemade gift during the holidays!
This recipe for Pear Sauce is flavored with cinnamon, cardamom, and nutmeg. It's essentially applesauce, but it's made with pears – a great way to enjoy pears during the fall.
Spiced Pear and Pomegranate Crostini are the perfect solution for simple entertaining during the holiday season. They look far more special than a plate of fruit and cheese, but they're really a cinch to prepare.
This Cinnamon Pear Galette is essentially a free-form, rustic fruit pie. This pear dessert is a great recipe for fall entertaining!
If you've had bad experiences with dry, dense scones, don't worry! These Glazed Pear Almond Scones have a nice crumb and are kept incredibly moist by the diced pears.
Get More Recipes via Email
Did you love this recipe? Sign up to receive Good Life Eats Email Updates and never miss another recipe!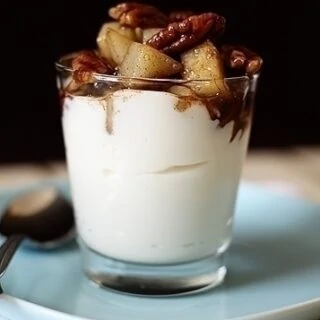 Maple and Cardamom Spiced Pears with Pecans
These Maple and Cardamom Spiced Pears with Pecans are an amazing snack. I love the caramelized pears with the fall spices and the sweetness of real maple syrup – don't skimp there! The pecans go perfect, too.
Ingredients
1 large ripe but firm pear, peeled and chopped
1 teaspoon butter
1/4 teaspoon cinnamon
1/4 teaspoon ground cardamom
2 tablespoons maple syrup
1 handful pecan halves, about 1/4 cup
Vanilla Honey Greek Yogurt or Vanilla Ice Cream
Instructions
Melt the butter in a saute pan over medium-high heat. Add the pears, cinnamon, cardamom, and syrup and saute for 3 minutes, until fragrant and warm. Stir in pecans. Serve warm over yogurt. Or with granola and yogurt. For dessert, serve on top of vanilla ice cream.
Notes
You could also roast the pears in a similar manner to the method in my Roasted Nectarines recipe.
Recommended Products
As an Amazon Associate and member of other affiliate programs, I earn from qualifying purchases.
Nutrition Information
Yield

2
Serving Size

1
Amount Per Serving
Calories

136
Total Fat

2g
Saturated Fat

1g
Trans Fat

0g
Unsaturated Fat

1g
Cholesterol

5mg
Sodium

19mg
Carbohydrates

31g
Fiber

4g
Sugar

23g
Protein

0g
GoodLifeEats.com offers recipe nutritional information as a courtesy and is an estimate only. This information comes from online calculators. Although GoodLifeEats.com makes every effort to provide accurate information, these figures are only estimates.
For the step-by-step version of this recipe, check out the How to Make Maple and Cardamom Spiced Pear Compote Story.