Maple and Cardamom Spiced Pears with Pecans
It's obvious that I'm obsessing with pumpkin recipes this fall. The other things I'm obsessing over – cardamom and pears. Sweet juicy pears. And guess what? Logan is eating the pears too! That might not seem like an accomplishment to most of you, but he's extremely picky. Any new food we can get him to try – and like – is worth celebrating in our house.
And not just picky, but also extremely cautious. Just getting him to try a bite of something is an emotional ordeal. It was weeks before he'd willingly eat a pear with no complaints. And now, given the choice, he'll actually ask for one. At this rate, he's going to be 100 before he eats as wide of a variety of foods as I do. But like all moms, I'm trying to focus on the baby steps he makes along the way. This picky eating thing has certainly been a journey for us.
These Maple and Cardamom Spiced Pears with Pecans are an amazing snack. I love the caramelized pears with the fall spices and the sweetness of real maple syrup – don't skimp there! The pecans go perfect, too. I'm getting hungry just writing about it! The best thing – this recipe is super fast. And look how pretty it is? Impressive recipe, delicious taste, no time…sounds like a winner to me!
Logan doesn't appreciate the intricacies of flavors such as these, but I'm glad he's now able to enjoy a juicy pear sliced into wedges. I used bartlett pears because that's what I had, but I'd really love to try Starkrimson. I had the opportunity to try them this past weekend and I think they were the best pear I've ever had. This is actually, in my mind, a rather healthy recipe that seems much more like a dessert than a snack. If you really want to go dessert with it, serve with vanilla ice cream instead of yogurt.
Maple and Cardamom Spiced Pears with Pecans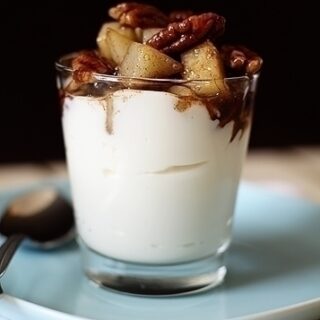 Ingredients:
1 large ripe but firm pear, peeled and chopped
1 teaspoon butter
1/4 teaspoon cinnamon
1/4 teaspoon ground cardamom
2 tablespoons maple syrup
1 handful pecan halves, about 1/4 cup
Vanilla Honey Greek Yogurt or Vanilla Ice Cream
Directions:
Melt the butter in a saute pan over medium high heat. Add the pears, cinnamon, cardamom, and syrup and saute for 3 minutes, until fragrant and warm. Stir in pecans. Serve warm over yogurt. Or with granola and yogurt. For dessert, serve on top of vanilla ice cream.
Note: You could also roast the pears in a similar manner to the method in my Roasted Nectarines recipe.