Just look at these gorgeous pears! Pears have been abundant in our home lately. It's fall and pears and ripe and sweet and taste amazing in recipes like this Cinnamon Pear Crostata.
I love biting into a pear and feeling that sweet juice burst into my mouth. But that's not the only reason our fruit bowl has been overflowing with this juicy fall fruit. We've successfully educated The World's Pickiest Eater (Logan) on the niceties of eating fruit that's in season.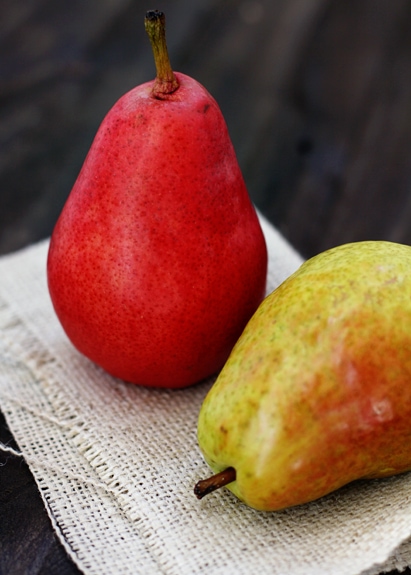 He's old enough where that logic is finally making an impact on him, and so for the past month we've had pears almost every day whether for snack, lunch, or with dinner. Luckily, eating fruit when it's in season most often means that it tastes perfect and so once we got past the initial stubbornness of trying a new fruit he was easily convinced.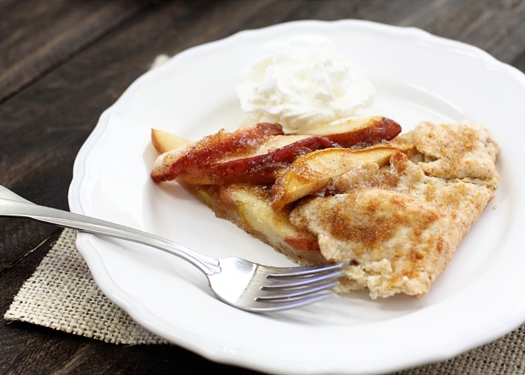 There is nothing worse – when it comes to food – than biting into anything, though especially fruit, and getting the opposite of what you were expecting. Sweet, juicy, tender. That's what you'd expect from a pear. Not dry, tasteless, and mealy. First impressions make a big impact when it comes to food, and often a bad one is hard to overcome. For Logan, luckily, it was a good first impression.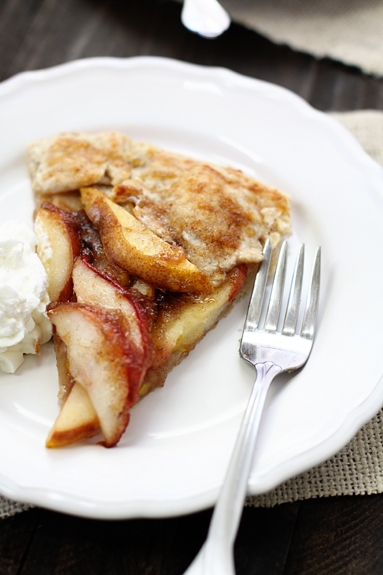 How many times have you met a less than satisfactory fruit? Seven years or so has passed since I've purchased red pears. I still remember the disappointment after buying a bag full of no-good red pears (probably Bartlett). Bite after bite, pear after pear, they were all disgusting. On a whim, I decided I wanted to make a pear dessert for fall. Since pears are not the most colorful fruit on their own, I decided I'd use green and red and keep their skins on for a bit of color variation.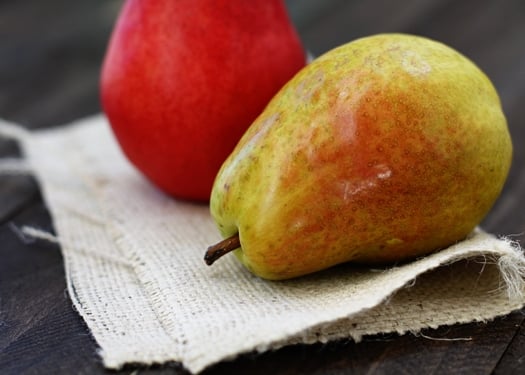 I figured if they weren't the best pears like in my previous experience, that they'd at least probably be improved by cooking, and with some sugar. Boy was I wrong!! This batch of red pears were the yummiest I've tasted this season. My first impression was a wrong one. Red pears are not all bad, I just happened to choose and unlucky batch.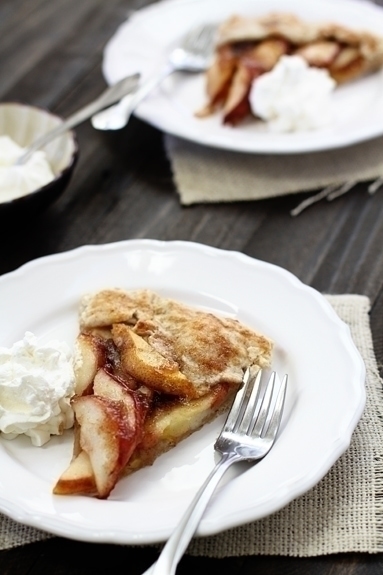 We've eaten plenty of pears this fall. Enjoyed them in things like Homemade Pearsauce, Vanilla Spiced Pear Butter, Maple and Cardamom Spiced Pears with Pecans, and now this delicious Cinnamon Pear Crostata. And of course, many have been enjoyed just as nature intended. Raw and ripe with juice dripping down our mouths.
Cinnamon Pear Crostata would make a wonderful addition to your Thanksgiving table. A crostata is essentially a free-form, rustic fruit pie. I think they're easier than traditional pies because it's okay if they don't look perfect. I tried explaining "rustic" to Logan and he kept telling me that it didn't look "rusty." That's 5 year olds for you.
Did you love this post?
Sign up for Good Life Eats email updates and never miss another update!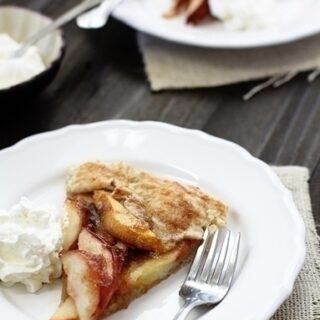 Cinnamon Pear Galette with Almond Oat Crust
Total Time:
1 hour
5 minutes
Cinnamon Pear Crostata would make a wonderful addition to your Thanksgiving table. A crostata is essentially a free-form, rustic fruit pie. I think they're easier than traditional pies because it's okay if they don't look perfect.
Ingredients
5.25 ounces whole-wheat pastry flour
2.25 ounces oat flour
4 tablespoons ice water
1/2 teaspoon cider vinegar
1/4 teaspoon almond extract
1/2 cup turbinado sugar, divided
1/3 cup almond flour
1/4 teaspoon salt
1/2 cup chilled butter, cut into pieces
1 3/4 tablespoons cornstarch
1 1/2 pounds firm ripe pear, cored and sliced in 1/4 inch slices
1/4 cup pear jam or Pear Butter
1/4 teaspoon cinnamon
1/8 teaspoon cardamom
1/8 teaspoon almond extract
1 tablespoon maple syrup
Instructions
Preheat oven to 400°.
Lightly spoon 1.375 ounces whole-wheat pastry flour into a dry measuring cup; level with a knife. Combine 1.375 ounces whole wheat pastry flour, ice water, vinegar, and almond extract in a small bowl; stir with a fork until well blended to form a slurry.
Combine remaining whole wheat flour, oat flour, 2 tablespoons sugar, almond flour, and salt, stirring with a whisk. Cut in butter with a pastry blender or 2 knives until mixture resembles coarse meal. Add slurry; stir just until moist. Turn dough out onto a lightly floured surface; knead lightly 5 times. Gently press dough into a 4-inch circle on heavy-duty plastic wrap. Cover with additional plastic wrap. Carefully roll dough into a 14-inch circle; freeze for 10 minutes.
Remove dough from freezer; remove top sheet of plastic wrap. Let stand 1 minute or until pliable. Place dough, plastic wrap side up, onto a baking sheet (I used a pizza stone) lined with parchment paper; remove remaining plastic wrap.
Combine cornstarch and 2 tablespoons sugar; sprinkle over dough, leaving a 2-inch border. Arrange pears spoke-like on top of cornstarch mixture, leaving a 2-inch border. Fold edges of dough over pears (dough will only partially cover pears).
Combine jam, 1/8 teaspoon almond extract, cinnamon, cardamom, and syrup in a small microwave-safe bowl; microwave on HIGH 45 seconds. Brush jam mixture over pears and dough edges. Sprinkle with remaining sugar. Bake at 400° for 35 minutes or until crust browns. Remove from oven. Cool 10 minutes.
I served with a dollop of almond whipped cream (just added a little bit of almond extract when making the whipped cream - delicious!).
Notes
Adapted from Apricot-Thyme Galette
If you can't find almond flour, just pulse some almonds in the food processor until finely ground.
Recommended Products
As an Amazon Associate and member of other affiliate programs, I earn from qualifying purchases.
Nutrition Information
Yield

6
Serving Size

1
Amount Per Serving
Calories

632
Total Fat

25g
Saturated Fat

13g
Trans Fat

1g
Unsaturated Fat

10g
Cholesterol

53mg
Sodium

279mg
Carbohydrates

97g
Fiber

10g
Sugar

41g
Protein

11g
GoodLifeEats.com offers recipe nutritional information as a courtesy and is an estimate only. This information comes from online calculators. Although GoodLifeEats.com makes every effort to provide accurate information, these figures are only estimates.