This Pear, Walnut, and Endive Appetizer is perfect for holiday parties! Think of them as handheld salad bites that you can customize to your liking. You'll love that these endive cups look elegant, yet are super simple to prepare.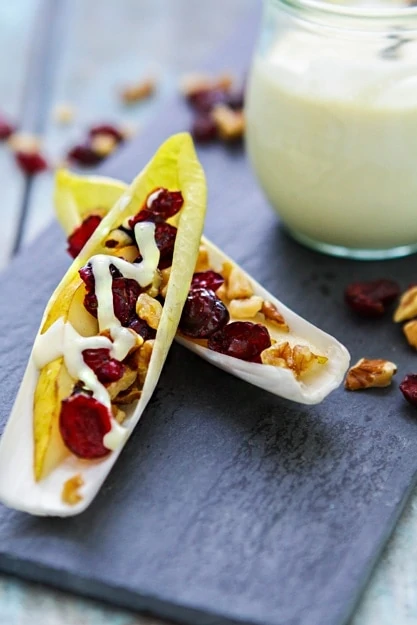 Creating This Stuffed Endive Appetizer
This is the first year in a long time that I won't host Thanksgiving at my house. A few years back we did have Thanksgiving at my Dad's, but I was still the host in terms of the person in charge of the menu planning and all the cooking.
I didn't mind. I actually like preparing Thanksgiving dinner.
With that said, after a pretty busy year it will be a nice change of pace to be a guest somewhere else. And it is the perfect opportunity to try out some new appetizers as my contribution to the big meal.

With all of the focus on the big deal meals of Thanksgiving and Christmas and all of the fun holiday baking, appetizer recipes are something that usually end up forgotten for me.
Appetizers usually have to be a conscious decision for me.
Mental note: You need to experiment with some new Holiday Appetizers. Or something like that.
I tested out these simple endive appetizer bites. I think they're a new family favorite!
Ingredients for the Endive Appetizer Bites
For this stuffed endive recipe, you'll need just five simple ingredients:
Endive
Pear slices
Dried cranberries
Chopped walnuts
Simply Dressed® Blue Cheese Salad Dressing
What Is Endive?
Endive is a type of leafy green that comes from part of the chicory family. When enjoyed raw, fresh endive is very crisp and has a slightly bitter flavor.
They have smaller leaves that make perfect little endive boats that you can fill with a variety of ingredients to make simple appetizers.
Endive can be eaten like regular lettuce, or it can be roasted, grilled, or braised.
What Does Endive Taste Like?
Raw endive has a mildly bitter flavor that pairs well with sweet flavors, like the pear used in this particular recipe. Once cooked, endive's bitterness mellows out and it tastes nuttier.
Can Endive Be Substituted?
For this particular recipe, the best endive substitute that I can recommend is radicchio. Radicchio is more bitter than endive, but it's also very crisp and will deliver a similar texture.
How to Prepare Endive
Remove the outer two to three leaves, then cut off the very bottom of the endive. From there, you should be able to separate the leaves easily.
Be sure to rinse the endive leaves until running tap water to remove any dirt. Gently pat the leaves dry so you don't break them.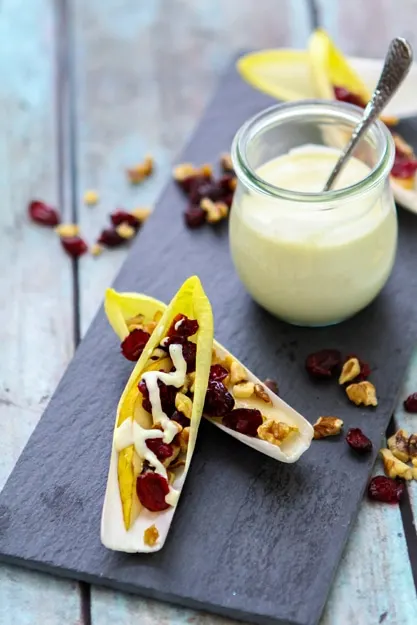 How to Make Endive Appetizer Bites
I think they're perfect for this time of year with the delicious seasonal flavors of pear and cranberry. And you can assemble them literally minutes before serving them!
All that is required is placing a slice of pear, a few dried cranberries, and a few chopped walnuts inside an endive leaf.
Then, drizzle your favorite blue cheese salad dressing on top. Think of it as a little handheld endive blue cheese salad!
Tips for Making Stuffed Endive Bites
If you want to get "fancy," you can use candied walnuts instead of plain baking walnuts. It will be tasty either way.
You can also convert this to a salad on a platter just as easily by assembling the ingredients like you would any salad and serving the dressing on the side for guests to add to their plate.
I love making endive blue cheese salad, but you can use another salad dressing if preferred.
Endive Appetizer FAQs
What Can I Use Instead of Pears?
Apples will taste good with the appetizer, too. I love the flavor and crispiness of Honey Crisp Apples. I don't recommend using canned pears, however.
Can I Use Something Besides Blue Cheese?
If you don't like blue cheese, I would suggest trying goat cheese in place. I would pair that with a balsamic vinaigrette or balsamic vinegar and extra virgin olive oil for the dressing.
What Can I Substitute for Dried Cranberries?
If you need a substitute for dried cranberries, I recommend using Pomegranate Seeds. They will also provide a nice pop of flavor and color.
Can I Prepare this Easy Appetizer Ahead of Time?
I don't recommend it. The pears can brown if sliced too early and the endive may wilt.
However, you can prep the endive leaves ahead of time by washing and drying them early. Then, store the endive in the refrigerator in a resealable plastic bag with a paper towel to absorb excess moisture.
You may also chop the walnuts ahead of time. Then, these endive cups just require a quick assembly right before serving.
How Should I Store Leftovers?
If you have leftovers of this endive appetizer, you should store it in an airtight container in the refrigerator or wrap the serving platter in plastic wrap to keep them from drying out.
When to Serve this Endive Appetizer
The great thing about this appetizer recipe is that it looks unique and impressive, but it is so easy to prepare! These little bites make a wonderful appetizer for:
dinner party
cocktail party
holiday party
Try this Endive Appetizer!
Next time you're looking for an elegant appetizer that is easy to prepare, give these endive salad bites a try!
Did you think combination of pungent blue cheese with juicy pear and endive lettuce was delicious? Leave a comment below and give it a review for others to see what you thought of this easy appetizer recipe.
On Instagram? Share your photo and tag me with @goodlifeeats and #goodlifeeatsrecipes. I'd love to see your photo of this elegant dish!
More Easy Holiday Appetizers:
These small bites and dips are perfect for any Holiday appetizer spread and will go perfectly served alongside this recipe for Endive, Pear, and Walnut Appetizer.
Store-bought stuffing cubes are transformed into an easy but impressive appetizer in this Spinach Stuffing Balls recipe! Perfect for Thanksgiving or Christmas!
This simple White Bean Bruschetta is a quick make-ahead appetizer to help simplify holiday entertaining and potlucks.
Spiced Pear and Pomegranate Crostini look far more special than a plate of fruit and cheese, but they're really a cinch to prepare and they don't require any special serving utensils.
This easy recipe for Garlic, Thyme, and Rosemary Marinated Olives is perfect for simple entertaining! They make a great easy appetizer idea for any party.
Serve this Marinated Feta Appetizer with crackers or crusty bread. In this recipe, feta cheese is marinated in olive oil, fresh herbs, garlic, lemon, and sun dried tomatoes for a delicious and simple appetizer.
In this Greek Puff Pastry Appetizer, puff pastry shells are baked and filled with a mixture of kalamata olives, red bell pepper, fresh oregano, feta, and spinach with a warm lemony olive oil vinaigrette.
Get More Recipes via Email
Did you love this recipe? Sign up to receive Good Life Eats Email Updates and never miss another recipe!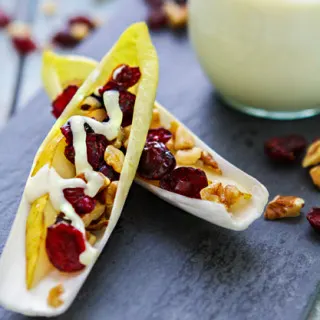 Pear, Walnut, & Endive Appetizer Bites
These Pear, Walnut, and Endive Appetizer Bites are perfect for holiday parties! Think of them as handheld salad bites that you can customize to your liking.
Ingredients
Endive
Pear slices
Dried Cranberries
Chopped walnuts (or candied walnuts)
Simply Dressed® Blue Cheese Salad Dressing
Instructions
Separate the endive leaves, rinse them and let them dry.*
Place 1 slice of pear inside the endive leaf, add a small sprinkling of both walnuts and dried cranberries.
Drizzle with Simply Dressed® Blue Cheese Salad Dressing or serve the dressing on the side.
Serve immediately.
Notes
*Be gentle because you'll want to keep them intact. They'll serve as a little cup for the rest of the ingredients.
Nutrition Information
Yield

6
Serving Size

1
Amount Per Serving
Calories

51
Total Fat

3g
Saturated Fat

0g
Trans Fat

0g
Unsaturated Fat

2g
Cholesterol

1mg
Sodium

23mg
Carbohydrates

7g
Fiber

1g
Sugar

6g
Protein

0g
This post is sponsored by Marzetti® and product has been provided by them. The opinions and ideas expressed here are my own.

Be sure to follow Good Life Eats on Instagram. Tag @goodlifeeats and include the hashtag #goodlifeeatsrecipes so I can see what you're cooking up in YOUR kitchen!
Let me know if you try this recipe and what you think of it by leaving a comment below.