Puff pastry shells are baked and filled with a mixture of kalamata olives, red bell pepper, fresh oregano, feta, and spinach with a warm lemony olive oil vinaigrette for scrumptious puff pastry appetizers that are perfect for any holiday party.
Puff Pastry Appetizers
December is a busy month for us socially. We have two events next weekend to attend, one is a military ball and the other is a Christmas party in our old neighborhood. We also have Kevin's unit's family Christmas party to attend in December and we'll be hosting a reception at our new home later in the month.
I'm learning a lot of things as a brand new military wife and it has been great getting to know other people that Kevin works with at different events like these. One of the things that I've learned, among many, is that it is traditional for the commander to host a holiday reception of sorts on New Year's Day.
I hear that and of course I instantly go into brainstorming mode because if there's a reception and we're entertaining people, especially people Kevin works with, I want the food to be fantastic.
I'm super excited that we're settled in our beautiful new home and that we'll have plenty of space to entertain, especially with our new kitchen. I love the idea of having a cheese tasting party with lots of other accompaniments, but Kevin and I haven't fully committed to an idea yet.
Thinking about our upcoming entertaining plans has me thinking about appetizers, and I was reminded of this easy Greek appetizer that I posted several years ago — November 1 of 2010 to be exact!
Crazy how quickly time flies to think that I've been blogging since 2010. I actually began in 2008, so I already had two years under my belt by the time this recipe came around.
Six years have passed by along with a move to Colorado, learning how to be a single mom, a wedding, 2 more kids (Kevin's kids Kayden and Kendall), a dog named Bailey, and 4 different houses (that's counting our new house along with my Colorado home, then Kevin's, then the rental we temporarily lived in while waiting for our new home to finish building), and I'm still blogging.
Why You'll Love these Puff Pastry Appetizers
This mini puff pastry appetizer recipe is still super popular here on Good Life Eats, especially this time of year with all of the holiday entertaining, so I updated it from the archives and thought I'd reshare it.
These Greek puff pastry appetizers are a flavorful appetizer with lots of bright colors that will be sure to pop on your holiday appetizer table, if they last that long.
They'd also be a great addition to the table for a Greek-themed dinner party, or maybe just as a snack while hanging out with friends during the holidays.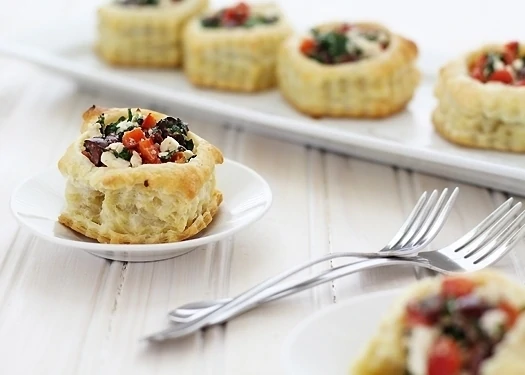 Save this recipe for Greek Puff Pastry Appetizers to Pinterest!
Tools Needed to Make this Easy Greek Appetizer
You'll need a few kitchen tools to prepare these easy appetizers. Here's what I recommend having on hand before getting started:
Knife and Cutting Board – for chopping ingredients.
Medium Bowl – to combine the ingredients for the filling in.
Measuring Cups and Spoons – to measure the filling ingredients.
Wooden Spoon or Spatula – to stir the puff pastry filling together.
Baking Sheet – you'll bake the puff pastry cups until golden brown before filling them.
Parchment Paper – I like to line the baking tray with a piece of parchment paper.
Ingredients in Puff Pastry Appetizers
To make this easy Greek appetizer recipe, you'll need a few simple ingredients:
Kalamata olives
Red bell pepper
Fresh oregano
Salt and pepper
Feta cheese
Olive oil
Lemon juice
Fresh spinach
Frozen puff pastry shells
For the complete ingredient list and detailed instructions, scroll to the bottom of this post for the FREE printable recipe card.
How to Make Greek Puff Pastry Appetizers
These Greek puff pastry cups couldn't be simpler to make!
Just cook and combine the filling ingredients while the puff pastry bakes up until golden. Then, fill the puff pastry cups with the filling, bake a few more minutes, and serve!
The above is simply a quick summary of this recipe. Check out the full recipe in the free printable recipe card at the bottom of this post for all the detailed instructions.
Recipe FAQs
Got questions about how to make this tasty appetizer recipe? Here are the answers to a few commonly asked questions. Feel free to leave any other questions in the comments on this post and I'll respond with answers.
Is it Ok to Use Puff Pastry Sheets for this Recipe?
Yes, you can use puff pastry sheets instead. Here's what I recommend:
Cut the sheets of puff pastry into squares large enough to fit into a standard sized muffin tin with a little overhang of the edges.
Press the cut puff pastry sheets into the muffin cup (like you would do with a muffin liner).
Bake the puff pastry dough until you have a flaky crust that is golden brown.
Remove from the muffin tin, place on a platter, and spoon the filling inside each of the cups.
Can I Prep Puff Pastry Appetizers in Advance?
You don't want to bake the puff pastry too far in advance since it's best fresh from the oven.
However, you can certainly prepare and stir together the Greek appetizer filling the morning of your holiday party and fill the puff pastry cups with it later on.
How Should I Store Leftover Puff Pastry Appetizers?
They won't be as crisp as leftovers as they were fresh due to being refrigerated, but you can keep the leftovers.
Cool to room temperature, then transfer to an airtight container in the refrigerator. I would reheat them in a warm oven on a parchment paper lined baking sheet before serving.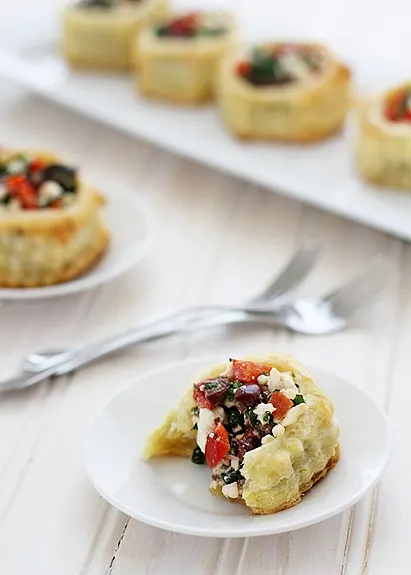 Save this recipe for Greek Puff Pastry Appetizers to Pinterest!
When to Serve these Puff Pastry Appetizers
These individual puff pastry cups are the perfect appetizer for your next party. Here are some fun occasions to serve them:
Special occasions .
They make easy finger foods as hors d'oeuvres for a cocktail party.
An elegant appetizer for holiday parties.
Another great way to serve them is as an appetizer or side dish for a dinner party with a Greek food theme.
What to Serve with these Puff Pastry Cups
I like to serve them with Citrus and Rosemary Roasted Chicken, potatoes (I love these Smashed Potatoes with Parmesan Gremolata), and salad.
When I roast a chicken it always seems to take a little longer than the timing I planned, mainly because I probably don't get the chicken in early enough for the time we want to eat.
So, these puff pastry appetizers make a nice little something to snack on while the rest of the food finishes up cooking.
Try this Puff Pastry Appetizer Recipe at Home!
Next time you're looking for next time you're looking for quick appetizers for the holiday season, give these Puff Pastry Appetizers a try!
Did you love that it was such a great appetizer with minimal effort? Leave a comment below and give it a review for others to see what you thought of this recipe.
On Instagram? Share your photo and tag me with @goodlifeeats and #goodlifeeatsrecipes. I'd love to see a photo of your favorite appetizer recipes!
More Easy Holiday Appetizers:
It is that time of year again — you might be hosting a holiday party or you might be attending one. Either way there is a good chance that you'll need an appetizer recipe, or a few, to prepare.
Spiced Pear and Pomegranate Crostini are the perfect solution for simple entertaining. They look far more special than a plate of fruit and cheese, but they're really a cinch to prepare and they don't require any special serving utensils.
Rosemary Parmesan Puff Pastry Cheese Straws are a great, easy snack to add to your holiday appetizer table.
Shrimp Stuffed Portobello Mushrooms have a wonderful depth of flavor from all of the delicious ingredients: portobello mushrooms, shrimp, fresh basil and rosemary, extra virgin olive oil, parmesan cheese.
Asparagus Prosciutto Puff Pastry Pizzas might sound fancy but they are super simple to prepare and packed with the flavors of fresh asparagus, prosciutto, sun dried tomatoes, ricotta, and parmesan.
Roasted Cranberry Salsa Recipe is a tasty and colorful holiday recipe for gifting and serving at parties. In this recipe roasted fresh cranberries pair perfectly with the traditional elements of salsa – jalapeño, cilantro, onion, and lime.
This Endive, Pear, and Walnut Appetizer is perfect for this time of year with the delicious seasonal flavors of pear and cranberry. And you can assemble them literally minutes before serving them.
Get More Easy Recipes via Email
Did you love this recipe? Sign up to receive Good Life Eats Email Updates and never miss another recipe!

What are your favorite easy puff pastry appetizer recipes?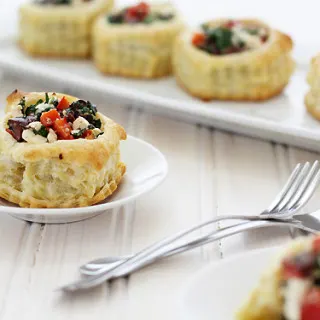 Greek Puff Pastry Appetizers with Kalamata Olives
Puff pastry shells are baked and filled with a mixture of kalamata olives, red bell pepper, fresh oregano, feta, and spinach with a lemony olive oil vinaigrette for a scrumptious puff pastry appetizer perfect for any holiday party.
Ingredients
2 packages frozen Puff Pastry Shells
For the Puff Pastry Filling
1/2 cup chopped Greek Kalamata Olives
1/2 cup chopped Fresh Red Bell Pepper
2 springs fresh Oregano, leaves removed and minced
1/4 teaspoon Black Pepper
Sea Salt to taste, if desired
2/3 cup Feta Cheese, crumbled
2 teaspoons Extra-Virgin Olive Oil
1 teaspoon Fresh Lemon Juice
5 ounces Fresh Spinach
Instructions
Preheat oven to 400 degrees F. Prepare a baking sheet by lining it with parchment paper.
Baking the Puff Pastry Shells
Remove the puff pastry shells from the packaging.
Bake and remove "tops" of the shells according to package instructions - bake at 400 degrees F for approximately 15 - 20 minutes.
The shells should be nicely puffed and golden brown.
Preparing the Filling
Meanwhile, in a medium bowl, combine the olives, bell pepper, oregano, pepper, salt (if desired), and feta. Stir to combine. Set aside.
In a non-stick skillet, heat the olive oil and lemon juice over medium-high heat.
Add the spinach and cook, stirring occasionally, until just wilted. Remove from heat.
Chop spinach and add to olive mixture. Stir to combine. Set aside.
Assembling the Puff Pastry Appetizers
After shells have baked, remove the "top" of the shell using a butter knife.
Fill each shell with two heaping tablespoons of the olive mixture.
Return the shells (now stuffed) to the oven and bake an additional 5 minutes.
Remove and serve immediately.
Notes
The olive stuffing mixture may be made in advance.
Recommended Products
As an Amazon Associate and member of other affiliate programs, I earn from qualifying purchases.
Nutrition Information
Yield

12
Serving Size

1 each
Amount Per Serving
Calories

85
Total Fat

6g
Saturated Fat

2g
Trans Fat

0g
Unsaturated Fat

4g
Cholesterol

7mg
Sodium

133mg
Carbohydrates

6g
Fiber

1g
Sugar

1g
Protein

2g
GoodLifeEats.com offers recipe nutritional information as a courtesy and is an estimate only. This information comes from online calculators. Although GoodLifeEats.com makes every effort to provide accurate information, these figures are only estimates.