Asparagus Prosciutto Puff Pastry Pizzas might sound fancy but they are super simple to prepare and packed with the flavors of fresh asparagus, prosciutto, sun dried tomatoes, ricotta, and parmesan.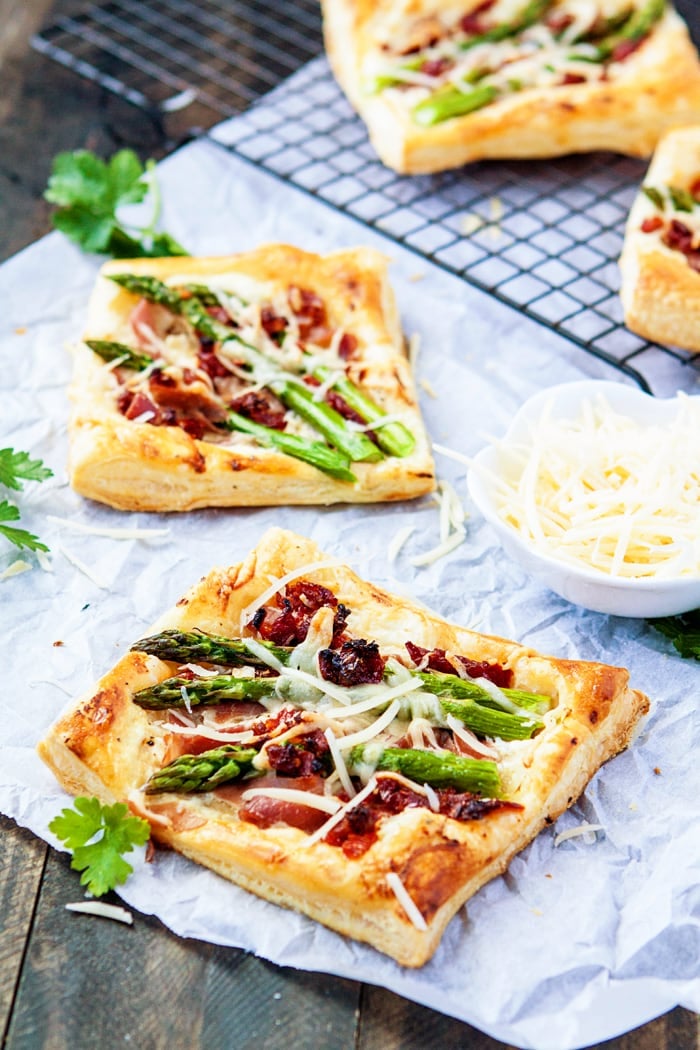 Save this recipe for Asparagus Prosciutto Puff Pastry Pizzas to Pinterest!
I seriously LOVE asparagus.
I'm always so excited when the temps start warming up a bit and the sun is staying out a little bit longer…and then we start seeing things like Asparagus and other spring produce at the grocery store.
I do this every time the seasons start to alternate.
I'm sick of what the current season offers.
It feels like its been forever since I've eating XYZ favorite things that are no longer in season.
Then they are starting to be in season again and I can't get enough.
But eventually I get tired of them too, and I'm ready to move on to the next season.
I really enjoy that about seasonal eating, because there is always something fresh and new that feels totally novel to eat, because you haven't been eating it for months.
I love variety in my food.
Anyway, back to asparagus. I love asparagus in so many ways.
Something really simple and roasted is great, or maybe dressed up a little like this Roasted Asparagus with Lemon Walnut Vinaigrette for a yummy side.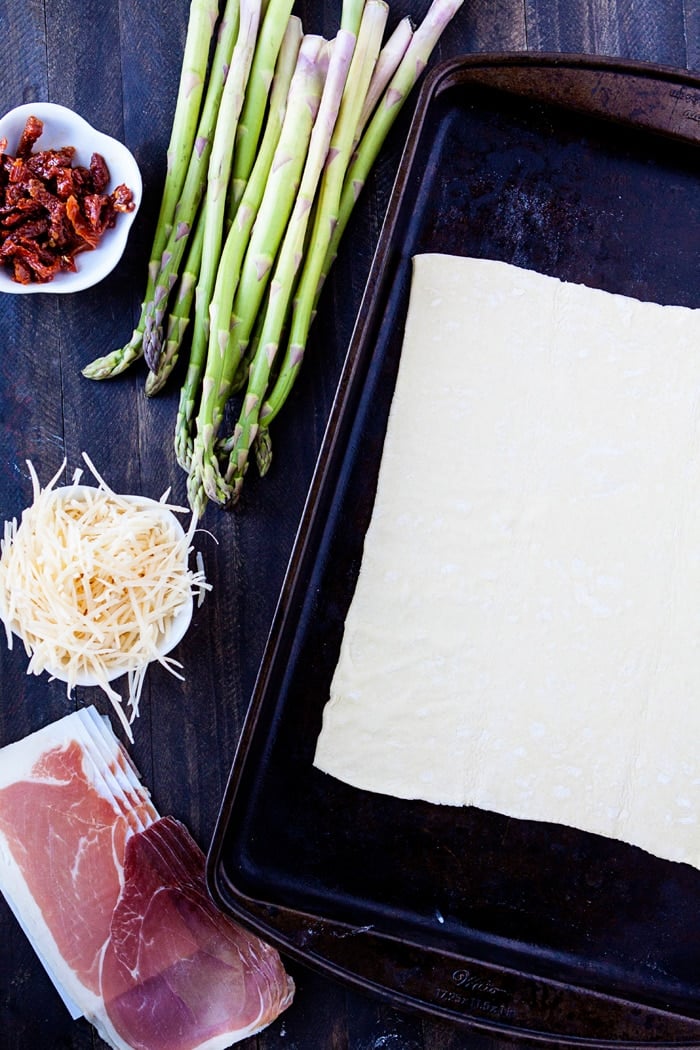 Save this recipe for Asparagus Prosciutto Puff Pastry Pizzas to Pinterest!
How to Select Asparagus
When purchasing asparagus, select asparagus spears that are brightly colored, straight, round, and without strong odor.
Colors may vary: green, white, or purple.
The tips of the asparagus should be tightly closed.
Look for asparagus that is uniform in thickness.
This will allow for even cooking.
Asparagus Appetizer
But asparagus is great as an appetizer too (not just a side dish), like in these Asparagus Prosciutto Puff Pastry Pizzas.
Puff pastry is versatile as a base for so many recipes and the buttery, flaky crust pairs incredibly well with fresh, green asparagus.
Add in some creamy ricotta, nutty parmesan, salty prosciutto and just a hint of sun dried tomatoes and you have perfection.
Asparagus Prosciutto Puff Pastry Pizzas are sophisticated enough for the grown ups in your group, but accessible enough that even the kiddos might like them.
Even my 8 year old daughter, who has been a bit of a picky eater lately, and 2 of her friends couldn't resist snacking on this recipe for lunch.
I was shocked, but I think that attests to how good it is and how accessible it is both to make and eat.
They're versatile too.
Try serving Asparagus Prosciutto Puff Pastry Pizzas as part of a delicious spring brunch, for lunch, or as an appetizer.
Head over to Good Cook to learn how to make these Asparagus Prosciutto Puff Pastry Pizzas.
More Puff Pastry Recipes
Looking for some more fun ways to use Puff Pastry? Ideas are limitless, but here are a few of my favorites:
Asparagus Tart with Gruyere is another simple and delicious way to showcase beautiful spring asparagus.
Greek Puff Pastry Appetizers are fun to make with puff pastry shells.
Rosemary Parmesan Cheese Straws are a super easy snack to make.
If you're craving something sweet, try these Coconut Cream Cheese Pastry Bites. YUM!
Love this recipe for Asparagus Prosciutto Puff Pastry Pizzas?
Sign up for Good Life Eats email updates and never miss another recipe!
Be sure to follow Good Life Eats on Instagram. Tag @goodlifeeats and include the hashtag #goodlifeeatsrecipes so I can see what you're cooking up in YOUR kitchen!
Let me know if you try this recipe and what you think of it by leaving a comment below.
Save this recipe for Asparagus Prosciutto Puff Pastry Pizzas to Pinterest!