Spring is here, and that means asparagus! We can't seem to get enough asparagus this year. I pick up a few bunches every time I go to the grocery store.
As much as I love it simply roasted, I've discovered how much I love it thinly sliced and barely cooked. The asparagus maintains its beautiful bright green color and delicious, sweet crunch, just like in this Spring Asparagus Quinoa Salad with Tarragon Vinaigrette.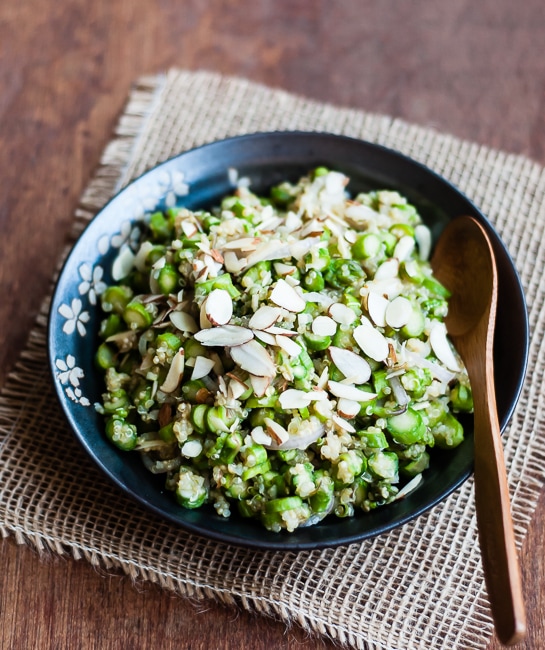 Written by: Lindsey Johnson of Cafe Johnsonia
A great thing about this salad, besides being fresh and delicious, is that you can eat it warm, room temperature, or cold. It's the perfect salad to pop into your lunch bag to take to work or when you're out running errands and don't want to hit up fast food for lunch. The different components can be made ahead and assembled at the last minute too, but the leftovers are great the next day too.
I used tarragon for the vinaigrette. It has a nice licorice flavor without being too overwhelming. Tarragon and mustard are a match made in heaven and the honey in the vinaigrette adds just enough sweetness to complement the asparagus. It's one tasty, healthy salad!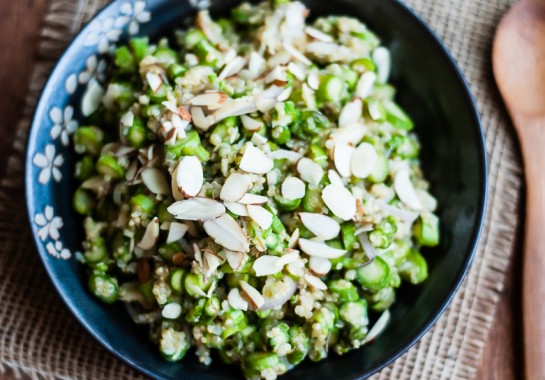 Tips for Making this Recipe
Did you know you can quickly cook quinoa in an Instant Pot when you're preparing this recipe for Asparagus Salad? Head over to my post: How to Make Quinoa in the Instant Pot for all the details!
How are you eating asparagus this spring?
More Ways to Enjoy Asparagus this Spring:
Get More Recipes via Email
Did you love this recipe? Sign up to receive Good Life Eats Email Updates and never miss another recipe!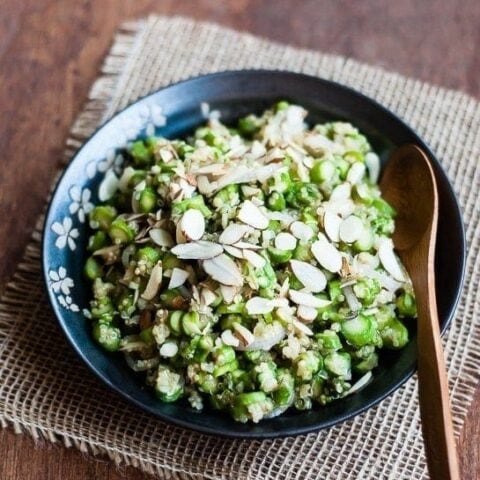 Asparagus Salad with Tarragon Vinaigrette
Asparagus Salad with Tarragon Vinaigrette is a quick and easy salad made with fresh asparagus and quinoa tossed with a flavorful tarragon-mustard vinaigrette.
Ingredients
For vinaigrette:
2 Tablespoons white balsamic vinegar
2 Tablespoons extra virgin olive oil
pinch sea salt
1 teaspoon dried tarragon
1 teaspoon honey
1/2 teaspoon Dijon mustard
white pepper
pinch garlic powder
For salad:
1/2 cup quinoa
1 cup water
juice of 1/2 lemon
1/4 teaspoon salt
1 bunch fresh asparagus
1 small shallot, halved and thinly sliced
2 Tablespoons sliced almonds
Instructions
Whisk together vinaigrette ingredients or place in a small jar with a tight-fitting lid and shake. Set aside.
If quinoa is not pre-rinsed, wash well in a fine-mesh colander to remove the bitter outer coating. Drain well.
Place quinoa in a 2-quart sauce pan.
Add the water, lemon juice, and salt.
Bring to a boil, lower heat to a simmer and cover.
Cook for 15-20 minutes, or until water has been absorbed and the quinoa is cooked through. (It will become translucent when it's properly cooked.)
Remove from heat and let stand, covered, for a few minutes.
In the meantime, trim off a few inches of the asparagus stems and discard. Thinly slice the asparagus into 1/8- to 1/6-inch rounds.
Add the asparagus, shallot, and sliced almonds to the pan of quinoa. The remaining heat will barely cook the asparagus.
Pour some of the vinaigrette over the quinoa and asparagus. Toss to coat. Let stand for a few minutes so it can absorb the vinaigrette.
Serve warm, at room temperature, or chilled. Add more vinaigrette to taste.
Notes
You can substitute any whole grain for the quinoa. Couscous would also be delicious.
Leftovers will keep well for 1-2 days in the fridge.
To make ahead, prepare salad and vinaigrette and store separately. Add dressing right before serving.
Recommended Products
As an Amazon Associate and member of other affiliate programs, I earn from qualifying purchases.
Nutrition Information
Yield

4
Serving Size

1
Amount Per Serving
Calories

166
Total Fat

9g
Saturated Fat

1g
Trans Fat

0g
Unsaturated Fat

8g
Cholesterol

0mg
Sodium

227mg
Carbohydrates

20g
Fiber

2g
Sugar

11g
Protein

3g