Lately I'm feeling the need to use the crock-pot more than I used to. A little back story here. Remember how I told you all about how unhappy we were with Logan's school? Well, about a month ago we got a call from one of the charter schools we had applied to. They had a few no-shows and did another lottery – guess what? Logan's name was drawn. We were so excited! He is doing great there and we're much happier with the school as a whole.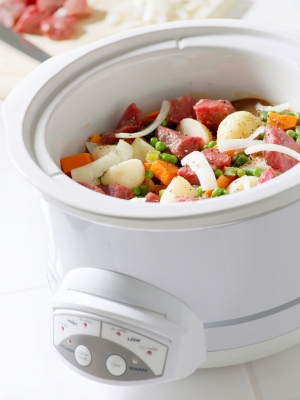 The only draw back is that I'm spending more time in the car driving to and from school. We used to be within walking distance and now it's a 20 minute drive. It's not as bad as I thought it would be and I actually don't mind it in the morning because it makes us all get up and get moving on our day instead of putzing around. Eric picks up 2 days a week and I do the other 3. Those 3 days are the days that I find crock-pot meals to be a big help to me.
So….what's your favorite crock-pot recipe? And while we're at it, what kind of crock-pot do you have? My crock-pot is 8 years old and not so great to begin with, so I'm in the market for a new one. Do you have any suggestions?