Game Day entertaining and homemade slow cooker Queso con Carne is a cinch thanks to your Crock-Pot® Slow Cooker. Game Day Crock-Pot Queso con Carne features gooey cheese combined with spicy meat, tomatoes, and plenty of tortilla chips for scooping. It is perfect for all your homegating parties.
This recipe was made in partnership with the Crock-Pot® Brand.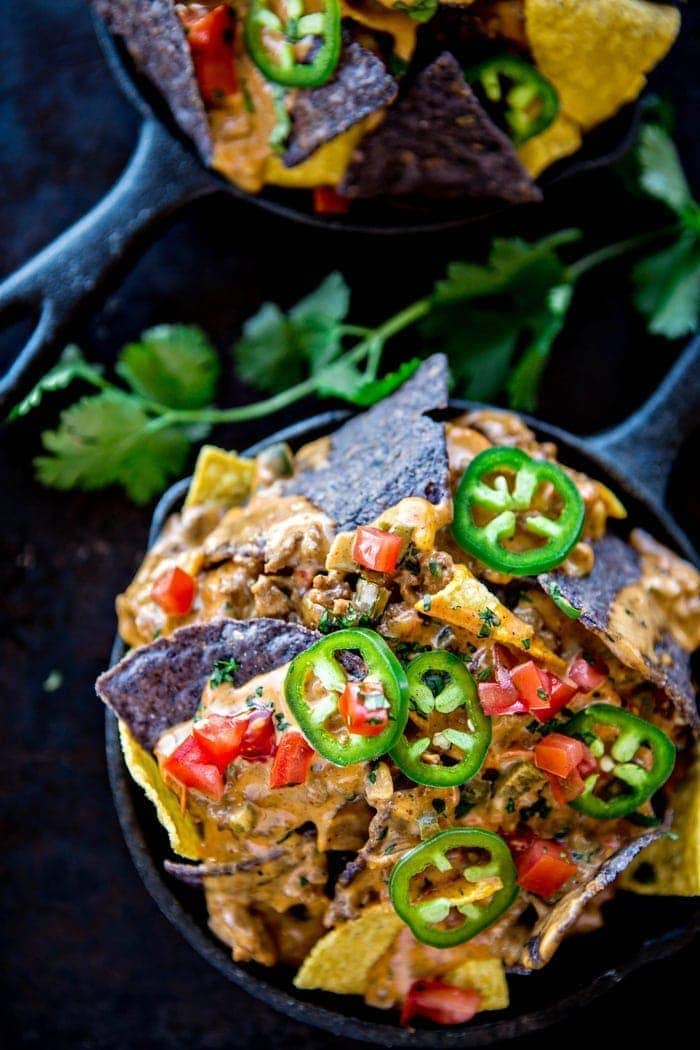 Click HERE to save this recipe for Crock-Pot Queso con Carne to Pinterest!
Crock-Pot Queso Dip Recipe
It's football season, and once again our weekends are consumed with football games. Logan just wrapped up another successful NFL Flag Football season. They were undefeated and tournament champs!
For the NFL, Logan likes to cheer for the Denver Broncos. You can't really go wrong with the home team, can you? While Kevin is an avid Pittsburgh Steelers fan.
One thing that there is no disagreeing on is that we all love game day snacks and we love to have friends over to watch the game, whatever team it may be. Is there anything better than bonding with friends and family over Sunday Night Football?
And while everyone loves tailgating at the actual stadium, it can be just as fun to "homegate" in the comfort of your own space. After all, we all know that game day is better with a party!
The downside to having a party is that often it can feel like a bit of work. And when you're busy prepping all the snacks and drinks for your friends and family to enjoy, you can end up missing some of the game, or just feeling like you don't get to enjoy it as much.
Thanks to NFL Crock-Pot® Slow Cookers, hosting friends and family to watch the game is easy! The Crock-Pot® slow cooker takes the prep work and stress out of entertaining. Plus, you can proudly display the team you're cheering for with a slow cooker featuring your favorite NFL team's logo.
I also really like that when using a Crock-Pot® Slow Cooker I don't have to worry about the food getting cold thanks to the handy "warm" setting. With this particular Cook and Carry™ model, the lid has a locking feature. I love that if you're the guest, rather than the host, you don't have to worry about your food spilling or your lid sliding all over during transit to your party's location.
I love to make things in my Crock-Pot® Slow Cooker because it takes all the fuss out of the prep work. It really fits my schedule to prepare things in advance so that I can enjoy the company of my friends and family, and catch all the highlights of the game.
This Game Day Crock-Pot Queso con Carne couldn't be more perfect for a game day appetizer. Who doesn't like homemade queso when they're watching football? The great thing about this particular version of queso, is that it has tons of flavor and plenty of ingredients to be filling for all your guests.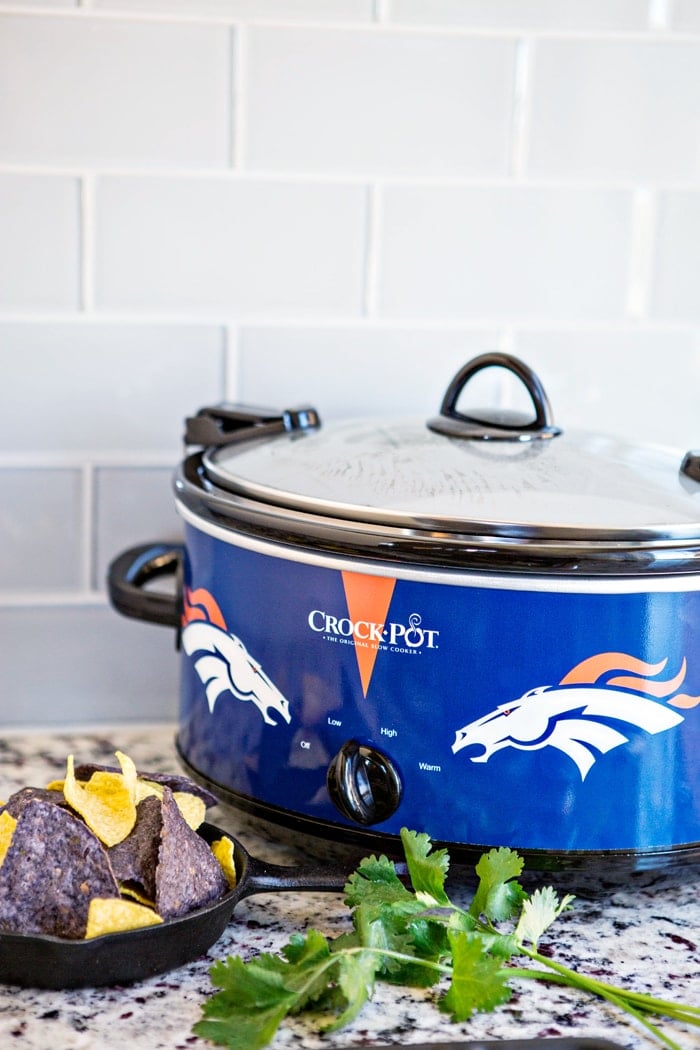 Click HERE to save this recipe for Crock-Pot Queso con Carne to Pinterest!
Crock-Pot Queso Ingredients
Don't let the lengthy ingredients list fool you — most of the the items listed below are spices! Here's what you'll need to make homemade queso:
Olive oil
Yellow onion
Poblano pepper
Jalapeño pepper
Garlic
Ground beef
Spices
All-purpose flour
Beef broth
Tomato paste
Processed cheese
Milk
How to Make Crock-Pot Queso
To make this easy queso recipe, you're first you're going to make a spicy ground beef mixture. Ground beef is combined with sautéed onions, poblano, jalapeño, and garlic.
Then, you'll add some smokier spices like cumin and chili powder, and a little bit of Mexican oregano. For a little bit of a sauce, add some flour, tomato paste, and beef broth.
After you add that to the meat mixture and thicken it up, you'll add that to your Crock-Pot® Slow Cooker along with some processed cheese (it is the best for getting a really gooey, cheesy, smooth queso), milk, and diced tomatoes.
The slow cooker does the rest of the work on this Queso con Carne. Just stir it periodically until the cheese is melted.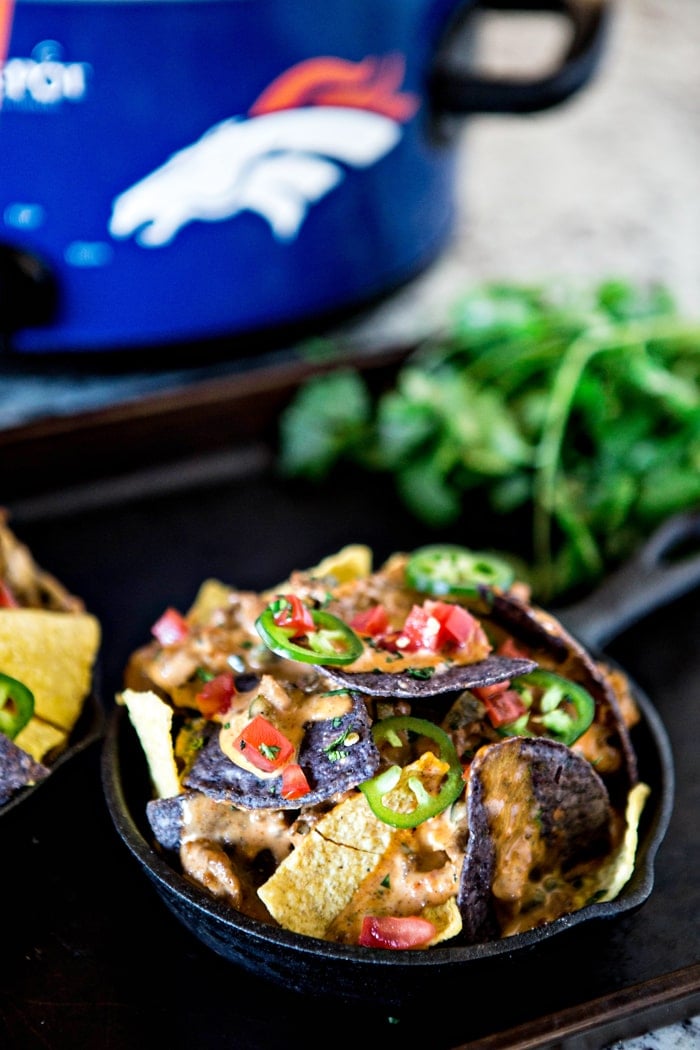 Click HERE to save this recipe for Crock-Pot Queso con Carne to Pinterest!
How to Serve Crock-Pot Queso
I like to serve this easy queso recipe with chips and a few toppings. A few of my favorites are:
chopped cilantro
sliced jalapeños (fresh or pickled)
diced tomatoes
olives
sour cream
extra salsa
shredded cheese
This allows guests to assemble their own plate of chips and Queso con Carne. I think guest-assembles, DIY, or serve your self style meals and snacks are perfect for when having a crowd over to watch the game. People can eat when they're ready, and make it how they want it, all while allowing the host or hostess to sit down and enjoy the party.
Tips for Making Crock-Pot Queso con Carne
One great tip to make the prep even easier on the day of the game is that the meat mixture can be made in advance. That will free up time the day of your party.
If you'd like to make it in advance by more than a couple of days, it stores well in the freezer. Simply take it out of the freezer the day before you plan to prepare the rest of the Crock-Pot queso dip. Then, allow it to thaw in the refrigerator.
This way all you're really spending time on is heating the whole thing up until the cheese is melted. You can focus your time on setting out a few accompaniments to serve along side the Queso con Carne and enjoying your guests.
Can This Be Made Vegetarian?
If you or your guests don't eat meat, I'm sure you could omit the ground beef and use vegetable broth instead of beef broth. However, I've only ever made this Crock-Pot queso recipe as written, so I can't say for sure how it'll turn out if you make it vegetarian.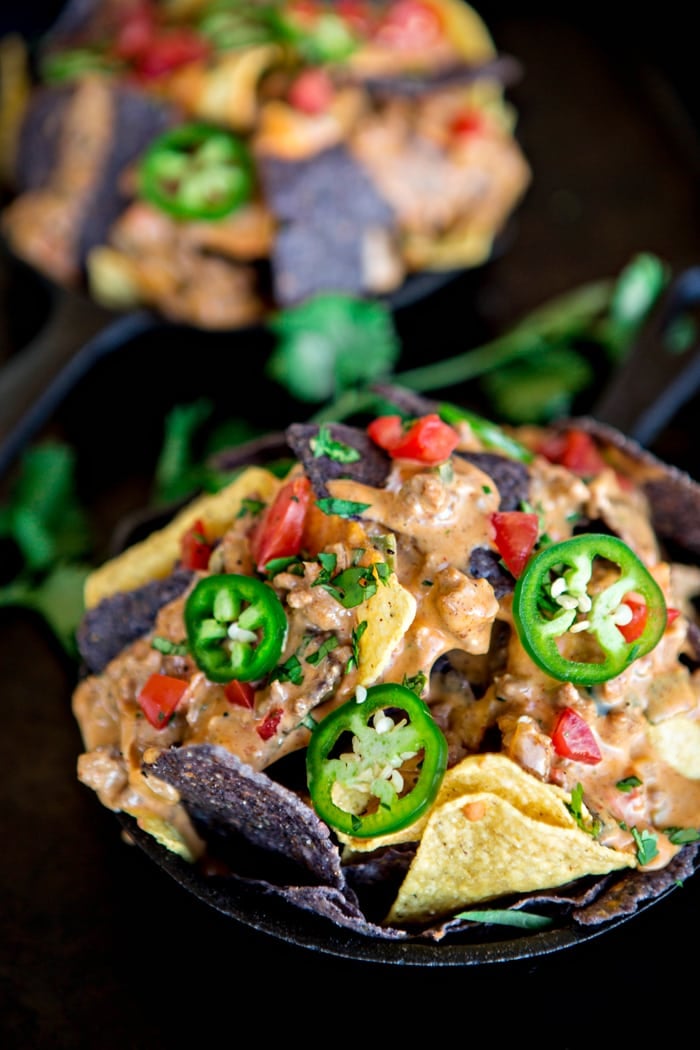 Click HERE to save this recipe for Crock-Pot Queso con Carne to Pinterest!
More Easy Crock-Pot Recipes:
Here are some of our very favorite game day recipe ideas that utilize our Crock-Pot® Slow Cooker so preparing to tailgate is easier than ever!
Slow Cooker Mexican Chicken is packed with flavor and super tender thanks to hours in the crock pot, this recipe is sure to please! For a great game-day idea create a taco using this chicken recipe and allow guests to bring ingredients for the tacos and everyone to assemble their own plate takes a lot of work off the host.
These Slow Cooker Baked Bean Trio with Bacon and Peppers are loaded with flavor thanks to three types of beans, bell peppers, poblano peppers, and bacon. A perfect, easy side dish for game day entertaining that would go great with ribs, wings, or pulled pork sandwiches.
A loaded baked potato bar would be great with this Braised Short Rib and Bacon Chili that is easily made in your Crock-Pot® Slow Cooker. Find the instructions for the Perfect Baked Potato here.
Slow Cooker Southwestern Pulled Pork is the perfect addition to our favorite Ultimate Easy Nachos. They whip up in a pinch and make Crock-Pot football recipes super simple to prepare (and serve), leaving you with more time to socialize, eat, and enjoy the game!
What are your best tips for hosting a tailgating party without stress?
Love this recipe for Crock-Pot Queso con Carne? Sign up for Good Life Eats email updates and never miss another recipe!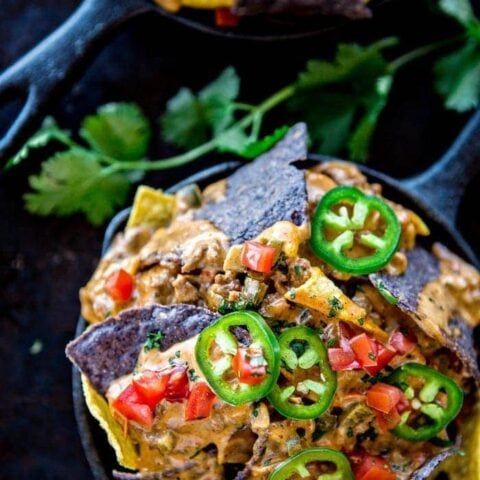 Crock-Pot Queso con Carne
Game Day Crock-Pot Queso con Carne features gooey cheese combined with spicy meat, tomatoes, and plenty of tortilla chips for scooping.
Ingredients
For the Meat Mixture:
1 tablespoon Olive Oil
1 medium Yellow Onion, diced
1 Poblano, deseeded and diced
1 Jalapeno, diced (remove seeds for milder heat)
1/2 teaspoon Minced Garlic
1 pound Lean Ground Beef
1 tablespoon Cumin
2 tablespoons Ancho Chile Powder
1 teaspoon Mexican Oregano
Salt and Pepper, to taste
1 tablespoon Flour
1 cup Beef Broth
1 tablespoon Tomato Paste
For the Queso:
2 pounds Processed Cheese, Original Flavor, cut into 1 inch cubes
2/3 cup Milk
Prepared Meat Mixture
Optional Toppings:
1 large Tomato, diced
Tortilla Chips
Sliced Jalapenos
Diced Tomatoes
Chopped Cilantro
Instructions
For the Meat Mixture
Heat the olive oil in a cast iron skillet or saute pan over medium heat.
Add the diced onion and saute for 3-4 minutes, or until tender.
Then, add the poblano, jalapeno, and minced garlic and saute for another 3-4 minutes.
Add the ground beef, cumin, chili powder, Mexican oregano, and salt and pepper to taste to the onion mixture.
Stir to combine.
Cook over medium heat, using a wooden spoon or a spatula to break up the meat into small, bite sized pieces.
Drain and excess grease and discard.
In a 2 cup glass measuring cup, whisk together the flour, beef broth, and tomato paste.
When mixed well, add it to the ground beef mixture, stirring and continuing to cook until thickened.
For the Queso
Add the cheese, milk, and meat mixture to the slow cooker.
Cook, with the lid on, over high heat for about 20-30 minutes, stirring periodically.
When the cheese has melted, turn the heat down to keep warm and stir in the diced tomato.
Serve with desired accompaniments.
Notes
If you've made the meat mixture ahead of time and stored it in the refrigerator, reheating the meat before adding it to the cheese will help the cheese melt faster.
Recommended Products
As an Amazon Associate and member of other affiliate programs, I earn from qualifying purchases.
Nutrition Information
Yield

20
Serving Size

1
Amount Per Serving
Calories

230
Total Fat

15g
Saturated Fat

8g
Trans Fat

0g
Unsaturated Fat

6g
Carbohydrates

7g
Fiber

1g
Sugar

4g
Protein

17g
I am privileged to have a working relationship with the Crock-Pot® Brand on Good Life Eats. I've been compensated for my time in creating this recipe for Game Day Slow Cooker Queso con Carne, but as always – my opinions are my own!
Be sure to follow Good Life Eats on Instagram. Tag @goodlifeeats and include the hashtag #goodlifeeatsrecipes so I can see what you're cooking up in YOUR kitchen!
Click HERE to save this recipe for Crock-Pot Queso con Carne to Pinterest!
Did you make this recipe? Leave me a comment below and let me know how you liked it!
Top 20 Super Bowl Recipes
Check out our Reader Favorite Top 20 Super Bowl Recipes that will keep your guests coming back for more . . . and even more.
They are all game day approved, tested by the football fans and the food lovers so they're sure to be a hit!