Individual Chicken and Vegetable Pot Pies
Christmas is a week away and that about wraps up the 2011 Holiday Recipe Exchange. I hope you all had as good of time as Jamie and I did! This week's theme is pies: sweet or savory! Holiday Baking means pies, but don't forget the savory pies – they are great this time of year, too.
We love these Individual Chicken and Vegetable Pot Pies on a cold, snowy day like today. They're also great for using up leftover Holiday turkey.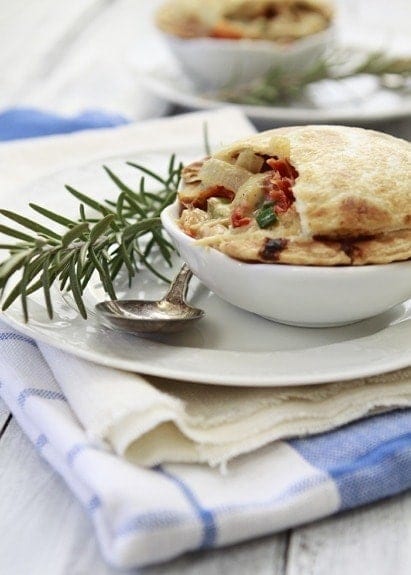 The Breville Personal Pie Maker is so fun to use and made cooking up these pot pies a snap. I can't wait to use the pie maker for more recipes because I think the kids are really going to love these individual sized portions.
Join Jamie and I this week in sharing your favorite Pie Recipes for a chance to win a Personal Pie Maker from Breville. Be sure to check out her recipe for Pear and Cranberry Individual Pies
I truly appreciate all of those who came out and participated in the 2011 Holiday Recipe Exchange. We enjoyed seeing your contributions browsing your delicious recipes. Happy Holidays!
Individual Chicken and Vegetable Pot Pies
Yield: serves 6 - 8
Prep Time:45 - 60 minutes
Cook Time:45 minutes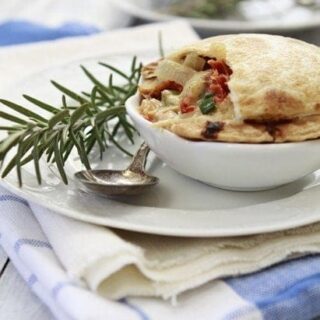 Ingredients:
Crust
1 recipe All Butter Pie Crust: Perfect Pie Crust Recipe - prepare ahead of time
For the chicken
Half a recipe of All-Purpose Shredded Crock-Pot Chicken - prepare ahead of time
Vegetable Filling:
2 tablespoons olive oil
1 medium onion, chopped
2 cloves garlic, minced
8 ounces mushrooms, stemmed, caps sliced
3 ounces carrots sliced into rounds
3 ounces sliced celery
1 1/2 red bell peppers, cut into strips
3/4 cup chopped green onions
1/2 cup drained oil-packed sun-dried tomatoes, chopped
1 tablespoon chopped rosemary
1/4 teaspoon black pepper

Sauce:
1/2 cup (1 stick) unsalted butter
1/2 cup plus 2 tablespoons all purpose flour
1 3/4 cups whole milk
1 1/4 cups chicken broth
3 teaspoons concentrated chicken base, such as Better than Bouillon
Directions:
For crust:
Prepare according to recipe instructions. Find recipe here: All Butter Pie Crust: Perfect Pie Crust Recipe
For chicken:
Prepare according to recipe instructions. Find recipe here: All-Purpose Shredded Crock-Pot Chicken. Prepare only half of what the original recipe indicates. Shred and set aside in a bowl.
For filling and assembly:
Heat 2 tablespoons oil in large skillet over medium heat. Add onion and garlic; cook until soft, about 6 minutes. Add mushrooms, carrots, peppers, and celery; sauté for about 4 minutes. Add to bowl with chicken; mix in green onion, sun-dried tomatoes, rosemary, and pepper.
Add butter to a large saucepan and melt over medium hit. Whisk in flour for two minutes. Add flour; whisk 2 minutes. Gradually whisk in chicken broth and then milk. Stir in chicken base. Bring the mixture to a boil and season to taste with salt and pepper. Stir into chicken and vegetable mixture.
If using the Breville Pie Maker, prepare the pot pies according the manufacturer's instructions. I added about 1/3 - 1/2 cup filling per pie.
Alternatively, divide the dough into 6 equal pieces. Roll out pieces to 7 inch circles on a floured surface. Divide the filling between 6 two cup ramekins. Cover each ramekin with 1 dough circle, pressing the overhang to the sides of the dish to adhere. Cover and chill. Pies may be assembled 1 day in advance.
Heat the oven to 350°F. Brush the tops of each pie with egg glaze (beat 1 egg with 1 teaspoon milk); poke 3 slits with a knife in the tops so steam can escape. Bake until the pies are golden and the filling is hot and bubbly. Approximately 45 minutes.
How To Participate
For a chance to win an Breville's Personal Pie Maker valued at $99.99:
Write and post a recipe on your blog featuring PIES.
Include "Come join the fun at the My Baking Addiction and GoodLife Eats Holiday Recipe Swap sponsored by Breville." in your blog post.
No blog? Just leave your recipe in the comments section.
Add your link to the widget on either GoodLife Eats or My Baking Addiction (we have the same widget code, so only add it on one site).
Submit your post before December. 26, 11:59 PM.
Anyone can participate in the link up, but the prizes will ship to US addresses only.
More detailed info are available here.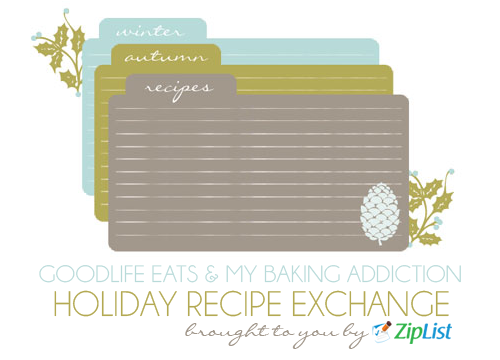 Link Up Your Recipes:
Love any of the recipes featured in today's Holiday Recipe Exchange? If so, be sure to to use the Ziplist Web Recipe Clipper to add your holiday favorites to your online recipe box.
This Week's Prize:
Breville's Personal Pie Maker valued at $99.99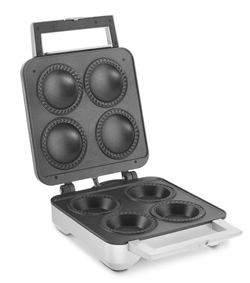 Prizes provided by Breville..
Recipe Theme Schedule: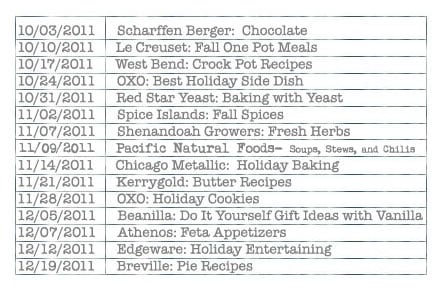 This is the last Holiday Recipe Exchange for 2011. We hope you enjoyed the recipes, prizes, and had a good time!