Santa Fe Chicken Salad Wrap
I am totally on a Chicken Salad kick right now. I love how flexible a basic chicken salad can be depending on your moods and what you feel like mixing into it. Or even how you feel like serving it.
As part of my 1/3 Less Stress Challenge, I've been making more of an effort to eating an actual meal for lunch vs. just snacking on whatever happens to be in front of me. Last week I made these Santa Fe Chicken Salad Wraps and boy were they good!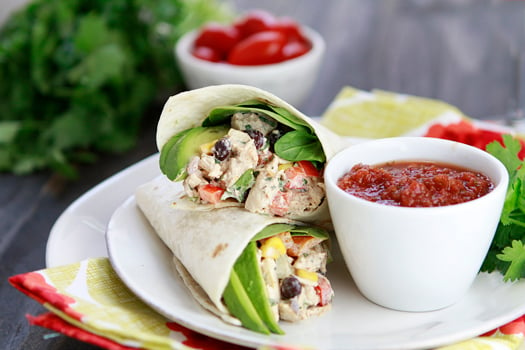 Eating a more balanced lunch has definitely improved my mood and energy, yet still it can be hard to get motivated to make something up for myself on the days that I'm all alone at home. Do you feel this way too?

My friend and neighbor, Jamie, and I have both been feeling kind of the same way. Sometimes we'll get the kids together to play and have lunch together. Last week we both had a lot to do, so I decided that I'd make these wraps and then take her one so we'd both enjoy something yummy and not feel like we were eating alone even though we weren't able to get together.
I also get so bored with sandwiches and lunch in general when I don't take care to plan ahead when I'm writing my grocery list. Related: 5 Ways to Dress up a Sandwich
Eric bought a big pack of burrito sized tortillas from Costco the other day, so I've been stuffing all kinds of things inside a tortilla and eating lots of wraps for lunch. They're more versatile than sandwiches in some ways because the ingredients are all bundled up inside and you don't have to worry about thing falling out like you do with bread.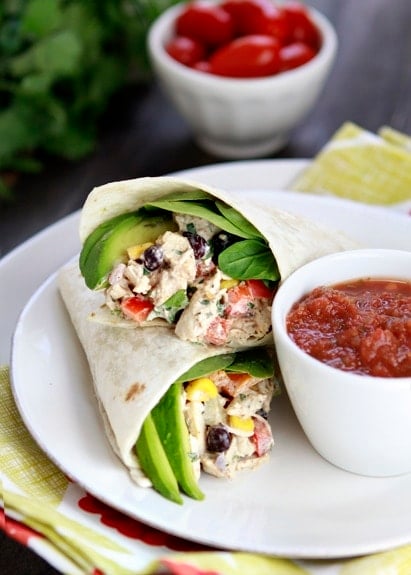 Chicken Salad sandwiches got a bit of a make-over here for this recipe. A little lime, cilantro and cumin are added for a Mexican zing. Black beans, corn and bell pepper make fun and colorful mix-ins in this recipe, too.
This chicken salad can be served stuffed inside a tortilla wrap with spinach leaves and avocado slices as I've show here, but you can also serve it on a bed of mixed greens or even with some tortilla chips for scooping. Serve the wraps with this awesome Fresh Strawberry Lemon-Limeade for a refreshing lunch or a simple dinner. I'm Lovin' It!
Santa Fe Chicken Salad Wraps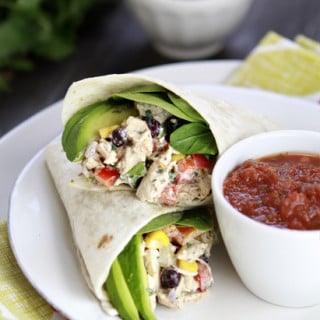 Ingredients:
For the Chicken Salad
2/3 cup sour cream
3 tablespoons lime juice
1/2 – 3/4 teaspoon salt
1/4 – 1/2 teaspoon black pepper
1/4 teaspoon paprika
1/4 teaspoon cumin
1 - 2 tablespoon minced cilantro
2 – 3 green onions, sliced thin
1 stalk celery, diced
2 cups poached, diced or shredded chicken
2/3 cup black beans, I like Bush's brand best
1/3 cup diced red bell pepper
1/3 cup corn kernels

For the Wraps
Santa Fe Chicken Salad
Burrito Sized Tortillas
Salad Greens or Baby Spinach
Avocado Slices
Directions:
For the Chicken Salad:
In a medium bowl, combine the sour cream, lime juice, salt, pepper, paprika, cumin, and cilantro. Whisk to combine.
Add the chicken, green onion, and celery to the sour cream mixture. Stir until the chicken is well coated.
Fold in the black beans, bell pepper, and corn. Cover and chill until serving.
To Prepare the Wraps:
Layer chicken salad, salad greens or baby spinach and avocado slices inside burrito sized tortillas. Fold up the ends and roll the wrap to seal it. Slice in half. Serve with salsa on the side, if desired.