This Chicken Salad Wrap recipe is a breeze to whip up, and the chicken salad will stay fresh for 3 to 5 days. Shredded chicken is combined with black beans, corn, red peppers, cilantro, green onions, and a spicy creamy sauce, then stuffed in a tortilla wrap with greens and avocado slices. Make a big batch and enjoy tasty chicken salad wraps for lunch throughout the week!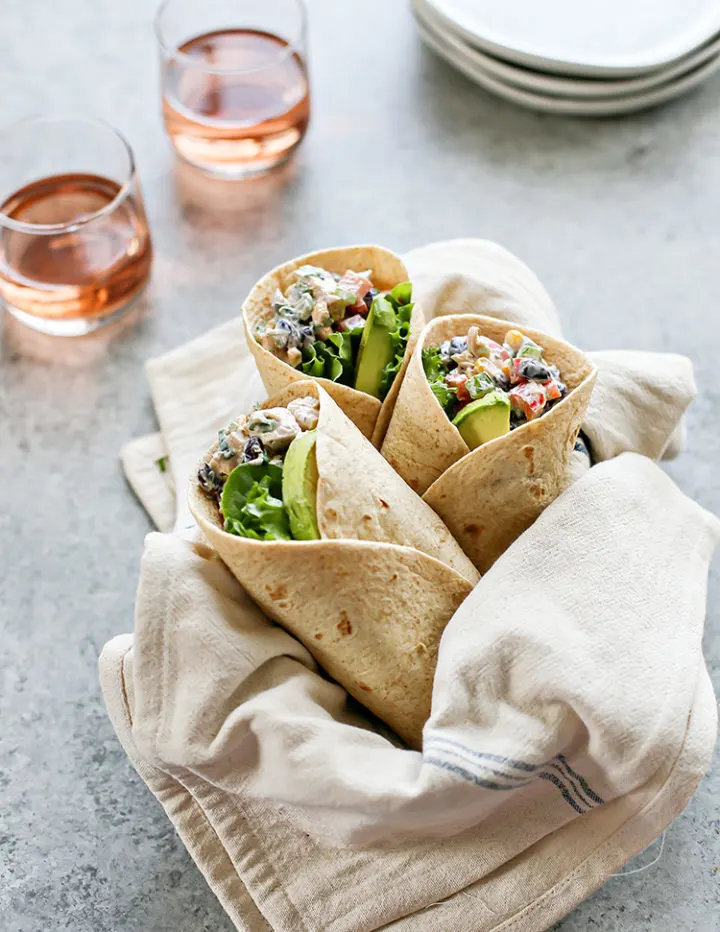 Click HERE to save this recipe for Chicken Salad Wraps!
Creating This Chicken Salad Wrap
I am totally on a Chicken Salad kick right now. I love how flexible a basic chicken salad can be depending on your moods and what you feel like mixing into it. Or even how you feel like serving it.
Last week I made these Santa Fe Chicken Salad Wraps and boy were they good! Eating a more balanced lunch has definitely improved my mood and energy, yet still it can be hard to get motivated to make something up for myself on the days that I'm all alone at home. Do you feel this way too?
My friend and neighbor, Jamie, and I have both been feeling kind of the same way. Sometimes we'll get the kids together to play and have lunch together. Last week we both had a lot to do, so I decided that I'd make these wraps and then take her one so we'd both enjoy something yummy and not feel like we were eating alone even though we weren't able to get together.
What I Love About This Chicken Salad Wrap Recipe
Classic Chicken Salad sandwiches got a bit of a makeover here for this recipe. A little lime, cilantro and cumin are added for a Southwestern zing. Black beans, corn, and bell pepper make fun and colorful mix-ins in this chicken salad wrap recipe, too.
Thee chicken salad wraps are a great way to use up leftover rotisserie chicken or roasted chicken, and it is an easy recipe to make at the beginning of the week for delicious lunch throughout the week!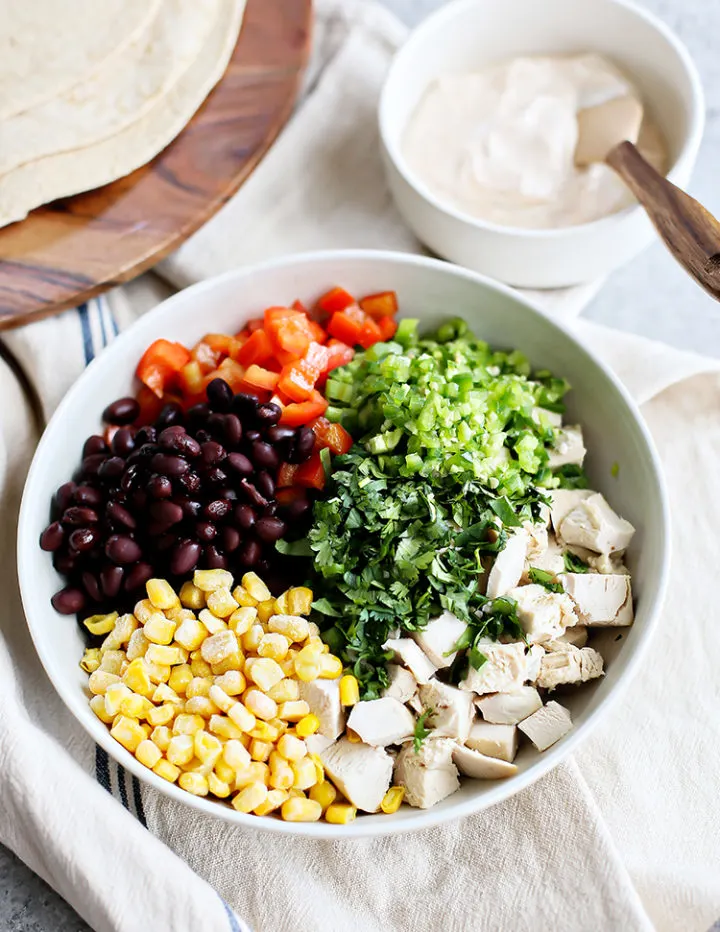 What's in This Chicken Salad Wrap?
To make this easy chicken salad wrap, you'll need:
Sour Cream
Jalapeno
Paprika
Cumin
Chili Powder
Salt
Black Pepper
Cilantro
Green Onions
Celery
Corn
Red Bell Pepper
Black Beans
Wrap Sized Flour Tortilla
Baby Spinach or Salad Greens
Sliced Avocado
For the complete ingredient list and detailed instructions, scroll to the bottom of this post for the FREE printable recipe card.
What Kind of Tortilla Should I Use to Make a Chicken Salad Wrap?
This chicken salad wrap recipe calls for wrap sized regular flour tortillas. If you want to mix things up, you can try a whole wheat tortilla or different flavored tortillas, such as jalapeno, chipotle, spinach, etc. I do not recommend using corn tortillas.
What Other Ingredients Could I Add To This Chicken Wrap Recipe?
This Santa Fe Chicken Salad Wrap is great for customizing according to your personal preferences. You can always add extra or different vegetables.
Keep in mind that if you add extra veggies and keep the original vegetable measurements the same, you're going to have enough filling to make more wraps than the original recipe yields.
Alternatively, you can use less of some of the listed vegetables/chicken to make room for more variety.
Here are my suggestions for extra veggies:
Green Bell Pepper
Shredded Purple Cabbage
Green Chiles
Small pieces of Zucchini or Yellow Squash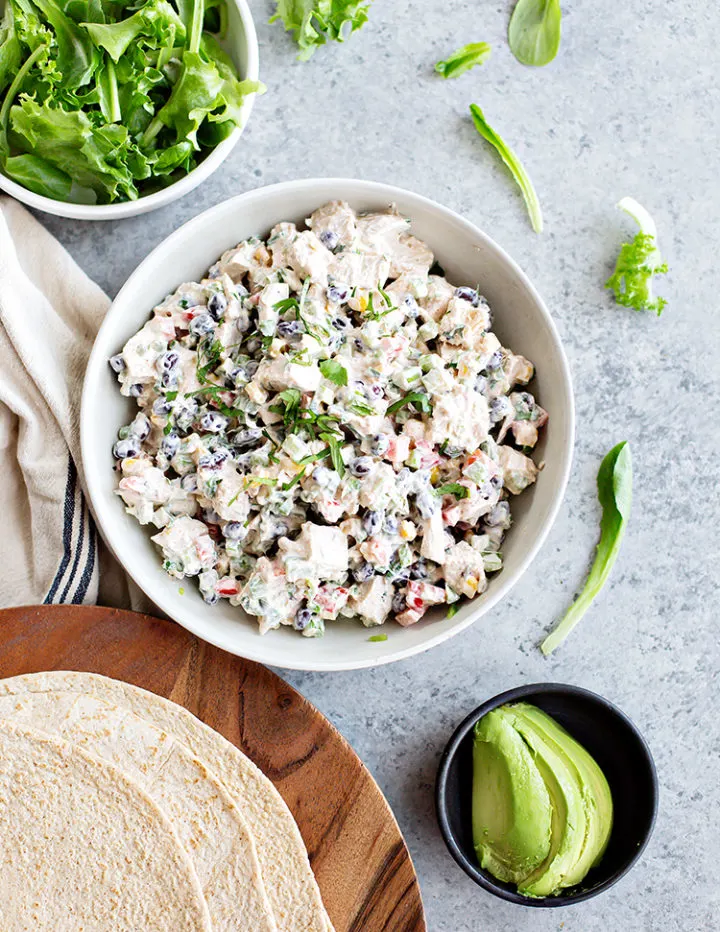 Click HERE to save this recipe for Chicken Salad Wraps!
How to Make Chicken Salad Wraps
First, stir together all the Southwest chicken salad sauce ingredients and seasonings in a large mixing bowl. Then, add the veggies and chicken. After that stir to combine.
Then, load the chicken salad into a tortilla and top with your favorite toppings! I recommend cutting your chicken salad wrap in half to make it easier to eat.
The above is simply a quick summary of this recipe. Check out the full recipe in the free printable recipe card at the bottom of this post for all the detailed instructions.
Can I Prep This Chicken Salad Wrap Recipe in Advance?
Yes, this is a great recipe to make in advance for lunch prep or dinner for busy weeknights! Just prepare the chicken salad filling and store it in the refrigerator until you're ready to prepare the wrap.
However, is best to wait to assemble the wraps until you're ready to eat them, as the spinach and tortillas become mushy over time.
How to Make these Chicken Salad Wraps Gluten-Free
If you would like to make this chicken salad recipe gluten-free, you can easily do so! Just sub your favorite gluten-free wrap in place of traditional flour tortillas.
Alternatively, you could use iceberg lettuce or butter lettuce leaves in place of the tortillas and make them lettuce wraps.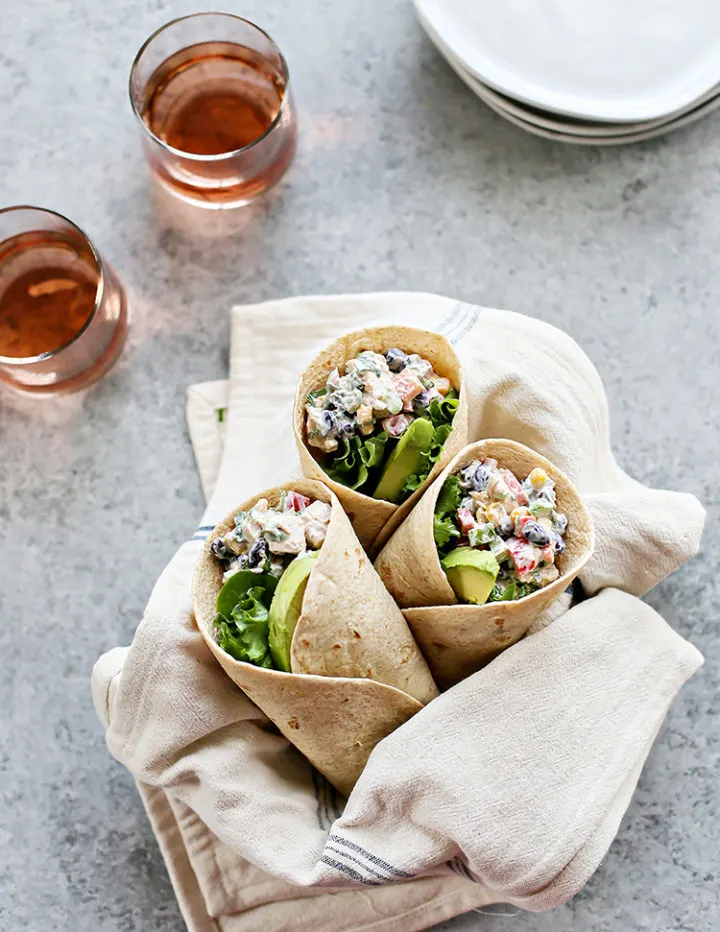 Tips for Making Chicken Salad Wraps
For a healthier take on this easy chicken salad, you can definitely substitute plain Greek Yogurt in place of the sour cream (or just replace part of the sour cream with yogurt to still have a rich chicken salad). Just make sure you're not using sweetened yogurt!
If you like your chicken salad with a bit of a kick to it, try adding a few dashes of hot sauce to the mixture.
If you use frozen corn for this recipe, you need to thaw and drain it before mixing it into the Southwest chicken salad. Grilled corn kernels cut off the cob also taste really good added to this chicken wrap recipe!
How to Serve This Santa Fe Chicken Salad
This Southwestern chicken salad can be served stuffed inside a tortilla wrap with spinach or lettuce leaves and avocado slices as I've show here. But, you can also serve it on a bed of mixed greens or even with some tortilla chips for scooping.
I like to serve the chicken salad wraps with a side of Restaurant Style Salsa and a glass of this awesome Fresh Strawberry Lemonade for a tasty lunch or a simple dinner.
How to Store Leftovers
Leftover chicken salad is best stored unassembled in an airtight container in the refrigerator. The Southwest chicken salad will last for three to five days in the fridge.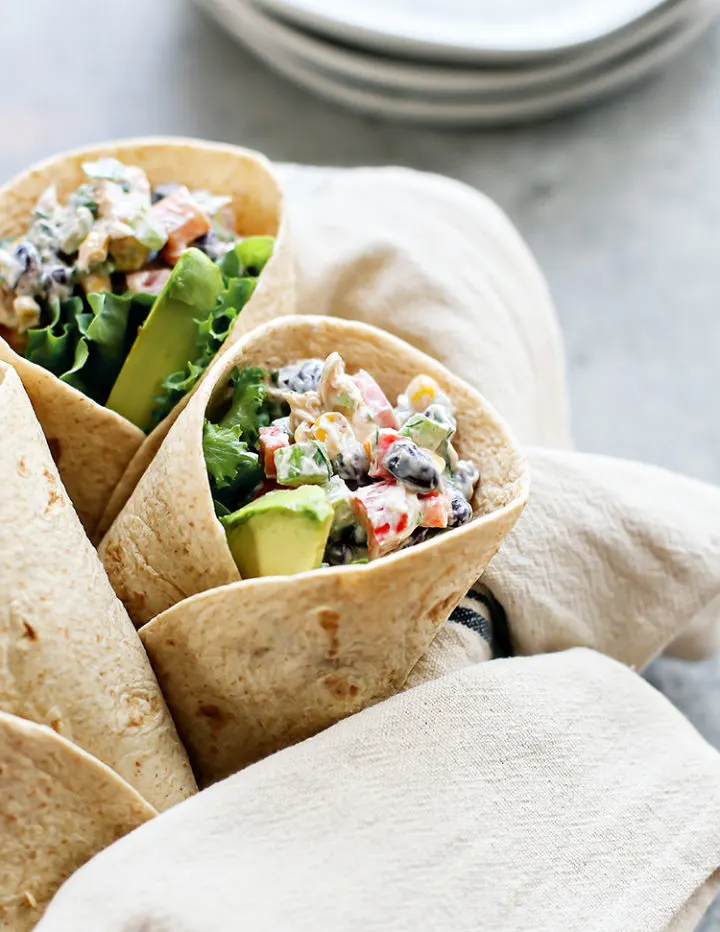 Why Readers Think These Are The Best Chicken Salad Wraps
"I just got all the necessary ingredients and made this recipe…Hands down the best chicken salad sandwich I've made so far…if you want to spice it up a little more, add half a table spoon of tabasco sauce…enjoy!"
"This is an amazing dish. I make a big batch on Monday and take it to work all week for lunch. Thank you!"
More Easy Lunch Recipes:
This Cucumber and Avocado Sandwich is filling, but on the lighter side. It's also great for baby showers and potlucks!
When in doubt, make a grilled cheese. Specifically, this yummy Bacon, Apple and Cheddar Grilled Cheese.
This Baked Honey Mustard Chicken pairs nicely with just about anything you have in your fridge and can eaten in wraps, on salads, and more.
If you're craving Mexican food, try making these Easy Loaded Nachos for lunch one day. This is a great recipe to have on hand for busy afternoons when you need to get food on the table fast!
The ingredients for this Buffalo Chicken Cobb Salad can be prepped in advance and you can enjoy salads throughout the week!
Don't see what you're looking for here? You can always head over to check out the recipe index to look for more recipes.
What's your go-to easy lunch recipe?
Get More Delicious Recipes via Email
Love this recipe for Southwest Chicken Salad Wraps? Sign up for Good Life Eats Email Updates and never miss another recipe!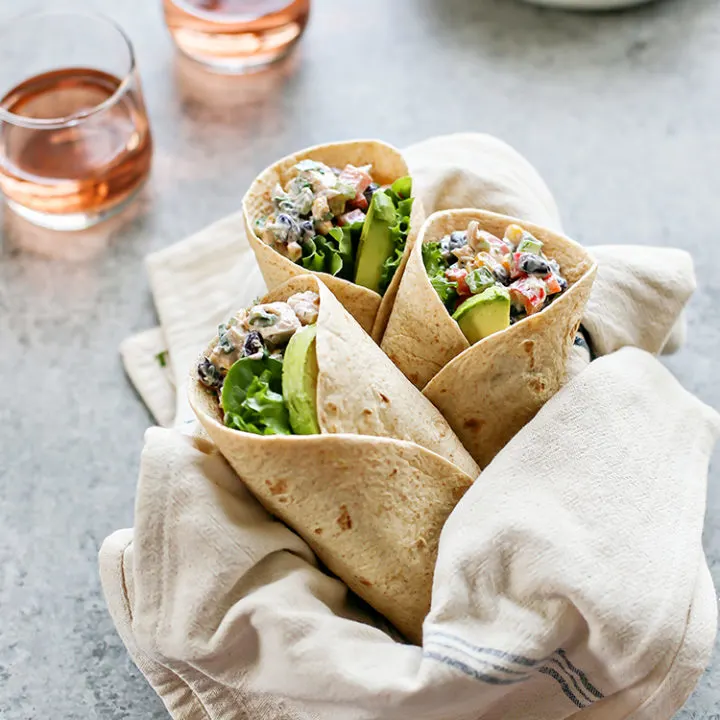 Southwest Chicken Salad Wraps
These chicken salad wraps are a breeze to whip up, and the chicken salad will stay fresh for up to three days. Make a big batch and enjoy throughout the week!
Ingredients
For the Chicken Salad:
2/3 cup Sour Cream
3 tablespoons Lime Juice
1/2 – 3/4 teaspoon Salt
1/4 – 1/2 teaspoon Black Pepper
1/4 teaspoon Paprika
1/2 teaspoon Cumin
1/4 teaspoon Chili Powder
1 - 2 tablespoon minced Fresh Cilantro
2 – 3 Green Onions, sliced thin
1 stalk Celery, diced
1 tablespoon finely minced Jalapeno
2 cups poached, diced or shredded Chicken Breasts
2/3 cup Black Beans
1/3 cup diced Red Bell Pepper
1/3 cup Corn Kernels
For the Wraps:
Santa Fe Chicken Salad
Wrap Sized Tortillas
Salad Greens or Baby Spinach
Avocado Slices
Instructions
For the Chicken Salad:
In a medium bowl, combine the sour cream, lime juice, salt, pepper, paprika, cumin, chili powder and cilantro. Whisk to combine.
Add the chicken, green onion, jalapeno, and celery to the sour cream mixture. Stir until the chicken is well coated.
Fold in the black beans, bell pepper, and corn. Taste for seasonings and add additional salt, pepper, cumin, paprika, or chili powder if desired.
Cover and chill until serving.
To Prepare the Wraps:
Layer chicken salad, salad greens or baby spinach and avocado slices inside burrito sized tortillas.
Fold up the ends and roll the wrap to seal it.
Slice in half. Serve with salsa on the side, if desired.
Notes
The chicken salad will stay fresh 3-5 days in the fridge. Wait to assemble the wraps until you're ready to eat them.
Recommended Products
As an Amazon Associate and member of other affiliate programs, I earn from qualifying purchases.
Nutrition Information
Yield

4
Serving Size

1
Amount Per Serving
Calories

552
Total Fat

29g
Saturated Fat

9g
Trans Fat

0g
Unsaturated Fat

17g
Cholesterol

97mg
Sodium

1141mg
Carbohydrates

42g
Fiber

10g
Sugar

6g
Protein

33g
Photography: photos taken in this post are by Rachael from Set the Table.