These chicken salad wraps are a breeze to whip up, and the chicken salad will stay fresh for up to three days. Make a big batch and enjoy throughout the week!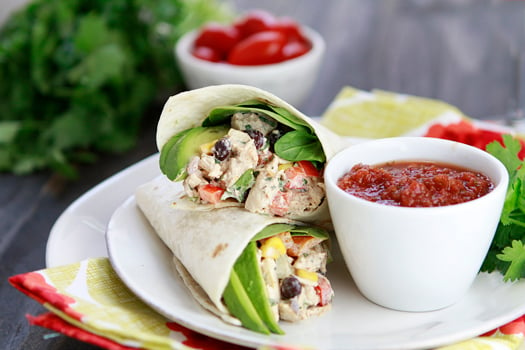 Click HERE to save this recipe for Chicken Salad Wraps!
Creating This Chicken Salad Wrap
I am totally on a Chicken Salad kick right now. I love how flexible a basic chicken salad can be depending on your moods and what you feel like mixing into it. Or even how you feel like serving it.
As part of my 1/3 Less Stress Challenge, I've been making more of an effort to eating an actual meal for lunch vs. just snacking on whatever happens to be in front of me. Last week I made these Santa Fe Chicken Salad Wraps and boy were they good!
Eating a more balanced lunch has definitely improved my mood and energy, yet still it can be hard to get motivated to make something up for myself on the days that I'm all alone at home. Do you feel this way too?

My friend and neighbor, Jamie, and I have both been feeling kind of the same way. Sometimes we'll get the kids together to play and have lunch together. Last week we both had a lot to do, so I decided that I'd make these wraps and then take her one so we'd both enjoy something yummy and not feel like we were eating alone even though we weren't able to get together.
I also get so bored with sandwiches and lunch in general when I don't take care to plan ahead when I'm writing my grocery list. Eric bought a big pack of burrito sized tortillas from Costco the other day, so I've been stuffing all kinds of things inside a tortilla and eating lots of wraps for lunch. They're more versatile than sandwiches in some ways because the ingredients are all bundled up inside and you don't have to worry about things falling out like you do with bread.
Chicken Salad sandwiches got a bit of a makeover here for this recipe. A little lime, cilantro and cumin are added for a Southwestern zing. Black beans, corn, and bell pepper make fun and colorful mix-ins in this chicken salad wrap recipe, too.
This Southwestern chicken salad can be served stuffed inside a tortilla wrap with spinach leaves and avocado slices as I've show here, but you can also serve it on a bed of mixed greens or even with some tortilla chips for scooping. Serve the wraps with this awesome Fresh Strawberry Lemon-Limeade for a refreshing lunch or a simple dinner.
What's in This Chicken Salad Wrap?
To make this easy chicken salad wrap, you'll need:
Sour cream
Spices (paprika, cumin, salt, pepper)
Cilantro
Veggies (green onions, celery, corn, red bell pepper)
Black beans
Tortillas
Toppings of choice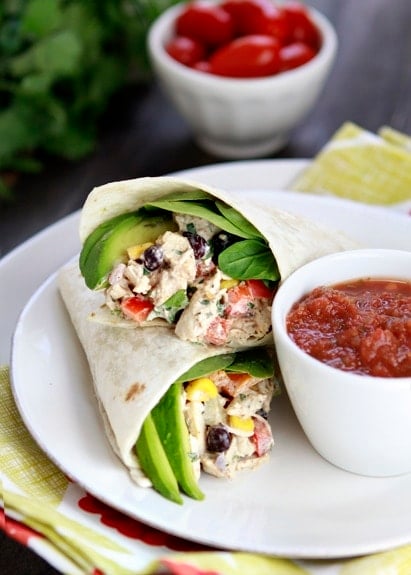 Click HERE to save this recipe for Chicken Salad Wraps!
How to Make Chicken Salad Wraps
Simply stir together all the Southwest chicken salad ingredients in a large bowl. Then load the chicken salad into a tortilla and top with your favorite toppings! I recommend cutting your chicken salad wrap in half to make it easier to eat.
Can I Prep This in Advance?
Yes, the Southwest chicken salad will last for two to three days in the fridge. I'd wait to assemble the wraps until you're ready to eat them, as the spinach and tortillas become mushy over time.
Tips for Making Chicken Salad Wraps
For a healthier take on this easy chicken salad, I bet you could use plain yogurt in place of the sour cream (or just replace part of the sour cream with yogurt to still have a rich chicken salad). Just make sure you're not using sweetened yogurt!
If you like your chicken salad with a bit of a kick to it, try adding a few dashes of hot sauce to the mixture.
If you use frozen corn for this recipe, you need to thaw and drain it before mixing it into the Southwest chicken salad.
More Easy Lunch Recipes:
This Cucumber and Avocado Sandwich is filling, but on the lighter side. It's also great for baby showers and potlucks!
When in doubt, make a grilled cheese. Specifically, this yummy Bacon, Apple and Cheddar Grilled Cheese.
This Baked Honey Mustard Chicken pairs nicely with just about anything you have in your fridge and can eaten in wraps, on salads, and more.
If you're craving Mexican food, try making these Easy Loaded Nachos for lunch one day. This is a great recipe to have on hand for busy afternoons when you need to get food on the table fast!
The ingredients for this Buffalo Chicken Cobb Salad can be prepped in advance and you can enjoy salads throughout the week!
What's your go-to easy lunch recipe?
Love this recipe for Southwest Chicken Salad Wraps? Sign up for Good Life Eats email updates and never miss another recipe!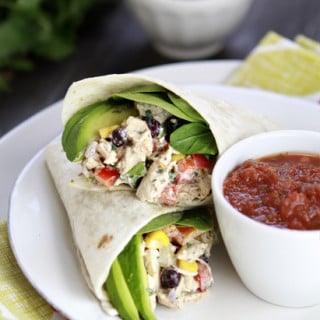 Southwest Chicken Salad Wraps
These chicken salad wraps are a breeze to whip up, and the chicken salad will stay fresh for up to three days. Make a big batch and enjoy throughout the week!
Ingredients
For the Chicken Salad:
2/3 cup sour cream
3 tablespoons lime juice
1/2 – 3/4 teaspoon salt
1/4 – 1/2 teaspoon black pepper
1/4 teaspoon paprika
1/4 teaspoon cumin
1 - 2 tablespoon minced cilantro
2 – 3 green onions, sliced thin
1 stalk celery, diced
2 cups poached, diced or shredded chicken
2/3 cup black beans, I like Bush's brand best
1/3 cup diced red bell pepper
1/3 cup corn kernels
For the Wraps:
Santa Fe Chicken Salad
Burrito Sized Tortillas
Salad Greens or Baby Spinach
Avocado Slices
Instructions
For the Chicken Salad:
In a medium bowl, combine the sour cream, lime juice, salt, pepper, paprika, cumin, and cilantro. Whisk to combine.
Add the chicken, green onion, and celery to the sour cream mixture. Stir until the chicken is well coated.
Fold in the black beans, bell pepper, and corn. Cover and chill until serving.
To Prepare the Wraps:
Layer chicken salad, salad greens or baby spinach and avocado slices inside burrito sized tortillas. Fold up the ends and roll the wrap to seal it. Slice in half. Serve with salsa on the side, if desired.
Notes
The chicken salad will stay fresh up to 3 days in the fridge. Wait to assemble the wraps until you're ready to eat them.
Nutrition Information
Yield

4
Serving Size

1
Amount Per Serving
Calories

552
Total Fat

29g
Saturated Fat

9g
Trans Fat

0g
Unsaturated Fat

17g
Cholesterol

97mg
Sodium

1141mg
Carbohydrates

42g
Fiber

10g
Sugar

6g
Protein

33g
Tag @goodlifeeats and include the hashtag #goodlifeeatsrecipes so I can see what you're cooking up in YOUR kitchen!
Click HERE to save this recipe for Chicken Salad Wraps!