Crock Pot Mexican Chicken
Crock Pot Mexican Chicken is the perfect shredded chicken recipe for your next Mexican recipe. Packed with flavor and super tender thanks to hours in the crock pot, this recipe is sure to please!
We have tacos in some variation or another a couple times a month.
It's something easy that all the kids like and I can make it relatively healthy with the different toppings that I offer.
It's a pretty great thing that I'm consistently finding more and more meals, and then variations of those meals, that all 4 kids like to eat.
The kids usually like all of the Mexican chicken recipes I make, and taco night is a favorite.
We recently had tacos with this Crock Pot Mexican Chicken.
When I clicked over to the blog post to review the recipe before I made it I realized those are some old and not very attractive photos of that chicken!
I decided to snap a few new photos as I made the chicken so I could get this blog post updated.
Click HERE to save this recipe for Crock Pot Mexican Chicken to Pinterest!
This blog post, photos, and recipe for Crock Pot Mexican Chicken were originally published September of 2010.
YIKES.
At that time, I had only had a decent camera for a few months.
When you look at a side by side it is clear that I have learned so much about photography since 2010.
Click here if you'd like to see a screen shot of what the photos used to look like.
Don't say that I didn't warn you!
Shredded Mexican Chicken is so easy to cook in a crock pot (or a pressure cooker if you have one).
It's a great basic recipe to have on hand in your freezer for use in burrito, Quesadillas, Soft Tacos, Chicken Enchiladas, Chicken Tortilla Soup, or Chimichangas.
It is even great to add on top of a quick salad for lunch.
Really, you can put this Crock Pot Mexican Chicken in any recipe that you want to have a little Mexican or Tex-Mex flair.
When we had this the other weekend, it was a fantastic time saver.
We were out a good portion of the day with the kids.
We had done a few chores and projects around the house in the morning.
In the afternoon we went to an arcade to let them play around, and did a couple errands.
After that we stopped by a cool brewery that has a bunch of family and kid friendly board games, card games and an old school ball maze.
It was a fun, chill day with the family.
After that it was time to head home and start getting ready for dinner…
Oh wait!
Dinner was already well on its way to being ready thanks to this chicken cooking in the crock pot!
It was awesome to have most of the work done on a busy weekend so that we could play and have fun as a family rather than fussing around in the kitchen all day.
I definitely liked that there wasn't a big mess to clean up.
I seriously wish I had more crock pot chicken recipes.
If you have any great ones – please leave them in the comments!
Click HERE to save this recipe for Crock Pot Mexican Chicken to Pinterest!
You could totally take this recipe and cook it in the oven, stove top, or even on the grill.
I much prefer cooking this type of chicken in the crock pot than any other way because I don't have to coordinate my schedule with the oven's time-line.
I usually get it started early in the day so it's ready before I actually need it.
That way there's no last minute anything.
Recipes like Crock Pot Mexican Chicken really save the day when I'm feeling like I need an extra 8 hours in my day to get everything done.
It just takes a little organization up front to get things cooking in time.
This recipe is easily doubled, or even tripled if you have a larger crock pot.
The chicken can be frozen in portions for later use (stored frozen for up to 2 months).
On days that are a little busier, I have even opted to make Crock Pot Mexican Chicken in the pressure cooker instead of the crock pot.
Add all the ingredients just as described, I've even added frozen chicken when I don't have time to thaw it, and bring it to a boil.
After the mixture comes to a boil, put the lid on and cook at high pressure for about 30 minutes, more along the lines of 45 if the chicken is frozen.
After the cooking time is up, turn the heat off and let sit until the pressure has released before opening the cooker.
Sadly, the handle broke off of my stove top pressure cooker during our move so I had to toss it.
I haven't yet tried the recently popular Instant Pot (or equivalent).
So, if you have one of those, I'd love to hear how it goes making this recipe.
Click HERE to save this recipe for Crock Pot Mexican Chicken to Pinterest!
Another great thing about slow cookers or pressure cookers is that the chicken becomes so tender it is really easy to shred.
I have a few tips and a couple of different methods for How to Shred Chicken.
You'll want to try some of those techniques after you prepare this Crock Pot Mexican Chicken for nice, tender shredded pieces of chicken.
Once you shred the chicken, you can use it in any recipe you like.
To freeze the chicken, cool it first and then divide it into your desired portions in freezer safe containers or freezer safe zip top bags.
You'll have a little stash of prepped chicken in the freezer to rescue you on busy days.
Crock pot chicken recipes for the win!
When we ate this Crock Pot Mexican Chicken in tacos the other week, we used small flour tortillas.
For our veggie toppings, I had some Cilantro Lime Broccoli Slaw and 5 Minute Basic Guacamole.
On the side I served some seasoned black beans.
Super simple but everyone ate it up.
You can keep it basic with shredded lettuce, diced tomato, guac, and cheddar cheese for a simple chicken taco.
Or, if you want to get fancy, check these 7 Ways to Up Your Taco Tuesday Game.
Click HERE to save this recipe for Crock Pot Mexican Chicken to Pinterest!
Use Crock Pot Mexican Chicken in These Recipes
Looking for recipes to use this Crock Pot Mexican Chicken?
Check out some of these favorite recipes that taste great with shredded chicken.
Or, browse the recipe index archives for even more great recipe ideas:
Don't have ground chicken? No problem! Sub this shredded Crock Pot Mexican Chicken for ground chicken in these tasty and nutritious Black Bean, Sweet Potato and Chicken Lettuce Wraps.
I love Mexican Chicken recipes like these Chicken Enchiladas with Homemade Chile Gravy Enchilada Sauce.
It was a classic for me growing up in the Houston area. I always use this chicken recipe to make these amazing enchiladas.
For a lighter enchilada recipe, try these Chicken, Black Bean, and Spinach Enchiladas.
We've combined two of our recent dinner time favorites – Chicken Enchiladas and Chili – into this new recipe for Cheesy Chicken Enchilada Chili.
Using shredded chicken makes it really quick to make.
Easy Baked Wonton Chicken Taquitos just got a whole lot easier by cooking the Mexican chicken in the crock pot first.
If you want to add meat to this Ultimate Easy Nachos Recipe, Crock Pot Mexican Chicken would go perfectly!
Garlic Chicken, Black Bean, and Spinach Quesadillas are super fast and easy to whip up if you use this Crock Pot Mexican Chicken in the recipe.
Another one of my favorite Mexican Chicken recipes is this Chicken Tortilla Soup.
It will warm you up on any cold night thanks both to the spicy broth as well as a steaming bowl of soup.
Another great Mexican chicken soup recipe is this White Bean Chicken Chili Verde.
Or try a make your own night with these Spanish Rice Taco Salad Bowls. Everyone can add their favorite ingredients to their own bowl.
Have you ever made Crock Pot Mexican Chicken before?
Love this recipe for Crockpot Mexican Chicken?
Sign up for Good Life Eats email updates and never miss another recipe!
This recipe was originally published September 21, 2010.
It has been updated with new photos and the instructions have been improved for clarity and a quicker, easier process.
The Mexican Crock Pot Chicken still tastes great!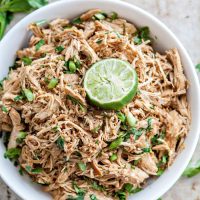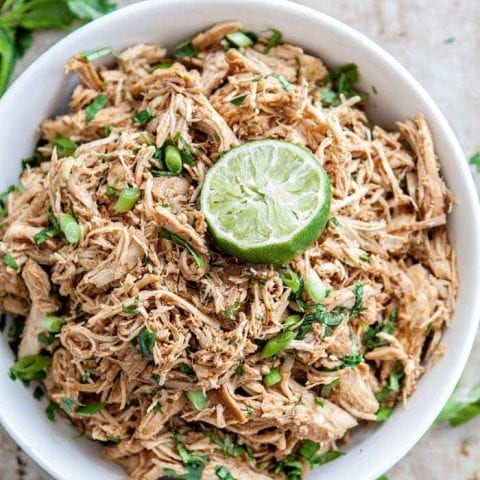 Shredded Tex-Mex Crock-Pot Chicken
Total Time:
5 hours
10 minutes
Crock Pot Mexican Chicken is the perfect shredded chicken recipe for your next Mexican recipe. Packed with flavor and super tender thanks to hours in the crock pot, this recipe is sure to please!
Ingredients
1 1/4 teaspoon Cumin
1 tablespoon Chili Powder
1/4 teaspoon Onion Powder
3/4 teaspoon Garlic Powder
1/2 teaspoon Smoked Paprika
1/2 teaspoon Coriander
1 1/2 teaspoon Salt
1/2 tsp Black Pepper
4 Boneless, Skinless Chicken Breasts (about 2.5 pounds)
1/3 cup Chicken Broth or Water
2 Limes
1/3 cup (packed) cilantro leaves
1 large Onion, cut into wedges
1 Jalapeño, sliced
optional garnish: sliced Green Onion and chopped Cilantro
Instructions
In a small bowl, combine the cumin, chili powder, onion powder, garlic powder, smoked paprika, coriander, salt and black pepper.
Stir until well mixed.
Place the chicken inside the insert of your crock pot.
Sprinkle the top of the chicken breasts with half of the seasoning.
Then, flip the chicken and sprinkle the other side with the remaining seasoning mixture.
Add the chicken broth or water to the crock pot.
Squeeze the juice from the limes over the top of the seasoned chicken.
Add the cilantro leaves, onion wedges, and jalapeño slices to the crock pot, arranging them in and around the seasoned chicken breasts.
Cook on low for 3-5 hours, or until cooked through (different crock-pots cook at varying heats) and tender.
Remove chicken breasts from the crock pot, shred and place in a bowl. Set aside.
Strain the liquid through a fine mesh strainer, reserving the liquid and discarding the solids.
Add all of the juices back to the shredded chicken.
Stir to distribute them all over the meat.
Garnish, if desired, with chopped cilantro and sliced green onions.
Notes
You could also prepare this recipe in a pressure cooker. Cook for about 20-30 minutes on high pressure.
Depending on your heat preferences, leave the seeds in the jalapeño (for spicier) or remove them (for milder) flavor.
Recommended Products
As an Amazon Associate and member of other affiliate programs, I earn from qualifying purchases.
Nutrition Information
Yield

8
Serving Size

1
Amount Per Serving
Calories

122
Total Fat

3g
Saturated Fat

1g
Trans Fat

0g
Unsaturated Fat

1g
Cholesterol

51mg
Sodium

512mg
Carbohydrates

6g
Fiber

2g
Sugar

2g
Protein

19g
GoodLifeEats.com offers recipe nutritional information as a courtesy and is an estimate only. This information comes from online calculators. Although GoodLifeEats.com makes every effort to provide accurate information, these figures are only estimates.
Favorite Taco Tuesday Recipes
Click HERE to save this recipe for Crock Pot Mexican Chicken to Pinterest!
Be sure to follow Good Life Eats on Instagram. Tag @goodlifeeats and include the hashtag #goodlifeeatsrecipes so I can see what you're cooking up in YOUR kitchen!
Let me know if you try this recipe and what you think of it by leaving a comment below.