Black Bean, Sweet Potato and Chicken Taco Lettuce Wraps are perfect for satisfying your next Taco Tuesday craving while helping you stick with the inevitable New Year's Resolution to eat healthier.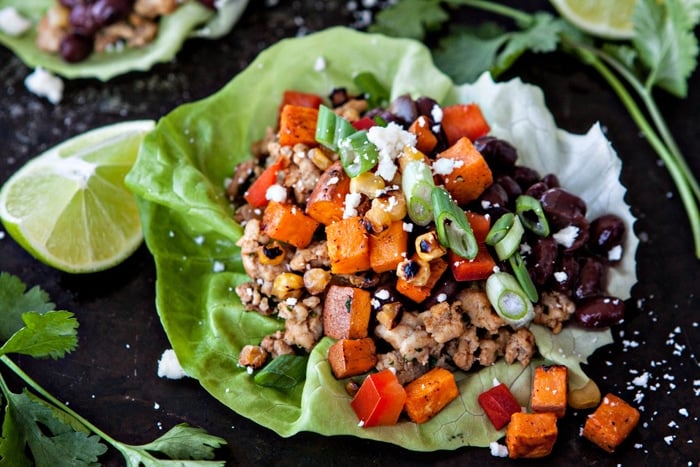 Click HERE to save this recipe for Chicken Taco Lettuce Wraps!
Healthy Taco Lettuce Wraps
Like everyone else this time of year, I'm trying to get back on the healthy eating wagon. We didn't go totally overboard for the holidays, but there has definitely been a progression to eating richer foods, and more frequently, over the last several moths.
Kevin and I love to try new restaurants and one of the habits we've gotten in to is eating out a lot when the kids are gone. We used to eat out a few times a month and balanced that with cooking at home together even when the kids were gone.
For me I can see how this all goes back to the getting engaged + putting two homes up for sale while building a house + getting married + months of moving + blending a family + me learning how to grocery shop and cook for a family of six. Grocery shopping for 6 is no joke. And the cooking…we rarely have a leftovers night anymore. But that just gives more opportunities to try new things!
In addition to all of that, some of you may remember me mentioning that Kevin started a new job in the Army and that he's now commuting a pretty hefty distance on a daily basis.
The truth is, when I first met Kevin he was on his way out of the Army after a whole career of service. There was about a year period where he was basically on, as he calls it, "his sabbatical." He was really flexible in his work hours, and the current job he was in he had every Monday off.
The closer he got to the end of the retirement process, the less he went in to the office. Which was excellent because we had a lot of time to spend together getting to know each other. We'd go for walks with the dog at the dog park (by the way, have you had a chance to Meet Bailey?). We'd go to lunch and do errands or just make sandwiches together at home. We'd even take the boat out on the lake while the kids were at school.
But then an opportunity that was really cool came knocking. At first it was really undecided and noncommittal if he would be offered the position even though he was told that he was the one being recommended for it. After submitting for the job there were months of nothing. And then all of the sudden it went from approaching retirement to a 2-year brigade command with a side of 90 minutes each way commute.
So add that in the mix of all of the other really awesome life changes and we definitely let our eating habits slide a little. For me, I am really not my best when I get out of routines and when life is has a lot of change all at once and over a period of time. It was "we just need to grab something quick," or "we need a night out of the house," or "I'm too tired to cook," "I've been cooking all week for work…" or "well, I didn't take any meat out to thaw, so…"
Neither one of us wants to stop eating out. I seriously love having a man in my life who is interested in what I do for work and likes trying new food. I love that when we eat out we talk about the food or the restaurant. We think about what when like, what doesn't work, what we might do different. And there is always the topic of "does this make it on the imaginary future restaurant menu?" when discussing something new we've tried.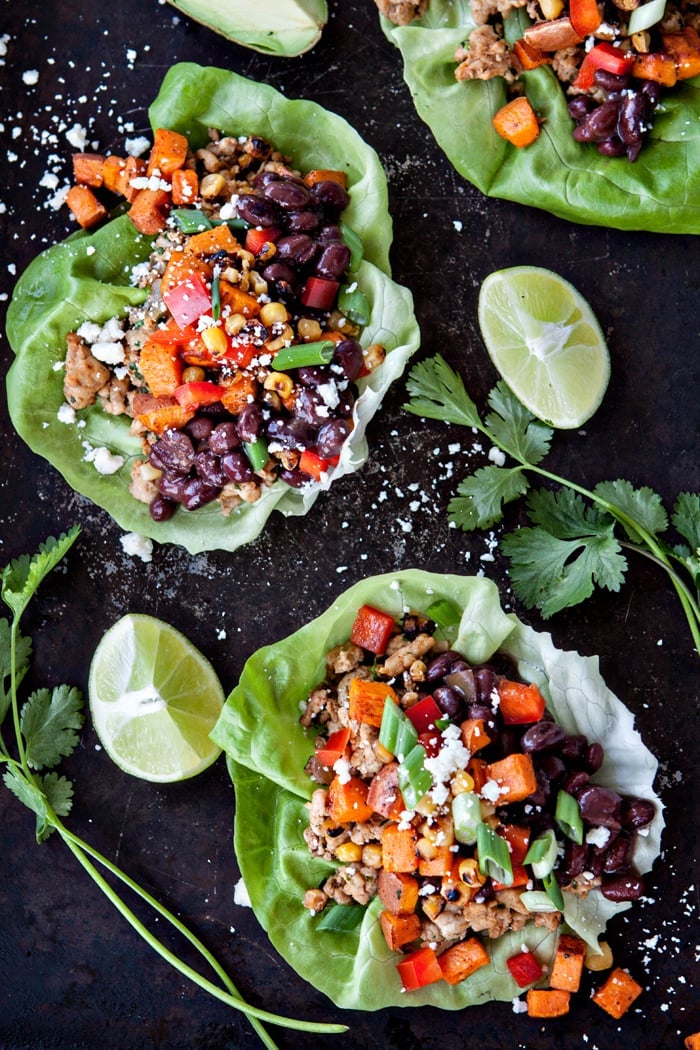 Click HERE to save this recipe for Chicken Taco Lettuce Wraps!
Eating dinner out is not just going somewhere to feed our faces, paying the bill, and leaving. It is always super fun. The conversation is great and the company better. And most of the time I leave feeling pumped about food, which is good for the old blog.
All that to say that we did recently talk about eating healthier, going out a little less and getting back to cooking at home together more. Because I really like that too. I haven't ever had a partner that wanted to cook with me and could talk about cool food ideas with me or offer ideas even if I didn't use them in the end. I've also never had a partner that while being able to do all of that, always deferred to me as the food expert both in and out of my company. It is pretty darn good.
We didn't get to make this meal together, but we did all eat it together and I don't think anyone missed out on anything that these Black Bean, Sweet Potato and Chicken Taco Lettuce Wraps were definitely more vegetable-centric and healthier than your traditional Taco Night (check out these 7 Ways to Up Your Taco Tuesday Game for more ideas).
First, I opted to use ground chicken rather than ground beef. If I don't make Crock Pot Mexican Chicken, I usually make chicken for tacos this way, especially whenever I make a taco lettuce wrap. So, I just made the same chicken and adapted the toppings for something a little different, and heavy on the nutrients.
The chicken has a little bit lighter of a flavor and was more lean than the beef we typically buy for tacos. I cooked that up with some onion and garlic along with taco seasonings like chipotle powder, chili powder, and ground cumin. I went a little lighter on the salt than I normally would but still added some for flavor.
Inside the butter lettuce leaves, which are a super easy swap in place of corn or flour tortillas if you're wanting to increase vegetables, we added the ground chicken along with Bush's Cocina Latina Frijoles Cubanos.
We, kids included, love these black beans because they have a great flavor to them thanks to garlic, onion, and red and green bell pepper. We use them as a side for taco nights a lot so I always keep cans of Bush's on hand and I can't remember the last time I used something that wasn't Bush's brand. To me they are always consistently the best taste and quality.
The kids (especially Kendall!!) love roasted sweet potatoes, so I roasted up some sweet potatoes in the oven to add to the wraps along with the Bush's Cocina Latina Frijoles Cubanos and ground chicken taco meat. In the summer they like these Foil Grilled Southwestern Sweet Potatoes, but it has been so cold lately that the grill doesn't get very hot.
Black beans and sweet potatoes go really well together and they add some fullness, along with fiber, to these Black Bean, Sweet Potato and Chicken Taco Lettuce Wraps while keeping them fresh and light to eat.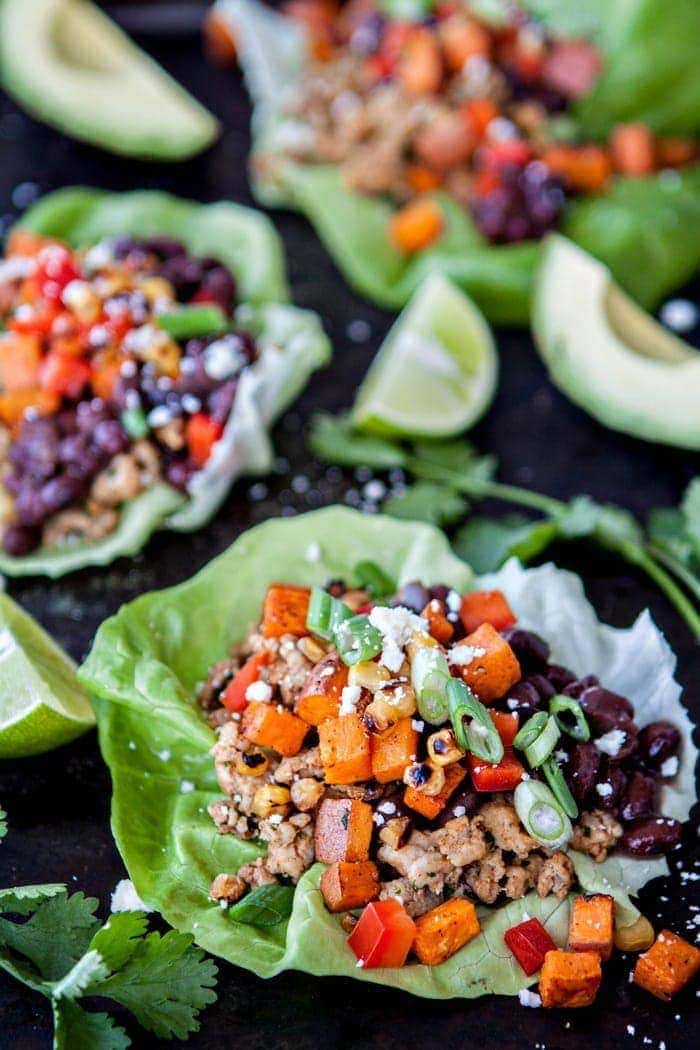 Click HERE to save this recipe for Chicken Taco Lettuce Wraps!
Taco Lettuce Wraps Ingredients
This recipe for Black Bean, Sweet Potato and Chicken Lettuce Wraps might sound like there are a lot of components to it, but it is actually pretty easy to prepare and a delicious way to start your New Year without breaking your health resolutions!
Here's everything I used in these ground chicken lettuce wraps:
Sweet potatoes
Olive oil
Onion
Garlic
Ground chicken
Spices
Fresh cilantro
Lettuce
Red bell pepper
For the complete ingredient list and detailed instructions, scroll to the bottom of this post for the FREE printable recipe card.
What's the Best Lettuce for Lettuce Wraps?
I recommend using butter lettuce to make this chicken taco lettuce wraps recipe. Butter lettuce is a little more flexible than iceberg and romaine, and it has large leaves that are easily filled with the chicken taco mixture.
How to Make Taco Lettuce Wraps
Despite having a few components to prep, these chicken taco lettuce wraps come together easily. Here's how to make these healthy lettuce wraps:
Dice and roast the sweet potatoes.
Prepare the chicken taco meat filling. Once cooked, cover with a lid and turn the heat to low to keep the mixture warm.
Once the sweet potatoes are roasted, assemble the lettuce wraps.
Top with your choice of garnishes.
What to Serve with Lettuce Wraps
These chicken taco lettuce wraps pair well with pretty much any classic Mexican side dish: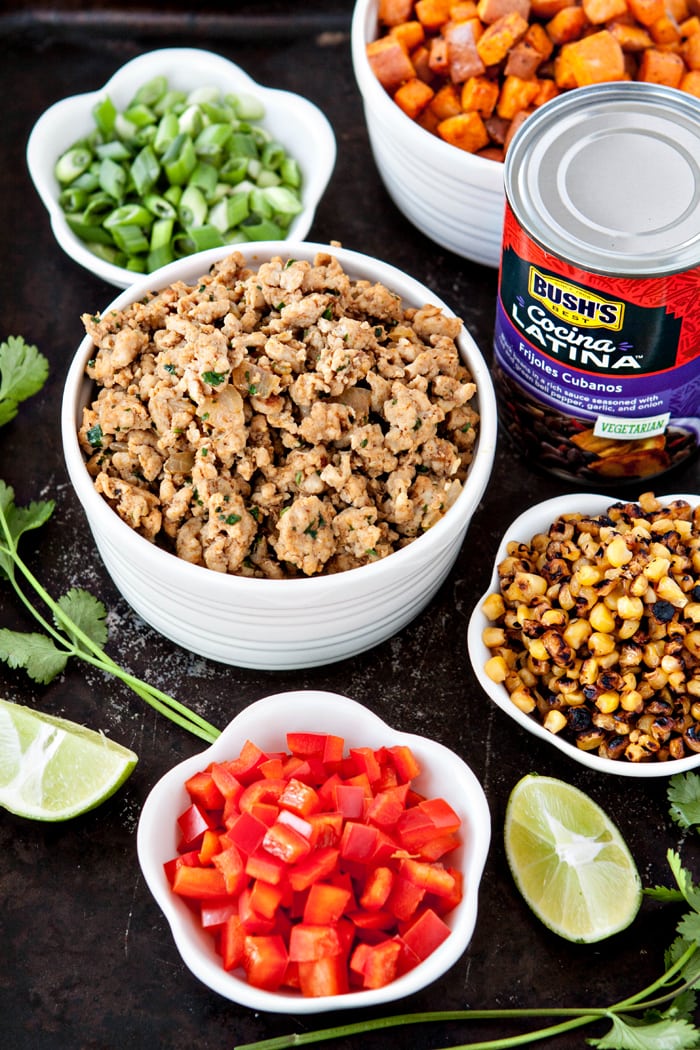 Click HERE to save this recipe for Chicken Taco Lettuce Wraps!
Can I Use Ground Turkey?
Yes, these taco lettuce wraps can easily be made with ground turkey instead of ground chicken. Use whichever you have on hand!
Can I Prep Taco Lettuce Wraps in Advance?
Yes, the chicken taco meat can be made ahead of time and frozen in individual servings. And the sweet potatoes can be roasted and reheated at a later date. Then, all you have to do is thaw the chicken mixture, warm the sweet potatoes, and assemble the taco lettuce wraps!
Tips for Making Taco Lettuce Wraps
For a spicier chicken taco filling, add more chipotle powder to the ground meat. Or, add some diced jalapeño to the mixture.
If desired, season the taco meat with your favorite taco seasoning blend for simplification.
You can enjoy these taco lettuce wraps as is, or you can some additional toppings too, like: diced red bell pepper, sliced green onion, roasted corn, cheese (I like crumbled Mexican Cotija), and 5-Minute Basic Guacamole, which I let the kids whip up together.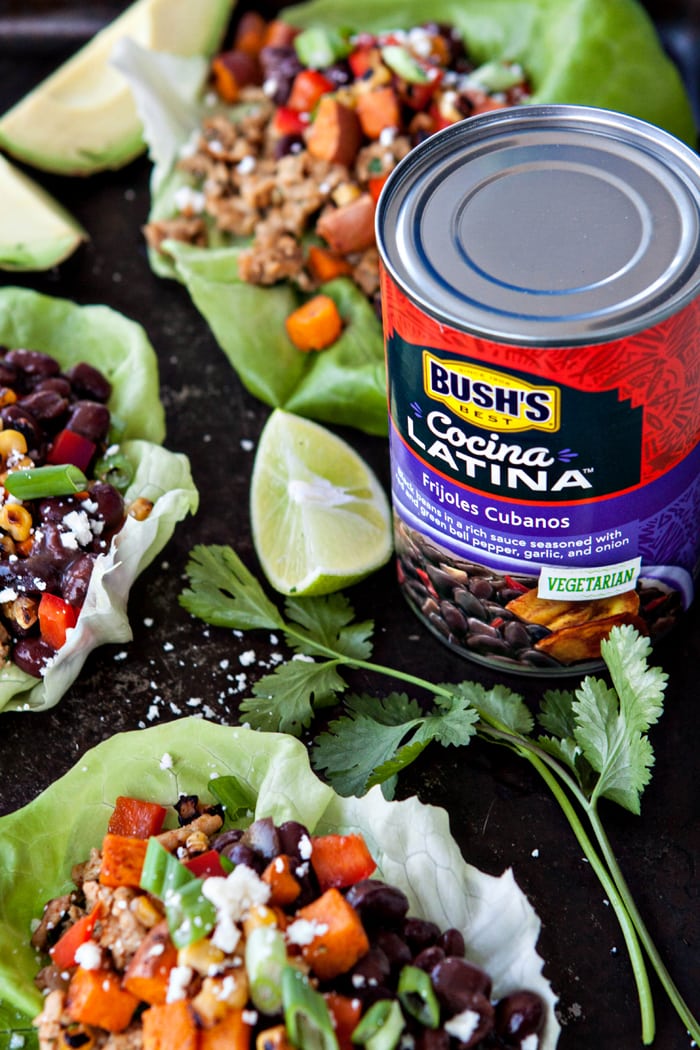 Click HERE to save this recipe for Chicken Taco Lettuce Wraps!
More Healthy Chicken Dinners:
This Baked Honey Mustard Chicken is one of our favorite recipes. Chicken tenderloins are baked in a sweet and savory honey mustard sauce with sprigs of fresh rosemary.
Fuel up and support heart health with this Chicken Quinoa Bowl with Walnut Sherry Molasses Vinaigrette.
Buffalo Chicken Cobb Salad is a fun twist on the classic Cobb salad. This recipe features buffalo grilled chicken, celery, blue cheese and blue cheese dressing paired with classic ingredients like lettuce, egg, and avocado.
Italian Chicken, Mushroom, and Zucchini Skillet is a super easy dinner recipe for busy school nights. It features pan seared chicken tenderloins, zucchini and sliced mushrooms in garlicky herbed tomato sauce.
Try a fun summer take on tacos with this recipe for Chicken Tacos with Grilled Corn Tomato Salsa. Chicken is flavored with a tasty Chipotle Lime Marinade and then grilled.
Wondering what to make with ground chicken? Make these Asian Ground Chicken Lettuce Wraps! These will become one of your family's favorite recipes in no time.
Do you set New Year's resolutions?
Love this recipe for Chicken Taco Lettuce Wraps? Sign up for Good Life Eats email updates and never miss another recipe!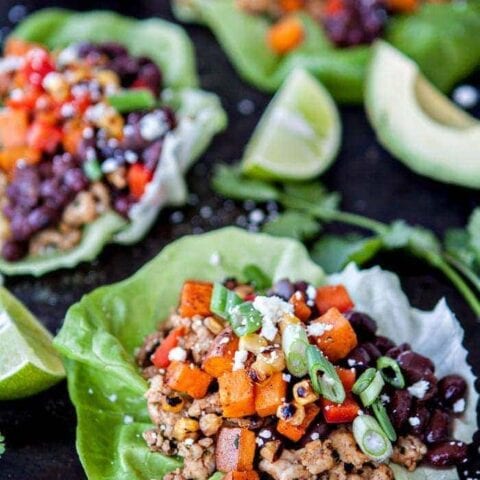 Black Bean, Sweet Potato and Chicken Lettuce Wraps
Black Bean, Sweet Potato and Chicken Lettuce Wraps are perfect for satisfying your next Taco Tuesday craving while helping you stick with the inevitable New Year's Resolution to eat healthier.
Ingredients
For the Sweet Potatoes
16 ounces 1/2 inch cubed Sweet Potatoes, skin on
2 teaspoons Olive Oil
Salt and Pepper, to taste
For the Chicken Taco Meat
1 medium Onion, diced
2 teaspoons Olive Oil
3 cloves minced Garlic
2 lbs Ground Chicken
1 1/2 teaspoons Ground Cumin
1 teaspoon Chili Powder
1/8 - 1/4 teaspoon Chipotle Powder, depending on heat preferences
3/4 teaspoon Kosher Salt
1/4 teaspoon Black Pepper
1/4 cup finely chopped Fresh Cilantro Leaves
For the Lettuce Wraps
Prepared Ground Chicken
Prepared Sweet Potatoes
1 - 15 ounce can Bush's Cocina Latina Frijoles Cubanos, heated through
1 head Butter Lettuce, leaves separated, washed and dried
1 large Red Bell Pepper, Diced
Optional Garnishes: sliced green onions, roasted corn, lime wedges, avocado slices or guacamole, cheese
Instructions
Preheat the oven to 425 degrees F.
For the Sweet Potatoes
Add the sweet potatoes, olive oil, salt, and pepper to an oven-safe pan. I prefer a cast iron frying pan.
Cook at 425 degrees F for 15 - 20 minutes, or until they are tender and lightly browned.
Meanwhile, prepare the taco meat.
For the Chicken Taco Meat
In a large skillet, heat the oil over medium heat. Add the onion and sauté for 3 - 5 minutes, or until tender and golden. Add the garlic and sauté for an additional 2 -3 minutes, until fragrant.
Then, add the meat and all of the seasonings (cumin, chili powder, chipotle powder, salt, pepper), using a spatula or heat-safe plastic spoon, to break it up into crumbles while browning, making sure to evenly mix the seasonings in. After the meat is cooked through and broken into crumbles, stir in the cilantro.
Cover with a lid and keep warm over low heat, removing the lid and stirring periodically so that nothing burns on the bottom of the pan.
For the Lettuce Wraps
Serve the lettuce wraps with all of the components in separate plates or bowls to allow for individuals to assemble on their plates according to their liking.
We prefer assembling in this way: Take 1 lettuce leave and spoon the meat in. Then spoon the Bush's Cocina Latina Frijoles Cubanos on top. Add roasted sweet potatoes on top of the beans and sprinkle with any garnishes that you like.
To eat, fold the lettuce leaf in half and eat like a taco. Take care not to overstuff, and note that each lettuce leaf will hold different amounts because they vary in size.
Notes
If you prefer, season the taco meat with your favorite taco seasoning blend for simplification.
The taco meat for this recipe freezes well! Cool completely, then place in freezer safe zip top bags, making sure to remove as much air as possible. Lay flat to freeze.
Recommended Products
As an Amazon Associate and member of other affiliate programs, I earn from qualifying purchases.
Nutrition Information
Yield

8
Serving Size

1
Amount Per Serving
Calories

420
Total Fat

23g
Saturated Fat

6g
Trans Fat

0g
Unsaturated Fat

15g
Cholesterol

138mg
Sodium

416mg
Carbohydrates

25g
Fiber

6g
Sugar

8g
Protein

33g
GoodLifeEats.com offers recipe nutritional information as a courtesy and is an estimate only. This information comes from online calculators. Although GoodLifeEats.com makes every effort to provide accurate information, these figures are only estimates.
Tag @goodlifeeats and include the hashtag #goodlifeeatsrecipes so I can see what you're cooking up in YOUR kitchen!
Click HERE to save this recipe for Chicken Taco Lettuce Wraps!
I love Bush's® Beans and am incredibly privileged to have working relationship with them here on Good Life Eats. I've been compensated for my time in creating this recipe and post, but as always – my opinions are my own!