Rainbow Winter Quinoa Bowls with Maple Dijon Balsamic Dressing features lots of delicious winter produce and hearty Organic Tricolor Quinoa for a filling, satisfying meal.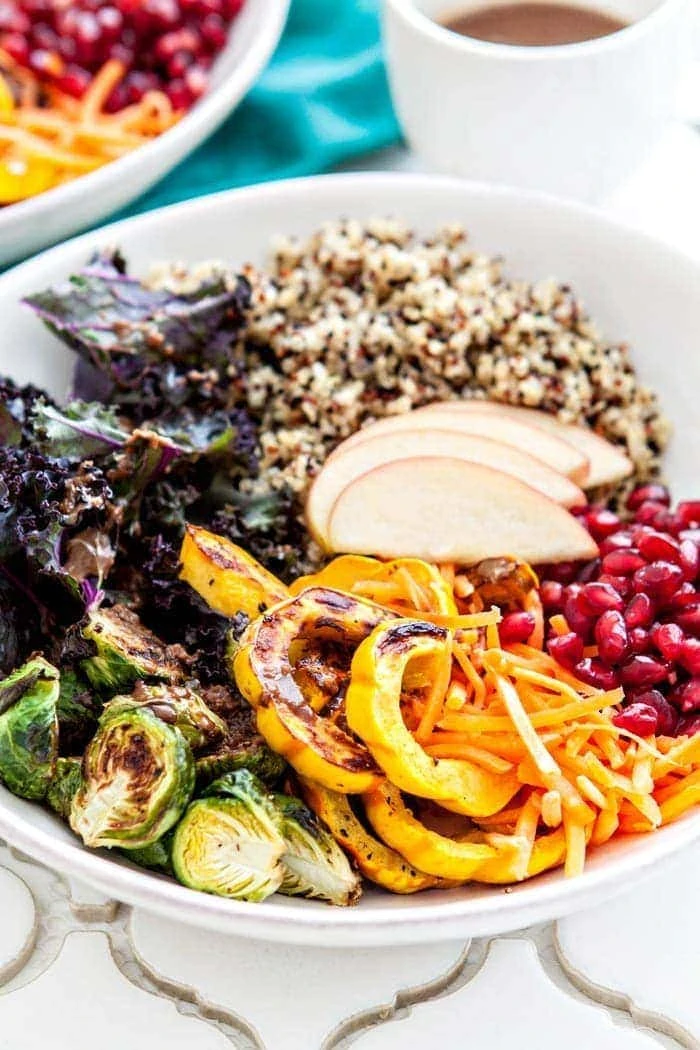 I've partnered with Bob's Red Mill to share a recipe using quinoa that supports heathy eating goals for 2017.
Creating this Rainbow Quinoa Bowl
I have been eating a lot of different salads for lunch lately, and not because I'm depriving myself or trying to lose weight.
My focus has been making the time to sit down and eat a real meal for lunch.
I also want to have it be something that tastes really good but also nourishes me so that I have the energy and focus that I need to continue on with the rest of my day.
Salads, like this Rainbow Winter Quinoa Bowl with maple Dijon Balsamic Dressing, are awesome for refueling!
I've actually been looking forward to lunch lately rather than reaching a stopping point halfway through the day and realizing that there is nothing that I want to eat in the house.
Honestly, I just feel so much better when I'm eating something for lunch that nutrient-wise really packs a punch.
Otherwise, I'm cranky, tired, unfocused, and just generally run down feeling.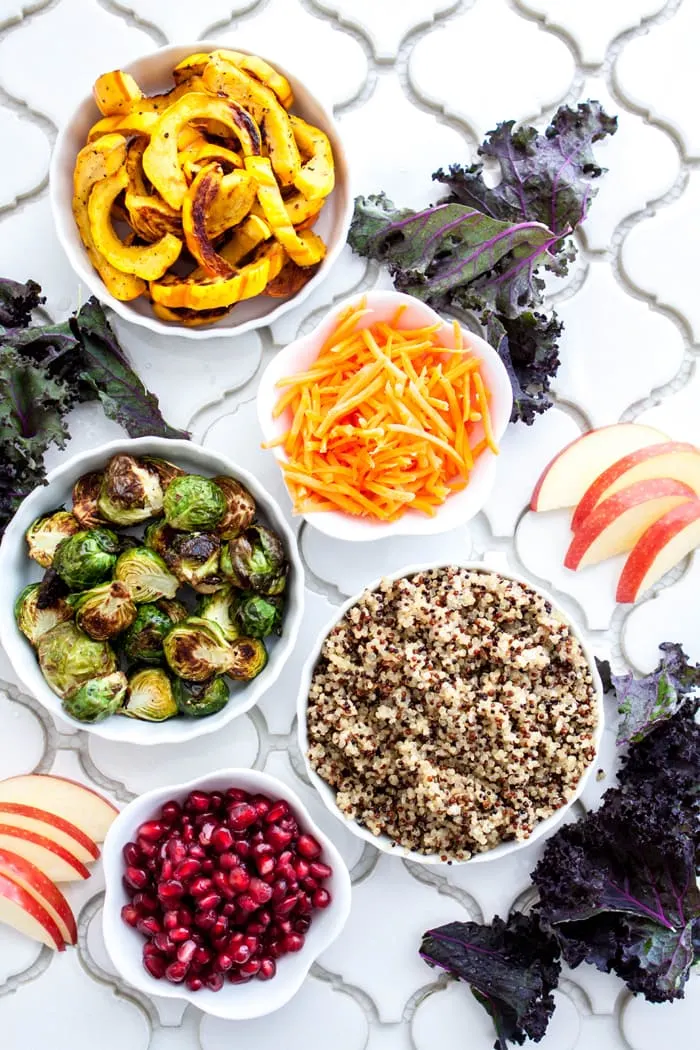 One of the things that we did a lot a few years back when my sister was living with me was to prep veggies and other salad toppings for lunch salads for the week.
Our favorite was Bob's Red Mill Organic Tricolor Quinoa because it cooked fast (only 15 minutes) and didn't require the step of rinsing since it was pre-washed.
Besides how quick and easy quinoa is to prepare, I love that it is a gluten-free, whole grain superfood and a complete protein.
Also, because we're girls and we like pretty things, we liked the fact that it is so colorful.
We loved making a big pot of it and keeping it in the fridge and then using it throughout the week for different salads and adding different toppings, dressings, and flavors for something different and delicious each day.
I've been working to get back in the habit, especially so that days that I'm busy running around doing errands or writing up blog posts and editing pictures I can quickly throw something tasty together without added work (or mess in the kitchen!).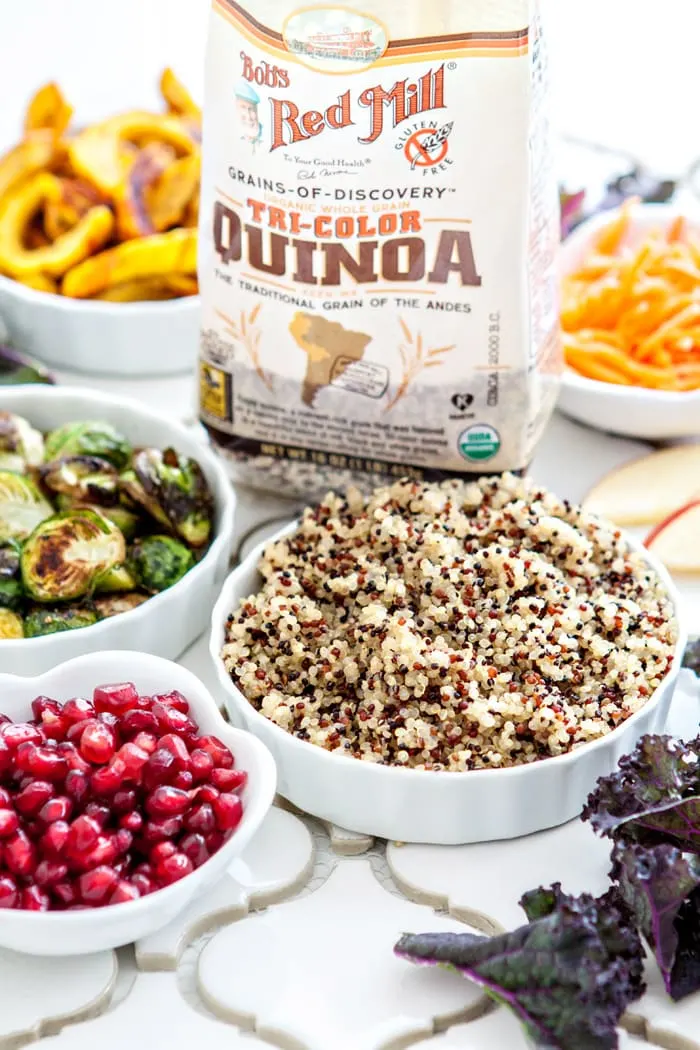 We keep kale on had pretty much all the time since the kids, Kevin, and I love kale chips for a snack so much.
The best is when I take a few minutes after we've done our weekly grocery shopping to wash and prep the kale for the week.
Then, I store it in a bag with a paper towel (to help preserve freshness) for use throughout the week.
Lately, I have been using a lot of leftover roasted veggies in my salads, because it can get boring to make a plain tomato and lettuce green salad every day.
Things like roasted sweet potatoes, balsamic brussels sprouts, or delicata squash pair really well with protein-rich Quinoa and hearty winter greens like kale.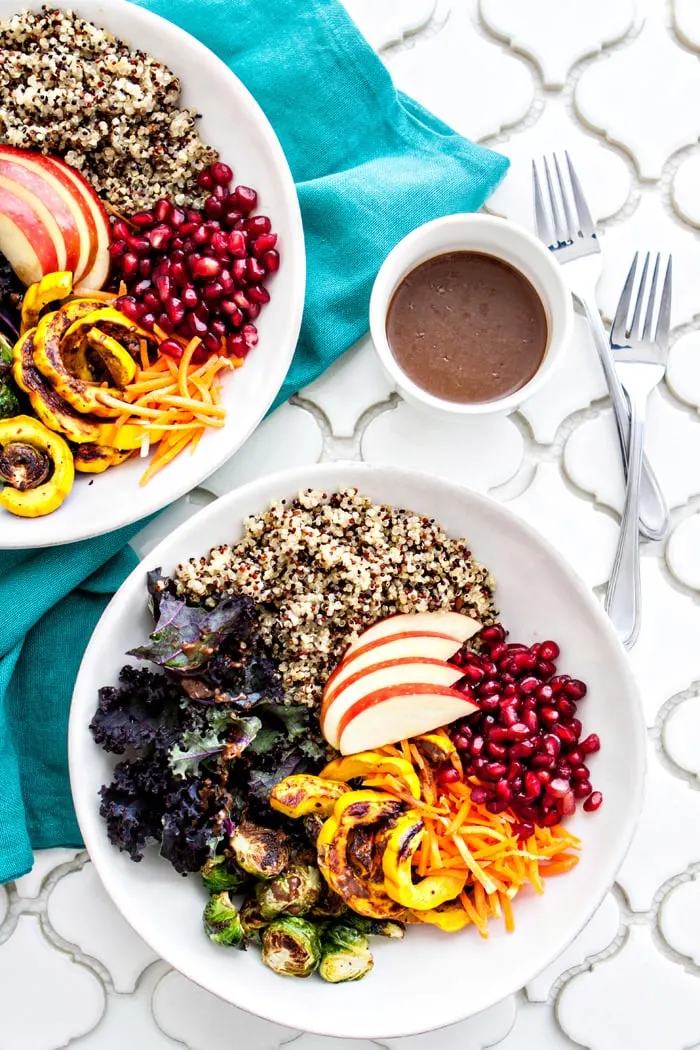 For this particular salad, I wanted to do a rainbow of different produce with my quinoa, hence the name Rainbow Winter Quinoa Bowls with Maple Dijon Balsamic Dressing.
Winter can often feel dull and dreary both with the weather and with some of my favorite spring and summer produce not really being in season.
I challenged myself to find things that were in season but really bright and colorful, but also flavorful.
Juicy pomegranate arils provide the red.
Shredded carrots are orange while the roasted delicata squash has a nice golden yellow color to it.
For green, I chose roasted brussels sprouts rather than leafy green salad greens.
There's not blue, but I was able to find some gorgeous purple kale.
All of that paired together with some Organic Tricolor Quinoa and a tasty Maple Dijon Balsamic Dressing made for an incredibly healthy but flavor packed lunch.
I also love salads like this for dinner when the kids are all gone and Kevin is out of town because the recipe is paired down in smaller quantities so I'm not making a meal that would normally serve 6.
Rainbow Winter Quinoa Bowls with Maple Dijon Balsamic Dressing is perfect for an easy, healthy dinner for 1 or 2.
Tips for Making this Recipe
Did you know you can quickly cook quinoa in an Instant Pot when you're preparing these Rainbow Quinoa Bowls? Head over to my post: How to Make Quinoa in the Instant Pot for all the details!
More Delicious Quinoa Recipes
I've got lots of quinoa recipes here on Good Life Eats, but here are a few personal and reader favorites.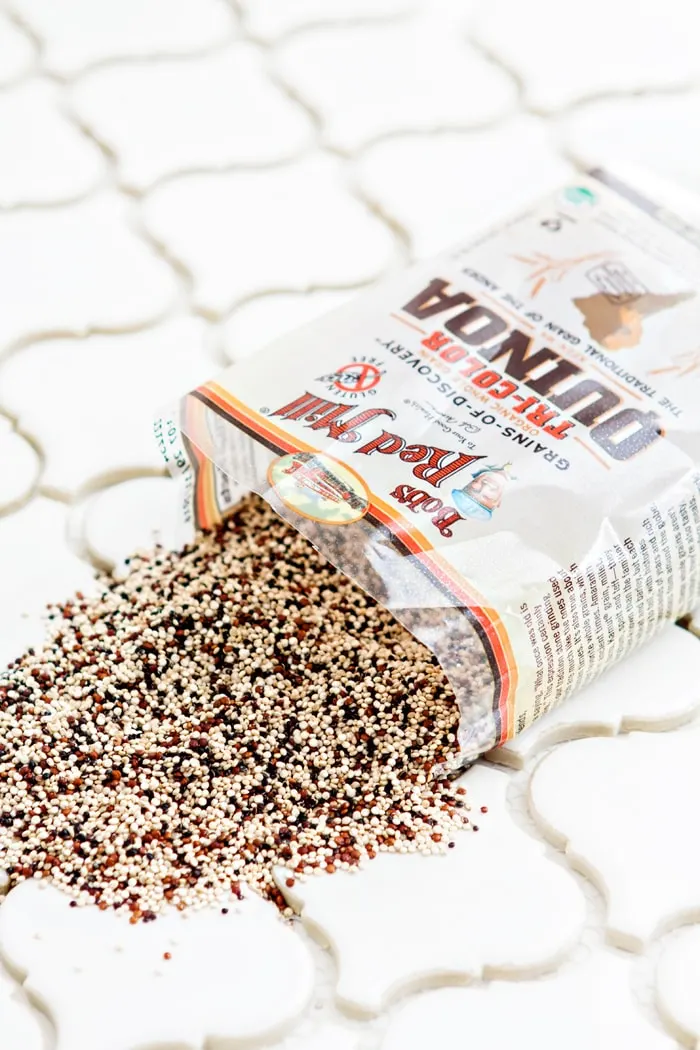 This Roasted Poblano Cilantro Quinoa is a great addition to any Southwestern or Mexican dinner recipe or Mexican Quinoa Bowl.
For a fresh and fruity lunch, try this Pineapple Chicken Quinoa Salad.
A bowl of this Quick and Healthy Tomato Bisque with Quinoa would go great with a gooey grilled cheese sandwich!
Butternut Squash and Kale Quinoa Stuffing is perfect for Thanksgiving, but did you know that it is also great stuffed inside half of a roasted acorn squash?
Stuffed Bell Peppers go meatless with these Quinoa Stuffed Bell Peppers – loaded with quinoa, black beans, tons of veggies and pepper jack cheese.
This Mexican Sweet Potato Quinoa Salad is definitely a Pinterest favorite!
Want to make this salad?
Find a store near you that carries Bob's Red Mill by clicking on the FIND A STORE button.
There are also discounts available in the "Coupons" section.
What are your favorite ways to eat quinoa?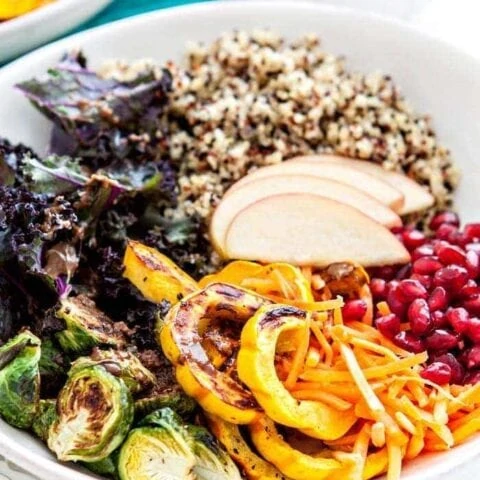 Rainbow Winter Quinoa Bowls with Maple Dijon Balsamic Dressing
Additional Time:
5 minutes
Rainbow Winter Quinoa Bowls with Maple Dijon Balsamic Dressing features lots of delicious winter produce and hearty Tricolor Quinoa for a filling, satisfying meal to support your healthy eating goals.
Ingredients
1/2 cup Pomegranate Arils
1/2 cup Julienne Sliced Carrots
4 ounces 1/2 inch thick sliced Roasted Delicata Squash
4 ounces halved Roasted Brussels Sprouts
3 large Purple Kale Leaves, torn into bite sized pieces
1/2 of a Honeycrisp Apple, sliced
2 tablespons Balsamic Vinegar
1 1/2 tablespoons Olive Oil
1 1/2 teaspoons Pure Maple Syrup
1/2 teaspoon Dijon Mustard
1 small Shallot, cut into chunks
Salt and Pepper, to taste
Instructions
For the Dressing
Place all ingredients in a small food processor and pulse until combine and the shallot is minced.
Set aside.
For the Salad
Cook the quinoa according to package instructions using vegetable broth for the cooking liquid for additional flavor if desired.
In two low and flat bowls, arrange the salad ingredients in seperate sections, making sure to divide the amounts between the two bowls.
Start with the quinoa and then work in a clockwise pattern around the bowl with pomegranate arils, julienne sliced carrots, roasted delicicata squash, roasted brussels sprouts, and purple kale leaves.
Next, spread the apple slices on top.
Serve with the prepared dressing on the side for drizzling on top according to your personal preferences.
Notes
To make this salad super simple to prepare, make a large batch of quinoa for use throughout the week and keep pre-washed greens, like kale, on hand in the fridge. Leftover roasted winter veggies work really well as salad add ons.
Recommended Products
As an Amazon Associate and member of other affiliate programs, I earn from qualifying purchases.
Nutrition Information
Yield

3
Serving Size

1
Amount Per Serving
Calories

279
Total Fat

11g
Saturated Fat

2g
Trans Fat

0g
Unsaturated Fat

9g
Cholesterol

0mg
Sodium

306mg
Carbohydrates

41g
Fiber

8g
Sugar

16g
Protein

7g
This recipe for Rainbow Winter Quinoa Bowls with Maple Dijon Balsamic Dressing is a sponsored post written by me on behalf of Bob's Red Mill. All opinions are my own.