In this Massaged Kale Salad recipe, kale is lightly massaged with olive oil, salt and pepper. Then, it's tossed with roasted delicata squash, roasted red onions, herbed goat cheese, and pepitas.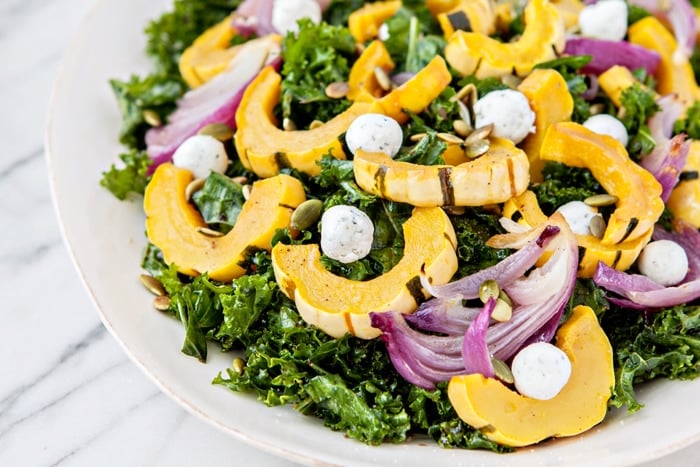 Save this recipe for Massaged Kale Salad to Pinterest!
The BEST Kale Salad Recipe
This recipe for Massaged Kale Salad with Roasted Squash, Goat Cheese, and Pepitas was originally shared January 25, 2016. It has been updated from the archives with additional information,
When I hosted Thanksgiving a few years ago, I decided to experiment with my friend Becca's Massaged Kale Salad recipe. Typically it features a lemon-y vinaigrette, fresh mangos and dried blueberries. It is pretty simple, but it is all about the method. The act of massaging the kale in the olive oil makes it more tender and easier to eat, exactly what you need in a salad based full of kale.
Since it was Thanksgiving, I thought some fall flavors were in order. I swapped out the lemon in the dressing for some Pomegranate Balsamic Vinegar. Rather than fresh mangoes and dried blueberries, I roasted delicata squash and red onions. Then, I topped the whole thing off with herbed goat cheese and pepitas.
And there you have it: Massaged Kale Salad with Roasted Squash, Goat Cheese, and Pepitas.
I know a lot of people either love kale or hate it (<– click for a little funny from Jim Gaffigan), but I'm happy to say that everyone at our gathering really enjoyed this salad! It tasted great, and is packed with nutrients. A great balance to the other richness of the holidays.
Health Benefits of Kale
Kale is a nutritional powerhouse and a great way to add extra dark, leafy greens to your diet. As a member of the Brassica family, it finds itself in good company with other nutritious cruciferous vegetables such as cabbage, collards, broccoli, and Brussels sprouts. That makes this Massaged Kale Salad with Roasted Squash, Goat Cheese, and Pepitas rich in iron, Vitamin A, C and K, and Calcium.
Massaged Kale Salad Ingredients
To make the massaged kale salad and the kale salad dressing, you'll need the following ingredients:
Olive oil
Delicata squash
Red onion
Salt and pepper
Pomegranate balsamic vinegar
Agave
Curly kale
Herbed goat cheese
Pepitas
For the complete ingredient list and detailed instructions, scroll to the bottom of this post for the FREE printable recipe card.
What's the Best Kale for Massaged Kale Salad?
There are several varieties of kale, which include curly, dinosaur, and red Russian – I'm sure there are other varieties, but these are what I have found available. I typically find curly at a standard grocery store. Sometimes I will see the dinosaur variety, but I have found that if I am looking for something other than curly it is best to rely on health food stores.
I like curly kale, so that's what I've used in this massaged kale salad recipe.
How to Make Massaged Kale Salad
This massaged kale salad recipe is easy to make, but it does require some prep work. Here's how I like to make this easy kale salad:
Toss the sliced squash and red onion with olive oil and season with salt and pepper. Roast until tender.
Massage the kale with some olive oil, balsamic vinegar, and salt.
Make the dressing.
Assemble the massaged kale salad. We enjoy it warm.
How to Massage Kale
If you've never massaged kale before, it's super easy. Simply add the kale leaves (ribs removed), salt, olive oil, and balsamic vinegar to a large bowl.
Then, massage the kale with your hands until it begins to wilt. This process will take around 3 minutes.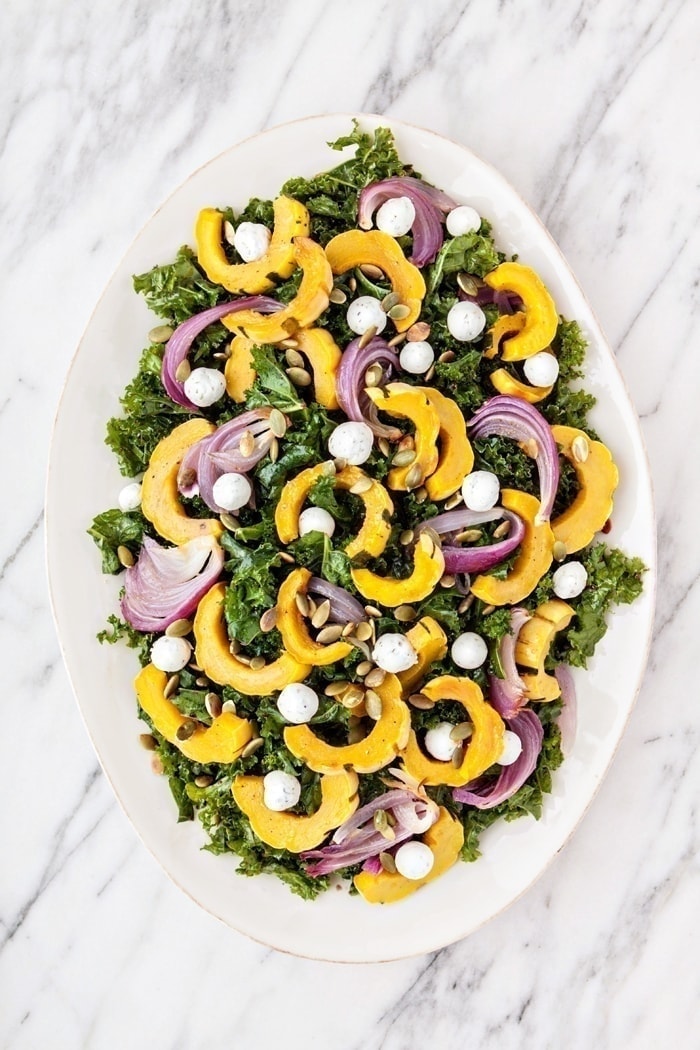 Save this recipe for Massaged Kale Salad to Pinterest!
Can I Pair Massaged Kale Salad with Another Cheese?
Yes, you're welcome to use another cheese if you don't have goat cheese on hand. Kale pairs especially well with cheeses like Parmesan and cheddar. Feta might also be a nice choice for this salad.
Tips for Making the Best Kale Salad
Select Kale during autumn through spring months for peak nutrition and quality. Leaves should appear dark colored, small to medium in size, and with no brown or yellow leaves. It may be stored in the refrigerator for 3 – 5 days.
When slicing the delicata squash, you don't need to skin it first. It has a very delicate exterior that's safe to eat once roasted.
We prefer eating this massaged kale salad while it's still room temperature, but leftovers will stay good up to two days in the fridge.
Can I Make this Kale Salad ahead of Time?
I don't recommend preparing this salad in advance, because it really does taste best when it is fresh. But, you can do a few things in advance to make the salad really quick to put together just before serving:
Prepare the kale leaves up to 3 days in advance. Wash and dry them. Store them in a zip top bag with a folded paper towel and the top partially unzipped to prevent too much condensation.
You can also prepare the squash the day before. Simply bring the squash to room temperature before assembling the salad. Alternatively, you can slightly reheat it in a warm oven.
Prepare the dressing up to 3 days in advance and store in the refrigerator. Mix well before adding it to the salad.
Roasting the onions the day before is another great way to save time when preparing this kale salad. Store the roasted onions in the refrigerator. Bring them to room temperature before preparing the salad.
Once you do the items on this list, you'll mostly be in assembly mode the day that you plan to serve this delicious kale salad, and it will free up some of your time to do other things on your to-do list.
More Thanksgiving Recipes:
If you're looking for additional inspiration for your Thanksgiving Menu this year, here are a few other favorite recipes. Be sure to check out the whole Thanksgiving Recipes Archive right here if you need help building the rest of your menu.
In this recipe for Spiced Pomegranate Apple Cider Mulled Wine fresh pressed apple cider, tart pomegranate juice, and Tempranillo pair with mulling spices and fresh fruit to create a fall-inspired cocktail, perfect for sipping during this autumn and winter season.
Brining a turkey in this Rosemary Beer Brine will tenderize the meat and infuse it with a TON of flavor for Turkey Day!
Classic buttery russet potato mashed potatoes are elevated thanks to the addition of plenty of browned butter and fresh grated parmesan in this Browned Butter Parmesan Mashed Potatoes.
Roasted Brussels Sprouts with Bacon and Balsamic are a fantastic side dish that is full of delicious flavor – caramelized, roasted brussels sprouts, savory bacon, and tangy balsamic vinegar.
In this recipe for Baked Sweet Potatoes with Pomegranate, sliced Sweet Potatoes are baked in a spiced orange maple glaze and sprinkled with juicy, bright pomegranate arils.
If you like cranberry sauce better than gravy, try my recipe for Cranberry Orange Walnut Relish or Red Wine Pomegranate Cranberry Sauce.
Learn How to Make Turkey Gravy with No Lumps for your Thanksgiving table.
Do you like kale?
Love this recipe for Massaged Kale Salad with Roasted Squash?
Sign up for Good Life Eats email updates and never miss another recipe!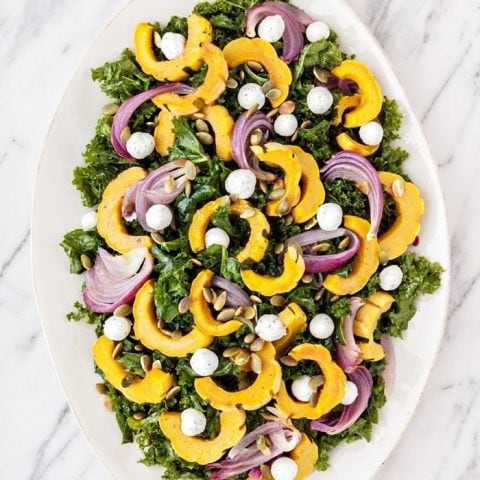 Massaged Kale Salad with Roasted Squash, Goat Cheese, and Pepitas
In this Massaged Kale Salad with Roasted Squash, Goat Cheese, and Pepitas kale is lightly massaged with olive oil, salt and pepper, before being tossed with roasted delicata squash, roasted red onions, herbed goat cheese, a pepitas.
Ingredients
6 tablespoons Olive Oil, divided
Delicata Squash, cut in half lengthwise, seeds removed, and sliced into half moons about 1/2-inch thick
1 medium Red Onion, cut into 1 inch wedges
Salt and Pepper, to taste
1 tablespoon Pomegranate Balsamic Vinegar
1 teaspoon agave
12 cups clean Curly Kale leaves torn into bite sized pieces (ribs and stems removed)
1/2 cup Herbed Goat Cheese, crumbled or rolled into small, bite sized balls
1/4 cup Pepitas
Instructions
For the Squash and Onions:
Preheat oven to 400 degrees F.
Toss the onion and squash with 2 tablespoons of olive oil and arrange on a large baking sheet - spread out enough that nothing is over crowded.
Season to taste with salt and pepper.
Roast on the center rack of the oven for 20 minutes, or until the squash and onions are tender and lightly golden.
Remove from the oven and set aside, keeping them at room temperature.
For the Kale:
In a large mixing bowl, add the kale, half the balsamic vinegar, a tablespoon of olive oil, and salt and pepper to taste.
Massage the kale, using your hands, until it begins to soften and wilt, about 3 minutes.
Set aside.
For the Dressing:
Combine the remaining balsamic vinegar, the agave, and salt and pepper (to taste).
Slowly pour in up to 3 tablespoons of olive oil (add the oil according to your personal taste preferences, such as if you like the dressing more or less acidic) while whisking.
To Assemble the Salad:
Pour the dressing over the kale and toss.
Place the kale on a large platter or in a big, shallow bowl.
Arrange the roasted onion and squash on top.
Sprinkle with the goat cheese and pepitas.
Notes
Delicata squash has a very tender exterior that does not need to be removed before eating.
Salad is best eaten immediately, but will store for up to two days in the refrigerator.
Recommended Products
As an Amazon Associate and member of other affiliate programs, I earn from qualifying purchases.
Nutrition Information
Yield

8
Serving Size

1
Amount Per Serving
Calories

190
Total Fat

14g
Saturated Fat

2g
Trans Fat

0g
Unsaturated Fat

10g
Cholesterol

2mg
Sodium

100mg
Carbohydrates

15g
Fiber

5g
Sugar

4g
Protein

6g
GoodLifeEats.com offers recipe nutritional information as a courtesy and is an estimate only. This information comes from online calculators. Although GoodLifeEats.com makes every effort to provide accurate information, these figures are only estimates.
Be sure to follow Good Life Eats on Instagram. Tag @goodlifeeats and include the hashtag #goodlifeeatsrecipes so I can see what you're cooking up in YOUR kitchen!
Let me know if you try this recipe and what you think of it by leaving a comment below.
Save this recipe for Massaged Kale Salad with Roasted Squash, Goat Cheese, and Pepitas to Pinterest!