Sliced Sweet Potatoes are baked in a spiced orange maple glaze and sprinkled with juicy, bright pomegranate arils. It is a gorgeous, colorful Thanksgiving side dish that is a little bit more on the healthier side without sacrificing flavor.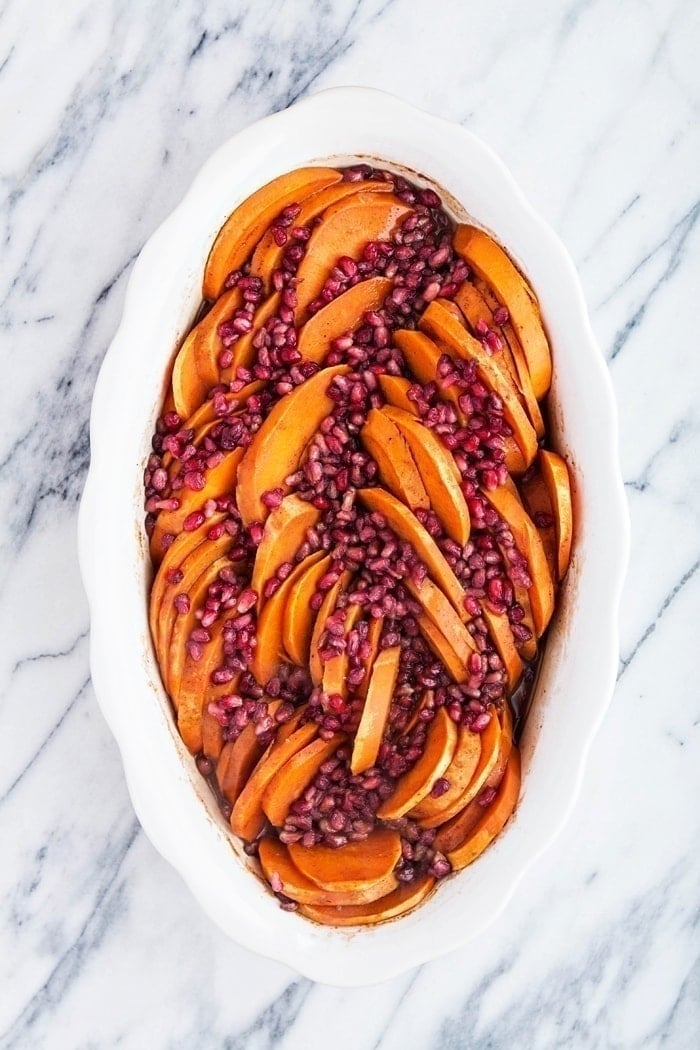 Click HERE to save this Baked Sweet Potatoes with Pomegranate recipe to Pinterest!
This recipe was originally published November 15, 2017. It has been updated from the archives with additional information.
Creating this Recipe for Baked Sweet Potatoes with Pomegranate
I made this Baked Sweet Potatoes with Pomegranate recipe 5 years ago for Thanksgiving. I was just recently was reminded of it as I was going through past Thanksgiving recipes in effort to figure out what we are going to make this year.
When I look back on that Thanksgiving I remember how much I felt like my cup had been filled. It was still a new thing for me to sometimes not have my kids for Thanksgiving as, at the time, a single mom.
The previous year (6 years ago), I had no kids home and I was invited over to have Thanksgiving with some people I knew, but not well.
I was the only divorced adult in attendance, as well as the only adult in attendance with no kids. I felt really alone and awkward.
Fast forward to the next year (5 years ago). I had my kids home with me and my house full of wonderful neighbor friends, most of them new friends that I had met during the last year.
I can still remember the week of prep work that my friend Bekah and I put into the meal:
Figuring out what we wanted to make. If you need help coming up with a Thanksgiving Menu check out this post – Thanksgiving Recipe and Planning Guide!
Grocery shopping together
Doing prep work together in each other's kitchens
Bekah's husband smoking the Rosemary Beer Brined Turkey Breasts for us in their Traeger
Bekah and I finishing up all the cooking the day of at my home before everyone came over for the meal.
A Healthier Thanksgiving Sweet Potato Recipe
We did a lot of experimenting with new recipes that year, including this Baked Sweet Potatoes with Pomegranate recipe.
We were hoping to find a new way to serve sweet potatoes that was really delicious and with a gorgeous presentation, but a tad healthier than your traditional mashed sweet potatoes with marshmallows on top.
It had snowed that day and it was like the most picture perfect Thanksgiving Day. The food all turned out amazing, even the new recipes that we had experimented with, like these Baked Sweet Potatoes with Pomegranate, and everyone honestly LOVED everything.
I admit, it always feels a little good to hear people say things like: "this is the best Thanksgiving meal I've had," or "I've never had turkey (or stuffing or green beans or whatever!) that were this good before!" all while everyone is chatting, Christmas tunes are playing in the background.
Plus, everyone was having a genuinely great time. Oh, and the kids weren't acting crazy at all.
After spending the previous year basically alone for the holiday, I could not have asked for a better, and more heartwarming turn around the next year. It was the perfect way to get me out of the whole single parent holiday slump.
Those single parenting holiday seasons are gone now, but I am so thankful that my last year living that life was such a full and joyous holiday season. None of my neighbors allowed me to feel alone or forgotten through it all.
2020 will be another year that is different than normal. My in-laws no loner live in Colorado, and due to the state of things, we're going to keep our Thanksgiving a little quieter this year, and a little more just to ourselves rather than celebrating with friends or family.
For those who are going to be experiencing a less than typical holiday this year, who won't get to be with loved ones as hoped – I see you. I know how hard that can be.
The holidays always have me looking back a bit at how quickly life can change and how fast it can become so much better. I'm hoping that in person socialization without limits will soon be a part of normal life again.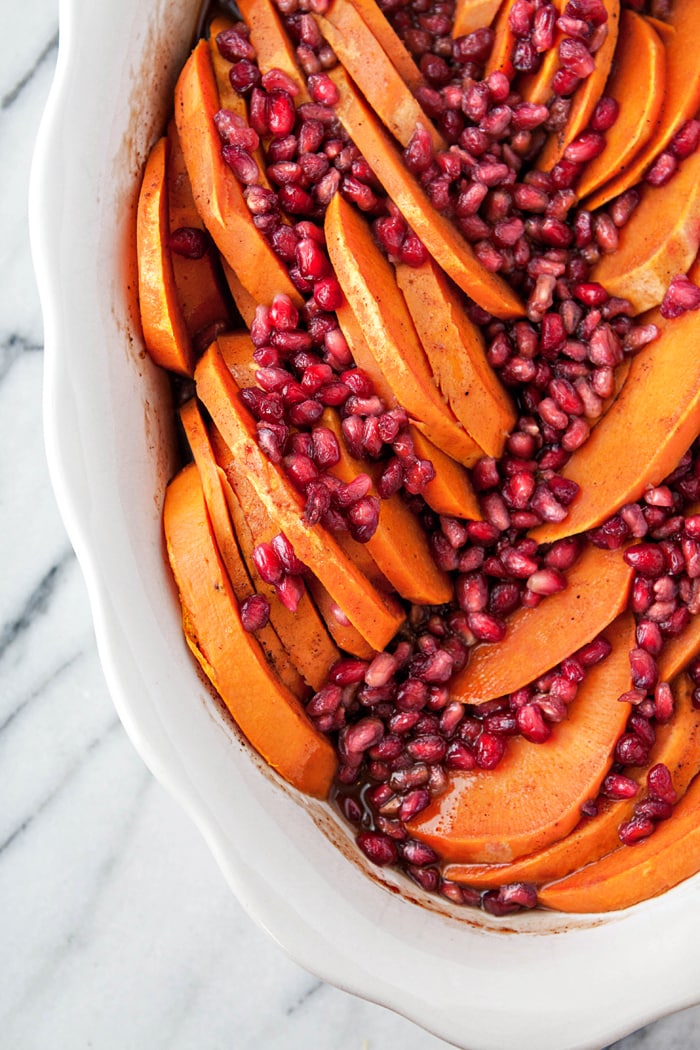 Click HERE to save this Baked Sweet Potatoes with Pomegranate recipe to Pinterest!
Baked Sweet Potato Ingredients
To make the baked sweet potatoes, you'll need the following ingredients:
Butter
Orange Juice
Pomegranate Juice
Maple Syrup
Vanilla Extract
Salt
Cinnamon
Nutmeg
Cloves
Cornstarch
Sweet Potatoes
Pomegranate Arils
For the complete ingredient list and detailed instructions, don't forget to scroll to the bottom of this post for the FREE printable recipe card.
How to Make Baked Sweet Potatoes
This recipe is relatively simple to prepare. Peel and slice sweet potatoes. Arrange all of the sliced sweet potatoes in a casserole dish. I like to line them up rather than laying them horizontally because the glaze coats each slice better and it makes for a pretty presentation when served.
Then, you'll make a quick and easy glaze for the sweet potatoes using the orange juice, pomegranate juice, maple syrup, vanilla, cinnamon, nutmeg, cloves, and cornstarch.
Pour the glaze over the sweet potatoes. Then, sprinkle the top with pomegranate arils and bake until the sweet potatoes are tender and the sauce is thick.
Can You Make Baked Sweet Potatoes Ahead of Time?
Most of the time, I prefer baking recipes like these Baked Sweet Potatoes with Pomegranate the day I plan to serve them, but you can absolutely prepare elements of the recipe in advance to make your Thanksgiving Day much simpler. Here is what I recommend:
Peel and slice the sweet potatoes up to 2 days ahead. Make sure to dry them well and store them in an airtight container or bag in the refrigerator.
Prepare the glaze ahead of time and store in the refrigerator.
If you can find the already seeded pomegranate arils, I definitely recommend using those because it just makes the whole process a little bit easier, otherwise, remove the pomegranate arils from the whole fruit and store them in a Tupperware in the fridge. Ideally, no more than 2 days in advance.
And then, for the most part, this recipe for Baked Sweet Potatoes with Pomegranate will just be assembled and baked on Thanksgiving Day.
More Thanksgiving Sweet Potato Recipes
If you're looking for additional sweet potato inspiration for your Thanksgiving Menu this year, here are a few other favorite recipes.
Be sure to check out the whole Thanksgiving Recipes Archive right here or the Thanksgiving Menu Planner if you need help building the rest of your menu.
Cubed sweet potatoes tossed in olive oil, salt, and pepper are roasted and then tossed generously with fresh garlic and sage. Roasted Sweet Potatoes with Garlic and Sage make a great side for your Thanksgiving meal.
Maple Chipotle Roasted Sweet Potatoes and Brussels Sprouts the kind of vegetable side dish that has everyone asking for seconds! The veggies are coated in a blend of butter, maple syrup and ground chipotle pepper. After roasting, both the sweet potatoes and Brussels sprouts are crispy on the outside, tender on the inside and sweet spicy all over.
Mini Sweet Potato Tarts with a Gingersnap Pecan Crust are divine if you are looking for individual serving desserts to make, plus it only makes 3 tarts so it is perfect if you need desserts for a smaller gathering.
These Sweet Potato Dinner Rolls have a beautiful golden, orange color that brightens up the dinner table. Sweet Potato Dinner rolls are versatile too. Not only are they great for dinner, but my kids loved these rolls in place of regular bread for cinnamon sugar toast for breakfast.
What is your favorite sweet potato recipe for Thanksgiving?
Love this recipe for Baked Sweet Potatoes with Pomegranate?
Sign up for Good Life Eats email updates and never miss another recipe!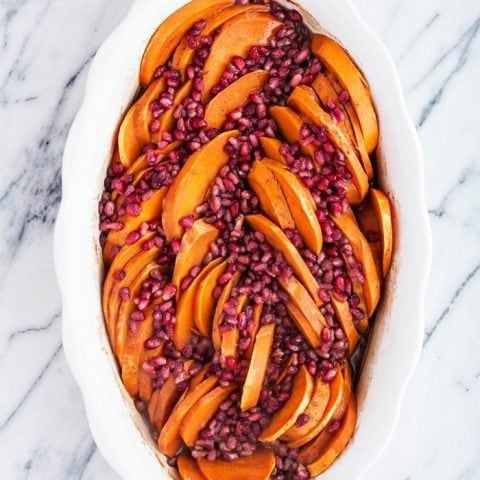 Baked Sweet Potatoes with Pomegranate
Yield: serves 8 - 10

Prep Time: 10 minutes

Cook Time: 50 minutes

Total Time: 1 hour

Sliced Sweet Potatoes are baked in a spiced orange maple glaze and sprinkled with juicy, bright pomegranate arils. It is a gorgeous, colorful Thanksgiving side dish that is a little bit more on the healthier side without sacrificing flavor.
Ingredients
1 tablespoon Melted Butter, divided
6 tablespoons Orange Juice, room temperature
2 tablespoons Pomegranate Juice, room temperature
zest of 1 Orange
1/4 cup Real Maple Syrup, room temperature
1 teaspoon Vanilla Extract
3/4 teaspoon Kosher Salt
1/2 teaspoon Cinnamon
1/4 teaspoon Nutmeg
1/8 teaspoon Cloves
2 teaspoons Cornstarch
4 Sweet Potatoes, peeled and sliced into 1/2 inch rounds
1 cup Pomegranate Arils
Instructions
Preheat the oven to 400 degrees F.
Grease a casserole dish with half of the butter, reserving the rest for the next step.
In a 2 cup glaze measuring cup, combine the remaining 1/2 tablespoon butter, the orange juice, pomegranate juice, orange zest, maple syrup, vanilla extract, kosher salt, cinnamon, nutmeg, cloves and cornstarch.
Whisk until mixture is combined and completely smooth without any lumps. Then, set aside.
Arrange all of the sweet potato slices standing up (as pictured in the recipe photo), don't worry they don't have to be perfect, just fit them all in.
Pour the prepared orange juice mixture over top, then sprinkle with the pomegranate arils.
Cover with foil and bake for 20 minutes at 400 degrees. Then, remove the foil and continue baking for another 15 - 20 minutes, or until the sauce has thickened and the potatoes are tender.
Notes
This recipe can be prepped up to the baking step the day before if needed.
Recommended Products
As an Amazon Associate and member of other affiliate programs, I earn from qualifying purchases.
Nutrition Information
Yield 10 Serving Size 1
Amount Per Serving Calories 103Total Fat 1gSaturated Fat 1gTrans Fat 0gUnsaturated Fat 0gCholesterol 3mgSodium 186mgCarbohydrates 22gFiber 3gSugar 13gProtein 1g

GoodLifeEats.com offers recipe nutritional information as a courtesy and is an estimate only. This information comes from online calculators. Although GoodLifeEats.com makes every effort to provide accurate information, these figures are only estimates.

Be sure to follow Good Life Eats on Instagram. Tag @goodlifeeats and include the hashtag #goodlifeeatsrecipes so I can see what you're cooking up in YOUR kitchen!
Click HERE to save this Baked Sweet Potatoes with Pomegranate recipe to Pinterest!