Wondering what to make this year for Thanksgiving Dinner? Take all the guess work out of planning your Thanksgiving Menu and check out some of our very favorite Thanksgiving Recipes!
I've got you covered with Turkey Recipes and Turkey Brines (plus everything you need to know about roasting or smoking a turkey), plenty of Thanksgiving Appetizers, Side Dishes, Drinks, and Desserts! You'll be able to plan your entire Thanksgiving Menu with this post – there are over 90 Tried and True Thanksgiving Recipes handpicked by me!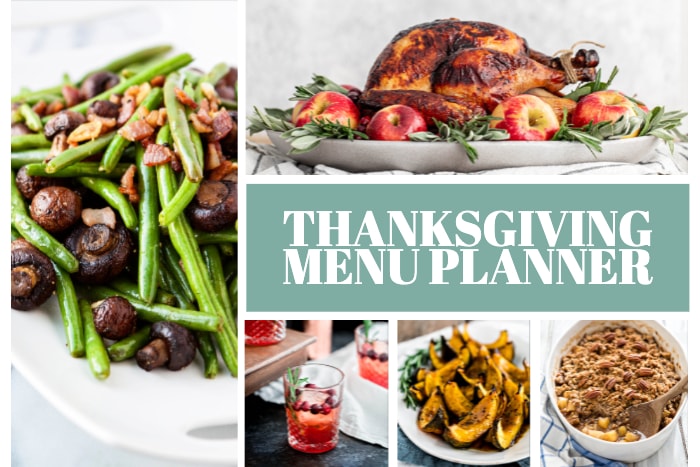 Click HERE to save this Thanksgiving Menu Planner to Pinterest!
How Do You Plan a Thanksgiving Menu?
Planning and Cooking a Thanksgiving Feast is a lot of work. Sometimes coming up with the Thanksgiving Menu feels like the hardest part. That's why I've gone through all of my recipe archives and chosen more than 90 recipes – broken down by course – to help you get brainstorming!
Here are some tips!
Start with sorting out the recipes for your "must haves," and your family's traditional dishes.
After you've decided on the dishes you know you will have (your favorite sweet potatoes, your family's Apple Crisp recipe, etc.), start thinking about what's missing.
Browse through these recipes and note which ones are of most interest by each course. Filling in the gaps is a great opportunity to introduce a few new dishes.
Then, pair the list down from there with what is most interesting.
Make sure to have a good balances of proteins, starches, and vegetables for your main meal.
Do you have good color variety as well? That makes for the prettiest spread!
Figure out if you plan to make the whole meal or if you want to outsource any items to guest and eat pot luck style.

Click HERE to save this Thanksgiving Menu Planner to Pinterest!
What Can I Make Ahead for Thanksgiving Dinner?
There are lots of things that you can make ahead or at least partially prep, so if you're stressing over your Thanksgiving Preparation Schedule and Thanksgiving Menu Planning there is no need to worry. I've also included some notes along with each recipe where applicable.
I've got you covered with Thanksgiving Preparation Tips for a Stress-Free Thanksgiving Day and recipes for the whole day from Breakfast, to Afternoon Snacks and Appetizers, through just about every course for the big meal.
By doing a little bit of planning and preparation each day leading up to Thanksgiving, you can have a smooth-sailing Thanksgiving, no last minute craziness and lots of fun family time.
Thanksgiving Menu Planner
Planning the Thanksgiving Menu feels like a large task by itself. I've got you covered with Stress-Free Thanksgiving Preparation Tips and recipes for the whole day
Did you love this post?
Sign up for Good Life Eats email updates and never miss another update!
How is your Thanksgiving Planning going? What is your favorite menu item?
Click HERE to save this Thanksgiving Menu Planner to Pinterest!