Thanksgiving Recipe & Planning Guide
If you're looking for inspiration for your Thanksgiving Menu this year, here are some of our very favorite recipes.
Planning and Cooking a Thanksgiving Feast is a lot of work.
Sometimes coming up with the Thanksgiving Menu feels like the hardest part.
If you're stressing over your Thanksgiving Preparation Schedule and Menu Planning there is no need to worry.
I've got you covered with Thanksgiving Preparation Tips for a Stress-Free Thanksgiving Day and recipes for the whole day from Breakfast, to Afternoon Snacks and Appetizers, through just about every course for the big meal.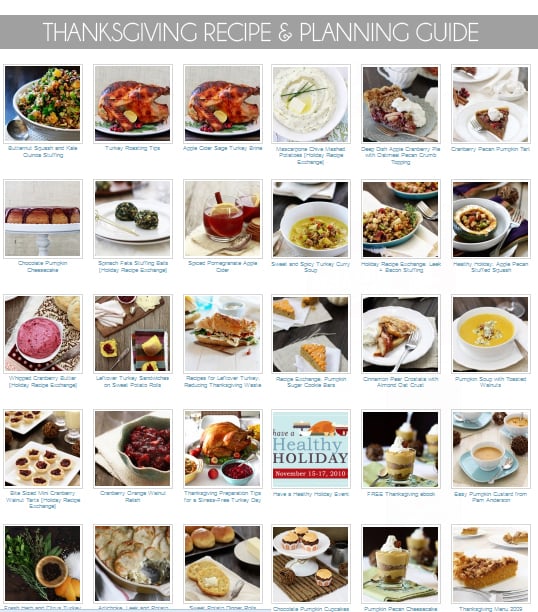 By doing a little bit of planning and preparation each day leading up to Thanksgiving, you can have a smooth-sailing Thanksgiving, no last minute craziness and lots of fun family time.
Drinks:
In this Spiced Pomegranate Apple Cider Mulled Wine, fresh pressed apple cider, tart pomegranate juice, and Tempranillo pair with mulling spices and fresh fruit.
It is the perfect fall-inspired cocktail, perfect for sipping during this autumn and winter season.
Appetizers and Afternoon Snacks
If afternoon leaves you needed a little nibble to sustain you until your Thanksgiving feast, check out some of these ideas for afternoon snacks or appetizers.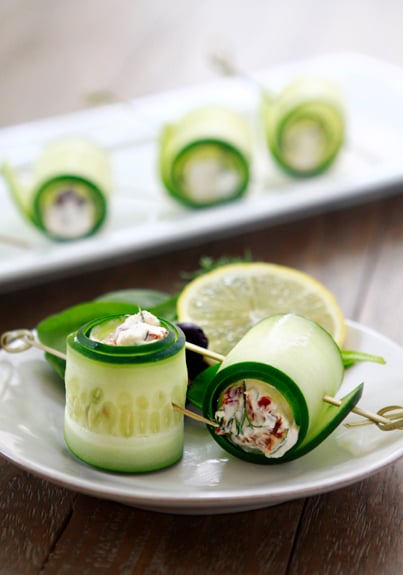 Pesto and Hummus are easy make-ahead idea that can be spread on whole grain crackers or used as a dip for vegetables.
If you plan on making Hard Boiled Eggs for Deviled Eggs, make sure you buy your eggs this weekend. Older eggs are easier to peel!
Asparagus Prosciutto Puff Pastry Pizzas might sound fancy but they are super simple to prepare and packed with the flavors of fresh asparagus, prosciutto, sun dried tomatoes, ricotta, and parmesan.
Roasted Cranberry Salsa is a tasty and colorful holiday recipe for gifting and serving at parties.
In this recipe roasted fresh cranberries pair perfectly with the traditional elements of salsa – jalapeño, cilantro, onion, and lime.
Rosemary White Bean Artichoke Spinach Dip is a remake of the classic recipe so many know and love.
In this recipe creamy white cannellini beans and rosemary pair perfectly with artichokes, fresh spinach, and cheese.
Tip: Choose low-carb options below if you don't want to risk filling up before dinner.
Turkey
If you are new to roasting a turkey or simply want to brush up your skills, check out my Turkey Roasting Tips to get you started.
Roasting a turkey isn't as difficult as it sounds once you get the method down.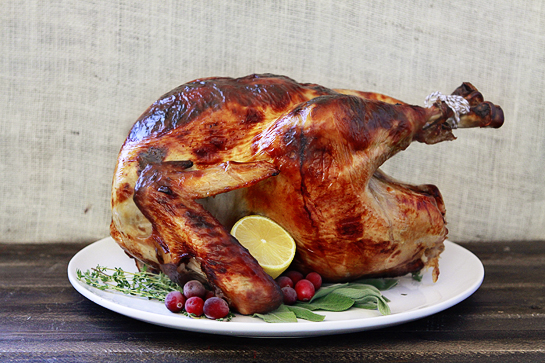 Brine Recipes:
Brining your turkey will help infuse it with flavor while also keeping the meat incredibly moist.
Take note that you'll have to plan ahead as a turkey needs to soak in the brine for approximately 24 hours.
Brining a turkey in this Rosemary Beer Brine will tenderize the meat and infuse it with a TON of flavor for Turkey Day!
Fresh Herb Citrus Brined Turkey combines lots of fresh herbs with a subtle hint of citrus.
Brining your turkey with this Apple Cider Sage Brined Turkey before roasting will not only infuses the meat with the delicious flavors of fresh apple cider and sage, but it will help keep the meat moist and tender.
Stuffing
Stuffing is easily the highlight for many at Thanksgiving.
I have to favorites to share with you, one traditional and another made from quinoa.
Take your pick or prepare both.
If you are looking for a way to decrease carbs and increase nutrition for your Thanksgiving Menu.
The Butternut Squash and Kale Quinoa Stuffing is a great option.
Quinoa is rich in fiber and has a low glycemic index, which means it will help balance out any post-meal blood-sugar spike after you've indulged in everything else on your Thanksgiving menu.
Condiments
I love this whipped cranberry butter as a great way to use up any leftover cranberry sauce after Thanksgiving.
It is also great served as an alternative to plain butter to spread on rolls.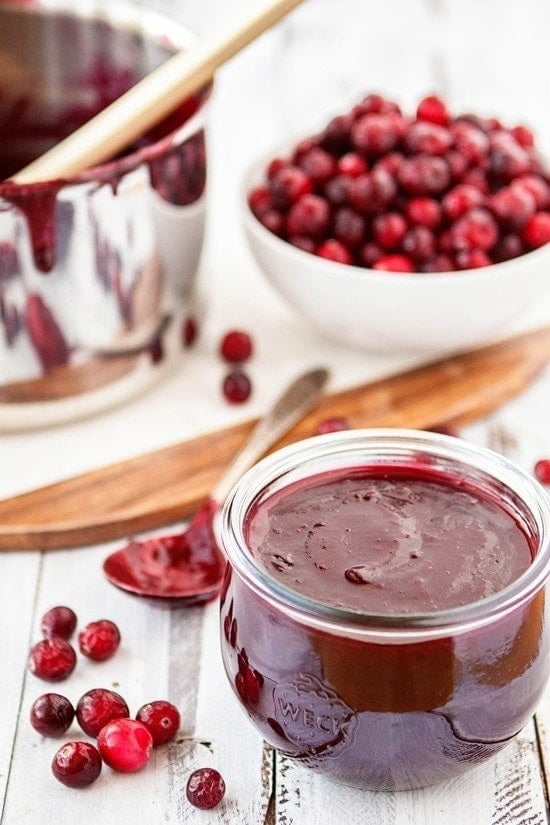 You can also make delicious herbed compound butters to spread on rolls or use in your mashed potatoes.
And for the cranberry sauce lover, I love our Cranberry Orange Walnut Relish.
Fresh, tart cranberries are cooked and blended with agave, brown sugar, red wine, and pomegranate juice create a deliciously simple and smooth Red Wine Pomegranate Cranberry Sauce for your Thanksgiving feast.
Side Dishes
Are the side dishes the star of your Thanksgiving table?
Here are some of our well-loved ideas to get you started.
If you need to cut down on preparation time, but would still like a nice side dish, roasted vegetables are always simple.
Toss potatoes, asparagus or brussels sprouts with olive oil, season with salt and pepper and roast at 425 degrees F until tender and browned.
Pumpkin and Squash:
Roasted butternut squash and garlic are pureed with onion, carrot, broth, and half and half for a silky smooth, creamy, savory Roasted Butternut Squash Soup with Bacon and Sage. Topped with bacon and sage for perfection.
In this Massaged Kale Salad with Roasted Squash, Goat Cheese, and Pepitas kale is lightly massaged with olive oil, salt and pepper.
Then, it is tossed with roasted delicata squash, roasted red onions, herbed goat cheese, and pepitas.
Butternut Squash Sage Bacon Mac n Cheese features penne covered in a creamy, rich sauce of pureed butternut squash, parmesan and sharp white cheddar with bacon and fresh sage.
Pure comfort food!
Isn't anything that combines cheese, bacon, and pasta?
Potatoes: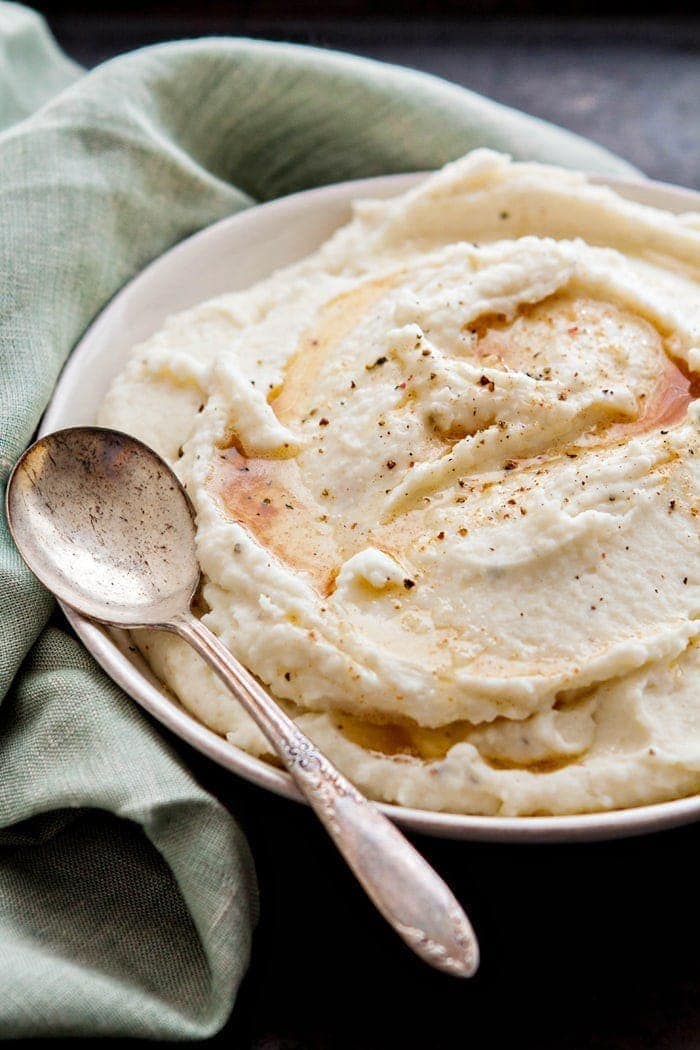 Artichoke, Leek and Potato Casserole is a wonderful twist on a potato casserole where the artichokes and leeks are the star.
Blue Cheese Rosemary Mashed Potatoes are your favorite Russet Potato Mashed Potatoes after a surprising and flavorful makeover.
With the addition of pureed cannellini beans, plenty of salty gorgonzola cheese, and fresh rosemary you go from yum to YUM!
Roasted Garlic Cauliflower Mashed Potatoes are anything but traditional mashed potatoes.
This recipe is ramped up with the flavors of earthy roasted garlic, nutty roasted cauliflower puree, and the smoothness of cream cheese.
Mashed potatoes can often be quite boring in terms of appearance, so I love the little flecks of green chives scattered throughout these creamy Mascarpone Chive Mashed Potatoes, not to mention the fresh taste they add to the recipe.
If you can't find mascarpone, traditional cream cheese is a simple and readily available substitute.
Greek Yogurt Mashed Potatoes use Greek yogurt instead of sour cream or cream cheese to make the potatoes extra creamy; they're healthier thanks to the addition of the yogurt and plenty rich.
Surprise! There is no butter added in these Greek Yogurt Mashed Potatoes! Feel free to add some if you prefer.
Or for something a little different, try Cream Cheese Chive Duchess Potatoes – delicious, individually portioned mounds of mashed potatoes that have been baked.
Inside they're creamy and fluffy while the outside is beautifully golden and crisp. The kids love these!
Vegetables: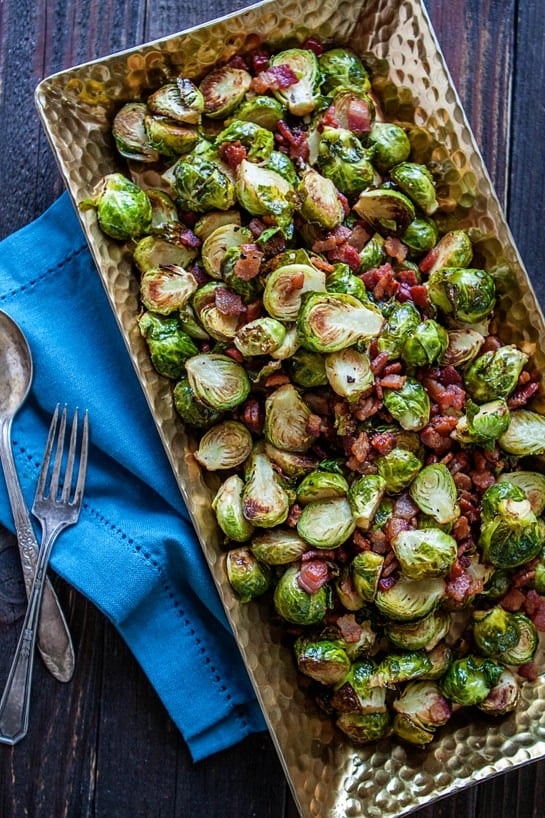 Roasted Brussels Sprouts with Bacon and Balsamic are a fantastic side dish that is full of delicious flavor – caramelized, roasted brussels sprouts, savory bacon, and tangy balsamic vinegar.
Braising is the most delightful way to cook greens like Kale, like this recipe for Sweet Braised Kale with Apples and Nuts . Without over-cooking and creating mushy greens, braising tenderizes the leaves and adds flavor.
Maple Chipotle Roasted Sweet Potatoes and Brussels Sprouts are the kind of vegetable side dish that has everyone asking for seconds!
The veggies are coated in a blend of butter, maple syrup and ground chipotle pepper. After roasting, both the sweet potatoes and Brussels sprouts are crispy on the outside, tender on the inside and sweet spicy all over.
Sauteed Garlic Bacon Green Beans are the perfect way to serve green beans if you're not typically a fan of the traditional green bean casserole.
They have plenty of flavor thanks to the garlic, bacon, dried cranberries, and walnuts.
Roasted Asparagus is drizzled with a tasty lemon walnut dressing for simple, delicious and heart-healthy side dish. With spring getting closer, this Roasted Asparagus with Lemon Walnut Dressing is the perfect addition to your dinner table.
Sweet Potatoes: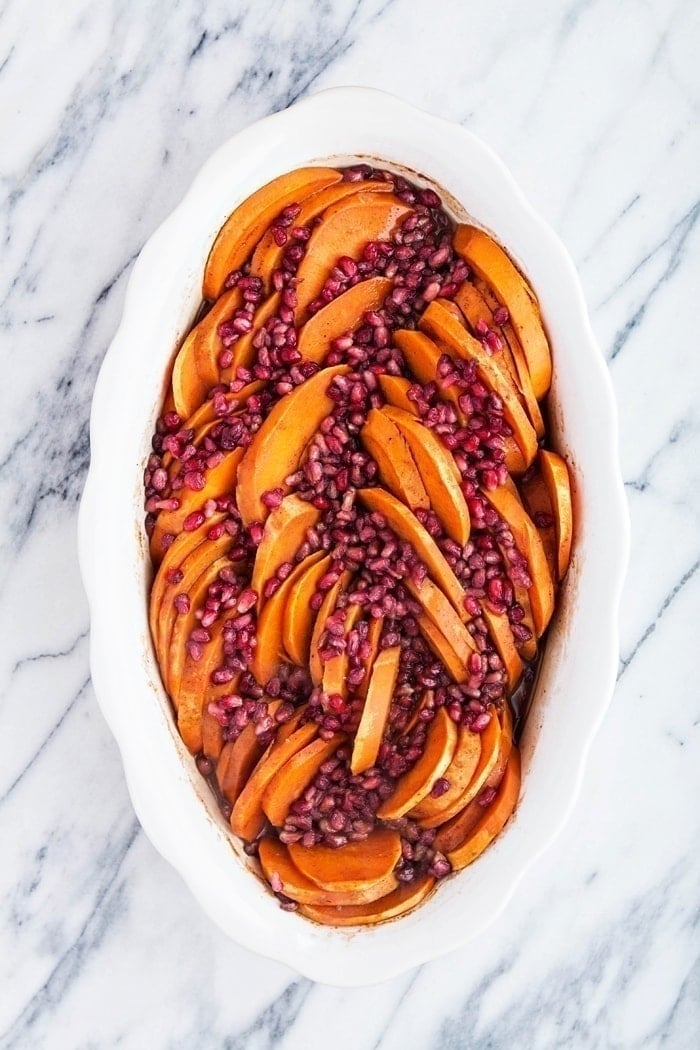 Baked Sweet Potatoes with Pomegranate: Sliced Sweet Potatoes are baked in a spiced orange maple glaze and sprinkled with juicy, bright pomegranate arils.
It is a gorgeous, colorful Thanksgiving side dish that is a little bit more on the healthier side without sacrificing flavor.
Cubed sweet potatoes tossed in olive oil, salt, and pepper are roasted and then tossed generously with fresh garlic and sage. Roasted Sweet Potatoes with Garlic and Sage make a great side for your Thanksgiving meal.
Maple Chipotle Roasted Sweet Potatoes and Brussels Sprouts the kind of vegetable side dish that has everyone asking for seconds!
The veggies are coated in a blend of butter, maple syrup and ground chipotle pepper. After roasting, both the sweet potatoes and Brussels sprouts are crispy on the outside, tender on the inside and sweet spicy all over.
Bread and Rolls
I prefer homemade bread and rolls over store bought almost any day.
There are only a few store bought options that I like enough to serve at my table.
If you're looking for homemade bread or roll ideas for your Thanksgiving menu, here are a few of our favorite recipes.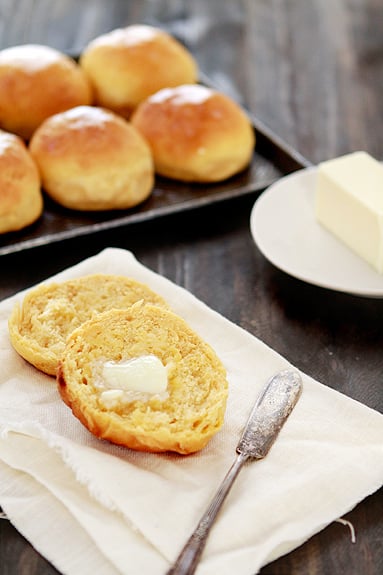 These Sweet Potato Dinner Rolls have a beautiful golden, orange color that brightens up the dinner table.
Sweet Potato Dinner rolls are versatile too.
Not only are they great for dinner, but my kids loved these rolls in place of regular bread for cinnamon sugar toast for breakfast.
Desserts
I think it is safe to say that the Thanksgiving desserts are my favorite part of the big holiday feast.
We have tried several recipes over the years.
This year I'm preparing the Pumpkin Chocolate Cheesecake and a Deep Dish Cranberry Apple Pie, but they are all excellent picks.
Pies and Tarts:
Apple Crisp with Oatmeal Pecan Crumble Topping is your traditional Apple Crisp is elevated with the addition of oatmeal and pecan in the topping. A perfect twist on a Thanksgiving classic.
Chocolate Pumpkin Cheesecake with Chocolate Ganache is a decadent and unconventional way to get your pumpkin in for Thanksgiving.
Mini Sweet Potato Tarts with a Gingersnap Pecan Crust are divine if you are looking for individual serving desserts to make, plus it only makes 3 tarts so it is perfect if you need desserts for a smaller gathering.
This Browned Butter Bourbon Apple Crisp is a guaranteed crowd pleaser and has lots of make-ahead tips to help you simplify your Thanksgiving prep.
If you're looking for something completely different, be sure to check out this Cinnamon Pear Crostata featuring and Almond Oat Crust. Crostatas are a free form pie, so there is no need to make the crust look perfect.
This Deep Dish Apple Cranberry Pie is the kind of pie you convince yourself is perfectly okay to eat for breakfast once Thanksgiving is over.
And the pie that my Dad always asks for – Pumpkin Pie with Caramel Pecan Topping. It is a family tried and true favorite.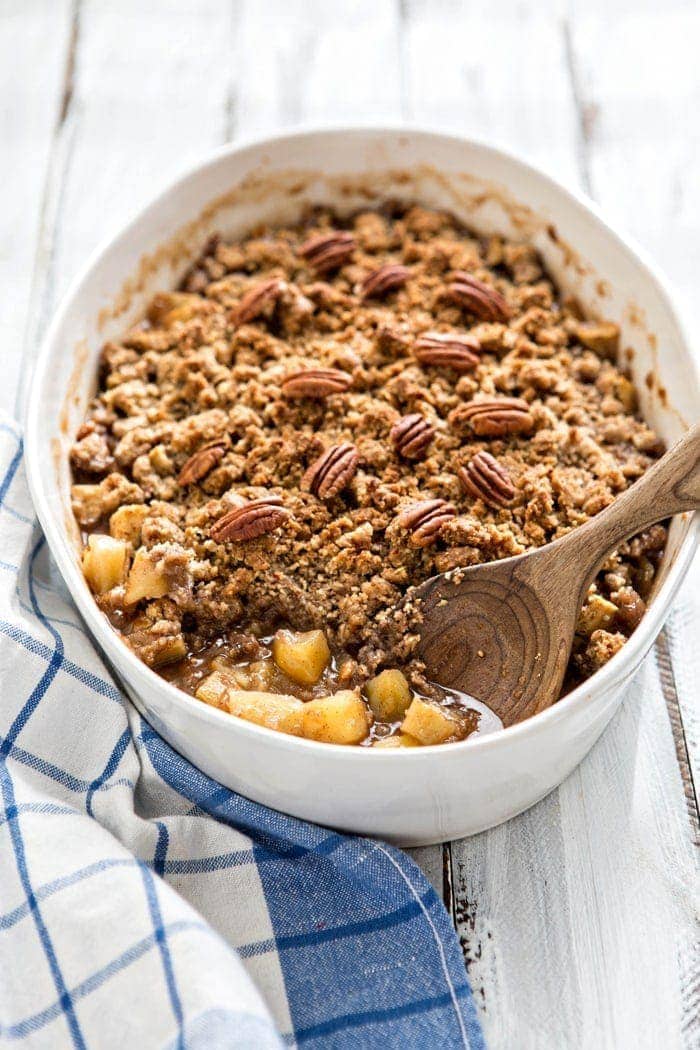 Cakes and Cupcakes:
Spoon Desserts:
If you're looking for the perfect kid-friendly Thanksgiving treat, check out this Easy Pumpkin Pudding.
It combines a few pantry ingredients for a perfect autumn treat and is simple enough for younger helpers to assist in preparing.
Cookies and Bars:
How is your Thanksgiving Planning going? What is your favorite menu item?