Apple Cider Sage Turkey Brine
Brining your turkey with this Apple Cider Sage Turkey Brine before roasting will infuses the meat with the delicious flavors of fresh apple cider and sage.
It will help keep the meat moist and tender.
I have made a few different turkey brine recipes over the years.
Last year I shared a recipe for Fresh Herb and Citrus Turkey Brine and before that I mostly used a more basic recipe.
But, once you understand the process of brining, it is pretty easy to mix things up to create different flavor results.
Because this will be our first Thanksgiving in Colorado and our first Thanksgiving with my sister living near by, I thought:
why not mix things up a little bit with a new recipe for the big day?
We tested this Apple Cider Sage Turkey Brine out in advance.
We all agreed that it is definitely a winner.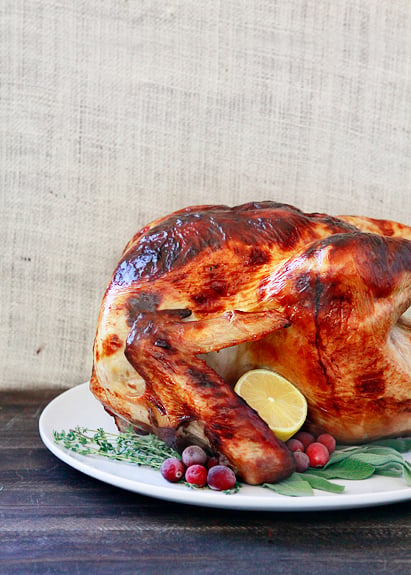 Click HERE to save this recipe for Apple Cider Sage Turkey Brine to Pinterest!
Turkey Brining Do's and Don'ts
Brining might sound complicated and lengthy, but once you get the hang of it the process is really not difficult.
There are a few rules you should know about before you attempt brining a turkey.
If you are wondering how to roast a turkey, check out my Turkey Roasting Tips to learn more about the method that I like to use to roast my turkey as well as a few hints, tips, and tricks for a moist, flavorful turkey.
Use a fresh, unsalted turkey.
Many frozen turkeys come pre-brined in a plain salt water solution.
Additionally, a turkey labeled as "kosher" will already be salted.
Brining a turkey with this Apple Cider Sage Turkey Brine in these situations would result in an incredibly salty turkey, which is not ideal.

Keep the proportions of the recipe.
If you need a larger or smaller amount of this Apple Cider Sage Turkey Brine, depending on the size of your bird, you will need adjust all of the ingredient amounts in the recipe.
For example, all of the ingredients in this Apple Cider Sage Turkey Brine recipe would need to be doubled if you needed double the amount.
Do not only double the liquid.
Once we brined Cornish Game Hens in this Apple Cider Sage Turkey Brine and it worked just fine.
We just reduced the entire recipe by half since the birds were so much smaller.
Store safely and at the proper temperature.
I prefer to place my turkey with the Apple Cider Sage Turkey Brine in a large zip-top bag.
I recommend the Ziploc Big Bags (size large or extra large).
If the turkey is small enough, place the bagged turkey inside something to contain any leaks (such as a roasting pan or foil tray) and store in the refrigerator.
If the turkey is extra large and will not fit in your refrigerator, place the bagged turkey in a cooler and surround the zipped bag with ice.
Do not add ice to the Apple Cider Sage Turkey Brine.
That would only dilute the ratios of salt to liquid.
Then, store the cooler wherever it is coolest – the garage, basement, your refrigerator if it fits.
I have even stored it in a cooler on the back porch if temperatures are cold enough.
Brine for the appropriate length of time.
How long you will brine your turkey in this Apple Cider Sage Turkey Brine largely depends on how big the piece of meat is.
A simple boneless, skinless chicken breast or a couple of pork chops don't need more than an hour.
In contrast, a large 18+ pound turkey will need several hours or up to a full day to soak in the brine.
Here is a quick run down recommended brining times according to my experience.
Brining Time Guide
Whole Turkey: 12-24 hours
Turkey Breast: 3-6 hours
Large Whole Chicken: 2-4 hours
Chicken Breasts: 1 hour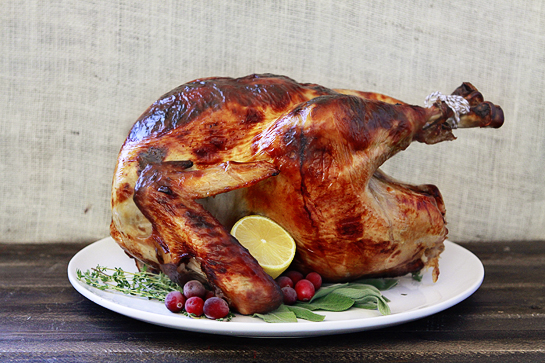 Click HERE to save this recipe for Apple Cider Sage Turkey Brine to Pinterest!
What do you do if due to your schedule you need to brine the turkey earlier than 24 hours before roasting?
I suggest brining it for the 12-24 hours you need.
Then, remove it from the brine and rinse it inside and out.
Pat it dry with a paper towel.
Then, store it in the fridge for up to an additional 24 hours until you are ready to roast.
After that, you can proceed to roast as you normally would.
Below is the method that I like to use:
HOW TO COOK AN APPLE CIDER SAGE BRINED TURKEY
REQUIRED EQUIPMENT
Before you begin preparing your roasted turkey on Thanksgiving, you'll need to make sure you have some of the required equipment.
If have roasted a turkey before, none of this should be new to you.
In order to roast a turkey, you need a few things:
Turkey
Brine Recipe Ingredients
Oven
Turkey Tips:
I typically choose a turkey around 16-18 lbs.
It allows for some leftovers but not so much that we all get tired of it.
If using a larger turkey, simply extend the roasting time and tent the breast with foil to avoid over browning.
DON'T STUFF YOUR TURKEY
I don't recommend stuffing a turkey.
Here's why you shouldn't stuff a turkey:
The stuffing may not reach a high enough temperature to kill bacteria.
Your turkey will cook faster without a stuffed cavity.
How to Safely Stuff a Turkey
If you really love stuffing inside your turkey, there is a way to safely stuff a turkey.
First, prepare and cook the stuffing separately while the turkey roasts.
Then, place the stuffing into the turkey once it is done roasting.
COOK BY TEMPERATURE NOT TIME
There are a few things to know about roasting your turkey, and an important keys to success is cooking by temperature.
Turkey roasting times vary depending on a variety of things, such as:
the size of the bird
internal temperature the bird when you begin
your oven – ever oven runs slightly different (some hot, some cold, some exactly right)
So, it is better to have general time guidelines and specific temperature milestones to meet rather than cooking for x number of hours.
You avoid overcooked dry meat and undercooked unsafe meat when you use a digital probe meat thermometer.
Place the probe in the thickest part of the breast before you begin cooking.
THE BEST TURKEY ROASTING METHOD
1. Preheat the oven to 375 degrees F.
Slather the outside of the turkey in butter as well as under the breast skin.
2. Place herbs under the skin covering the breast, if desired.
3. Stuff the cavity with additional herbs, if desired, and an onion cut into sixths.
Cover the wing tips with foil.
4. Use a V-Rack roaster for your turkey.
Place 3 cups of water in the bottom of the pan.
Add chopped onion and carrots at the bottom of the roasting pan.
5. Place the turkey on the rack, starting with it facing breast side down.
6. Remove the turkey from the oven, flip it breast side up, and baste the turkey with pan drippings.
7. Cover the breast with foil.
8. Add an 2 more cups of water to the pan.
9. Roast the turkey for an additional 1 1/2 hours to 2 1/2 hours. The turkey is done when:
meat thermometer inserted in the breast registers 160 degrees F
the leg/thigh registers at about 170 degrees F.
10. When the turkey has reached the correct temperature, remove it from the oven and tent it with foil.
11. Let your turkey rest for 30-45 minutes on a large cutting board before carving.
I know, the last thing you want to do after spending ALL DAY roasting a turkey is to wait even longer before slicing in to it.
Let the turkey rest for 20 – 30 minutes before slicing into it for the best results.
The turkey will be easier to cut and the meat will stay juicer.
It is worth the wait.
Oops! Did the Turkey finish roasting too early?
Place a disposable roasting tray inside a well insulated cooler.
Then, place the finished turkey on the roasting tray.
Close the cooler, and store until ready to serve (within a reasonable amount of time).
The cooler will act as a warming drawer for the turkey, and the juices will have plenty of time to redistribute while it rests.
Have you ever brined a turkey before?

Love this recipe for Apple Cider Sage Turkey Brine?
Sign up for Good Life Eats email updates and never miss another recipe!
More Thanksgiving Turkey Brine Recipes and Tips
If you're looking for additional turkey brining inspiration for your Thanksgiving Menu this year along with this Apple Cider Sage Brined Turkey, here are a few ideas.
You'll find a lot more information about how to brine, along with a variety of recipes, in the below posts.
Be sure to check out the whole Thanksgiving Recipes Archive right here if you need help building the rest of your menu.
Fresh Herb Citrus Brined Turkey combines lots of fresh herbs with a subtle hint of citrus.
Brining a turkey in this Rosemary Beer Brine will tenderize the meat and infuse it with a TON of flavor for Turkey Day!
This recipe for Garlic Herb Peppercorn Dry Brine is really simple and produces juicy, seasoned turkey meat.
Turkey Smoked on a Traeger is one of my favorite ways to cook turkey for Thanksgiving. Come check out my tried and true method along with my 8 pro tips for the best smoked turkey!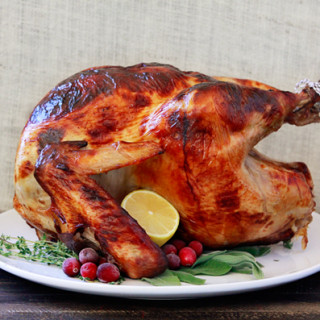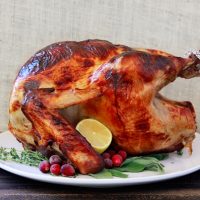 Apple Cider Sage Turkey Brine
Yield: brine for one 14 - 16 lb. turkey

Prep Time: 5 minutes

Brine Cook Time: 20 minutes

Brining Time: 1 days

Total Time: 1 days 25 minutes

This apple cider sage turkey brine infuses roasted turkey with so much flavor and helps keep the meat moist. It's a must have for me when I'm hosting Thanksgiving.
Ingredients
3 quarts fresh apple cider
1 1/4 cup Morton kosher salt
4 bay leaves
3 tablespoons whole allspice berries
2 tablespoons peppercorns
packed 2/3 cup chopped fresh sage leaves
peel of 2 large oranges
3 quarts cold water
Instructions
To Prepare the Brine:
In a large stockpot, combine everything except the water. Bring to a rolling boil over medium-high heat. Turn heat off and cool to room temperature. Add cold water.
For smaller stock pots, you may have to allow the brine to cool and add the additional amount when pouring the brine into the bag in the following step.
To Brine the Turkey:
Place the turkey in a large zip-top bag. I recommend the Ziploc Big Bags (size large). Put the bagged turkey in a clean cooler.
Pour the brine over the turkey, in the bag, making sure the breasts are fully submerged. Zip the bag closed. Place the cooler in a cool place, such as your garage or basement (if temperatures are cold enough), and allow the turkey to soak in the cold brine for 12-24 hours.
Use gel ice packs or bagged ice around the zipped bag inside the cooler, if necessary, to keep the brine below 40°F. (Adding more ice directly to the brine would only dilute it.)
Alternatively, if you have room in your refrigerator, you may place the bagged turkey in a large foil tray rather than a cooler and store it on the fridge shelf.
Rinse the turkey inside and out and pat dry the turkey with paper towels. Bring to room temperature for 2 hours before roasting. Roast according to your preferred method.
Notes
Depending on the brand of kosher salt you use, you'll need different amounts of salt because the different brands available on the market have different densities. I use Morton's kosher salt in this recipe, however here are the conversions and listings for the maximum amount of salt to use per gallon of liquid:
Diamond Crystal 2 cups salt per gallon of liquid.
Morton's kosher 1 1/3 cups salt per gallon of liquid.
Recommended Products
As an Amazon Associate and member of other affiliate programs, I earn from qualifying purchases.

Be sure to follow Good Life Eats on Instagram. Tag @goodlifeeats and include the hashtag #goodlifeeatsrecipes so I can see what you're cooking up in YOUR kitchen!
Did you make this recipe for Apple Cider Sage Turkey Brine? I'd love to hear what you thought! Leave me a comment below.
Click HERE to save this recipe for Apple Cider Sage Turkey Brine to Pinterest!