Fresh Herb and Citrus Turkey Brine [Holiday Recipe Exchange]
Let me take you back about 9 years….
Picture this. It's nine years ago. I am a bride to be and I'm meeting my in-laws for the first time. It's a rainy Thanksgiving evening in Washington and my soon to be Mother-in-Law has just prepared the BEST.TURKEY.EVER.
The turkey has amazing, juicy flavor and the breast meat isn't dry at all. I think to myself, "where has this turkey been all my life?"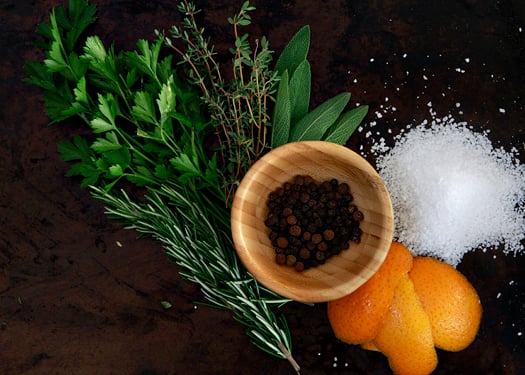 The answer: Brining. I had no idea what brining was, but I was eager to learn. I knew that I'd soon have the experience of being in charge of roasting my own turkey and I wanted it to taste just like my Mother-in-Law's did.
Nine years later, I can tell you that for as long as I've been making my own turkey, I've been using a turkey brine before roasting my turkey. I think it's the best way to ensure a delicious, moist turkey.
This fresh herb and citrus turkey brine infuses roasted turkey with so much flavor and helps keep the meat moist. It's a must have for me when I'm hosting Thanksgiving.
I happen to really enjoy the combination of sage, rosemary, thyme, and parsley in my turkey brine, but you can play around with the herbs for your brine, if you like, for different flavors. Just be sure to use fresh herbs. I think that makes all the difference.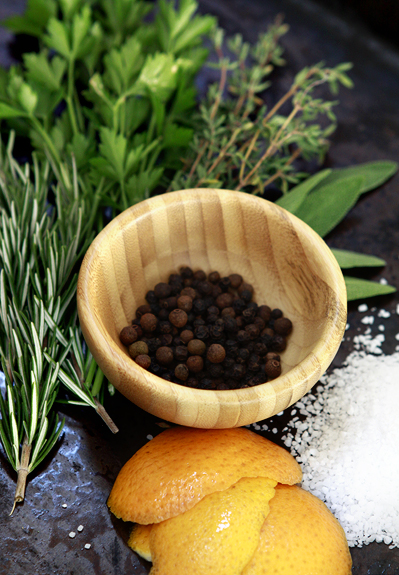 I hope you'll join Jamie and me this week and share your favorite recipe that uses fresh herbs for our Shenandoah Growers Organic Fresh Herbs. Shenandoah Growers offer high-quality organic fresh herbs and are perfect for using this Holiday season. Head on over to My Baking Addiction where Jamie is sharing a recipe for Mac and Cheese with Roasted Chicken, Goat Cheese, and Rosemary.
What is your secret to a flavorful, moist turkey?
Fresh Herb and Citrus Turkey Brine
Yield: brine for 1 turkey
Prep Time: 15 minutes
Cook Time: 45 minutes
Total Time: 12-24 hours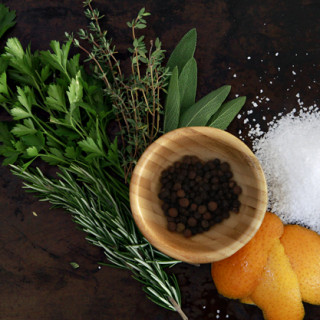 Ingredients:
For a 16 - 20 lb. Turkey:
2 2/3 cups Morton's kosher salt
1 cups brown sugar
1 tablespoon whole peppercorns
1 teaspoon whole allspice berries
4 bay leaves
5 stems fresh thyme
3 stems fresh sage
2 tablespoons fresh rosemary leaves
1/4 cup loosely packed parsley (stems ok)
4 cloves garlic garlic, smashed
peel of 3 tangerines or oranges (optional)
1 gallon boiling water
8 pounds ice cubes
Directions:
Combine the salt, brown sugar, peppercorns, allspice berries, bay leaves, thyme, sage, rosemary, parsley, garlic, and tangerine peel together in a large stock pot. Add 1 gallon of water. Bring the mixture to a rolling boil, remove from heat.
After removing from heat, steep the mixture for 45 minutes. Then, add in enough ice to bring the brine amount up to 2 gallons (2 gallons = 32 cups). This is very important otherwise you will have an incredibly salty turkey.
For smaller stock pots, you may have to allow the brine to cool and add the additional amount when pouring the brine into the bag in the following step.
Place the turkey in a large zip-top bag. I recommend the Ziploc Big Bags (size large). Put the bagged turkey in a clean cooler. Pour the brine over the turkey, in the bag, making sure the breasts are fully submerged. Zip the bag closed. Place the cooler in a cool place, such as your garage or, and allow the turkey to soak in the cold brine for 12-24 hours.
Use gel ice packs or bagged ice around the zipped bag inside the cooler, if necessary, to keep the brine below 40°F. (Adding more ice directly to the brine would only dilute it.)
Alternatively, if you have room in your refrigerator, you may place the bagged turkey in a large foil tray rather than a cooler and store it on the fridge shelf.
After the brining process, transfer the turkey to a roasting pan and discard the brine. Roast according to your preferred method.
Note: For a smaller turkey you may make less brine; however, be careful to do so with the original proportions of ingredient still intact. Too much salt will leave you with an incredibly salty turkey. Also, birds less than 10 pounds will likely not need to soak for the full 24 hours to achieve the desired results.
Notes:
Depending on the brand of kosher salt you use, you'll need different amounts of salt because the different brands available on the market have different densities. I use Morton's kosher salt in this recipe, however here are the conversions:
Diamond Crystal 2 cups salt per gallon of liquid.
Morton's kosher 1 1/3 cups salt per gallon of liquid.
Bringing Time Guide
Whole Turkey: 12-24 hours
Turkey Breast: 3-6 hours
Large Whole Chicken: 2-4 hours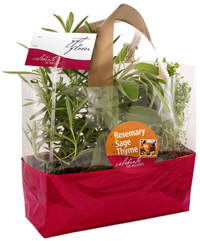 Shenandoah Growers even has holiday trio packs that include living organic Rosemary, Thyme, and Sage, so they're perfect for holiday cooking. Festively wrapped with an elegant holiday greeting card, they also make an excellent hostess gift. Look for the Holiday Trio Pack at the following stores: ACME, Rouses, Whole Foods, Giant, Martins, or The Fresh Market.
How To Participate
For a chance to win a $200 Cash Card:

Write and post a recipe on your blog featuring FRESH HERBS.

Include "Come join the fun at the My Baking Addiction and GoodLife Eats Holiday Recipe Swap sponsored by Shenandoah Growers Organic Fresh Herbs." in your blog post.
No blog? Just leave your recipe in the comments section.
Add your link to the widget on either GoodLife Eats or My Baking Addiction (we have the same widget code, so only add it on one site).
Submit your post before Nov. 14, 11:59 PM.
Anyone can participate in the link up, but the prizes will ship to US addresses only.
More detailed info are available here.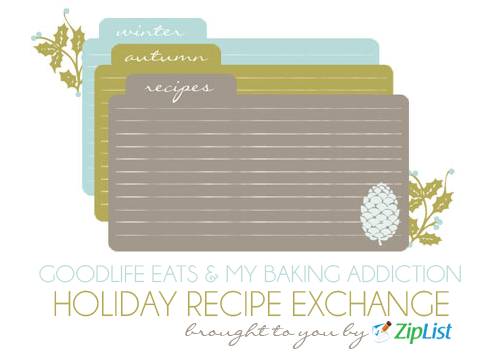 Link Up Your Recipes:
Love any of the recipes featured in today's Holiday Recipe Exchange? If so, be sure to to use the Ziplist Web Recipe Clipper to add your holiday favorites to your online recipe box.
This Week's Prize:
$200 cash card.
Prizes provided by Shenandoah Growers Organic Fresh Herbs.
Recipe Theme Schedule: