Recipe for Turkey Soup: Turkey Noodle Vegetable Soup
This recipe for Turkey Noodle Vegetable Soup is the perfect way to use up leftover Thanksgiving turkey.
Thanksgiving comes to a close and the inevitable happens.
Turkey Leftovers.
Side Dish Leftovers.
And not so much Dessert Leftovers.
In our house the turkey leftovers usually out last all the other types of leftovers and we are left wondering –
what are we going to do with all this turkey?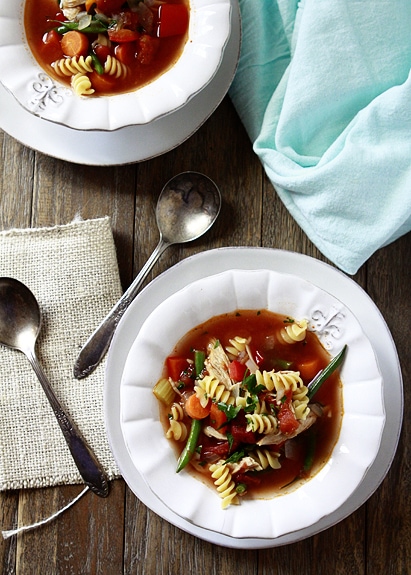 In the end, we always make do and the overwhelming amount of leftover turkey isn't really such a big deal after all.
The easiest solution is to make a big pot of Turkey Soup.
I'm sharing an updated version of the classic Turkey Soup for this year's Thanksgiving leftovers.
With this turkey soup recipe think lots of vegetables:
onion, carrot, celery, red bell peppers, and green beans.
Parsley and thyme.
Curly rotini noodles.
Parmesan.
And of course, you guessed it – turkey.
When you take the time to make a batch of homemade turkey stock with your leftover turkey carcass this recipe for turkey soup is really over the top good.
More Leftover Turkey Recipes
Turkey is an easy substitute for chicken in many recipes.
Here are a few of my favorite picks for using up leftover turkey after Thanksgiving.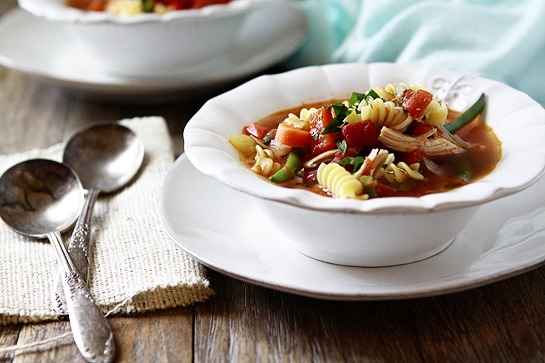 Tips for Freezing Leftover Turkey:
If you are unable to consume your leftover turkey within 3-4 days, you will need to freeze it for a later use so it does not go to waste.
Package it within a timely matter
You have approximately two hours to serve and refrigerate or freeze the leftover turkey after your Thanksgiving meal before multiplying bacteria becomes a concern.
Package the turkey in proportions that make sense for recipes your family eats.
For example, if you want to make this turkey soup recipe throughout the winter, you'll want to have a few packages of 16 ounces of shredded turkey.
I like quart sized freezer quality Ziploc bags for packaging my leftover turkey.
Remove all of the air from your bags – that's what causes freezer burn and no one wants that.
Label the packages with the date.
Include the amount of meat contained in the bag for easy recipe reference.
Frozen leftover turkey will store for 2 – 4 months in the freezer.
You'll be able to enjoy a pot of this homemade turkey soup recipe all winter long.
Do you make turkey soup to use up your Thanksgiving leftovers or do you have another favorite recipe?
Turkey Noodle Vegetable Soup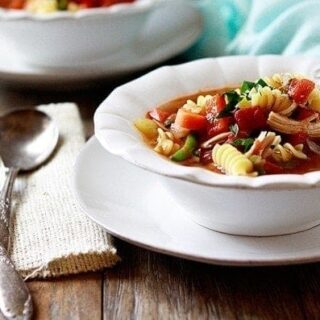 Ingredients:
3 tablespoons olive oil
1 yellow onion, diced
1 1/2 cups sliced carrot rounds
2 ribs of celery
4 - 5 cloves minced garlic
2 red bell peppers, chopped
2 cans organic fire roasted diced tomatoes
8 cups HHomemade Turkey Stock
1 pound (16 ounces) leftover shredded turkey, white and/or dark meat
2 sprigs fresh thyme, or 1 - 2 teaspoons dried thyme
1 bay leaf
8 ounces haricot verts or green beans, cut into 1 1/2 inch lengths
3 cups cooked rotini pasta
3 tablespoons finely chopped fresh parsley
salt and pepper, to taste
fresh parmesan cheese for serving
Directions:
Add the oil to a large dutch oven or stock pot. Heat over medium heat until the oil is shimmering.
Add the onion and saute for 3 minutes. Add the carrot, celery and garlic and continue to saute until the onion and celery are tender and the mixture is fragrant. Add the bell pepper and saute for 2 more minutes.
Next, add the diced tomatoes and their juices, turkey stock, shredded turkey, thyme, and bay leaf. Bring the mixture to a boil, then reduce the heat to medium-low or low and simmer for 20 - 30 minutes.
Add the green beans and simmer until they reach your desired tenderness, about 5 minutes longer.
Stir in the cooked pasta and parsley. Remove the thyme springs and bay leaf. Simmer just until the pasta is heated through. Season to taste with salt and pepper.
Serve topped with a sprinkling of fresh parmesan cheese.