One of the things I've learned in the past few years since beginning this blog is how much I enjoy making Breads.
Baguettes have been on my list to make for quite sometime.
After reading about the time-consuming and extremely fussy (at least in my opinion) method for making a baguette, I was a bit put off.
Yet I still wanted freshly baked baguette at home.
So much that I found myself sitting by the fireplace reading about baguettes this past Saturday night.
Such an exciting life I lead…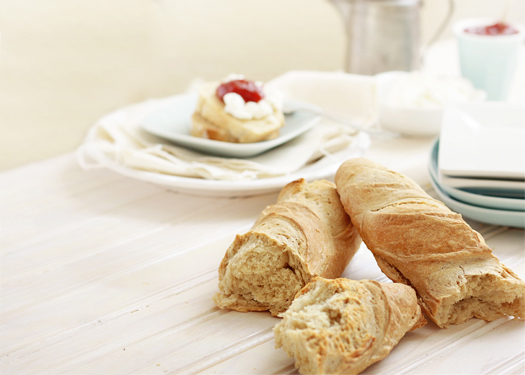 As I read through the 2 full pages at 10-12 point font of instruction in my copy of The New Best Recipe: All-New Edition (plus the 3 pages of introduction) I kept trying to convince myself that it was doable.
Despite the length of time from start to finish in the recipe, I knew that this one should at least be worth the effort.
Cook's Illustrated has never let me down with a recipe.
In the back of my mind I kept thinking: 20-24 hours for a loaf of bread?
No Way!
Who has time for that?
And that's when I remembered the copy of Artisan Bread in Five Minutes a Day I had purchased a little over a year ago, still sitting unused in my cookbook cabinet.
Five minutes a day?
Was it too good to be true?
(Which is why the book sat unused for so long)
Definitely not.
This baguette had hardly any prep time and start to finish took a fraction of the time in a traditional recipe.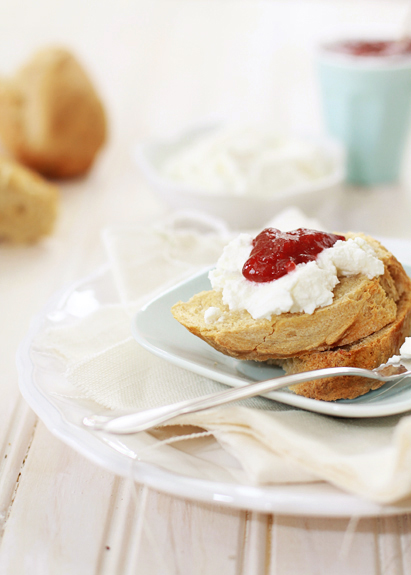 Additionally, the recipe provided me with enough starter dough to make 3 more loaves whenever I wanted.
All I have to do is take a one pound hunk of dough out, prep it to bake, let it rest for 20ish minutes and pop it in the oven.
Will I still make my other Yeast Bread recipes?
Sure.
I still love those recipes.
Logan and Madeline enjoy helping me with the kneading process.
But now, freshly baked bread – any kind I want and even on busy days – is a daily reality.
See how this dough does as a Pizza Crust over here: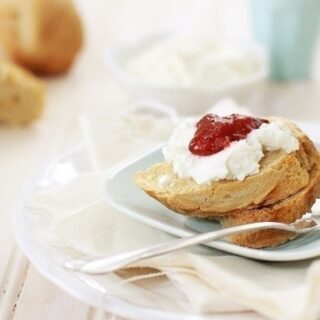 Light Whole Wheat Baguette
Yield:
makes four 1 lb. loaves
Proof/Rest:
2 hours
20 minutes
Total Time:
3 hours
5 minutes
This baguette had hardly any prep time and start to finish took a fraction of the time in a traditional recipe. I highly recommend giving your hand a try at artisan bread like this!
Ingredients
3 cups 110 degree F water
1 1/2 tablespoons granulated yeast
1 1/2 tablespoons kosher salt
2 1/2 cups freshly ground hard white wheat flour
4 cups all-purpose flour
Instructions
To prepare the dough:
Combine the water, yeast, and salt in a large 5-quart bowl or resealable, lidded (but not airtight) plastic food container. The yeast does not need to proof as in traditional recipes.
Mix the whole what and all-purpose flour together in a medium bowl, then add it to the large bowl containing the water. Stir the flour into the water mixture using a wooden spoon. You don't need to knead the bread, but if stirring becomes too hard you can reach your wet hands into the bowl and press the mixture together.
Cover the container with a lid (not airtight). Let the dough rise at room temperature for 2-5 hours - until it begins to collapse or flatten on top.
After this, you can take a portion of the dough to make a loaf at anytime - OR refrigerate the covered container 3 hours or overnight before shaping a loaf.
To shape the loaf:
Preheat oven to 450 degrees F. Place a baking stone on the middle rack and an empty broiler tray on a lower shelf.
Sprinkle the surface of the refrigerated dough with flour, then cut off a 1 lb. piece for use and return the remaining dough to the refrigerator. A kitchen scale is helpful, or you can estimate by removing a piece about the size of a grapefruit.
Dust the piece with flour and shape it into a ball. Once it is cohesive, you can stretch and elongate the dough to form a cylinder approximately 2 inches in diameter. Dust a pizza peel (or sheet of parchment if you don't have one) with whole wheat flour. Place the loaf on the dusted surface and let rest for 20 minutes.
After resting, paint water over the surface of the loaf with a pastry brush. Then, using a serrated bread knife make longitudinal, diagonal slashes across the top of the loaf.
Slide the loaf onto the hot stone. Add 1 cup of hot water to the broiler tray and immediately shut the oven door. Bake for 25 minutes, or until deep brown and firm to the touch. Cool before eating.
For breakfast, a slice of baguette is delicious topped with ricotta and jam.
Recommended Products
As an Amazon Associate and member of other affiliate programs, I earn from qualifying purchases.
Nutrition Information
Yield

48
Serving Size

1
Amount Per Serving
Calories

49
Total Fat

0g
Saturated Fat

0g
Trans Fat

0g
Unsaturated Fat

0g
Cholesterol

0mg
Sodium

220mg
Carbohydrates

10g
Fiber

0g
Sugar

0g
Protein

2g
GoodLifeEats.com offers recipe nutritional information as a courtesy and is an estimate only. This information comes from online calculators. Although GoodLifeEats.com makes every effort to provide accurate information, these figures are only estimates.
I am not mentioning Cook's Illustrated with any intentional slander to their good name.
I was simply illustrating that, in some instances a non-traditional approach is simpler.
I reference my Cook's Illustrated cookbooks often and love many of their recipes.