This whole wheat blueberry muffins recipe makes just the right amount to feed two people. Perfect for those moments when you just want a single muffin!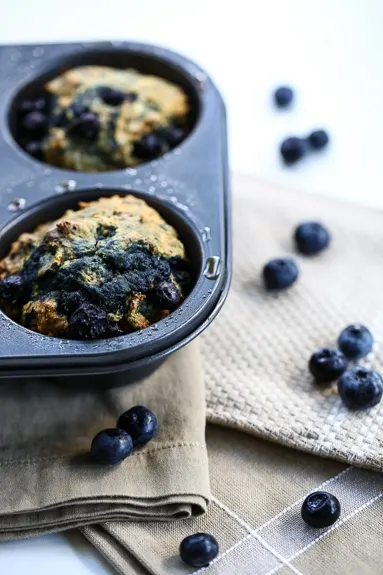 Click HERE to save this recipe for Whole Wheat Blueberry Muffins!
Creating This Blueberry Muffin Recipe
During my time in college, I would go to my favorite local coffee shop and enjoy a coffee and a muffin while I studied. Nine times out of ten, I would choose the blueberry muffin.
Now that I'm a stay-at-home mom, I'm tempted to eat anything I bake in its entirety. I knew it was time for a smaller recipe.
The beauty of this healthy blueberry muffin recipe is it will only make two muffins and it's fully whole wheat flour, ensuring you'll last until lunch! No leftovers and hardly any dishes to clean up. Now, that's my kind of breakfast.
All you need to have is a giant muffin tin and your baking ingredients!
The muffins are filling and when served warm with a pat of butter, makes for a delectable treat! The pops of blueberries are just incredible in every bite.
Whole Wheat Blueberry Muffins Ingredients
For these easy blueberry muffins, you'll need:
White whole wheat flour
Baking soda
Salt
Brown sugar
Egg
Unsalted butter
Skim milk
Vanilla extract
Blueberries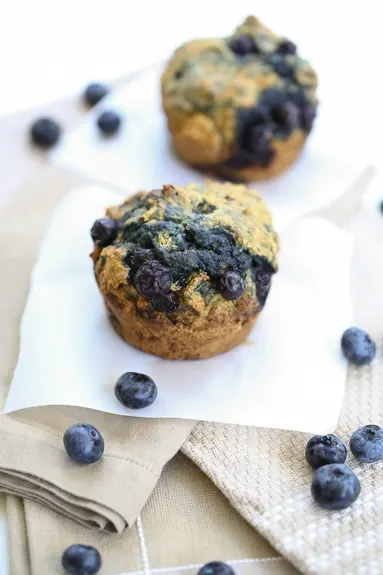 Click HERE to save this recipe for Whole Wheat Blueberry Muffins!
How to Make Blueberry Muffins for Two
To make these whole wheat blueberry muffins, simply stir together the wet and dry ingredients in separate bowls. Then stir the wet ingredients into the dry, and fold the blueberries in gently.
Pour the muffin batter into two large muffin cups and bake until a toothpick inserted into the center comes out clean.
Should I Use Fresh or Frozen Blueberries?
You can use either in this healthy blueberry muffin recipe! Here are a few tips to keep in mind if working with frozen blueberries:
Should I Thaw Frozen Blueberries Before Adding to the Batter?
No, keep frozen fruit frozen until ready to add. Thawed blueberries will add excess liquid and the berries won't keep their shape as well.
Also note that frozen fruit will sink to the bottom of these muffins due to the excess moisture they contain. When subbing frozen fruit in muffins, it is best to toss them (while frozen) with a small amount of flour (about 1 tablespoon per cup of berries).
The flour will absorb some of the liquid as the berries thaw during the baking process and helps keep evenly distributed in the muffins. This trick also helps with blueberry bleed (aka turning the muffins totally blue).
If you are making gluten-free muffins by subbing an all purpose GF flour mixture, you can use that in the same amount or sub 1 teaspoon of arrowroot powder for 1 tablespoon of flour.
Will Using Frozen Berries Alter the Bake Time?
They may, because the cold frozen fruit brings down the core temperature of the batter. To help counteract this, make sure all of the other ingredients are at room temperature (think: eggs, milk, etc). Keep an eye on things and bump up the cook time 1 to 3 minutes if needed.
Can I Double This Recipe?
Yes! If you want to make a few extra muffins you can definitely double this recipe. The bake time will remain the same.
Tips for Making Blueberry Muffins
If you don't have a giant muffin pan, you can use a regular one instead. You'll need to shorten the bake time, and you'll also be able to make an extra muffin or two.
If you don't have white whole wheat flour, regular all-purpose flour should work fine in this recipe too!
Also note that if you only have salted butter on hand, you likely won't need to add the pinch of salt into the muffin batter.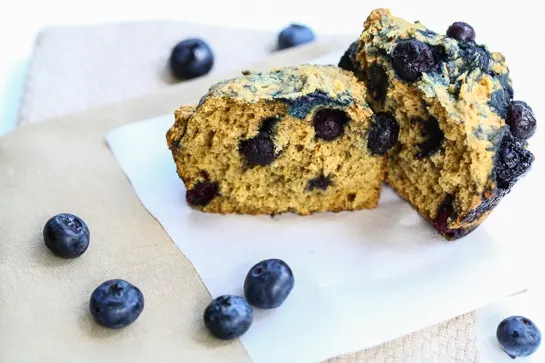 Click HERE to save this recipe for Whole Wheat Blueberry Muffins!
More Easy Muffin Recipes:
These Zucchini Apple Spice Muffins are the perfect treat to make when transitioning from summer to fall. It's a great way to use up those extra zucchinis you have in your fridge!
I love how the berries in these Whole Grain Strawberry Oatmeal Muffins become jammy once baked. These taste incredible when topped with butter or peanut butter!
Dark Chocolate Muffins with Cinnamon Streusel. Need I say more?
These Coconut Lemon Poppyseed Muffins are a fun take on a classic recipe. Pair one with your morning cup of coffee for a breakfast pick-me-up!
I love these Cranberry Gingerbread Muffins because they're super filling and flavorful. The fresh cranberries cut through the sweetness of the gingerbread muffin beautifully!
What's your favorite muffin flavor?
Love this recipe for Whole Wheat Blueberry Muffins? Sign up for Good Life Eats email updates and never miss another recipe!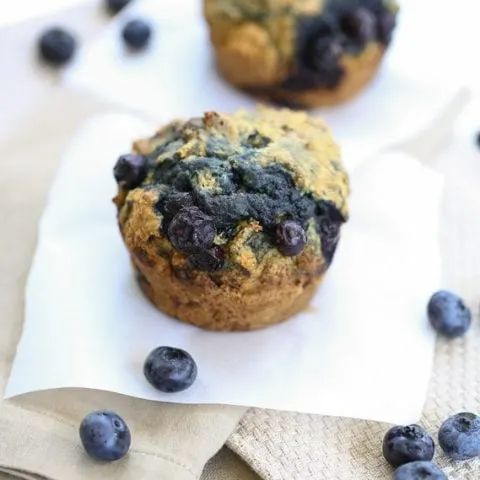 Whole Wheat Blueberry Muffins for Two
A healthy and quick whole wheat muffin recipe for two. No leftovers and hardly any clean up!
Ingredients
3/4 cup white whole wheat flour
1/2 tsp baking soda
pinch salt
2 tablespoons brown sugar
1 1/2 tablespoons of a beaten egg
1 tablespoon unsalted butter, melted
3 tablespoons skim milk
1/2 teaspoon vanilla extract
1/4 cup blueberries*
Instructions
Preheat the oven to 375°F.
In a large bowl, whisk the flour, baking soda, salt and brown sugar together. Set aside. In a smaller bowl, stir the egg, melted butter, milk and vanilla together.
Stir the wet ingredients into the dry ingredients. Gently fold in the blueberries.
Evenly distribute the batter into two sections of a giant muffin pan that has been sprayed with canola oil.
Bake for 19-23 minutes or until a cake tester comes out clean.
Allow to cool for 3 minutes before enjoying.
Notes
*You can use fresh or frozen. If using frozen, you may need to keep these muffins in the oven for a couple extra minutes.
Recipe adapted from Minimalist Baker.
Recommended Products
As an Amazon Associate and member of other affiliate programs, I earn from qualifying purchases.
Nutrition Information
Yield

2
Serving Size

1
Amount Per Serving
Calories

284
Total Fat

8g
Saturated Fat

4g
Trans Fat

0g
Unsaturated Fat

3g
Cholesterol

58mg
Sodium

412mg
Carbohydrates

47g
Fiber

5g
Sugar

14g
Protein

8g
Tag @goodlifeeats and include the hashtag #goodlifeeatsrecipes so I can see what you're cooking up in YOUR kitchen!
Click HERE to save this recipe for Whole Wheat Blueberry Muffins!