Coconut Lemon Poppy Seed Muffins
I am so ready for spring to be here and stay. Winter in Colorado has actually been pretty pleasant. We've had plenty of sun mixed in with the snowy days and I haven't minded the snow much at all when it does come because now we live in a city that actually knows how to deal with snow on the roads!
My aching for spring has prompted me to bake things with bright, springy flavors, like these Coconut Lemon Poppy Seed Muffins
I am ready to get outside again. To see colorful flowers in bloom. The grass and trees coming alive again. Spend time at the park or on walks. Wear sandals and no jacket. I love the bright crisp air that spring brings.
To get my spring fix in the middle of our undecided weather…snow one day, sunshine and warmth the three days later…I thought it was time for some springtime muffins.
We've made these Coconut Lemon Poppy Seed Muffins a few times now and will probably make them a few more times in the next few months until it is too hot to turn the oven on. Two to two and a half dozen might sound like a lot of muffins, but they don't last long and they do freeze well.
The natural sweetness of the coconut paired with the tangy lemon is one of my favorite flavor combinations. I really enjoyed the texture that the shredded coconut combined with the poppy seeds offered. Logan and Madeline called them poppy sprinkles instead of seeds. I guess poppy seeds do look a little bit like sprinkles, don't they?
In effort to make the muffins just a bit healthier, I used half coconut oil and half butter. Coconut oil is a fantastic healthy fat and adds great flavor with none of the cholesterol that butter brings to a recipe.
If you'd like you can use half freshly ground whole wheat flour, I prefer the winter white variety as it is milder in taste, to add some whole grains to the recipe.
These Coconut Lemon Poppy Seed Muffins pair perfectly served warm with a dollop of Coconut Lemon Curd or even traditional Lemon Curd. Just cut the muffin in half and spread the curd in the middle.
Tip: If you don't have buttermilk, try these homemade buttermilk substitutes.
More Spring Breakfast Treats to Try:
Coconut Lemon Poppy Seed Muffins
Yield: 24 - 30 muffins
Prep Time:10 minutes
Cook Time:15 - 25 minutes
Total Time:40 minutes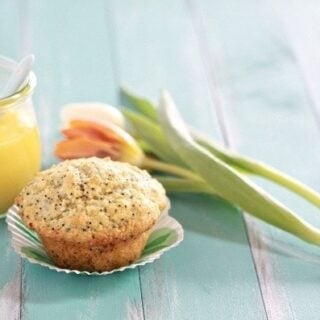 Ingredients:
6 cups flour
1 tablespoon baking powder
2 teaspoons baking soda
1/2 teaspoon salt
1 1/4 cup organic whole cane sugar
zest of 4 lemons
1/4 cup poppy seeds
1 1/2 cup unsweetened shredded coconut
4 eggs, lightly beaten
8 tablespoons melted, cooled butter
8 tablespoons melted, cooled coconut oil
2 cups buttermilk
juice of 4 lemons
1 1/2 teaspoons vanilla
Directions:
Preheat oven to 400 degrees F. Grease 24 - 30 muffin cups on a standard sized muffin tin.
In a large bowl combine the flour, baking powder, baking soda, and salt. Whisk and set aside.
In a small food processor, pulse the sugar and lemon zest. Alternatively rub the lemon zest into the sugar using your fingers. This will fully release the oils and fragrance of the lemon peel to create a lemon sugar.
Add the lemon sugar, poppy seeds, and shredded coconut to the flour mixture. Stir to combine.
In another bowl, combine the eggs, butter, coconut oil, buttermilk, and lemon juice. Mix well.
Form a well in the center of the flour. Pour in the liquids and stir until combined using a wooden spoon or spatula. Do not beat or over mix.
Combine wet and dry, stir with wooden spoon.
Divide the batter between the muffin cups, filling each cup almost completely full. Bake 400 for 15-25 min. Cool in the pan for 5 minutes, then transfer to a wire rack to cool completely.
Notes:
To freeze: cool the muffins completely. Place in a gallon sized zip top plastic bag. Seal the bag leaving just a large enough space open to insert a straw. Suck out the excess air from the bag. Remove the straw and seal.
Tip: If you don't have buttermilk, try these homemade buttermilk substitutes.