I think it's pretty apparent by now that I have a weakness for sweet breakfast recipes. Scones are definitely at the top of that list for me and these Buttermilk Poppy Seed Citrus Scones just might be my favorite yet.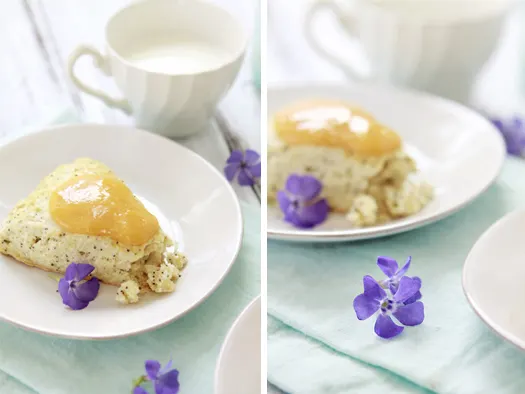 People often ask me how I come of with my recipes. Do I just make stuff up? Well, yes! I've mentioned many times how I often like to cook (or bake) with formulas rather than recipes.
Over time I've come to learn what things can be changed and what can't. I am pretty sure that all of the scone recipes on GoodLife Eats have originated from the first scone I ever made: Cranberry Orange Scones, which is (in my opinion, of course, one of the best scone recipes).
This method gives me room for variation that wouldn't happen if I viewed a recipe as just a recipe. It opens up cooking and recipe development to being a creative process rather than purely scientific.
Once you dissect a recipe down to it's bare bones and have a basic understanding of rations, you have a pretty basic scone formula that can be changed into a multitude of different recipes. If you have a good base, the sky is the limit!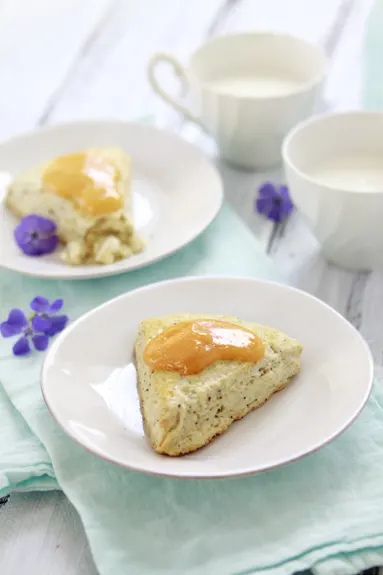 Basic Scone Formula
The ingredients are so flexible. For example, use a full 3/4 cup of milk for your moistener or use a combination of milk and juice. Use all granulated sugar or part granulated and brown sugar. The end result is up to you!
Flexible Ingredients
Flour – 4 cups
You can experiment with different types or stick to all purpose. Sometimes I will use half all purpose and half freshly ground white hard wheat.
Moistener – 3/4 cup
Dairy: Milk, buttermilk, half and half, or cream.
Fruit: fruit puree (pumpkin, apple sauce, etc.), juice
Dairy Alternative: coconut milk, almond milk, soy milk
Sweetner – 1/3 – 2/3 cup
Depending on the type of sweetener use, you may need to vary your amount. Liquid sweeteners are far sweeter tasting than traditional sugars so you don't need to use as much. This is where experimentation and your judgment come into play. Find what works for you and stick to it.
Sugars: Granulated, Whole Cane, or Brown
Liquid Sweeteners: Agave, Honey, Maple Syrup, Molasses
Remaining Ingredients
4 teaspoons baking powder
1 teaspoon salt
2 large eggs
1 cup cold butter
For this particular recipe, I knew I wanted a Buttermilk Scone with Poppy Seeds. Depending on what mood you're in or what citrus you have on hand you can change the flavor of the scone: Lemon Buttermilk Scone, an Orange Buttermilk Scone, or even a Grapefruit Buttermilk Scone.
I love lemon and poppy seed together, but this time I decided to try something a little different: Buttermilk Poppy Seed Scone with Grapefruit. The Grapefruit is subtle, so increase the zest if you'd like more zing.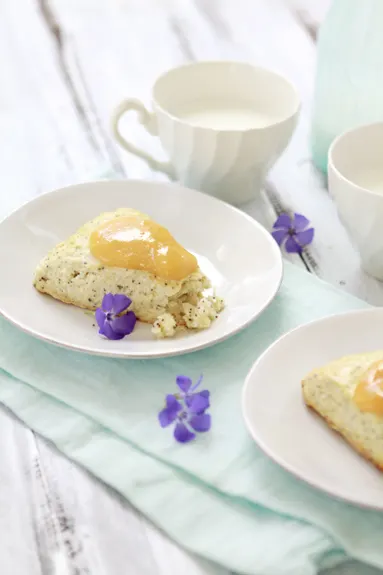 I usually like to top scones with a simple glaze. Instead, I prepared a simple Grapefruit Curd (I'll share that recipe another day) to top this perfect springy treat.
With the Easter holiday coming up soon, I have to say that I think these Buttermilk Poppy Seed Scone with Grapefruit would make a wonderful addition to a special Easter brunch menu.
Related Posts:
Get More Recipes via Email
Did you love this recipe? Sign up to receive Good Life Eats Email Updates and never miss another recipe!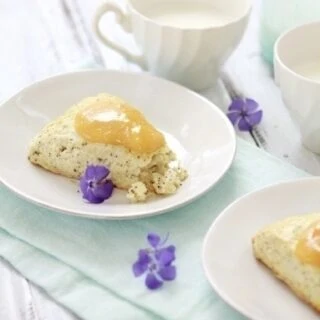 Buttermilk Poppy Seed Citrus Scones
Buttermilk Poppy Seed Citrus Scones make a tasty springtime scone.
Ingredients
2/3 cup sugar
1 - 2 tablespoons grapefruit zest
4 cups flour
4 teaspoons baking powder
1 teaspoon salt
1 1/2 tablespoons poppy seeds
1 cup cold butter
2 large eggs, plus an extra for the egg wash
1/2 cup buttermilk
1/4 cup fresh grapefruit juice
1/2 teaspoon vanilla extract
Instructions
In a small bowl, combine the sugar and zest. Rub the zest and sugar together with your fingers to release the oils.
In a large bowl, combine the flour, baking powder, sugar, salt, zest, and poppy seeds. Cut the butter into the flour mixture. Set aside.
In a smaller bowl, combine the 2 eggs, buttermilk, citrus juice, and vanilla. Whisk until well combined. Make a well in the center of the flour mixture, pour in the egg mixture and stir until it comes together. Whisk the additional egg in a small bowl combined with 1 tablespoon water. Set aside.
Turn out on a lightly floured counter and knead a few times until it holds it's shape. Divide into two equal portions (a kitchen scale helps with this) and roll into an 8 or 9 inch circle. Dust the bottom of the circles with flour.
Cut each circle into 8 triangles. Place the triangles on a parchment lined baking sheet. Lightly brush with the egg wash, then bake for 15-25 minutes at 350 degrees F, or until golden and cooked through.
Cool on a wire rack until cool enough to handle. Serve.
Notes
You can use any citrus juice and zest in this recipe. Lemon or lime also work well.
To Freeze: cool completely, then place in a gallon sized Ziploc bag. Freeze for up to 1 month.
Recommended Products
As an Amazon Associate and member of other affiliate programs, I earn from qualifying purchases.
Nutrition Information
Yield

16
Serving Size

1
Amount Per Serving
Calories

272
Total Fat

13g
Saturated Fat

8g
Trans Fat

0g
Unsaturated Fat

4g
Cholesterol

66mg
Sodium

374mg
Carbohydrates

34g
Fiber

1g
Sugar

9g
Protein

5g