Strawberry Scones with Meyer Lemon
I could hardly resist the big, beautiful strawberries on display for Valentine's Day in the grocery store last week. I walked past them three times. Thought that I'd avoided them before I turned around and bee-lined it right back to the display. SIGH.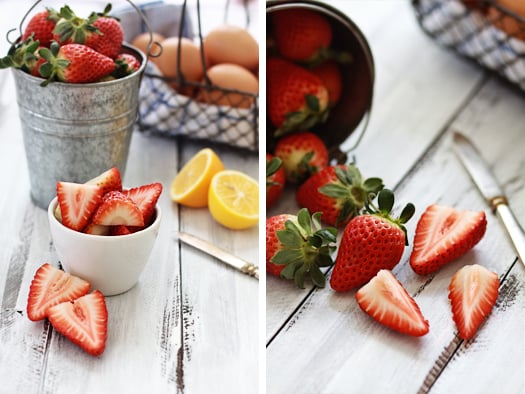 And then I walked past a bag of Meyer Lemons. With those added to my cart along side the rouge berries, these Strawberry Scones with Meyer Lemon were practically begging to be made.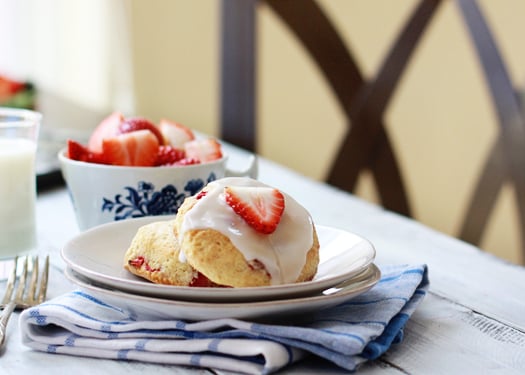 I am itching for Spring to be here. It's been on the warmer side of the thermometer this week too and that always does a number on me. You can't help but feel that Spring is on it's way with weather in the 60's. But knowing the weather this time of year in New Mexico, Mother Nature is just being a tease.
I am ready for light and bright tasting foods. Colorful fruits and vegetables. I want to see things sprouting in the garden again. Hear the kids laughing and playing outside. Oh and let's not forget how nice it is to actually have LIGHT after 5:00 pm. In a nutshell: I am so over winter.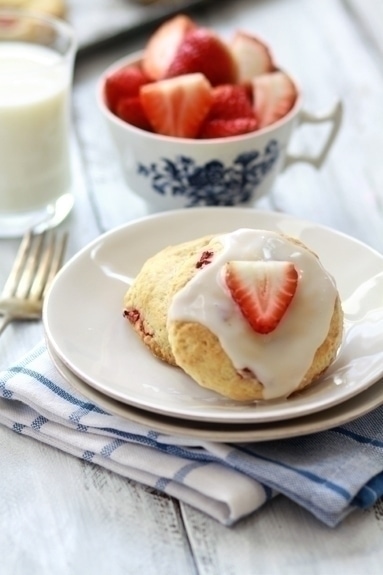 As over winter as I am, I'll be in the exact opposite predicament 7 or so months from now. I'll be tired of summer and reader for cool air (though I am never, ever ready for it to be dark at 5 pm). I'll be done with garden fresh summer tomatoes and ready for fall an winter comfort food.
In the meantime, please, bring on the Spring!
Strawberry Scones with Meyer Lemon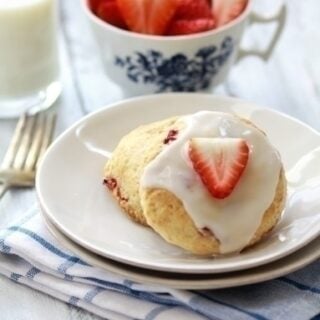 Ingredients:
For the scones:
4 cups flour
4 teaspoons baking powder
2/3 cup sugar
3/4 teaspoon salt
Zest of 3 meyer lemons
1 cup cold butter
2 large eggs
1/3 cup meyer lemon juice - about 3 lemons
1/3 cup buttermilk
1 teaspoon vanilla extract
1 cup fresh strawberries, diced
For the Glaze:
1/2 cup powdered sugar
1 teaspoon meyer lemon juice
1 teaspoon milk
Directions:
Preheat oven to 375 degrees F. Line two baking sheets with parchment paper and set aside.
Zest the lemons and combine with the sugar in a small bowl. Using your fingers, rub the sugar and zest together to combine. This will help release the oils and aroma of the meyer lemons.
Combine the flour, baking powder, sugar (combined with zest), and salt. Cut the butter into the flour mixture until it resembles coarse sand. In a small bowl, whisk the eggs, lemon juice, buttermilk, and vanilla together.
Stir the egg mixture into the flour mixture until the dough is moist, but do not over mix. Turn the dough out onto a floured surface and knead a couple of times until the texture is more uniform and the dry bits have been incorporated.
Roll the dough out into a large circle (or approximate) that is half an inch thick. Sprinkle the chopped strawberries on top, then roll the circle up. Fold the rolled tube into thirds. Then, roll out again into a half inch thick round.
Using a biscuit cutter or a glass, cut out scones that are about 2-3 inches in diameter. Place cut scones on the prepared baking sheets. Continue cutting, re-rolling scraps as needed, until all the dough has been used.
Alternatively, you may divide dough into two equal balls. Pat each ball into an 8 inch circle. Place each ball onto a parchment paper lined or greased cookie sheet. Score each circle with a knife into 6 wedges.
Bake in a 375 degree oven for 15-20 (for cut scones) or 30-40 minutes (for the 8 inch circle), or until done and lightly golden. Allow the scones to cool completely.
Meanwhile, stir powdered sugar, milk, and lemon juice together. Drizzle over cooled scones.
Scones may be frozen for up to a month (un-glazed) in a ziploc freezer bag.
---
Announcement:
Next Wednesday I have the opportunity to co-host a virtual cooking school class as part of Cooking Connections over on TheMotherhood. I would love for all of you to join me!
When:
Wednesday, Feb. 23, at 1 p.m. ET
Where:
TheMotherhood – The class will be held at http://www.themotherhood.com/talk/show/id/62134
Registration for for all Cooking Connections classes is available at:
http://www.themotherhood.com/cookingconnections
What:
The "Healthier Meal Makeovers" class will be hosted by Rachel Matthews (A Southern Fairytale), Renee Ross (Cutie Booty Cakes) and Vanessa Druckman (Chefdruck Musings).
During the class, we will provide our suggestions for making family friendly meals that are nutritious AND delicious. Come join the conversation as we exchange recipes, share suggestions, ask questions, and learn a few simple tips and tricks for making meals healthier!
My other fabulous co-hosts are:
Christine Satterfield, I Dream of Clean, http://www.idreamofclean.net
Ilina Ewen, Dirt and Noise, http://www.dirtandnoise.com
Jessica Binder, Food Mayhem, http://www.foodmayhem.com
Serena Yuen Beltz, Fresh, Local and Best, http://freshlocalandbest.blogspot.com
Lisa Perez, New York Chica, http://newyorkchica.com
Katie Goodman, Good Life Eats, https://www.goodlifeeats.com
Wendy O'Neal, Around My Family Table, http://aroundmyfamilytable.com
Amanda White, Oh Amanda, http://ohamanda.com
Debbi, Debbi Does Dinner Healthy, http://debbidoesdinnerhealthy.blogspot.com
Denise Sawyer, Wholesome Mommy, http://wholesomemommy.com
Julie, Dinner with Julie, http://dinnerwithjulie.com
The class is sponsored by ConAgra and hosted by TheMotherhood.