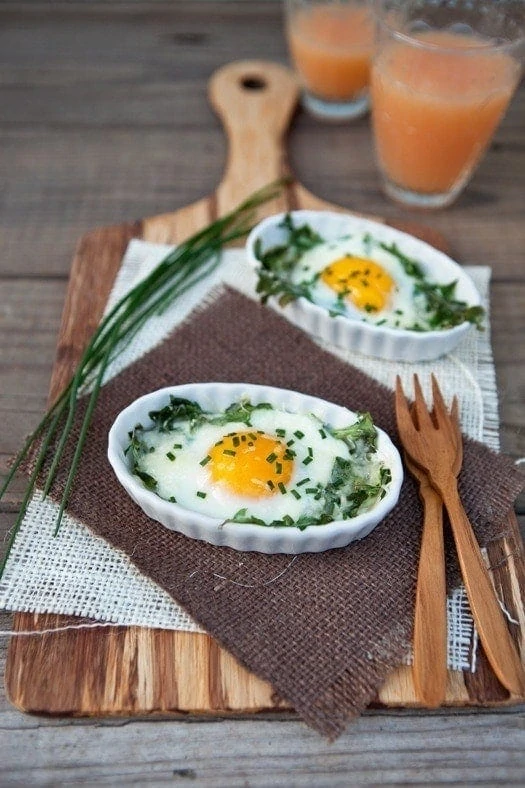 This recipe for Baked Egg Cups and post was originally written by guest author Shaina of Food for My Family. It has been updated from the archives to include additional information.
Making these Arugula Baked Egg Cups
Despite the rash of warm weather we received in March where it felt more like we were nearing the summer solstice than the vernal equinox, my garden remains full of dirt and not much else. This is not by my choice.
As it were, spring decided to backtrack, turning cold and rainy. We even saw a few flakes just last week on a grey April morning. As such, all early garden ideas were pushed aside whilst sighing heavily.
I suppose it gives me a bit more time to plan the green that I will put in the ground, but I can't say that I'm not disappointed having to wait to harvest produce just steps from my back door.
The warm weather did help out the perennial plants and early starters, though. Baby arugula, tarragon, chives all look just as large as they did in July of last year, when we didn't see the sun until well into June. Perhaps all is not lost for the spring garden then. It just needs an open mind and a few eggs.
Shirred or baked eggs are one of my favorite meals. In all reality, all meals with eggs are my favorite. I recently declared 2012 the "Year of the Egg," and I aim to keep to my word, serving egg dish after egg dish to family and friends.
These particular eggs are baked in a bed of fresh arugula with a bit of olive oil to soften it. Topped with parmesan and fresh chives from the overwintered garden, they foretell the harvest that is to come as summer nears.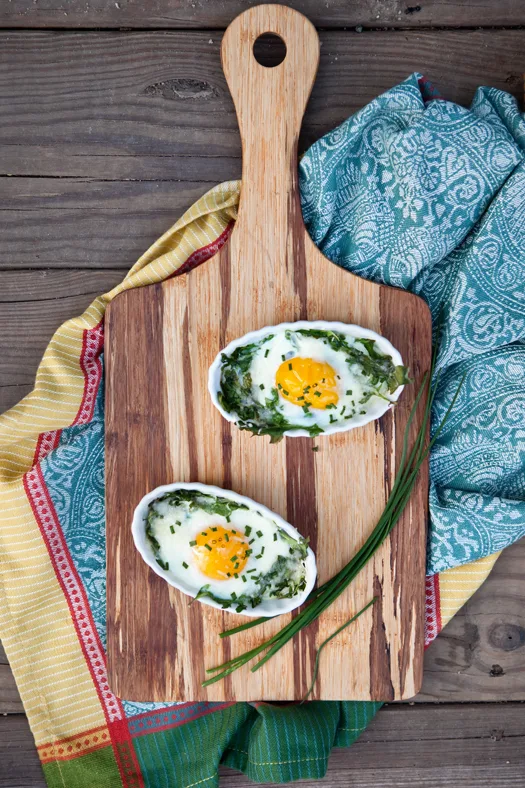 Ingredients in Baked Egg Cups
Baby Arugula
Extra-Virgin Olive Oil
Fresh Garlic Cloves
Large Eggs
Fresh Parmesan cheese
Fresh Chives
Kosher Salt
Black Pepper
For the complete ingredient list and detailed instructions, scroll to the bottom of this post for the FREE printable recipe card.
Try this Recipe at Home!
Next time you're looking for an easy breakfast recipe, give these Arugula Baked Egg Cups a try!
Did you love this healthy breakfast idea? Leave a comment below and give it a review for others to see what you thought of this great recipe.
On Instagram? Share your photo and tag me with @goodlifeeats and #goodlifeeatsrecipes. I'd love to a photo of your breakfast egg cups!
More Egg Recipes:
Get More Recipes via Email
Did you love this recipe? Sign up to receive Good Life Eats Email Updates and never miss another recipe!

What is your favorite way to eat eggs?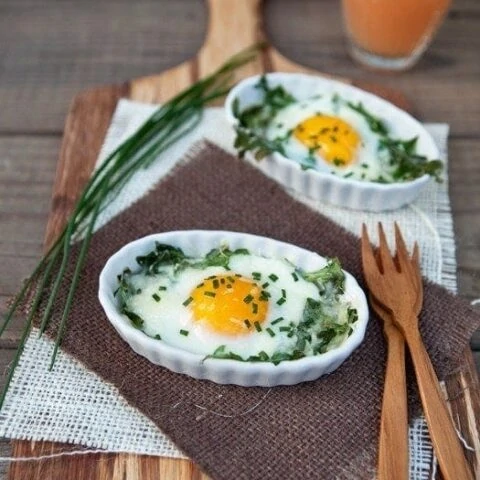 Arugula and Chive Baked Egg Cups
These particular eggs are baked in a bed of fresh arugula with a bit of olive oil to soften it. Topped them with parmesan and fresh chives.
Ingredients
1 cup baby arugula
1 1/2 tablespoons olive oil
1 clove garlic, minced
4 large eggs
2 tablespoons freshly grated Parmesan cheese
1 tablespoon fresh minced chives
Kosher salt
Instructions
Preheat oven to 350º F.
In a small bowl, combine the arugula, olive oil, and garlic.
Separate the arugula mixture between 4 ramekins.
Crack an egg in the center of each ramekin.
Top the ramekins with the Parmesan cheese and chives.
Lightly sprinkle with a bit of kosher salt.
Place the ramekins on a baking sheet.
Bake for 10-14 minutes or until the egg is nearly set. It should still be slightly soft.
Remove from the oven and allow it to rest for 3-5 minutes for the egg to completely set. Serve warm.
Recommended Products
As an Amazon Associate and member of other affiliate programs, I earn from qualifying purchases.
Nutrition Information
Yield

4
Serving Size

1
Amount Per Serving
Calories

131
Total Fat

11g
Trans Fat

0g
Carbohydrates

1g
Fiber

0g
Sugar

0g
Protein

7g