Baked Potato Soup
The day before Christmas left us busy with errands, wrapping presents, and plans for a low key Christmas Eve meal. Something hearty and quick, but still satisfying. This Baked Potato Soup from
Cooking Light
was absolutely perfect. It is simple and comes together incredibly fast with inexpensive ingredients. You can cut additional time off the prep if you microwave the potatoes instead of baking them. Or, if you're thinking ahead of time you can wrap the potatoes in foil and bake them in the crock-pot until tender.
Simple meals are sometimes best when you want to spend more time with family and less time cooking and cleaning. Combine the pure comfort of a loaded baked potato with the warming power of a bowl of hot soup and you have a perfect winter meal. We were all warm and full after one bowl.
Hope you all had a Merry Christmas!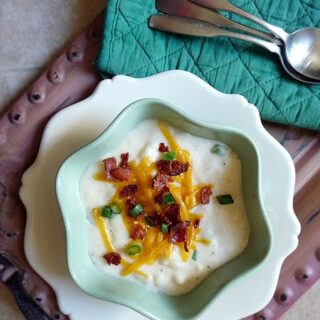 Ingredients:
4 baking potatoes (2 1/2 pounds)
2 Tbs butter
2/3 cup all-purpose flour
6 cups 2% reduced-fat milk
4 ounces shredded cheddar cheese, plus extra for garnish
1 teaspoon salt
1/2 teaspoon black pepper
1/4 teaspoon paprika
1 cup reduced-fat sour cream
3/4 cup chopped green onions, divided
10 slices center cut bacon, cooked and crumbled
Directions:
Preheat oven to 400°.
Pierce potatoes with a fork; bake at 400° for 1 hour or until tender. Cool. Peel potatoes; coarsely mash. Discard skins.
Lightly spoon flour into a dry measuring cup; level with a knife. Melt butter in a large dutch oven. Add flour, whisking to combine with the butter. Gradually add milk, stirring with a whisk until blended. Cook over medium heat until thick and bubbly (about 8 minutes). Add mashed potatoes, cheese, salt, pepper, and paprika, stirring until cheese melts. Remove from heat.
Stir in sour cream and 1/2 cup onions. Cook over low heat 10 minutes or until thoroughly heated (do not boil). Add additional salt and pepper if desired. Sprinkle each serving with cheese, onions, and bacon.