Rosemary Chicken Chowder with White Beans
This recipe for Rosemary Chicken Chowder with White Beans started came to fruition on one of those nights where I found myself starting into the pantry wondering what on earth I was going to make for dinner.
You might be pleased to know that I am not perfect at meal planning.  Or at making just the right thing every night at home for dinner. That we eat out on occasion. Or eat simple things like Grilled Cheese for dinner. But lately I have had enough of that.
I have had periods of time where I am really organized but lately I feel very much like a chicken running around with her head cut off.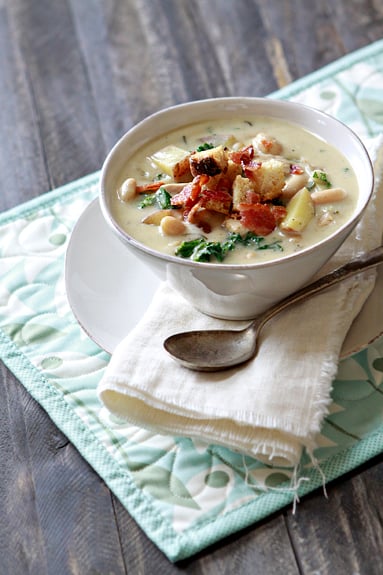 I have so much wanted to sit down to a delicious home cooked meal and feel completely satisfied upon completion of that meal.
On that busy night I knew soup or chowder would be the answer to that craving. Even on nights when I'm scrounging through the pantry and fridge after days of failed plans to go to the grocery store I can usually drum up enough ingredients for a soup or chowder.
Rosemary Chicken Chowder with White Beans probably sounds decadent. Really, I didn't have enough potatoes for Baked Potato Soup and not enough chicken for much else.
The chowder was looking awfully bland in color so I asked Eric to swing by the store on his way home for a bunch of kale to add some color and more vegetables.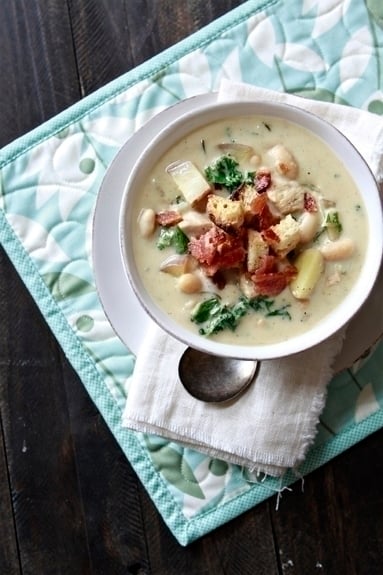 Some stale bread turned Homemade Sourdough Garlic Butter Croutons and crumbled bacon turned this pantry emergency into a masterpiece.
It turns out this make-shift Rosemary Chicken Chowder with White Beans was good enough to add into the rotation.
We've already enjoyed it a few times this fall – good thing I took notes that first time I made this tasty chowder recipe so I was able to recreate it.
Tasty Fall Soups and Chowders:
Need some more soup and chowder inspiration? Here are a few favorite recipes for this time of year.
Do you ever create unexpected deliciousness in your kitchen?
Rosemary Chicken Chowder with White Beans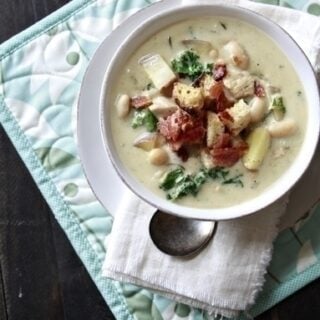 Ingredients:
For the Soup:
1 tablespoon olive oil
1 tablespoon butter
1 yellow onion, diced
3 cloves garlic, minced
1 lb. chicken breast, cut into bite size chunks
4 cups chicken or vegetable broth
2 large sprigs of rosemary
1 bay leaf
12 ounces unpeeled red potatoes, cut into bite size cubes
1/3 cup unbleached all-purpose flour
2 cups milk
1/3 cup cream cheese
1 can Bush's Cannellini Beans, drained and rinsed
dash nutmeg
1/2 teaspoon salt, or to taste
1/4 teaspoon pepper, or to taste
2 - 3 ounces of chopped kale
Topping Ideas:
Homemade Sourdough Garlic Butter Croutons
Bacon Crumbles
Directions:
In a large dutch oven, heat the olive oil and butter. Add the onion and saute for 5-7 minutes, or until tender and golden. Add the garlic and saute for an additional minute. Now, add the chicken and cook with the onion and garlic until cooked through and golden on the outside.
Stir in the broth along with the rosemary springs, bay leaf, and potatoes. Bring to a boil. Then, turn the heat to low and allow to simmer for about 30 minutes, or until the broth is fragrant with the smell of rosemary.
Meanwhile, whisk the flour into the milk. After the broth has simmered, stir in the flour and milk mixture along with the cream cheese and cannellini beans. Turn heat up to medium until it reaches a slow boil again. Then, turn the heat back down to low to maintain a simmer. Add a dash of nutmeg and season to taste with salt and pepper. Simmer until the potatoes are tender.
Just before serving, stir in the kale and cook until tender and wilted, about 3 - 5 minutes over low. Remove the bay leaf and rosemary. Serve topped with Homemade Sourdough Garlic Butter Croutons and Bacon Crumbles.
Looking for more great winter comfort food recipes? Join Aggie's Kitchen and Real Mom Kitchen to share a family favorite Winter Comfort Food recipe for the Bush's Beans Recipe Exchange!