Italian Wedding Soup with Chicken Meatballs
We had a slight break from snow and cold here the past two weeks.
It seems Mother Nature was a tad bit confused and sent up temps in the mid-50's.
No complaints from me!
But I think things are cooling off again.
We had a few snow flurries yesterday afternoon and I feel a bit chilled in the mornings when I wake up.
Homemade soup, like this Italian Wedding Soup with Homemade Chicken Meatballs, is the obvious answer for cold weather.
And not just because such recipes warm the body.
This time of year things start to get a little boring in the produce department, at least to me.
The holidays are over and the novelty of winter food will soon start to wear off and we'll be craving fresh, bright flavors of spring again.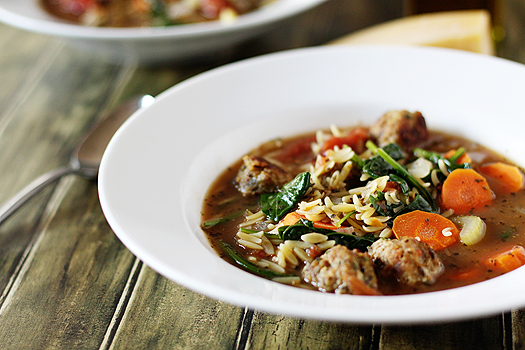 I love that this Italian Wedding Soup with Chicken Meatballs helps stretch out the produce that is available.
You can come up with so many different one-pot concoctions using what often feels like a very similar ingredient list and nearly identical preparation techniques.
Tips for Delicious Homemade Soups
Pin It

1. Start with Tasty Liquids
Rich, homemade broth is always ideal, but if you're short on time or without access I like to use high quality store bought broths.
I prefer either Better than Bouillon Organic Bases or Pacific Natural Foods Organic Broths.
3. Brown the Meats
Recipe got meat? Make sure you brown it first.
The browned bits left in the bottom of the pan after browning the meat will build the flavor of the soup even more.
Then you can deglaze those browned bits left behind with a little cooking wine or broth.
2. Sweat the Mirepoix and Aromatics
I consider them the soup basics: onion, leeks, garlic, carrot, celery, and (depending on the soup) ginger.
Cooking these ingredients for about 5 minutes over medium heat before adding the liquid will deepen the flavor of the soup.
When I was a young(er), inexperienced cook I made the mistake of thinking soup was all the ingredients dumped into a pot of broth.
Soup made that way just doesn't taste as good!
3. Add Herbs
Fresh herbs should be added at the end of cooking, just prior to serving so you don't lose all of their flavor.
Dried herbs are great for adding early on because they're better able to hold flavor for long cooking periods.
4. Simmer Low and Slow
I like to allow my soups so simmer for a longer period of time rather than quickly boiling them to get the vegetables tender.
Yet again…you'll get more flavor development this way.
Enjoy!
I know you'll love this Italian Wedding Soup and Homemade Chicken Meatballs.
Stay warm!
What tips do you have for delicious, homemade soup?
Italian Wedding Soup with Chicken Meatballs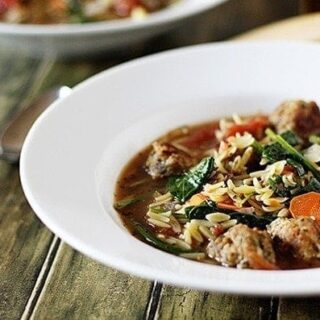 Ingredients:
For the Chicken Meatballs:
1 pound ground chicken
1/2 cup breadcrumbs
2 medium eggs, beaten
1/3 cup fresh grated parmesan
3 tablespoons chopped fresh parsley (or 1 tablespoon dried)
1/2 teaspoon Italian Seasoning
1/2 teaspoon garlic powder
1/2 teaspoon black pepper
3/4 teaspoon salt
For the Soup:
1 tablespoon olive oil
1 yellow onion, chopped
3 cloves garlic, minced
1 cup carrots, chopped (about 3-4 whole carrots)
5 - 7 cups chicken or vegetable broth, or a combination (according to how broth-y you like your soup
2 cups water
2 stalks celery, chopped
1 - 14.5 ounce can diced tomatoes with basil and garlic
1 1/2 teaspoons balsamic vinegar
3 tablespoons chopped fresh parsley (or 1 tablespoon dried)
2 teaspoons Italian seasonings
8 ounces already cooked orzo, or other small pasta
6 ounces fresh spinach, swiss chard kale or escarole, chopped
Directions:
For the Chicken Meatballs:
Preheat oven to 350 degrees F. Line a large baking sheet with foil and spray with nonstick cooking spray. Set aside.
Combine breadcrumbs, eggs, Parmesan, parsley, Italian seasoning, garlic powder, salt, and pepper with the ground chicken. Mix well. Form into small balls, about 2 teaspoons of mixture per meatball. Roll into balls and place on the prepared pan. Repeat with remaining mixture.
Bake meatballs at 350 degrees F until the meatballs are cooked through, about 15-20 minutes. To test doneness, cut one meatball in half. If no pink remains, the meatballs are done.
Note: Alternatively, you can brown the meatballs in the same stockpot you will use to make the soup. This will add even more flavor to the soup, but sometimes baking the meatballs is nice because you can do that ahead of time and freeze them.
For the Soup:
In a large stock pot, heat the olive oil over medium high heat. Add the chopped onion and saute for 5 minutes. Add the garlic and saute for another 2 minutes. Add the carrot and celery and saute for 2 more minutes.
Add the broth, water, and tomatoes to the stock pot. Stir in the balsamic vinegar, parsley and seasonings. Cook at a simmer for 15 - 20 minutes.
Add the meatballs and cook over low heat for an additional 15 minutes, or until the vegetables are tender. Add the greens and cook until they are heated through and wilted. Stir in the pasta just before serving and cook only until heated through. Serve with freshly grated Parmesan, if desired.