Italian Sausage and Kale Soup
If you're looking for a creamy, rich and flavorful soup, try this Italian Sausage and Kale Soup – a lightened up version of an Olive Garden Classic and crowd favorite, Zuppa Toscana.
This Italian Sausage and Kale Soup recipe probably looks and sounds pretty familiar.
Copycat versions of Olive Garden's Zuppa Toscana have been floating around the web for years.
And it has always been a favorite soup of ours to make at home.
In the last 10 years since I began making this recipe, it has had its fair share of variations and changes according to our preferences, or what ingredients we have on had in the fridge.
One change from the typical Zuppa Toscana recipe is that I have started to use less half and half and more broth to lighten the recipe up a little.
This Italian Sausage and Kale Soup is still plenty creamy and offers plenty of flavor and richness with fewer calories.
Another simple change that I've made is to incorporate some extra vegetables in the form of red bell peppers.
I love the pop of color that the bell peppers offer as well as the fact that the soup has some extra veggies in it.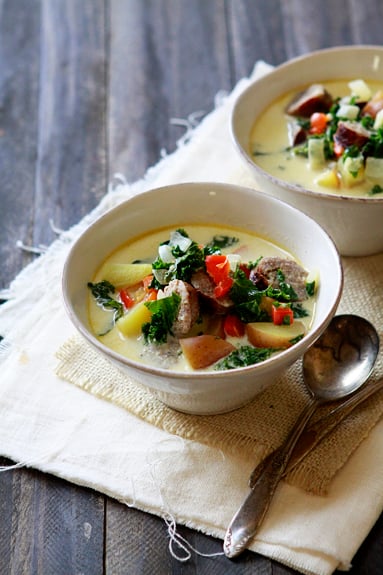 Save this recipe for Italian Sausage and Kale Soup to Pinterest!
So it isn't exactly like that Copycat Olive Garden Toscana Soup recipe that I first discovered years ago and was so excited to make at home, but we still love it.
Even if it is a tad healthier, it still tastes rich to me.

When my sister used to live with us a few years ago, I made this lightened up Zuppa Toscana Italian Sausage and Kale Soup for her the night she arrived in Colorado.
I would laugh every time she asked for it during the 9 months she was living with us in Colorado because it was still such a novelty to her.
Over the years Italian Sausage and Kale Soup has become an old favorite standby recipe in our home.
Allie just finished visiting us for Thanksgiving and brought it up the other day.
Allie said, "I love everything you cook. I don't think you've ever made anything that was bad. But, do you know what my favorite recipes are that you make?"
This recipe for Italian Sausage and Kale Soup was at the very top of her list.
Her other favorites were the Pumpkin Pie Oatmeal and Honey Mustard Chicken.
I love that some of the recipes that have become family favorites are recipes that I've made.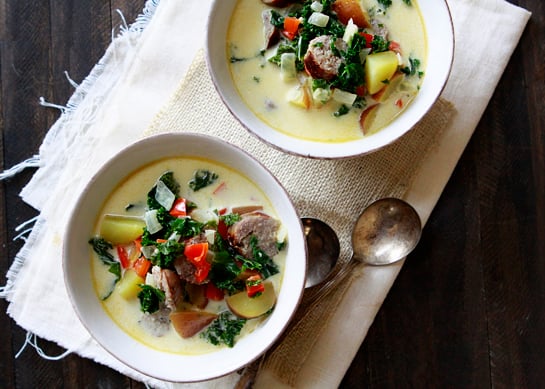 Save this recipe for Italian Sausage and Kale Soup to Pinterest!
I almost always have all of the ingredients in my homemade version of Zuppa Toscana on hand, and it isn't complicated or labor intensive to prepare.
Perfect for busy weeknights or lazy weekends!
We have probably had this recipe about 3 times during the first month my sister lived with us.
Sometimes I add extra kale depending on how much we have, sometimes I don't.
Most often I don't really need the recipe anymore.
It doesn't always turn out exactly the same every single time, but Italian Sausage and Kale Soup always tastes good regardless if there is more kale than normal.
This Italian Sausage and Kale Soup is especially when shared with family on a cold winter evening.
If you're looking for another great Olive Garden Copycat recipe, you might like to try the Olive Garden Salad with Olive Garden Salad Dressing.
Creamy and tangy just like the original, it's delicious poured over a big bowl of salad greens, topped with red onion, black olives, Roma tomato, pepperoncini, and your favorite croutons.
Try this recipe for buttery sourdough garlic croutons. It pairs deliciously with this soup recipe!
What are your favorite tried and true standby recipes?
Love this recipe for Italian Sausage and Kale Soup?
Sign up for Good Life Eats email updates and never miss another recipe!
Italian Sausage and Kale Soup
Yield: serves 4 - 6
Total Time:45 minutes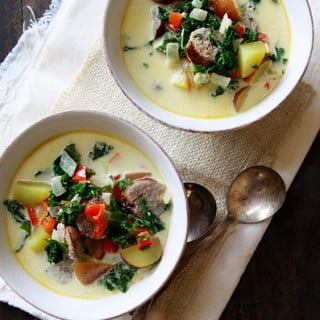 Ingredients:
18 ounces Mild or Sweet Italian Sausage
1 tablespoon olive oil
1 medium yellow onion, diced
2 red bell peppers, chopped
3 cloves minced garlic
1/2 - 1 teaspoon garlic powder, optional - if you like garlic!
8 - 10 red potatoes, cut into approx. 1 inch cubes
5 cups Chicken Broth
3 cups half and half
1 - 2 bunches kale, chopped
Salt and Pepper, to taste
Directions:
In a cast iron skillet or sauté pan, brown the Italian sausage in the casings. Once they are browned on all sides and cooked through, transfer them to a cutting board and let rest until cool enough to handle without burning your hands. Once they are cool enough to handle, slice into rounds between 1/4 - 1/2 inch thick (depending on your preference).
Heat the olive oil in a large soup pot. Add the onion and sauté for 5-7 minutes over medium heat, or until tender and golden. Add the bell pepper and garlic and sauté for a couple more minutes, until fragrant.
To the same pot add the potatoes, broth, half and half, and sausage. Cook over medium high heat and bring to a boil. Decrease the temperature to medium-low to low and simmer until the potatoes reach your desired tenderness - approximately 15 - 20 minutes. Season to taste with salt and pepper.
Stir in the chopped kale and cook until just wilted. Serve immediately and top with freshly grated parmesan, if desired.
Notes:
The great thing about recipes like this is you can always change them up according to your preference.
If you don't like kale, you can try swiss chard. If you want more (or less) potatoes, you can adjust that too.
If you need a vegetarian soup, you can omit the sausage, sub the chicken broth for vegetable broth and increase the vegetables. Maybe you really like mushrooms, you could try adding some sautéed mushrooms to the mix.
Be sure to follow Good Life Eats on Instagram. Tag @goodlifeeats and include the hashtag #goodlifeeatsrecipes so I can see what you're cooking up in YOUR kitchen!
Did you make this recipe? I'd love to hear what you thought! Leave me a comment below.
Save this recipe for Italian Sausage and Kale Soup to Pinterest!