Cream Cheese Chive Duchess Potatoes are delicious, individually portioned mounds of mashed potatoes that have been baked. Inside, they're creamy and fluffy while the outside is beautifully golden and crisp.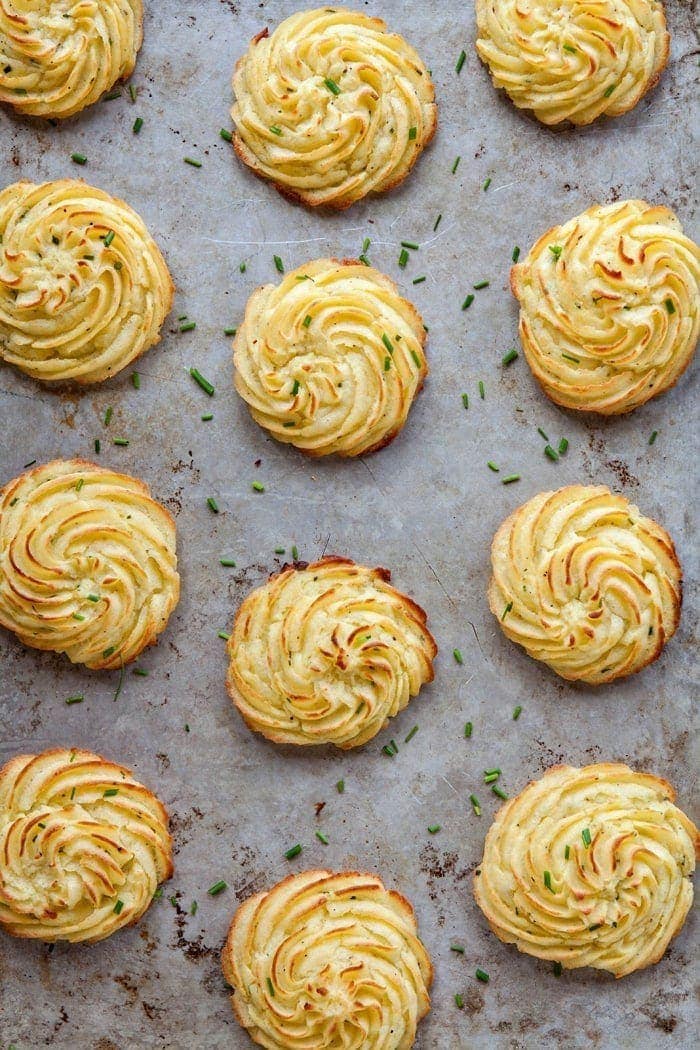 Save these Cream Cheese Chive Duchess Potatoes to Pinterest!
Easy Duchess Potatoes Recipe
We're in our new house now! I just had to put that out there since I haven't really had a chance to share that since unpacking, organizing, and figuring out furniture placement has pretty much consumed every moment of the last couple of weeks.
I did share a quick video of our new kitchen over on my Instagram account if you want to take a look. I'll be sure to share some more pictures soon.
I think we've done a pretty good job of getting unpacked and settled. I really hate stretching that out longer than a month. I can't stand living out of boxes. I hate the clutter of packing materials everywhere and have an extreme dislike for living in a space that feels like I haven't made it mine yet.
Despite all of that, I think we're a little crazy to be hosting Thanksgiving this year… But I'm also super excited to share our new home with our family so soon. It's like a christening of sorts to be celebrating and opening our home and kitchen right away.
It's also been a really good motivator to continue to work to get organized. I'll tell you though, to be totally real and honest, that I definitely have not followed my own Thanksgiving Preparation Schedule. I've hosted Thanksgiving enough times that I'm not too worried about how it is going to go, but it feels a little weird to not have everything completely planned out the way I normally would.
Kevin is going to take a couple days off, so that will be great to have his help ahead of time with doing some pre-Thanksgiving prep work. I literally have only just sat down in the last day or so to really try to come up with what our menu will be.
While doing that, I remembered that I hadn't shared this recipe for Cream Cheese Chive Duchess Potatoes yet and I wanted to before Thanksgiving.
I made these cream cheese potatoes for Kendall's birthday dinner to go with the Slow Cooker Ham with Honey Marmalade Mustard Glaze. We're definitely having the ham for Thanksgiving. I'll also be making a Apple Cider Sage Turkey Brine and Kevin is going to smoke a turkey, too.
Last year was the biggest Thanksgiving I'd previously hosted and this year we'll have four more people than we did before…that calls for lots of food!
An amazing thing about these Cream Cheese Chive Duchess Potatoes is the fact that all four kids liked it, even the ones who say they don't like mashed potatoes. That's a win in my book and I think the extra few minutes spent on presentation, plus the nice golden crispy exterior won them over.
Duchess Potatoes Ingredients
This duchess potatoes recipe may look fancy, but it's actually so easy to make and requires just a handful of ingredients.
Potatoes
Kosher salt
Bay leaves
Egg yolks
Butter
Cream cheese
Whole milk
Fresh chives
Salt and pepper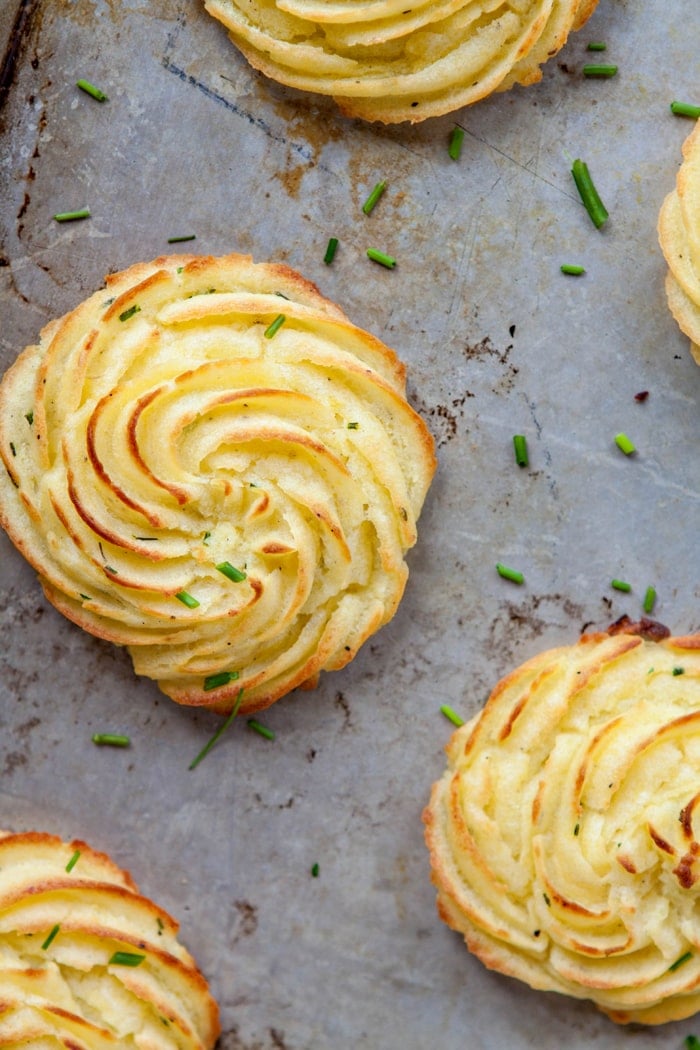 Save these Cream Cheese Chive Duchess Potatoes to Pinterest!
How to Make Duchess Potatoes
Here's the basic rundown of how to make duchess potatoes:
Boil the potatoes in a pot of well salted water. Add in the bay leaf too.
Once cooked through, press potatoes through a potato ricer.
Mix the potatoes together with the cream cheese, egg yolks, butter, and whole milk.
Spoon the potato mixture into a piping bag fitted with an extra large piping tip. Pipe onto parchment paper-lined baking sheets.
Set trays in freezer to chill the potato mixture.
Remove duchess potatoes from freezer, then brush with melted butter.
Bake until puffed and golden.
What Are the Best Potatoes for Duchess Potatoes?
I recommend using Yukon Gold potatoes for this duchess potato recipe. Yukon Gold potatoes are waxy and mash really well without becoming gluey.
Can I Freeze Duchess Potatoes?
Cream Cheese Chive Duchess Potatoes are awesome if you're busy and need to do some of the prep work ahead of time, because you can freeze the potatoes until you're ready to bake them.
Did you know you can freeze potatoes? I hadn't really done that much experimenting with freezing potatoes until this recipe, but it worked great. I made a double batch and froze half of them. We ate the rest a couple weeks later and all I had to do was pop them in the oven and bake — so perfect!
Tips for Making Duchess Potatoes
Make sure to salt the water you're going to boil the potatoes in very well. You want the potatoes themselves to have some flavor, otherwise your duchess potatoes may turn out a little bland.
When piping the potato mixture onto the baking trays, be sure to use an extra large piping tip. If the piping tip is too small, the tip will become clogged and it'll be a pain to pipe it all out.
Also, you want to pipe the duchess potatoes about 2 inches apart from each other. They'll spread a bit in the oven and you don't want them forming one big blob.
More Potato Side Dishes:
Potatoes, in some form, always seem like a classic Thanksgiving side dish. They're perfect to serve potluck-style, usually travel well for those attending Thanksgiving as a guest and can often be made ahead. Here are a few of our favorite potato recipes for Thanksgiving.
Blue Cheese Rosemary Mashed Potatoes are your favorite Russet Potato Mashed Potatoes after a surprising makeover. With the addition of pureed cannellini beans, gorgonzola cheese, and fresh rosemary you go from yum to YUM!
Mascarpone Chive Mashed Potatoes are similar in flavor to these Cream Cheese Chive Duchess Potatoes, but are served like traditional mashed potatoes
Roasted Garlic Cauliflower Mashed Potatoes are anything but traditional. They're are ramped up with the flavors of roasted garlic, cauliflower puree, and the smoothness of cream cheese.
Rosemary and Garlic Roasted Potatoes are fragrant thanks to the addition of fresh rosemary and garlic.
Broccoli Cheese Loaded Twice Baked Potatoes have all the same goodness of a regular loaded baked potato plus some broccoli all mixed together with the potato pulp, stuffed and baked to gooey perfection.
Smashed Potatoes with Parmesan Gremolata are smashed, roasted baby potatoes topped with a delicious mixture of fresh parsley, lemon, and parmesan
Artichoke, Leek and Potato Casserole is perfect if you're looking for a layered, gratin-style potato side dish. The addition of leek and artichoke makes it extra special.
What are your favorite potato recipes for Thanksgiving?
Love this recipe for Cream Cheese Chive Duchess Potatoes?
Sign up for Good Life Eats email updates and never miss another recipe!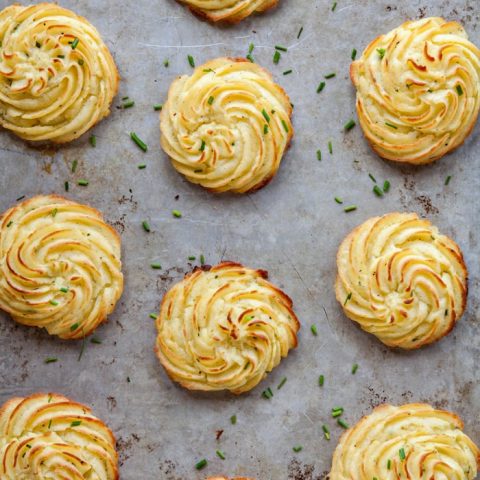 Cream Cheese Chive Duchess Potatoes
Yield:
approximately 12 - 16 potato puffs
Total Time:
1 hour
15 minutes
Cream Cheese Chive Duchess Potatoes are delicious, individually portioned mounds of mashed potatoes that have been baked. Inside they're creamy and fluffy while the outside is beautifully golden and crisp.
Ingredients
3 lbs. Yukon Gold Potatoes, peeled and quartered
1 teaspoon Kosher Salt
2 dried Bay Leaves
3 Egg Yolks, room temperature
5 tablespoons Butter, melted
5 ounces Cream Cheese, softened
1/3 cup Whole Milk, warmed
1/4 cup sliced Fresh Chives
Salt and Pepper, to taste
2 tablespoons butter, melted, for brushing
Instructions
Prepare 2 large baking pans by lining them with parchment paper. Set aside.
Add potatoes to a stockpot with hot water.
Add the bay leaves and 1 teaspoon of salt.
Bring to a boil, then lower to simmer and allow to cook until very tender, approximately 20-30 minutes.
While the potatoes cook, add the egg yolks, butter, cream cheese, and whole milk to a large mixing bowl and combine.
If desired, use a hand mixer on low speed. A wire whisk works well, too.
Once potatoes are tender, drain the water and discard the bay leaves.
Press potatoes through a potato ricer (I use the OXO Good Grips Potato Ricer) and into the bowl with the cream cheese mixture. Sprinkle in the chives and stir to combine.
Taste for seasonings and add salt and/or pepper, if desired.
Preheat oven to 400 degrees F.
Transfer the potato mixture to a large pastry bag fitted with an extra large piping tip (if the opening is too small, you'll have trouble with clogging). You may need to work in batches, depending on how large the bag is.
On the prepared baking sheets, pipe swirls of potatoes in rounds measuring approximately 3 inches in diameter and 1 1/2 to 2 inches tall.
Space them 2 inches apart so they do not spread into each other when baking.
After piping is complete, transfer the baking sheets to the freezer and chill for 15 minutes, or until they're firm. This will help them hold their shape when baking.
Then, brush the tops of the potato swirls with the melted butter using a silicone pastry brush.
Transfer the baking sheets the the oven.
Bake them for 20 - 30 minutes, rotating the pans halfway through, or until they're puffed and golden.
Serve.
Notes
For piping tips, how to fill a pastry bag, and information about my favorite pastry tips check out these Cupcake Piping Tips. Many of the tips will apply to piping the potato mixture.
This recipe freezes well, too!
Once you've frozen the unbaked potatoes, you can transfer them to a gallon sized zip top bag and store in the freezer until you're ready to bake. Then, proceed with the remaining steps of the recipe.
Recommended Products
As an Amazon Associate and member of other affiliate programs, I earn from qualifying purchases.
Nutrition Information
Yield

12
Serving Size

1
Amount Per Serving
Calories

224
Total Fat

12g
Saturated Fat

7g
Trans Fat

0g
Unsaturated Fat

4g
Cholesterol

77mg
Sodium

308mg
Carbohydrates

25g
Fiber

3g
Sugar

2g
Protein

5g
GoodLifeEats.com offers recipe nutritional information as a courtesy and is an estimate only. This information comes from online calculators. Although GoodLifeEats.com makes every effort to provide accurate information, these figures are only estimates.
Be sure to follow Good Life Eats on Instagram. Tag @goodlifeeats and include the hashtag #goodlifeeatsrecipes so I can see what you're cooking up in YOUR kitchen!
Let me know if you try this recipe and what you think of it by leaving a comment below.
Save these Cream Cheese Chive Duchess Potatoes to Pinterest!