Mascarpone Chive Mashed Potatoes [Holiday Recipe Exchange]
Thanksgiving is just about a month away, so it is perfect timing for today's Holiday Recipe Exchange sponsored by OXO. This week Jamie and I are serving up our favorite holiday side dishes.
I found this recipe for Mascarpone Chive Mashed Potatoes in Sunset Magazine a few years ago while waiting in the doctor's office. I made a mental note of the recipe so that I could look it up when I got home.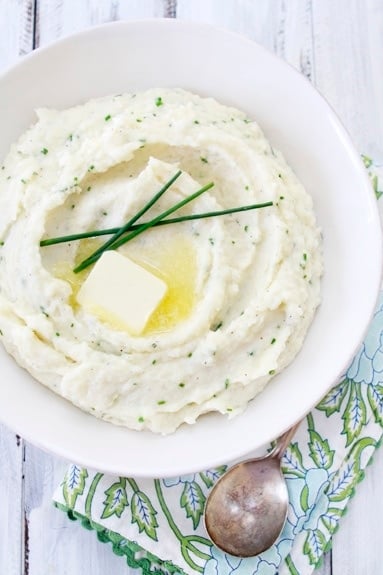 Over the years I've made a couple of slight changes and decreased the recipe size to fit our small family a little better, but it is still a favorite and my go-to mashed potato recipe.
Mashed potatoes are often quite boring looking, so I love the little flecks of green chives scattered throughout these creamy potatoes, not to mention the fresh taste they add to the recipe.
I've learned that one of the keys to really great, fluffy mashed potatoes is to use a Potato Ricer. Prior to blogging I had never seen nor heard of a potato ricer. I thought – could it really make that big of a difference? Yes, it does! Plus, it's kind of a fun kitchen gadget to use.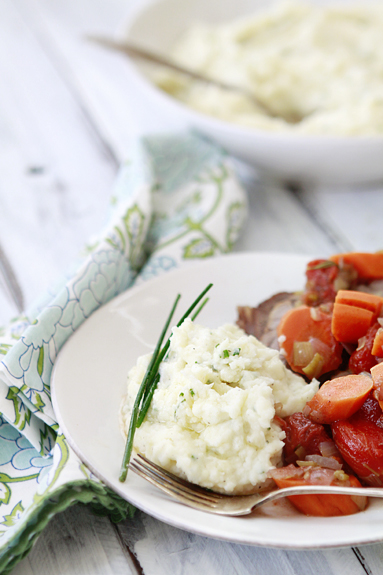 More Mashed Potato Recipes For Thanksgiving
If you're looking for additional mashed potato inspiration for your Thanksgiving Menu this year, here are a few other favorite recipes. Be sure to check out the whole Thanksgiving Recipes Archive right here if you need help building the rest of your menu.
Browned Butter Parmesan Mashed Potatoes are your classic mashed potatoes elevated.. This recipe is ramped up with the nutty flavors of browned butter and parmesan.
Greek Yogurt Mashed Potatoes use Greek yogurt instead of sour cream or cream cheese to make the potatoes extra creamy; they're healthier thanks to the addition of the yogurt and plenty rich. Surprise! There is no butter added! Feel free to add some if you prefer.
Or for something a little different, try Cream Cheese Chive Duchess Potatoes –  delicious, individually portioned mounds of mashed potatoes that have been baked. Inside they're creamy and fluffy while the outside is beautifully golden and crisp. The kids love these!
Blue Cheese Rosemary Mashed Potatoes are your favorite Russet Potato Mashed Potatoes after a surprising and flavorful makeover. With the addition of pureed cannellini beans, plenty of salty gorgonzola cheese, and fresh rosemary you go from yum to YUM!
Roasted Garlic Cauliflower Mashed Potatoes are anything but traditional mashed potatoes. This recipe is ramped up with the flavors of earthy roasted garlic, nutty roasted cauliflower puree, and the smoothness of cream cheese.
Join Jamie and me this week in sharing your Best Holiday Side Dish for a chance to win a great cooking utensil gift set from OXO. OXO offers some seriously awesome kitchen gadgets and I know you'll love the tools in today's selection. They were selected with the purpose of making your holiday meal prep just a little bit simpler.
Now, we want to know what your favorite holiday side dish is, so join in on the fun and link up your recipe for a chance to win this fab OXO set! Check out Jamie's Sweet Potato Casserole.
How do you like to cook your mashed potatoes?
Mascarpone Chive Mashed Potatoes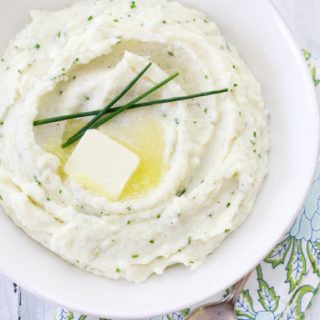 Ingredients:
3 pounds russet potatoes, peeled, cut in chunks
2 dried bay leaves
1 cup whole milk
1/4 cup chicken broth
6 ounces mascarpone cheese, room temperature
2 tablespoons butter, melted
1/4 teaspoon pepper
kosher salt, to taste
1/2 bunch chives (1/2 inch diameter), snipped
Directions:
Add potatoes to a stockpot with hot water. Add the bay leaves and 1 teaspoon of salt. Bring to a boil, then lower to simmer and allow to cook until very tender, approximately 20-30 minutes.
While the potatoes cook, whisk together the milk, chicken broth, mascarpone, and butter in a oven-safe bowl that is large enough to add the potatoes to. Stir in the pepper.
Once potatoes are tender, drain the water and discard the pay leaves. Press potatoes through a potato ricer (I use the OXO Good Grips Potato Ricer) and into the bowl with the mascarpone mixture. Stir to combine. Taste for seasonings and add salt, if desired.
Bake covered with foil in a 350 degree oven until heated through. Stir in the chives. Serve.
Note: Can be prepared ahead of time and stored in the refrigerator for up to 48 hours before baking.
How To Participate
For a chance to win an OXO Cooking Utensil Gift Set valued at $154.95 (details of prize specifics below):

Write and post a recipe on your blog featuring YOUR BEST HOLIDAY SIDE.
Include "Come join the fun at the My Baking Addiction and GoodLife Eats Holiday Recipe Swap sponsored by OXO." in your blog post.
No blog? Just leave your recipe in the comments section.
Add your link to the widget on either GoodLife Eats or My Baking Addiction (we have the same widget code, so only add it on one site).
Submit your post before Oct. 31, 11:59 PM.
Anyone can participate in the link up, but the prizes will ship to US addresses only.
More detailed info are available here.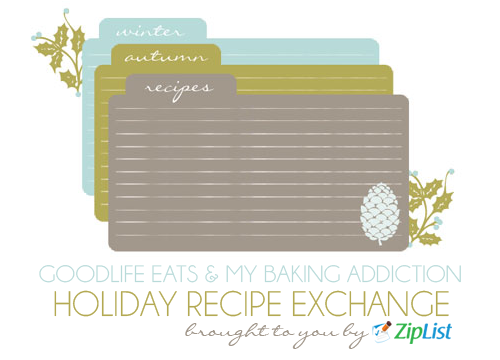 Link Up Your Recipes:
Love any of the recipes featured in today's Holiday Recipe Exchange? If so, be sure to to use the Ziplist Web Recipe Clipper to add your holiday favorites to your online recipe box.
This Week's Prize:
Cooking Utensil Gift Set valued at $154.95
Prizes provided by OXO.
Recipe Theme Schedule: